Awards
Brick Underground wins Best Real Estate Website from the National Association of Real Estate Editors for the third time
Judges: Brick 'is a one-stop shop for anyone living in NY'
Brick Underground named best real estate website in the U.S.
Brick's podcast produced by Emily Myers was awarded silver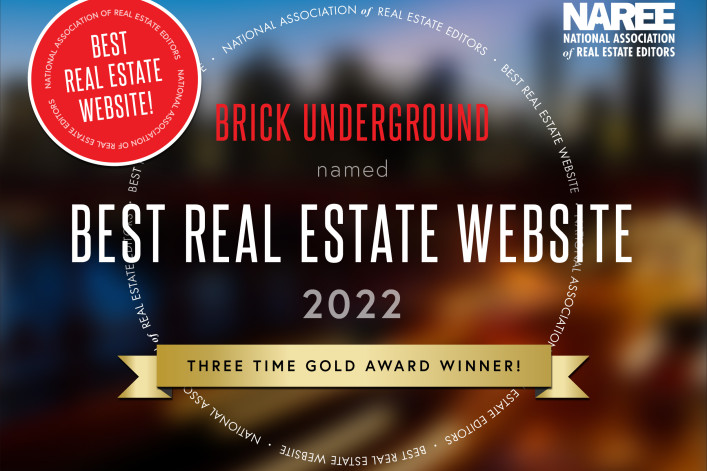 Lisa Clayton Laczo for Brick Underground
We interrupt our usual story line up to bring you some exciting news of our own: The National Association of Real Estate Editors selected Brick Underground as the Best Real Estate Website in a national journalism competition honoring excellence in real estate journalism. It is the third time in four years that Brick has won gold for best website.
The awards were presented Thursday evening during the organization's annual conference in Atlanta.
Here's what the judges had to say: "Brick Underground is a one-stop shop for anyone who is living or looking to live in New York. Articles are clearly labeled according to one's living situation—'the search,' 'live,' 'improve,' 'small spaces,' 'roommates + landlords,' etc.—directing readers exactly where to click. How-to guides for buying, selling, renting and renovating are comprehensive and well-organized. Overall, the website design is interesting and informative, inviting scrollers to stop and read all the stories that apply to them."
One article that got the judges' attention was "The Buyer's and Renter's Guide to NYC's Public and Private Elementary Schools." This piece explains how where you live intersects with the elementary school admissions process—a fraught topic for New Yorkers.
Brick was recognized in another category as well: Emily Myers won silver for our podcast, "Finding a deal as NYC landlords pull concessions and raise rents." It is the third time our podcast has taken silver.
The judges' comment was: "Brick Underground knows its audience and serves it well with this podcast guiding renters through the post-pandemic rebound in New York City's rental market. Myers keeps the 30-minute podcast moving with succinct, focused questions and sharp follow-ups to elicit the most helpful advice from a top rental broker in the city. Renters should never pay more than a one-month security deposit, for example, or base their decision on an online video walk-through. The podcast is well-produced and technically clean to boot." 
What's coming next for Brick Underground
Being honored by NAREE confirms that we are on the right track and we will continue our mission to help you navigate NYC's expensive and competitive real estate market. We'll be tracking NYC's rental and sales market to see if renters and buyers gain the upper hand in the coming months. Our social media coverage will become even more robust so we can bring our content to a wider audience. And keep an eye out in early January for our 2023 annual forecast, so you know what to expect in the new year.
Finally, we want to extend a thank you to our readers. We may not have the opportunity to respond to every note or comment, but we read everything that comes our way and your questions often inspire fresh articles. Your critical feedback challenges us to do our best work and we appreciate that in a busy city, you took the time to communicate with us. We hope that whatever your NYC real estate goal is, we were able to help you achieve it.
As always, we welcome your questions and suggestions for what we should write about. Send them via email. We look forward to hearing from you.
Jennifer White Karp,
Managing Editor
Brick Underground articles occasionally include the expertise of, or information about, advertising partners when relevant to the story. We will never promote an advertiser's product without making the relationship clear to our readers.