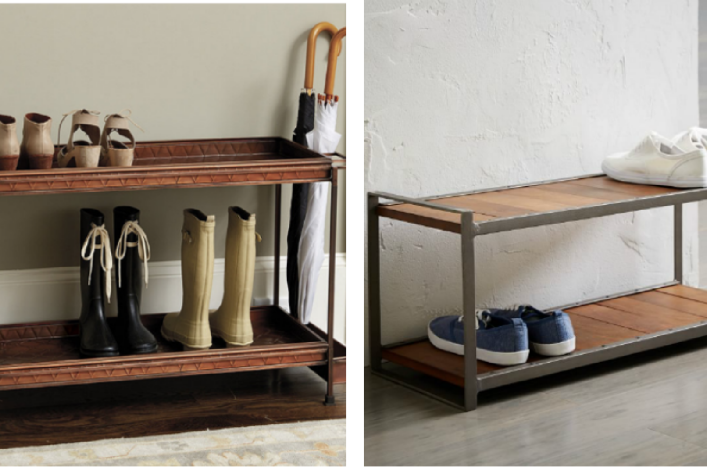 Since I returned from my first trip to Asia nearly 20 years ago, I've tried to keep a shoe-free apartment. That doesn't mean I live a barefoot life, but rather that my shoes should come off as soon as I enter my home, and that goes the same for my husband—as well as any guests. The rare exceptions are handymen coming to fix whatever has broken.
To me, it means less dirt enters the living space. It also cuts down on the noise that the neighbors below might hear, and it gives me a space to keep all my shoes so I don't have to rummage through my closet or armoire looking for that perfect pair before heading out the door.
---
Editor's Note: This story originally ran in June, 2018. We are presenting again in case you missed it.
---
I understand that not everyone appreciates a shoeless home. As a guest, it can be a pain to remove your shoes, or embarrassing to show your mismatched socks or those with holes, or feet that are long overdue for a pedicure. For those who make guests leave their shoes outside the entry door, there's always the risk of someone swiping a pair, a la Carrie Bradshaw's dilemma in a "Sex and the City" episode. But that chance is more rare than people might imagine.
I used to get more pushback from friends in the early years of my shoe-free apartment quest, but it rarely happens now—perhaps because it's become more common for people to make the request in the first place.
For guests who might be uncomfortable walking around in their socks or bare feet (which I must admit, I'm no fan of seeing either, especially because I have no idea where those feet were before they entered my apartment), I thought I had come up with the ideal solution: hotel slippers.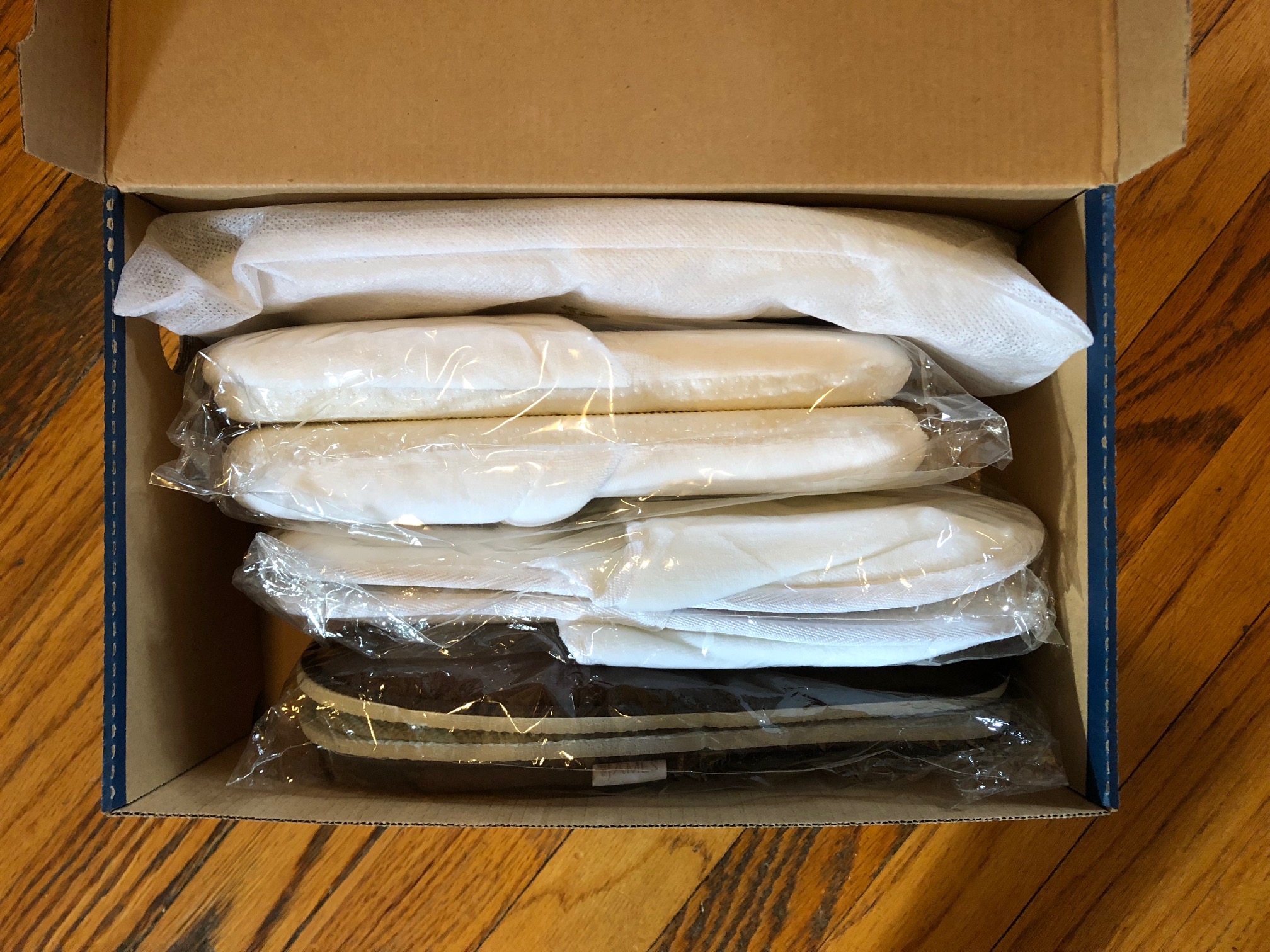 I used to cover the travel industry and was on the road multiple times a month, staying at fancy hotels and collecting fuzzy footwear from the Four Seasons, St. Regis, and other top brands. I kept them in their plastic and collected them in two large shoeboxes that I keep at the end of the hallway before entering the main area of the apartment.
(I also never walk around in bare feet: In warmer months I'm always in cotton tai chi shoes; for winter I have two pairs of plush wool ones from the French company Armor Lux, which unfortunately closed its Nolita store.)
Tiptoeing around the subject
Each time someone comes over, and I graciously hold out an open box and ask them to please pick a pair for their comfort (and mine), I inevitably get, "No, no, I'm fine without." I push a slipper box in front of them again, and more insistently request that they reconsider, but they still say no. For guests staying over, I add a pair to the top of their towels, dropping perhaps a not-so-subtle hint. They remain unused.
Well then.
My friend Maggie keeps a shoe-free house and also offers plastic-wrapped slippers, but has very few takers, which she also has come to accept. If someone refuses to take off their shoes though, she doesn't say anything, but she'll put them on a "naughty list" and they won't get another invite for a period of time. That rarely happens though as she is good about making sure she follows the golden rule of keeping a shoeless house: Give people advanced warning so they can prepare and don their finest socks.
The next potential problem of a shoe-free apartment is how to store all your footwear (and your guests', especially if you are having a party). If you have a narrow hallway entrance, like I do, it can be unseemly to have guests leave their shoes in a pile that latecomers need to climb over.
Because we live on the top floor of our building, I'm not opposed to asking guests to remove their shoes prior to entering because few people will be walking by our door. But I put shelving units outside the door for guests to place their shoes, to keep the common hallway tidy.
Storage solutions
What are some good solutions for storing shoes near the entrance of an apartment? For me, I have two wire racks and two low shelf units lined along our entrance hall for my and my husband's shoes and boots. There are a few spaces available for guest shoes. We also asked professional organizers for their recommendations.
Barbara Reich of Resourceful Consultants suggested the following three storage options: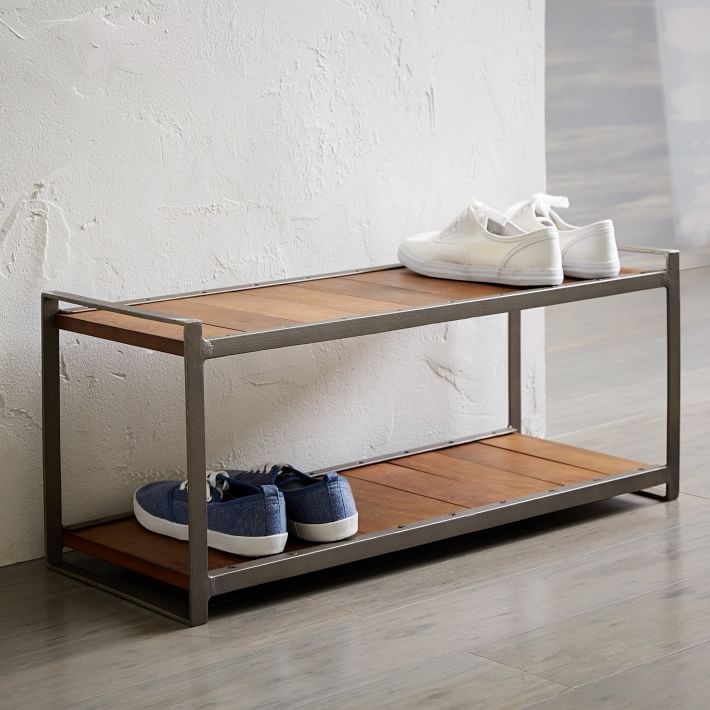 Industrial Shoe Rack
This rack mixes mango wood with a steel frame and provides two shelves for shoe storage. It retails at West Elm for $159.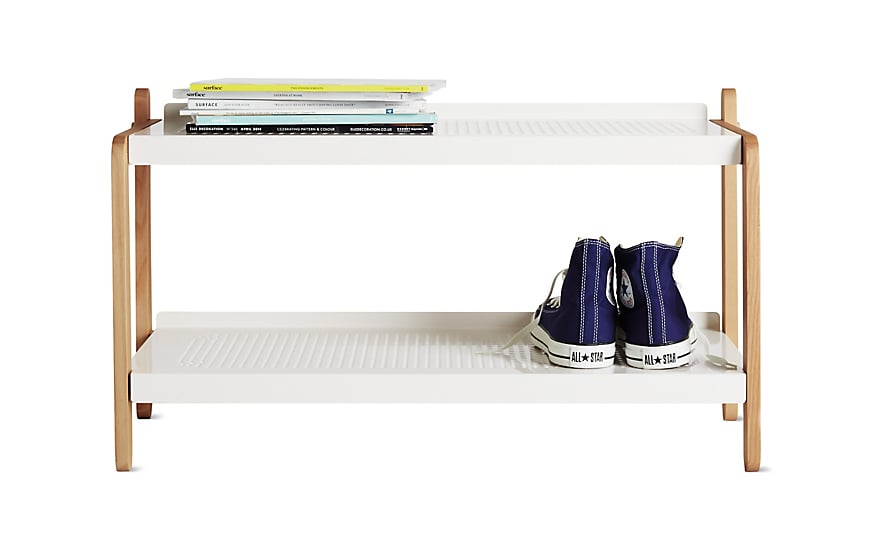 Sko Shoe Rack
Another simple option is the Sko Shoe Rack from Design Within Reach. Designed by Simon Legald, a graduate of the Royal Danish Academy of Fine Arts, the wood and perforated steel shelf unit is compact enough to fit in an entryway or closet. It retails for $265.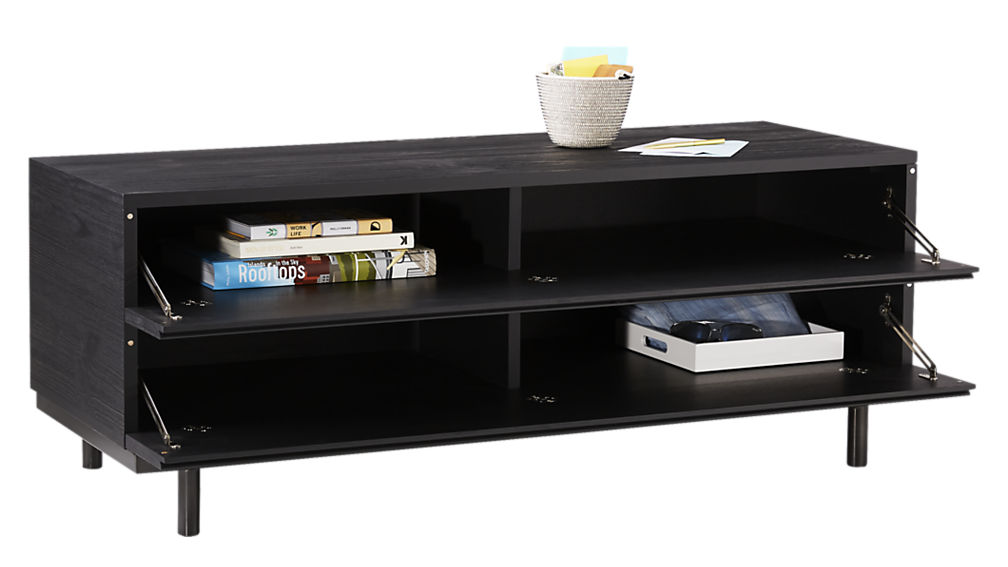 Flip Black Storage Credenza
This stylish black credenza hides shoes while providing a bench for people to sit on when taking off or putting on their footwear. Designed by Mermelada Estudio. It retails at CB2 for $599.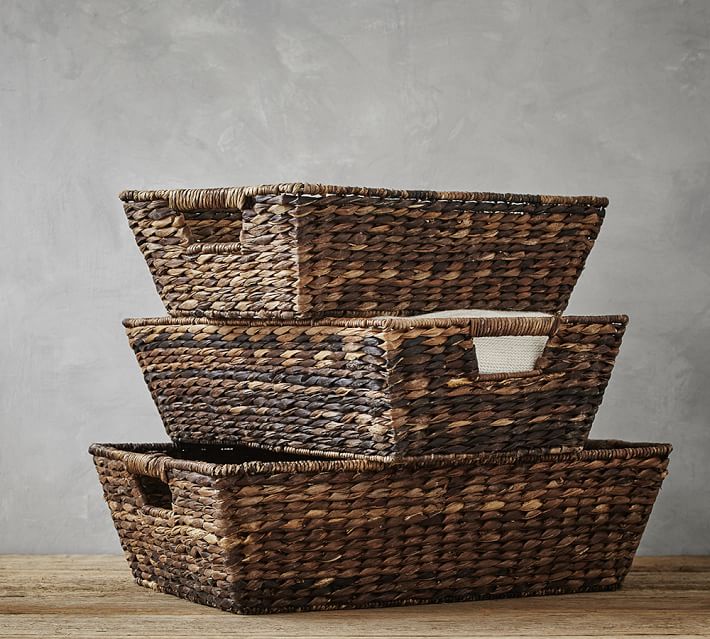 Havana Underbed Baskets
Lisa Zaslow from Gotham Organizers doesn't recommend trying to store all your shoes near the front door, unless you have a huge foyer or hall closet. "Use a shallow bin with handles to temporarily stash shoes and make it easy to transport them to bedroom closets for storage," she says. She recommends these baskets from Pottery Barn which retail for $29-$49.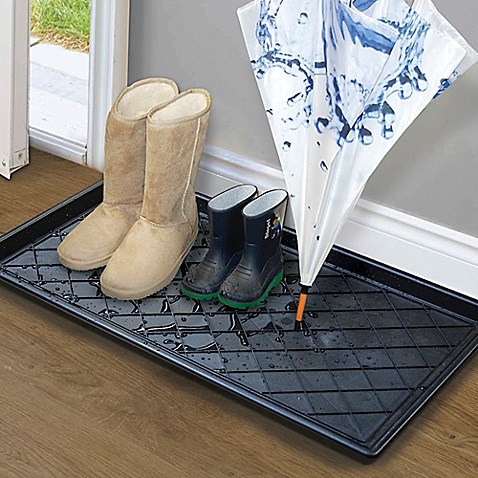 Boot tray
If it's winter or rainy season, though, a boot tray by the door can come in handy. Available at Bed Bath & Beyond for $6.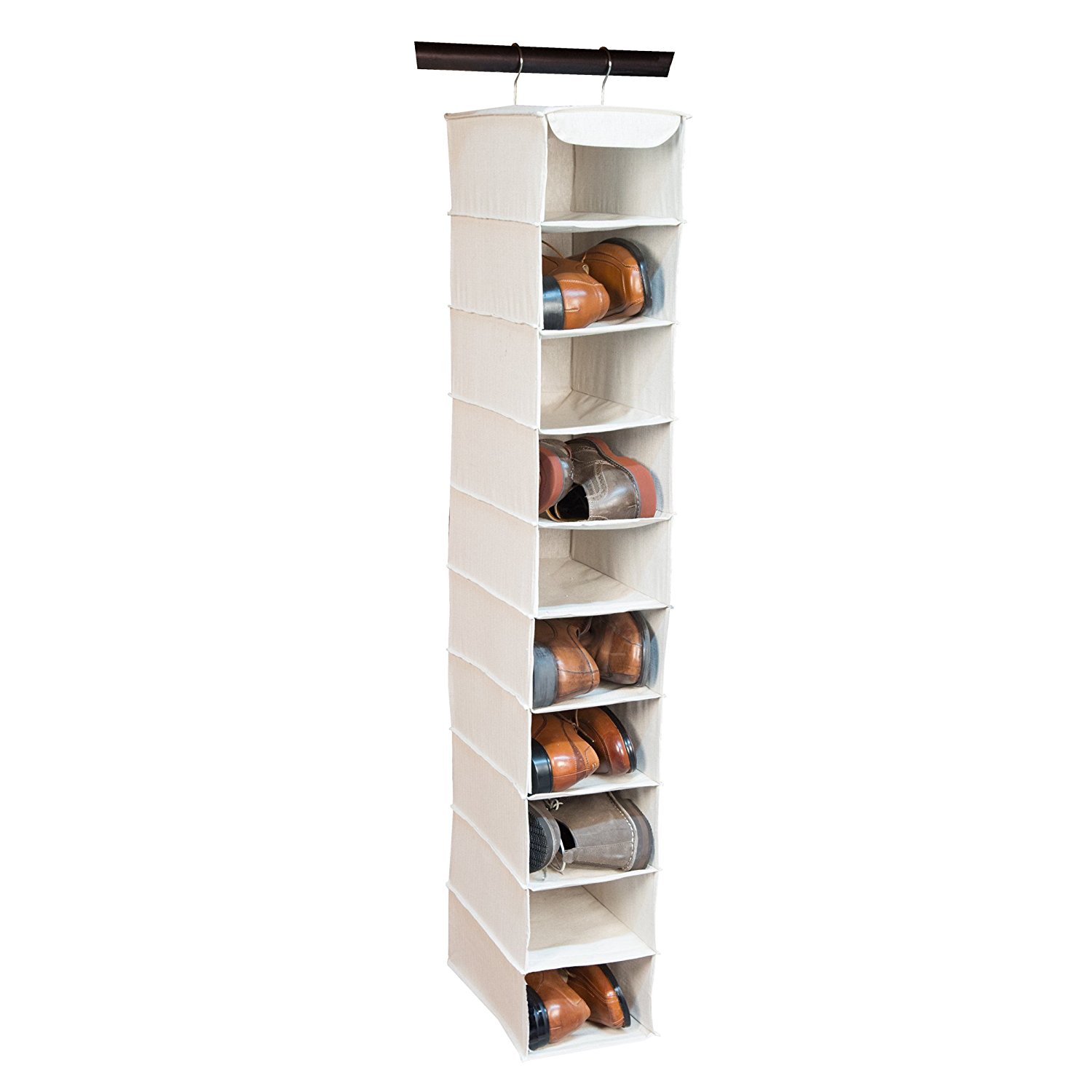 Richard Arrow Weave Hanging Shoe Organizer
Not enough spare floor space? Hang a shoe shelf organizer from the hall closet rod, Zaslow says. (I've also hung one of these from hooks on the back of our entry door when multiple guests have visited as our hall closet is actually in the middle of our apartment.) It retails for $36, but Amazon Prime members can purchase it for $16.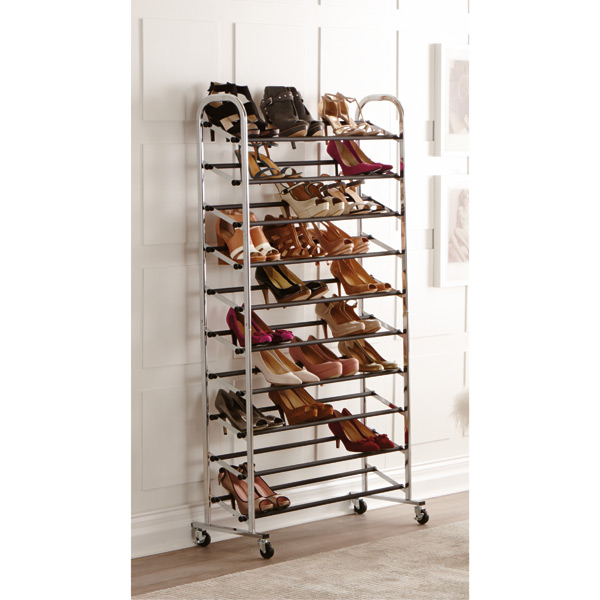 Chrome Metal Rolling Shoe Rack
If you have the space for it, this multi-tiered rack can hold up to 50 pairs of shoes, depending on the size and style. This is an option that would be great when you have a party. It normally retails for $50, but The Container Store currently has it on sale for $35.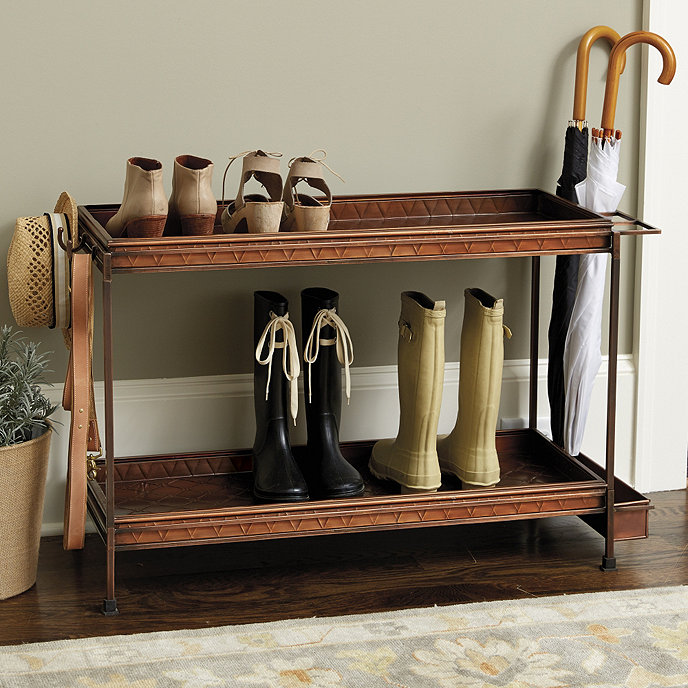 Ballard Double Boot Trays 
Zaslow believes "shoe storage can be as decorative as it is utilitarian." If you have room for it, she suggests this multi-purpose rack that has enough width between shelves to store boots. It also serves as an umbrella stand on one side and has hooks on the other. It retails at Ballard Designs for $249.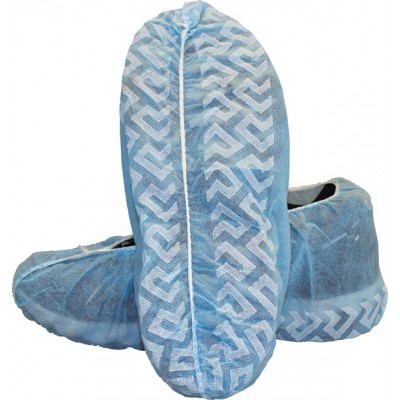 Safety Zone Disposable Shoe Covers 
Again, depending on the amount of space near your entry, Zaslow says to make it easy—and safe—for people to remove their shoes by placing a bench, ottoman, or chair near the door. She also offers a solution for guests who don't want to remove their shoes, or for an elderly person or contractor where safety could be an issue: disposable shoe covers. They come 300 to a case from CriticalTool for $25-$30. 
Brick Underground articles occasionally include the expertise of, or information about, advertising partners when relevant to the story. We will never promote an advertiser's product without making the relationship clear to our readers.