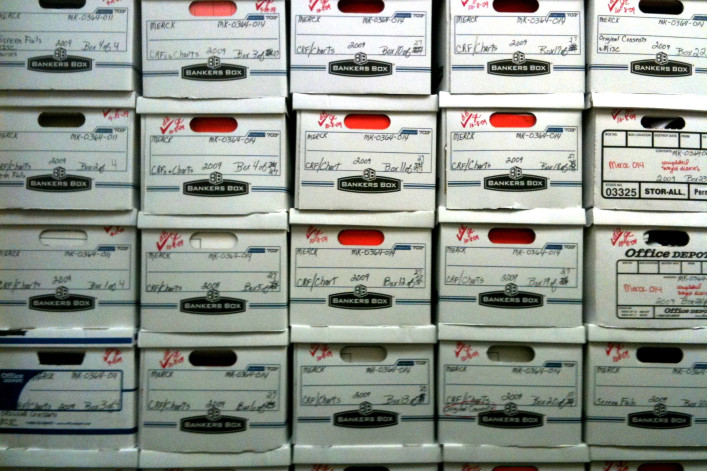 Take a good, hard look at your apartment: it's full of stuff. Even if you aren't a pack rat, the sad truth is that most NYC apartments simply don't have enough storage. Yes, some apartment buildings offer storage space, but there's often a waitlist for them. And there are plenty of self-storage operations, but you're forced to pay for an entire unit (usually the smallest is 5 by 5 feet), even if you just have a few boxes, not to mention the hassle of schlepping your stuff in a U-Haul, a cab or—heaven forbid—the subway. 
Jumping into the gap between these two options is a new generation of startups trying to change the way apartment dwellers store their down coats, air conditioning units and assorted belongings. Here are three available now in New York City:
New York City-based Boxbee calls itself an "urban storage valet," which is basically a fancy name for lending you boxes, picking them up, and storing them for you. (And yes, there is an adorable cartoon bee all over the website.) Their stackable, water resistant boxes measure 24 by 12 inches and are delivered right to your door, costing $7.50 a month each to store.
After you pack up your belongings, you have two weeks to schedule a pickup, Monday to Saturday from 8 a.m. to 6 p.m.—after that time, they will charge you $4 per box per month if you keep them at your apartment—and they are sent to a storage center in Jersey City with 24-hour surveillance. Boxes can be stored as long as you like—you can keep a record of each box's contents on Boxbee's website—but you pay $15 to retrieve your things when you're done. They will deliver your stuff back to your door within 24 hours, between 9 a.m. and 5 p.m., Monday through Friday. They are also a moving company, in that you can pay slightly extra at $9.50 a box (which includes up to a month of storage in between apartments) to have your stuff picked up at your old place and brought to your new place. You can also move or store "non-boxed" items like small furniture and bikes for $20.
MakeSpace does exactly what its name suggests: make space in your apartment. Like Boxbee, they provide you with boxes and pick them up for storage, but their process is a little more technological. As soon as you pack up your bins, the NYC-based company creates a "visual catalog" of your items, where you can attach photos and write descriptions of your boxes (i.e. kitchen: food processor, measuring cups, bowls). This is accessible in your account, whether on your browser or smartphone.That makes it easy to know exactly what you've got stowed away, and to retrieve only the items you need.
The storage service costs $25 a month for four 24 by 24 inch bins bins that measure 27 by 17 by 12.5 inches ($6.25 a month for additional bins) with free pickup, but there's a $29 flat rate delivery fee. Currently, pickups and deliveries are only available on Tuesdays, Wednesdays, Thursdays, and Saturdays Tuesdays through Saturdays from 8 a.m. to 7 p.m., but they will be extending their hours soon. They also take oversized items like bikes ($25 a month), AC units ($18.75 a month), and even golf clubs ($12.50), and have a program called MakeSpace Air that lets you ship their boxes from anywhere in the U.S. This is ideal for people moving, whether from borough to borough (it's available in Manhattan, Brooklyn, and Queens) or cross-country. However, at $25 a month, its price is comparable to other some smaller private storage sites across the city.
Instead of providing boxes, Austin-based Sparefoot helps you find the closest self-storage unit to your apartment. With a quick Zip Code search, you can compare prices on hundreds of units, including every size available at the company. The free website also allows you to search by amenities like air conditioning, drive-up access, and 24-hour access, too. Once you compare prices and read reviews, you can reserve online for a month-to-month lease. When plugging in a NYC Zip Code on the Upper East Side, it returned 119 facilities, with prices ranging from $28/month in Long Island City to $136 in Brooklyn for a 5 by 5 foot space. It was easy to sort by price, distance, reviews, or recommended places, and discounts like 50 percent off your first month or a free move-in truck were offered.
Of course, there's no guarantee that you'll get a significantly better deal than you would going directly to the source—though they do provide a $20 rebate when you book online and some exclusive discounts—and it doesn't solve the problem of having to get your stuff to the storage unit and back without a car.
Related:
What lies beneath: basement storage 101
Five untapped storage spaces hiding in your apartment
Brick Underground articles occasionally include the expertise of, or information about, advertising partners when relevant to the story. We will never promote an advertiser's product without making the relationship clear to our readers.