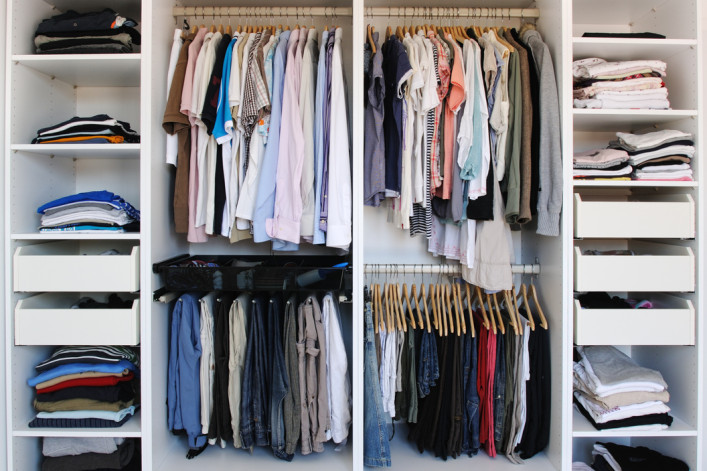 Most New Yorkers know that closet space is a prized commodity here, but it turns out that many don't know how to put that closet space to the best use. That's the verdict of some of the city's top organizers, who shared their best tips for maximizing your closet space, and some of the common mistakes people make with closets.
It's okay. Being organized doesn't come naturally to everyone.
1) Pay attention to height
"I've been in apartments where it was so clear that the person who designed the bedroom closet didn't think about how it was going to be used, or a very tall man designed it," says Janine Sarna-Jones, founder of Organize Me Inc.
Sarna-Jones helped some clients move into a loft recently with a very large walk-in closet with a double hanging bar.
"I couldn't reach the top bar and I'm 5-foot-8," she says. "It only worked for a basketball player." 
The couple didn't notice the height before they moved in, and had to bring a contractor in to fix it. Don't even think about suggesting a ladder or a stepstool as a workaround. That's not a solution, in Sarna-Jones's eyes, although many people use them.
"You use your closet every day," she says. "You need to access the things you want quickly so you don't have to get on a ladder."
2) Stash the memorabilia elsewhere
What else drives her nuts? When people stuff a closet with clothing that they're sentimentally attached to, but are never going to wear.
"That's memorabilia," Sarna-Jones says. "Just because it is a piece of clothing, it doesn't need to stay in your closet."
For example, she says, "I have a client who has clothes from college, sweatshirts that remind her of an amazing part of her life. I asked her if she's ever going to wear any of them and she said that she only wears one. So we put the rest in a box."
Professional organizer Barbara Reich of Resourceful Consultants has come across a lot of unusual things in closets.
"Perhaps the strangest was a miniature jar of Grey Poupon mustard that a woman saved from when she had flown on the Concord as a young girl," Reich says. "Needless to say, it was nowhere near the color yellow it had once been."
3) Move clothes off-site
Another option Sarna-Jones recommends, especially for the space-starved with some funds to spare: high-end valet storage companies that come and take away your off-season clothes, like Garde Robe, which will create a database of your items. You can do this yourself for less by putting your clothes in a storage facility and taking photos of your clothes, so you know what's in storage and what's not.
This option may not work for everyone, "Because in New York City, we never know what season we're in," she says.
4) Hack your closet
Most closets are basic, nearly empty spaces, with a rod and a shelf. You can install shelving systems like the high-end California Closets, its more affordable New York-area competitor, Creative Closets, and even more affordable DIY ones from Rubbermaid and Elfa, a customizable system from the Container Store. These differentiate closet space better by making, for example, a cubby for purses, or double bars for skirts and tops.
Organizer Judit Laszlo of Wizard of Homes recommends the Rubbermaid Configurations Deluxe Custom Closet Organizer System Kit
, available on Amazon.
"When clothing is organized by categories (color, fabric, similar item etc.) you are more likely to see who you really are and what style you represent," she says.​
Reich puts a finer point on closet systems. She says that good system "can mean the difference between a functional, aesthetically pleasing closet and chaos."
"Measuring how much linear hanging space you need, counting how many shoes you have, and approximating how much shelf space you need will ensure you end up with a properly designed, bespoke closet," she says. 
Another option, according to Faith Roberson, founder of Organize with Faith, is to have some wood cut at Midtown Lumber to create additional shelves in a closet.
And another tip: "If you have old wooden closet rod that's been painted a lot, you can swap that out," says organizer Lisa Zaslow, founder of Gotham Organizers. It's an inexpensive fix and with a new metal rod, and "your clothes move easily. It looks nice and fresh. You are investing in your clothes, so it's $50 well spent."
5) Put like with like
"The whole idea of using space effectively is to have the things that you use frequently within reach," Zaslow says. "For many people this thinking does not come easily. Everybody's brain works differently. Some people don't see it, they look at a closet and just see clothes."
What you want to do, she says, is to put clothing together in categories like shirts, pants, etc., or dressy clothes, workout clothes, etc.
One of her clients had her clothes scattered everywhere.
"She didn't realize she had 12 pairs of tan pants," Zaslow says.
6) Light it up
We tend to wear a lot of black in New York, which is hard to see in a closet. Zaslow recommends good lighting, even stick-on lighting, so you don't need to spend too much time figuring out which pair of black pants is which. Another trick: closet rack dividers to separate black from navy.
7) Let your clothes breathe
If you send your clothes out to dry cleaner, be sure to take them out of the dry cleaner bags when you get home, Zaslow says. Not only is it hard to see what's in bags, but the bags do take up space and trap chemicals used in the dry cleaning process.
"Sometimes I find my clients have clothes that have sat in bags for 10 years," she says. "You're not really protecting clothes this way."
To quickly make space in your closet, remove the empty hangers. For shirts and dresses, she recommends skinny velvet hangers made by Real Simple, available for $29 at Bed Bath & Beyond.
8) Couples shouldn't share
Roberson is also a big fan of boundaries for couples. If there's only one closet, she doesn't think they should share it.
"One person should take the closet and the other should get a wardrobe," she says. "Sharing one closet between two people doesn't work. One person always takes up too much space. Create two distinct spaces. It really helps keep people from fighting. You feel that you don't have decipher what's yours and feel like you have more space."
9) Only keep clothes in the bedroom closet
Some apartments lack closets near the entryway, but that doesn't mean you should keep your coats in your bedroom closet. Add hooks or a rack for coats and keep them out of your bedroom closet, Roberson says.
"Make your closet a place for your everyday attire, not for other stuff and you become more efficient," she says. "It keeps things from getting lost."
The same goes for hair and beauty products.
10) Be mindful
One expert recommends a Marie Kondo-style
approach to organizing a closet.
Once or twice a year, you should "take everything out of the closet and before putting it back in, and ask yourself, 'Does this make me happy?'" Laszlo says. "I find that a lot of clothes and items are held onto just because they were expensive or because we're hoping to fit in them again one day. But you may realize that you have negative memories about the item…It just reminds you that you need to lose weight and that you're not happy with the body you're in. Get rid of all that negativity and only keep the things that make you happy."
Another rule to live by could be a New York mantra: When something comes in, something goes out.
"Keep what you can maintain. If there's so much there's a mess, you can't put it away, you have too much," Roberson says. "Shop with intention."
She continues, "When you transition clothes, see what you haven't worn. It helps to be mindful of what you can keep or discard. I tell people if they need something dry cleaned or mended, take care of that before you shop. Shopping then becomes your reward for taking care of your things. A mindful approach creates a personal space."
And isn't that the definition of a closet?
You Might Also Like
[view:bu_blog_panes=ymal_inline]
Brick Underground articles occasionally include the expertise of, or information about, advertising partners when relevant to the story. We will never promote an advertiser's product without making the relationship clear to our readers.