At 500 square feet, this co-op studio at 295 Riverside Dr. on the Upper West Side is definitely on the small side. Architect Jordan Parnass of Brooklyn's Jordan Parnass Digital Architecture dislikes how the bed is peeking out of the sleeping alcove and can be seen from the living space.
Still, Parnass says the studio, which is listed for $650,000, will make a good starter apartment.
"It has high ceilings," which make the co-op look larger, he says. "And it's clear that this unit wasn't previously part of a larger apartment that was chopped up into smaller apartments."
In this week's Reno Ready, Parnass explains what he would do make over the apartment—and what he wouldn't do. For example, he would be reluctant to add a door to the windowless alcove, noting that "there wouldn't be any air." 
"When you have such a small space, you need to think about every inch," he says.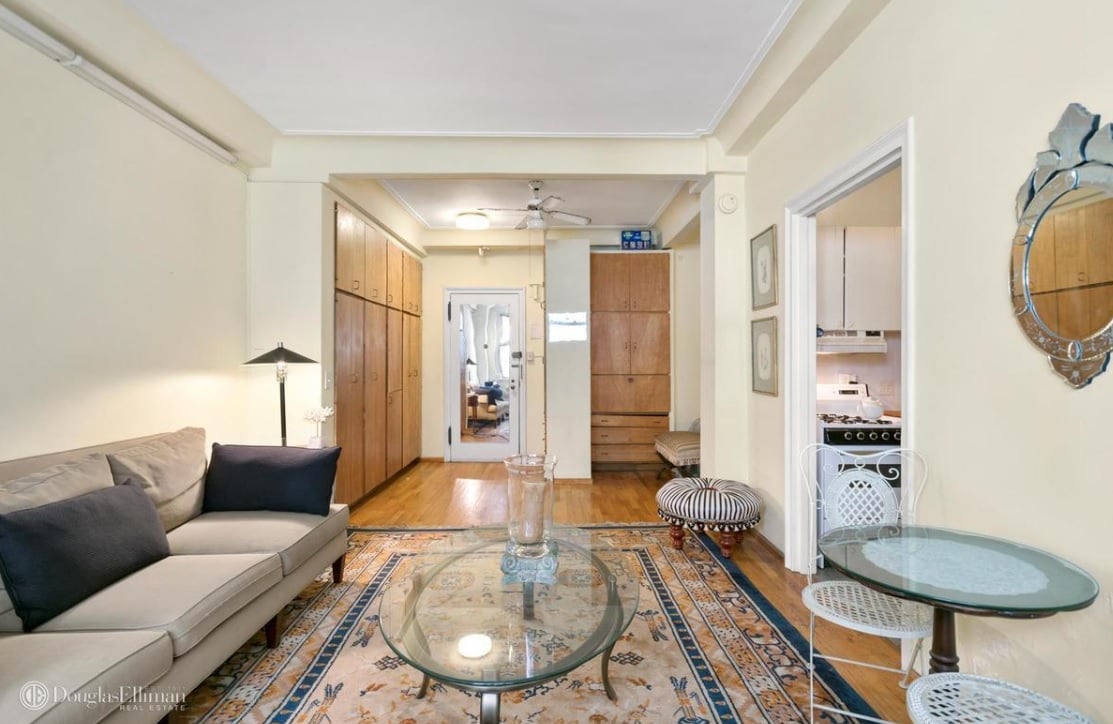 Fix the foyer floors
Floors: Parnass would replace the current flooring with a lighter-colored wood with a herringbone pattern. He'd go with an oil-rubbed (not glossy) finish that looks more refined. He'd run it through the entire apartment to "make the space flow more." New flooring will cost around $20 per square foot installed.
Paint: Parnass thinks white walls would really brighten up the room. He'd go with an eggshell finish for the walls, a semi-gloss for the doors and moldings, and flat for the ceiling. A gallon of Benjamin Moore's Decorator's White is $75.
Storage: "There's a good amount of built-in storage here and I want to preserve that," Parnass says.
He would keep the millwork, but replace the wooden doors with white lacquer ones "that won't call attention to themselves." He would use finger-pulls on the cabinet fronts, instead of hardware, which will look more seamless. New doors should cost around $5,000.
Lighting: Parnass isn't a fan of the simple flush-mount fixture currently lighting the room. He would drop the ceiling about three inches in the foyer and put in a pair of recessed down-lights (like these) leading from the entry door to the living room. He'd also add an LED tape strip above the cabinet doors to make it easier to see inside. Parnass thinks that dropping the ceiling and installing the lights should be around $1,500. This Kichler 2700K tape light is $130.
Fan: "It's horrible," he says of the humdrum white ceiling fan. "It's also not a good place for a ceiling fan." He'd simply take it out and repair the ceiling. 
Exposed electrical: To the right of the front door, there's exposed electrical wiring, switches, and an intercom. Parnass would like to find a way to conceal it all, probably in the built-in storage. This should cost a few hundred dollars.
The living area should go with the flow
Floors: He'd run the new herringbone floors in here, too.
Paint: He'd go with white in here for visual continuity.
Moldings: "I'd redo the base moldings throughout," Parnass says, calling the existing two-inch molding "dinky." Since the ceilings are so high in here, Parnass thinks that five-to-six-inch moldings are warranted.
"They'll make the space feel more luxurious," he says. New moldings for the entire apartment should cost about $500.
Lighting: Parnass would rip out the strip lights under the moldings, which he calls "crazy," and replace them with sconces on the walls. These modern LED sconces are $148 at Shades of Light.
Mirror: He would add a horizontal mirror above the couch to reflect outside light. This Penarth Walnut Oval Wall Mirror is $299 at Crate & Barrel.
Soffit above window: Parnass advises building a soffit above the window to help the ceiling, which he calls "zig-zaggy," feel more continuous. It would also create a place to conceal window shades. Building the drywall soffit should cost about $500.
Window treatments: "The best solution is two layers," Parnass says. "A sheer translucent curtain behind a thicker curtain."
Because this is a ground-level apartment, there will definitely be issues with sound and privacy. The sheer shades will let light in during the day, while still offering a bit of privacy, whereas the thicker shade will block out any light toward evening and early morning. Parnass says that proper window shades should cost around $700.
Millwork: Parnass would conceal the ugly radiator, creating a surface to put knickknacks on. The space to the left of the radiator could be used as a desk. And finally, Parnass would use the left-hand side for all of the new owner's audiovisual equipment.
"We'll run the power through the wall into the cabinets," so there aren't any exposed wires, he says. He would paint it a glossy white to match the white lacquer cabinets in the entryway and alcove, and choose a white counter made of either laminate or Corian, which should cost around $3,000. The electrical work should be about $500.
Air conditioner: Parnass hates the current air conditioning unit. He'd swap it out for a Noria AC, a low-profile piece that's super-thin and "will allow you to preserve more view through your window." This slim Noria AC unit is $399.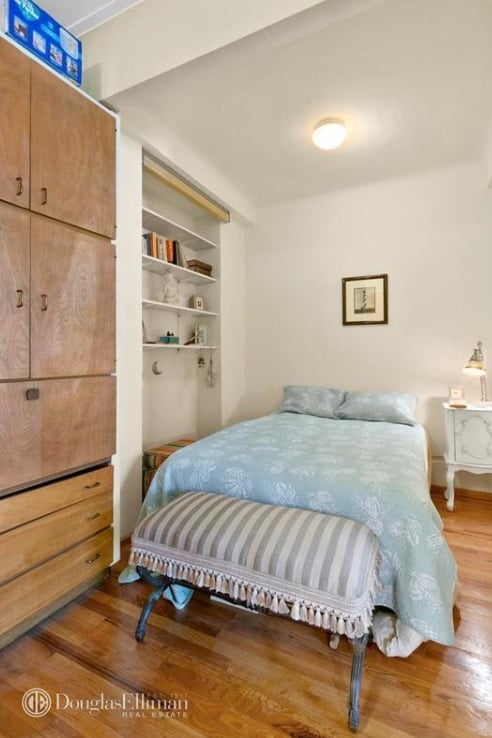 The sleeping alcove needs some balance
Doorway: Since the pilaster to the left of the alcove looks thicker, Parnass suggests making the column to the right thicker, too, so they'll match and "make the space feel more balanced." This should cost about $300.
Floors: He'd also replace the flooring in here with light-colored wood in a herringbone pattern.
Paint: Once again, he'd choose white.
Lighting: He'd take out the overhead light because he doesn't think it is necessary in a bedroom—it can cast a harsh glow on the bed. He'd go with a pair of sconces on the wall instead. Prices for these sconces start at $199 on YLighting.com.
Bed: Parnass recommends rotating the bed so that it's facing the window, not the front door. That way it will be less visible from the living room and will open the space up a bit more.
Cabinet: He'd replace the cabinet doors on the huge dresser with the same white lacquer doors as in the living room so that everything matches.
Storage: There's a nook with shelving next to the bed, but there are only four shelves towards the top. The bottom area is completely wasted. Parnass would add more shelves to maximize storage. Prices for these shelves start at $28 at The Container Store.
The mystery kitchen
There aren't any photos of the kitchen—which is usually a sign that it's in bad shape—but you can see a little bit of it in the corner of the living room pictures.
Floors: Parnass would run new herringbone wood floors in here, too. A mat would protect them from water. This anti-fatigue mat is $61 at ULine.com.
Paint: To keep things continuous, he'd go with white in here, as well.
Lighting: He'd drop the ceiling by about three inches to install a couple of LED down-lights (similar to what he did in the foyer). He'd also put in under-cabinet lighting. He believes that dropping the ceiling should be about $500. These Black+Decker under-cabinet lights are $97 at The Home Depot.
Cabinets: He'd lose the ancient cupboards and replace them with new cabinets with custom fronts in a white lacquer (so that they'll match the rest of the storage spaces in this apartment). And since the ceilings are so high, he feels that there's room for a double row of them in here. New cabinets will cost $7,500-$15,000.
Countertops/backsplash: He'd choose quartz for the countertops and run them up the wall to serve as a backsplash.
"In such a small kitchen, they'll take so much abuse," he says. Quartz is known to stand up to hot pots, wet stuff, and other mistreatment. He thinks that this should cost about $600.
Appliances: Since the kitchen is so petite, Parnass advocates choosing the slimmest possible appliances out there. This Liebherr 30-inch refrigerator is $2,139 at AJMadison.com. This Blomberg 24-inch gas range is $899, also at AJMadison.com. This 18-inch SPT dishwasher is $385 at The Home Depot.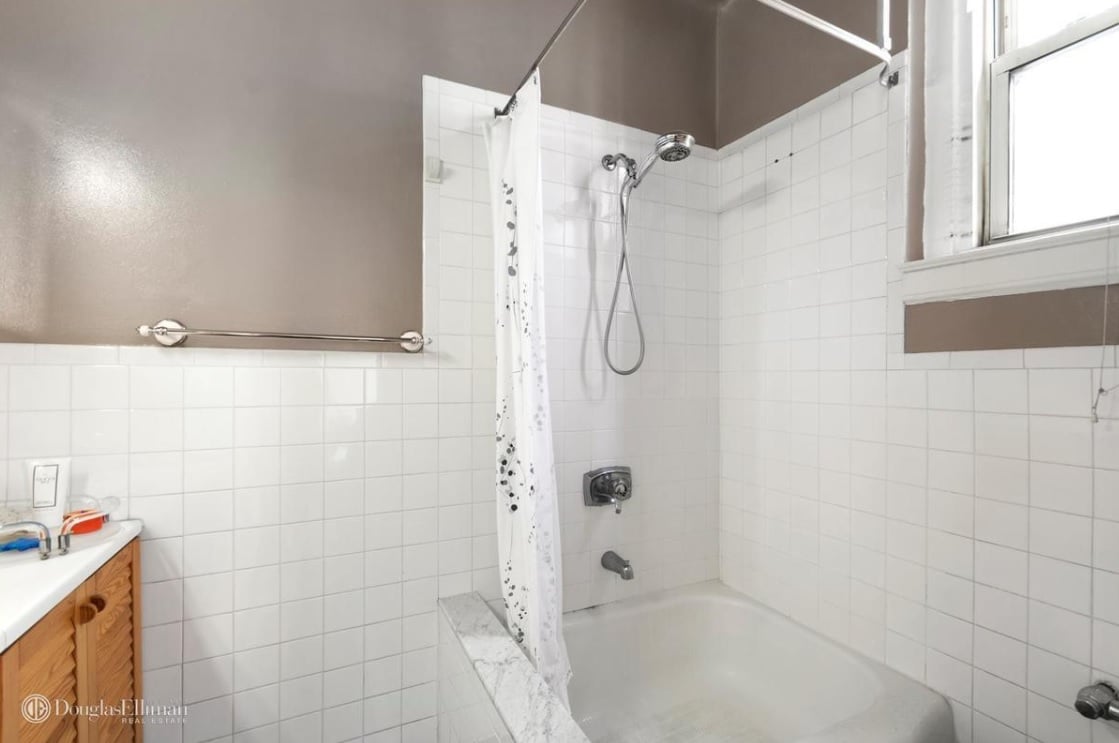 The bathroom needs major work
Parnass thinks the bathroom needs to be totally gutted.
Tile: Parnass would replace the tiles on both the floor and the walls with the same tile throughout—large, light-gray porcelain tiles.
"There'll be fewer grout lines, so it'll be easier to clean," he says. He'd run them all the way up the walls. He'd also add radiant floor heating under the floor tiles. The tiles should cost $10 per square foot and the radiant floor heating should cost around $500.
Lighting: He'd recommend lots of different lighting options in this tiny bathroom. First, he'd drop the ceiling to add a couple of recessed lights. Then he'd add a linear vanity light (such as this Fuse vanity light, $284 and up on YLighting.com) above the medicine cabinet. Finally, he'd add an LED tape strip under the medicine cabinet (like the one in the foyer) to serve as a night light. This should cost $400-$500.
Shower: He doesn't think a bathtub is necessary in such a small apartment, so he'd replace it with a walk-in shower enclosure. He'd also add a rain shower head. This corner shower kit is $1,122 at Lowe's. This Delta shower head is $226 at The Home Depot.
Medicine cabinet: Parnass assumes that the medicine cabinet will need to be swapped out. This single-door Robern medicine cabinet is $1,549.
Vanity: He dislikes the current vanity, so he'd get a new one with plenty of storage space. This 30-inch vanity is $911 at Wayfair.  
Toilet/Sink/Faucet: Parnass assumes that the existing toilet, sink, and faucet will need to be scrapped. This Toto one-piece toilet is $351 at The Home Depot. This drop-in ceramic sink is $390 at Wayfair. This Kallista faucet is $544 on efaucets.com.
Brick Underground articles occasionally include the expertise of, or information about, advertising partners when relevant to the story. We will never promote an advertiser's product without making the relationship clear to our readers.