Boards & Buildings
>
Legal
[ SPONSORED ]
Changes to Local Law 97 fines debated at tense public hearing
The city may reduce penalties for buildings that make a 'good faith effort' to comply with Local Law 97
One co-op building president called the law 'financially ruinous' even with the proposed change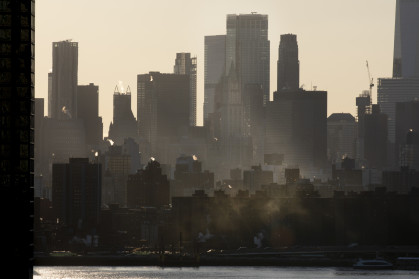 Building owners, legislators, and residents engaged in a heated debate over curbing fines associated with the landmark climate legislation known as Local Law 97 in a tense virtual hearing Tuesday, just months before the law takes effect. 
The 2019 legislation aims to cap a building's carbon emissions by fining properties, and has seen significant changes as New York City approaches its first compliance period, from 2024 to 2029. Mayor Eric Adams and the Department of Buildings have proposed that building owners who make a "good faith effort" to comply with the law should be exempt from penalties, and earlier this month, two city council members introduced a bill to limit the law's enforcement.
Roughly 89 percent of buildings above 25,000 square feet are in compliance with Local Law 97's 2024 emissions targets, according to Laura Popa, the deputy commissioner of sustainability at the DOB. But that leaves thousands of buildings that could face fines in 2025 for failing to decarbonize, with greater penalties coming down the pipe through 2050.
Building owners could see little or no fines under the proposed rules, but some owners said that the effort wasn't enough to alleviate the burden of fines during the Tuesday hearing. 
At the same time, city legislators and some environmental advocates worried that scaling back Local Law 97's teeth would harm Gotham's efforts to combat climate change, given its already disastrous impacts on the city.
"This law was not a surprise and owners have had five years to come into compliance," said Public Advocate Jumaane Williams. "Such a rule would also create context and precedent for further extensions, allowances and delays once those two years period elapses. The potential for delay incentivizes inaction."
Hot debate, hot climate
The DOB defines a "good faith effort" as a series of steps that show a building is on the path to comply with Local Law 97, though that definition may change after 2029, the end of Local Law 97's first compliance period. By starting decarbonization, buildings could receive reduced or no fines under the proposed rules. 
But even the softened version of Local Law 97 could be "financially ruinous" to condominiums and cooperative buildings, said Robert Friedrich, president of Glen Oaks Village Cooperative, a 10,000-resident co-op in Queens. 
"Local Law 97 comes with the greatest mandated penalty ever imposed by the city council on their own constituents," Friedrich said. "Working class families living in New York's old housing stock will bear the cost burden of compliance compared to a new multi-million dollar building. "
Rebecca Poole, the director of membership for the Council of New York Cooperatives and Condominiums, said that her organization supports the goal of decarbonization, but wanted the DOB's rules to focus more on carrots than sticks.
"We respectfully recommend opt-in alternatives to mitigate or remove fines for owners fully committing to decarbonization," Poole said. "The department has repeatedly told us that the goal is decarbonization. Not the collection of penalties." 
But some owners had a different perspective. Denise Patel, a co-op owner and climate activist, said that the proposed rules would fail to address climate change and let owners that have not prepared to decarbonize skirt the rules.
"We have all witnessed major storms devastate parts of the city, frequent and intense flooding repeatedly damaging homes, and now smoke from different wildfires [that] completely enveloped our city," Patel said. "This is why it is imperative that Mayor Adams stand up for the New Yorkers who need it most. Instead, he has chosen, through these rules, to reward owners who have not taken action to reduce their emissions when the law takes effect next year."
The scope of the changes
The DOB has justified its proposed changes because of the "significant" investment decarbonization requires and delays buildings may have faced in making upgrades thanks to the pandemic. 
The vast majority of buildings are in compliance with the law's 2024 caps, and a third of the city's multifamily buildings meet 2030 limits. But roughly 16,500 buildings and 9,000 affordable housing properties must undertake upgrades or other measures to meet carbon neutrality goals by 2050, Popa said during the hearing.
Those upgrades are expected to cost $12 to $15 billion through 2030. 
"Some buildings have an easier and less costly road to reducing their emissions, others have a much harder and extended pathway, " Popa said. "In the lead up to the first compliance deadline, the city is focused on mobilizing buildings towards more efficient operations, decarbonization and a clean energy future." 
How to lower your fines
To qualify for reduced penalties, owners should submit a decarbonization plan by May 1st, 2025. That plan must include an energy audit; an inventory of the buildings HVAC, water, and electrical equipment; a description of past work that resulted in lower emissions; a list of alterations to reach net zero carbon emissions; and a plan to finance those alterations, according to the proposed rules.
Buildings should get their decarbonization plan, budgets, financing, contractors, and permits in order "well in advance" of 2030 to be considered for a "good faith" reduction in fines. 
Owners must have completed work to bring a building in compliance with 2024 limits within two years of submitting their decarbonization plan (due by 2025). Also, owners must have applied for DOB approval to complete renovation work necessary to meet the 2030 emissions caps by May 1st, 2028 to qualify for "good faith" penalty reductions, according to the proposed changes.
Owners that have already scored DOB approval to start decarbonization work should demonstrate that they're making progress. Those improvements could include benchmarking, a way to measure a building's energy and water consumption, upgrading a building's lighting, and installing submeters, which measure an individual tenant's energy use. 
Buildings can also be exempt from fines if a property was hit by a natural disaster—such as severe flooding or fire—and could receive no financial penalties for the year of the accident. 
Reframing penalties for 'good faith' buildings
Those who make good faith efforts are eligible for a "mediated resolution"—basically an agreement between a building owner and the DOB not to go through the agency's sanction process, and instead to come up with a plan on how to achieve compliance with the law. 
But the proposed changes would also include fines for owners that drag their feet. Buildings that fail to file a decarbonization plan within 60 days of the 2025 deadline would be liable for a penalty equal to the gross floor area of their building, multiplied by $0.50 for each month the report is late, according to the proposal.