This one bedroom at 67 East 11th St. in Greenwich Village, listed for $849,000, is definitely a fixer-upper, but architect Benjamin Andres sees lots of promise in it.
"It's in a great building," he says. He also likes the fact that it has outdoor space, and at 840 square feet, "it's a great size."
But there are things he dislikes about the space, most notably, the low ceilings and the layout.
"It's deep and there are only windows on one side," he says, "so the entry area can get a little dark."
In this week's Reno Ready, Andres outlines his plans for updating this co-op, which clearly hasn't been redone in some time.
"The kitchen, especially, needs a lot of work," he says.
First, though:
Brighten up the living room (shown at top)
Floors: "They look to be in okay shape," Andres says, so rather than replacing them, he'd recommend redoing them with a lighter finish. "I like to use a simple bare finish on oak floors so the natural color can shine through." This should cost about $6 per square foot.
Paint: He'd choose a bright white for the walls and ceiling, specifically Benjamin Moore's Chantilly Lace, which he claims "works best in most Manhattan apartments as it's the perfect combination of warmth and brightness." If owner doesn't have children, he'd choose a flat finish for the walls. If there are kids, he'd choose eggshell, as it's more forgiving. He'd also opt for a high-gloss ceiling "since it reflects light more." A gallon of Chantilly Lace is $75.
Lighting: Since the ceilings are already on the low side, Andres would use wall sconces and floor lamps to illuminate the space, instead of doing recessed lights in the ceiling.
"They'll help to activate the bright white walls," he says. These Court sconces from Allied Maker are $700.
Moldings: "A shallow but wide crown molding will add some interest to the ceiling—and ultimately, the whole room—without feeling too heavy for the low ceiling height," Andres says. This should cost approximately $15 per linear foot.
Millwork: Andres would add a piece of built-in millwork along the long wall across from the bedroom.
"Besides concealing the AC unit on that wall, it could house the TV and your other media equipment, as well as books," he says. He'd paint it either white or light gray to keep the room light and bright. This should cost about $15,000.
Window treatments: Andres isn't usually a big fan of window treatments because they take away from the view, but sheer curtains over the windows leading to the balcony would add some privacy. Prices for these sheer curtains start at $15 at The Home Depot.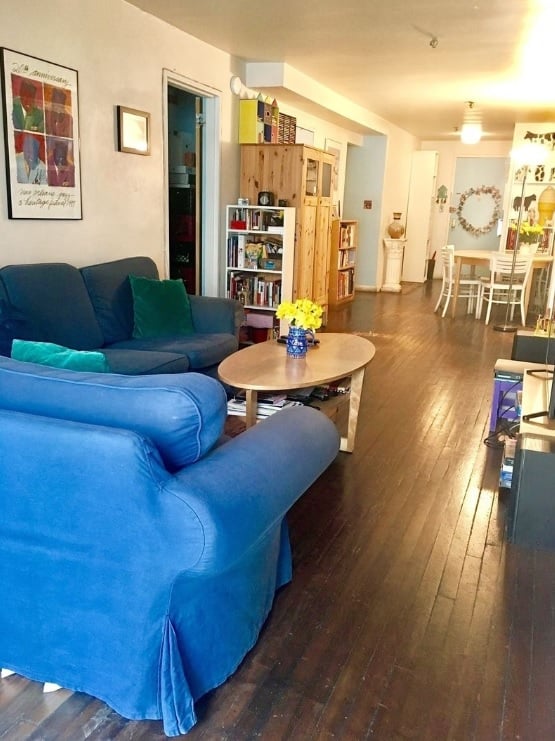 Make the dining area more private
Door: Andres suggests closing off the door leading directly into the master bath (since there's a second door to the bathroom in the bedroom).
"It's totally okay to walk around the corner if this is your only bathroom in the apartment," he says. "It also adds a little bit more privacy for people to use the bathroom when you're entertaining." Once the door's gone, Andres proposes using that new wall space "to place a credenza and hang some artwork above."
It should cost about $1,500 to close off the door.
Table: The space is currently has a small round dining table, but Andres says there's enough space for a larger rectangular table that can seat eight. This wood dining set with eight chairs is $1,141 on Overstock.com.
Lighting: There's already an electrical box over the dining area, so he'd swap out the current light for a more modern pendant light. Closing off the door would create is a good place to add some wall sconces (like the ones in the main living area). Prices for this Lumi-Mochi pendant light start at $310 on YLighting.com.
Floors: Andres would redo the floors in here too with a lighter finish. He would put an area rug beneath the table to help define the dining room. This Alise Lagoon Traditional Floral area rug is $142 on Overstock.com.
Paint: He'd go with Chantilly Lace in here, as well.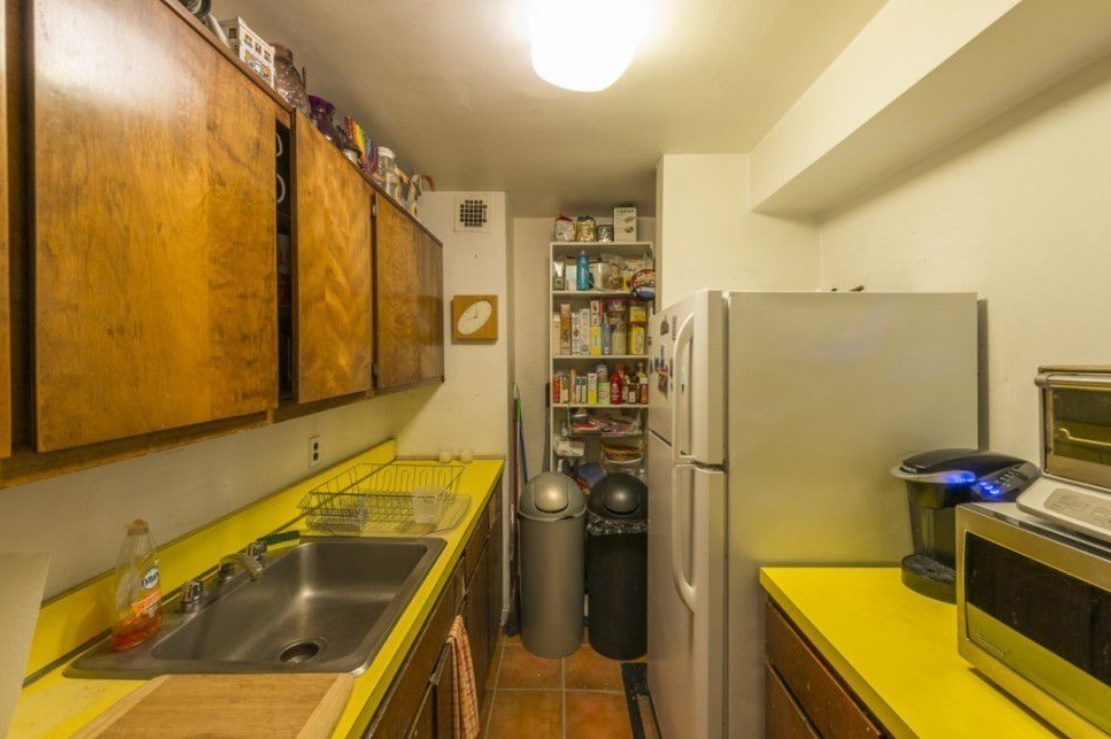 Open up the kitchen
Wall: The biggest thing Andres would do in here is open up the kitchen to create a breakfast bar and utilize the dead space in the entryway. "It'll make the kitchen feel bigger and more usable," he says. He thinks that there's an electrical panel near the fridge that probably can't be moved, so he'd leave a partial wall to cover the fridge. This should cost about $5,000.
Floors: At the moment, there's tile flooring in here. Depending on what the new owner prefers, Andres suggests either replacing the tiles with a new wood floor that matches the flooring in the rest of the unit or laying out some new tile.
"A new porcelain floor would work," he says. He would opt for a large-format concrete-look tile that would be easier to maintain than tiles with more grout lines. New tile floor should cost about $8 per square foot.
Cabinets: Andres would replace the cabinetry. A two-tone scheme with slightly darker color for the base cabinets and a bright white for the upper cabinets "will help to make the kitchen look taller than it is," he says. He'd also bring them all the way up to the ceiling in order to maximize storage space. New cabinets will cost around $15,000 or so.
Countertops: "I prefer a natural stone if there are no kids in the apartment," he says, since it can be tough to maintain stone with sticky little fingers touching them. It's also more affordable than engineered stone. He'd opt for a light gray in here to play off the floors and new cabinets. If the new resident would prefer manufactured stone, he suggests Caesarstone's Airy Concrete. New stone countertops should cost about $3,000. Caesarstone will be more, about $4,500.
Backsplash: "Spend a little bit of money on a nice piece of stone or an interesting tile for the kitchen backsplash," he instructs. "Make it a focal point, since it's one of the first things you'll see when you walk into the apartment." Tile could cost about $8-$10 per square foot.
Paint: After creating the breakfast bar, there will only be a little bit of wall left to paint. He'd go with Chantilly Lace yet again.
"Bring the main color from the dining and living room in here," Andres says. "Keep it consistent."
Lighting: "The lighting strategy for the kitchen is very important since it doesn't have a window and [it] is the darkest spot in the apartment," he says.
He suggests dropping the ceiling a couple of inches to allow for "proper recessed lighting"—at least four spots. He'd also install linear LED under-cabinet lighting beneath the new upper cabinets. It should cost about $2,000 to drop the ceiling. Each recessed light will be $200. These LED strip lights are $34 for four at Wayfair.
Appliances: New appliances are definitely in order in here. Andres would opt for "mid-range stainless steel" pieces. "Nothing too fancy," he says. This Frigidaire top-freezer refrigerator is $498 at The Home Depot. This Whirlpool gas range is $469, also at The Home Depot.
Sink/Faucet: Andres would also order a new sink and a new faucet for this transformed space. This single-bowl 30-inch under-mount sink is $137 on Overstock.com. This Grohe faucet is $248 on Build.com.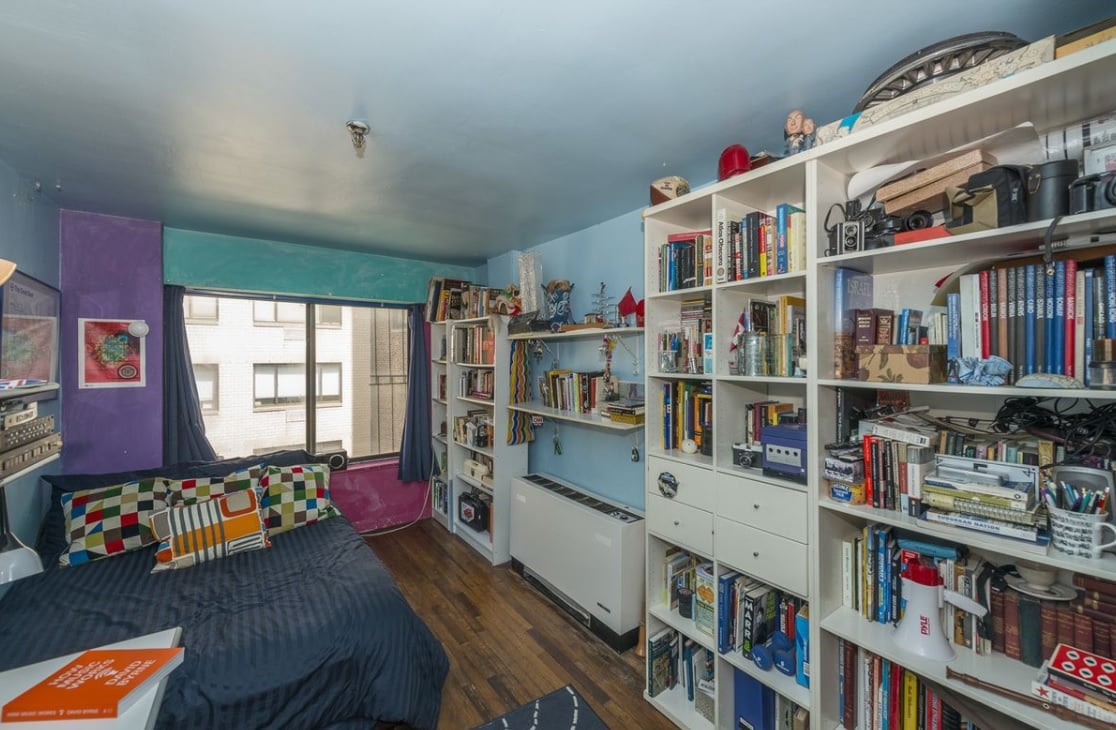 Conceal the radiator in the bedroom
Door: Andres would replace the current swinging door with a barn door "to allow for easier access to the master bath. This interior barn door is $274 at Wayfair.
Paint: He'd again go with Chantilly Lace for consistency's sake.
Floors: Here too, he'd refinish and lighten the existing wood flooring.
Lighting: Andres would have a pendant or a flush-mount installed at the existing electrical box. In addition, he'd add two bedside lights—possibly wall-mounted. Prices for this Nelson Saucer Bubble Pendant Light start at $395 at YLighting.com. These swing-arm wall lamps are $130 each at Lamps Plus.
Window treatments: He'd go with a blackout shade and a sheer one. These cordless blackout cellular shades are $75 at Lowe's. These sheer shades are $90 on Blindster.com.
Millwork: "The biggest change in here would be a second piece of built-in millwork to conceal the second AC unit, as well as allow for some dresser space," Andres says. "I'm envisioning a low piece with some open shelving above." This should cost $5,000-$8,000.
Sink: From the floor plan, it looks like there is a sink between the master bedroom and master bathroom.
"This space would make a great laundry area with a stacked washer and dryer, and some storage next to it," Andres says. He thinks the building's board will probably be okay with it since it's already a designated wet area. He'd hang a curtain in front of the area to separate it from the rest of the room. He thinks that creating a laundry area should cost about $1,500 or so. This Kenmore stacked washer and dryer is $1,070 at Sears.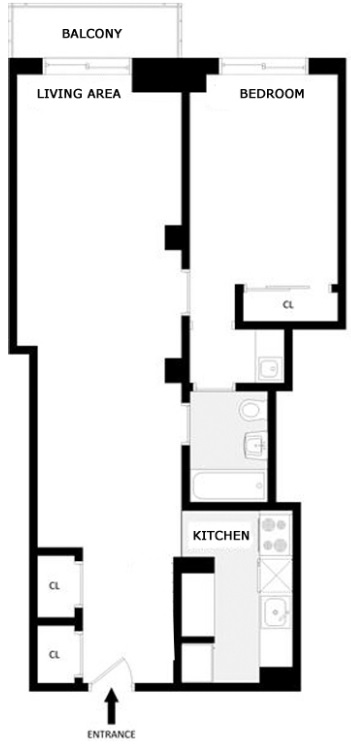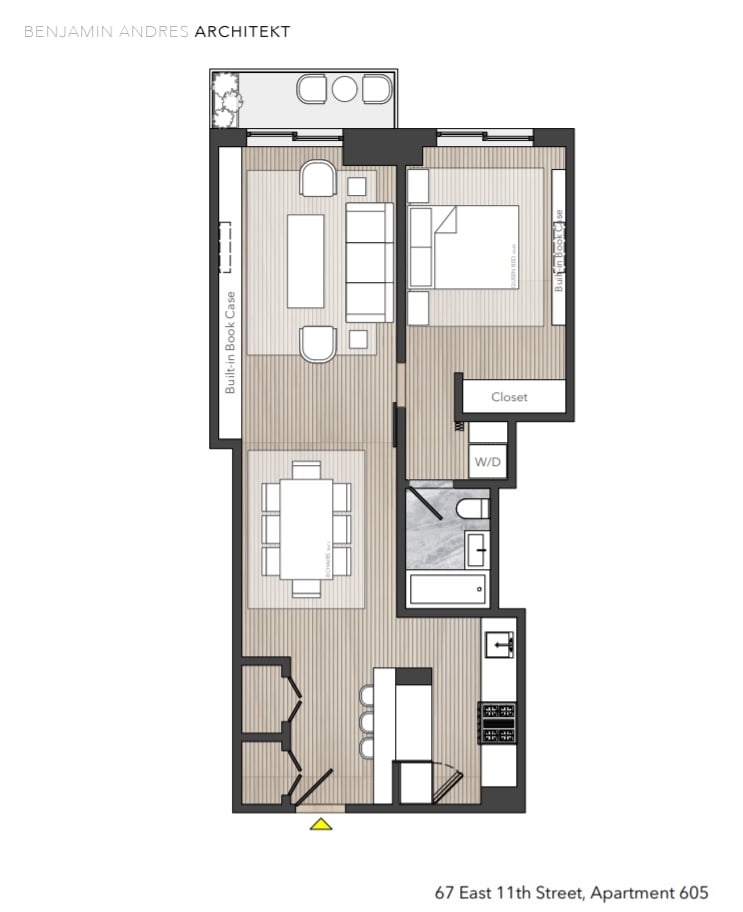 The bathroom probably needs major work
"There aren't any pictures of the bathroom, but I would assume that it will need major work, as well," Andres says, noting that he'd leave all the fixtures in place, and hopes that the tub and toilet can be reused.
Tiles: Andres assumes that the walls and floor will both need to be re-tiled. On the floors, he'd go with natural stone tiles in a medium-size format in gray. He'd choose smaller-format tiles in a lighter color for the walls.
"It'll be a nice contrast," he says. Tiles for both the floor and walls should cost around $2,500.
Vanity: He'd put in a new sink and vanity with some built-in storage. Prices for this 30-inch bathroom vanity set start at $796 on Overstock.com.
Medicine cabinet: He'd also get a new medicine cabinet with some storage space. This Kohler two-door medicine cabinet is $204 on houzz.com.
Lighting: "I'd probably get a flush-mount on the ceiling, as well as something above the vanity," Andres says. This George Kovacs LED flush-mount is $47 at Lighting By Gregory. This George Kovacs saber LED bath light is $210, also at Lighting By Gregory.
Brick Underground articles occasionally include the expertise of, or information about, advertising partners when relevant to the story. We will never promote an advertiser's product without making the relationship clear to our readers.