Imagine commuting to New York City by high-speed ferry from the doorstep of your waterfront home. It's been just a dream for Long Islanders—despite being surrounded by water—since regular ferry service was discontinued years ago, but will become a reality when the community of condos and rentals, on a lush property with idyllic waterside views, opens at Garvies Point in Glen Cove, New York next year.
Sophisticated living in an outdoor and water-lovers paradise
Built along picture-perfect Hempstead Harbor—a serene body of water on Long Island's North Shore—Garvies Point will feature 28 acres of open space, a one-mile waterfront esplanade with outdoor seating, miles of trails and bike paths, playgrounds, kayak and boat launches, a dog park, beach and amphitheater. 
The community will encompass condos and rentals, plus shopping and restaurants with on-site parking. There will also be marinas for boat owners, tucked inside Glen Cove Creek.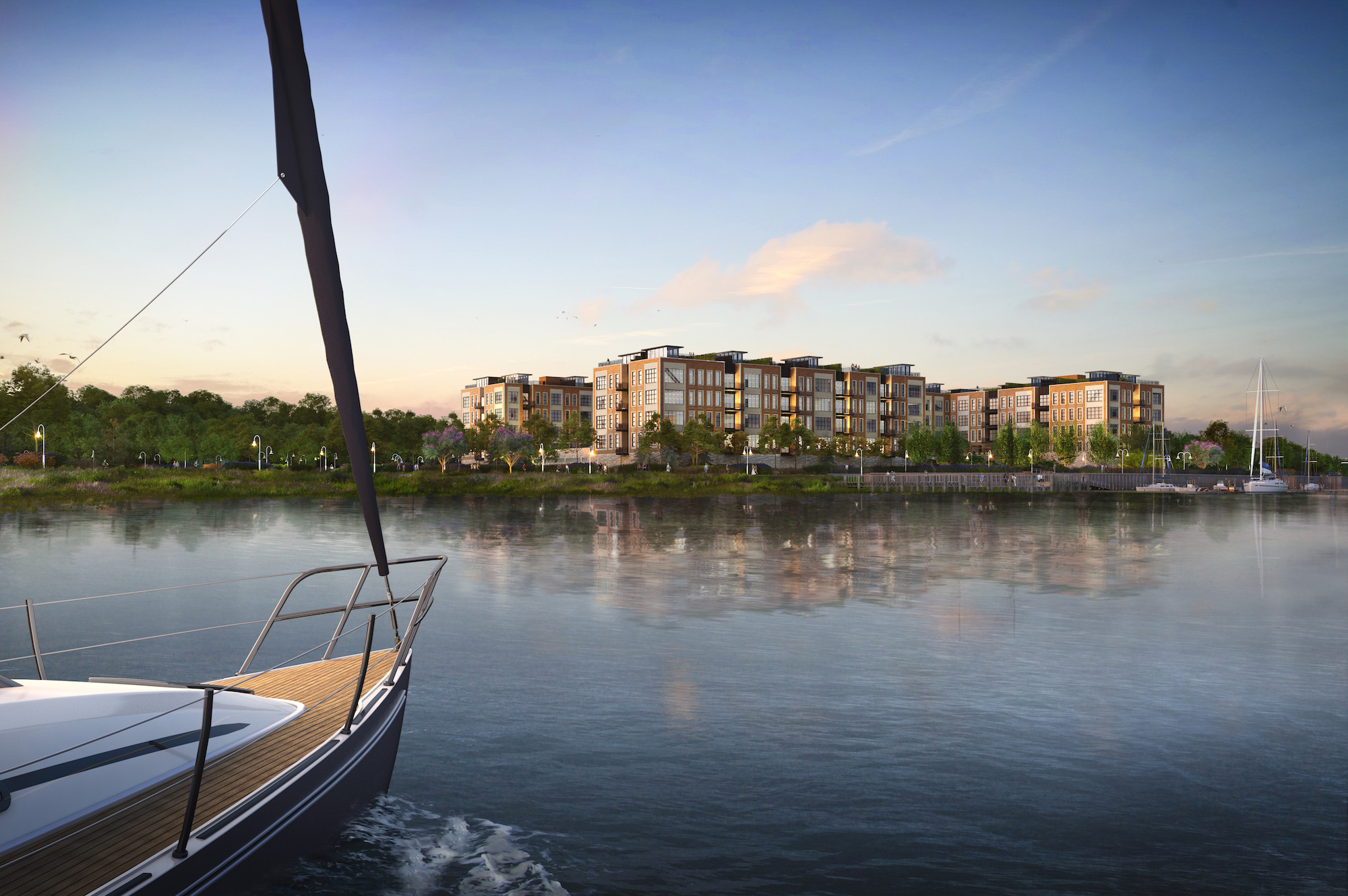 Just beyond Garvies Point, you'll find plenty more to explore, like the 62-acre Garvies Point Preserve and Museum next door, and Welwyn, a sprawling 204-acre preserve and former estate. There's also the waterfront Morgan Park, where summer concerts are held, the Mansion hotel and Glen Cove's municipal golf course and movie theater.
In essence, Garvies Point is a major revival for Glen Cove's waterfront, reviving land that has been unused for decades, part of developer RXR's philosophy that "Doing well and doing good means doing better." 
A commuter's dream
When Garvies Point debuts, so will a new ferry service (along with a new road and plenty of parking spaces) to bring commuters to Manhattan in roughly 60 minutes, making stops at East 34th Street and Wall Street.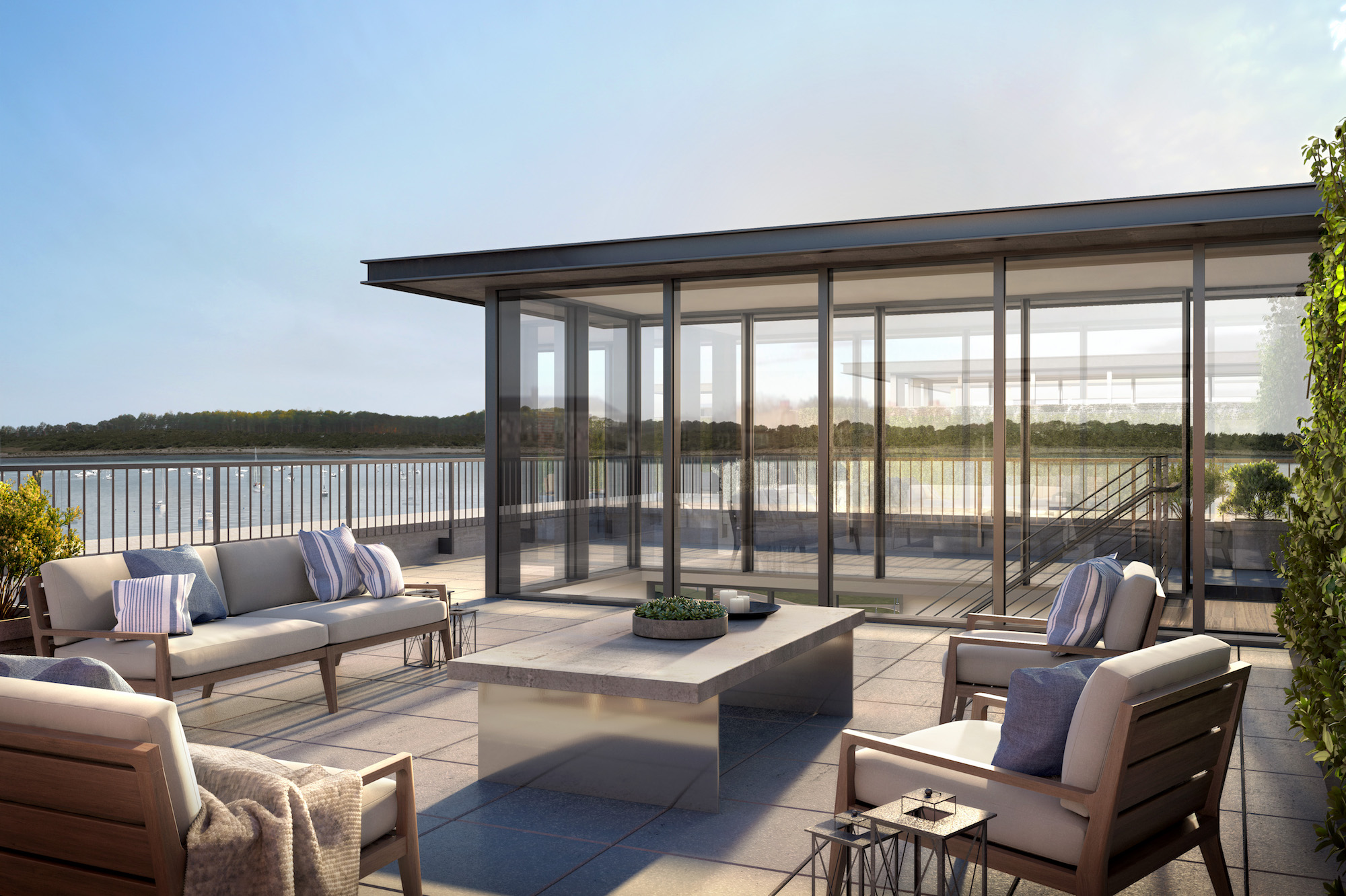 Spacious, open-plan condos and rentals designed for easy living 
The condos and rentals reflect the best of modern living, with open-plan layouts and materials like natural stone, chrome, stainless steel and wood floors. You'll find an abundance of natural light, high ceilings and 8-foot windows with views of the Long Island Sound, Glen Cove Creek and Garvies Point Preserve. 
Layouts range from one to three bedrooms, each 900 to 2,850 square feet. You can relax in your own private outdoor space, with rooftop terraces at the Penthouse level, courtyard terraces, and balconies for nearly every home.
An abundance of common space—such as a billiards room, screening room, an outdoor pool and sundeck—will feel like an extension of your home, for relaxing and unwinding, and entertaining guests.
Pre-construction prices for condos range from $650,000 to $2.5 million. Early buyers include empty nesters, Manhattan residents looking for a convenient second-home alternative to the Hamptons, and families with school-age children moving from the city. 
To learn more about living at Garvies Point, visit the welcome center at 49 Herb Hill Road in Glen Cove. You can see a scale model, as well as interactive videos and model vignettes to experience what waterfront living at Garvies Point will be like. To schedule an appointment to visit, call (516) 734-6085 or click here.