This Boerum Hill four-floor townhouse isn't far from the hustle and bustle around Atlantic Avenue and the Barclays Center, but the huge space, located in the neighborhood's historic district, includes preserved details and loft spaces that make it feel more like a remote hideaway. Listed with Brown Harris Stevens for $4.99 million, the home is at the high end for the neighborhood even given its size—but that could be attributed to a recent gut renovation, which introduced the fresh and modern into a classically elegant space.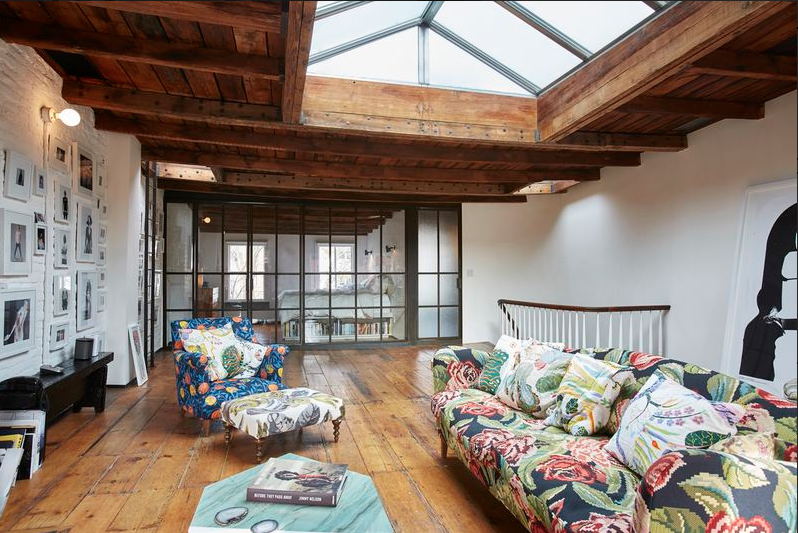 A massive skylight illuminates the top floor of the home, a loft-like area with exposed ceiling beams that embody the rustic-chic aesthetic for which Brooklyn has become famous. The adjacent master bedroom further melds the old and the new with exposed brick and a wall of glass and steel separating it from the common space. (It's an arresting use of space, but we wonder about privacy, though.)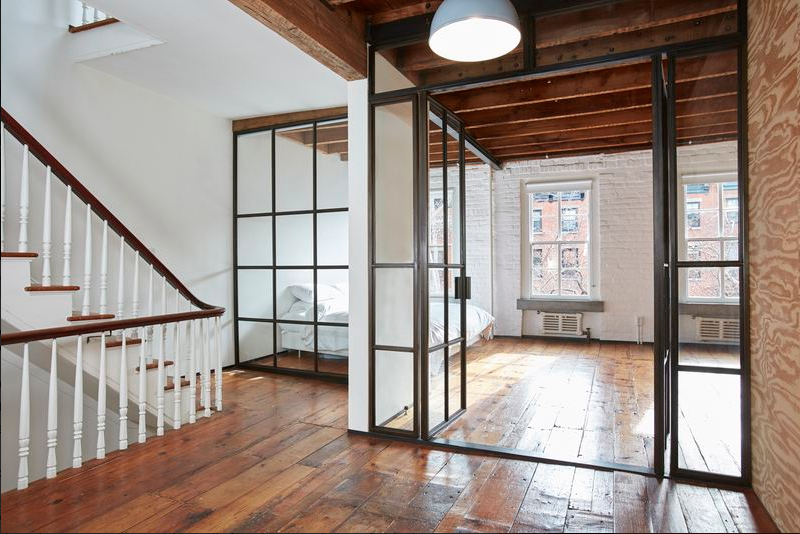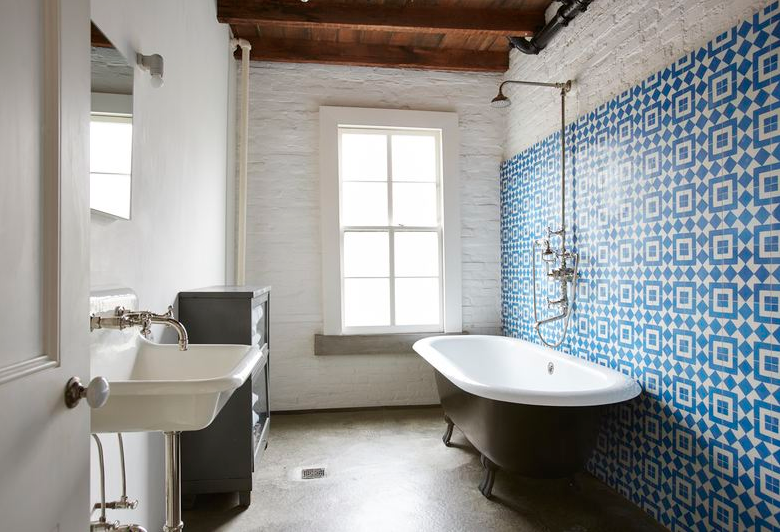 The third floor bedrooms are similarly bordered by glass; one upside to all this exposure is a jewel box effect and flow of natural light throughout the home. Both bedrooms also boast custom cedar closets and share a strikingly-designed bathroom, which has a custom cast-iron tub reminiscnent of a bygone era, highlighted by the mosaic of blue tile on the wall behind it.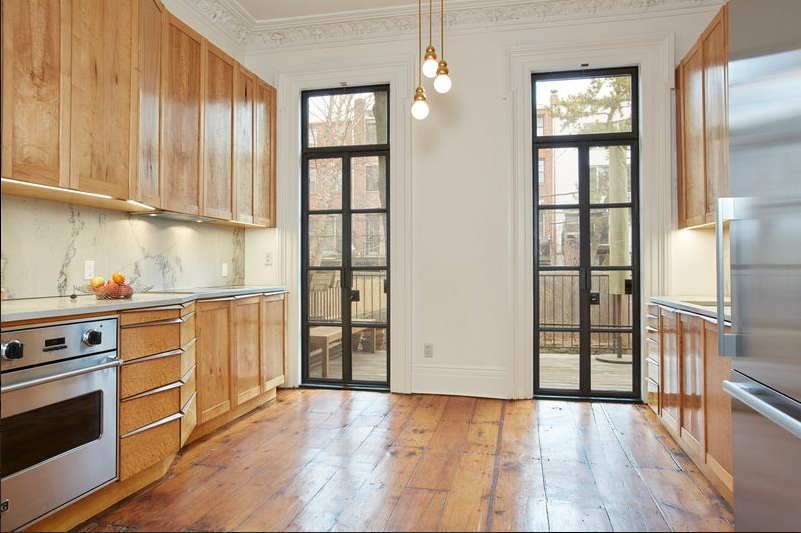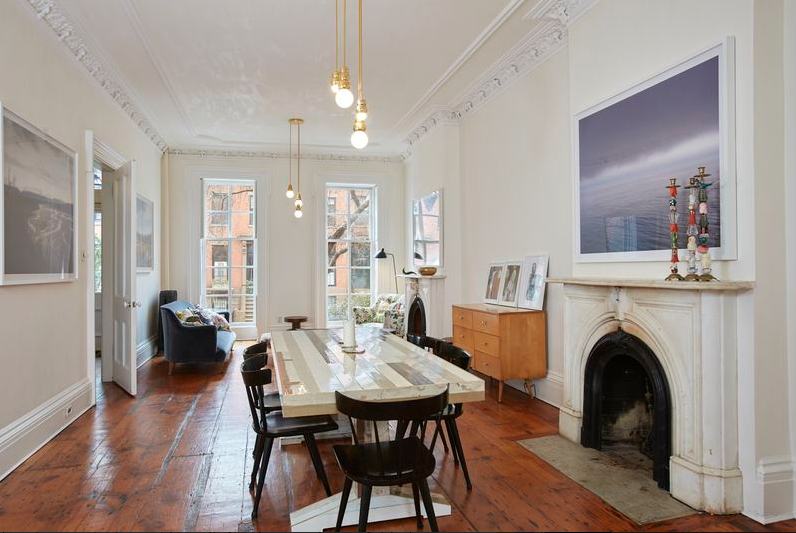 On the parlor level, you'll find a kitchen that looks out onto a back deck, making it an idyllic and roomy culinary spot. Plus, it's outfitted with sleek quartz counters and a backsplash, and the stainless steel appliances are from the top-of-the-line brands homeowners expect from new renovations. The adjacent living/dining room is a grand space, its marble fireplace and intricate crown molding balanced by new lighting fixtures and tall windows that bring in a sense of airiness.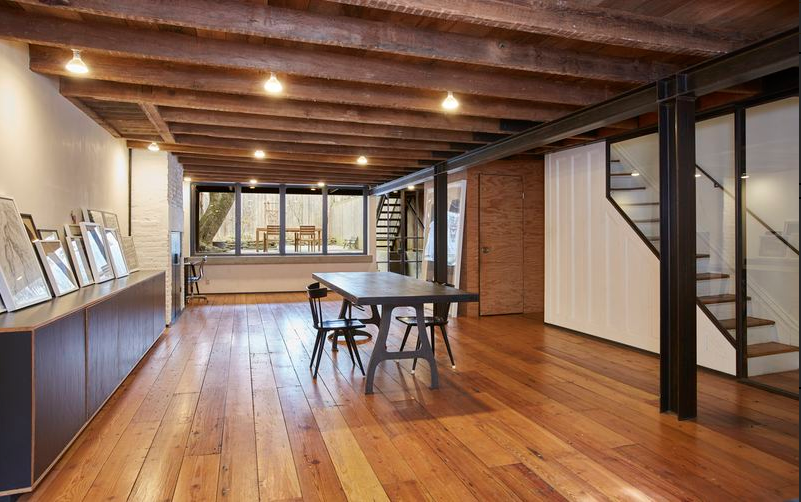 The ground floor has an open-plan layout with plenty of potential for conversion to additional rooms for living or entertaining, and flows into an enormous rear garden with a patio and and planting beds. Below, a finished basement (with a washer and dryer) offers ample storage, or could be used as a rec room.   
Throughout the home, you'll notice historic features, like the 19th century Shaker wood-burning on the top floor, offset by the sleekness of a new renovation, a combination that feels wholly Brooklyn.