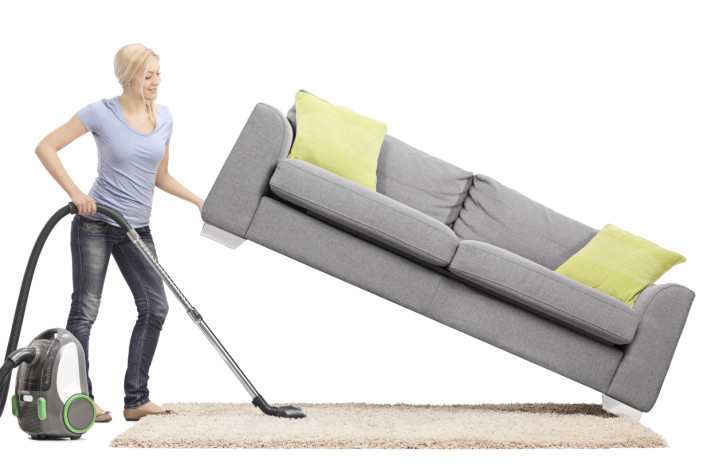 If your apartment looks like it's ready for its home-design-blog close-up, lucky you. But for us (disheveled) mortals, keeping up apartment appearances is just one of a long list of must-dos in a city that manages to keep all of us very busy, seemingly ALL. THE. TIME. Cleaning services to the rescue: But which one to go with? And how to choose? See how our testers fared, including a moment of silence for the recently departed Homejoy, which one of editors tried out:
Price: Our tester used a first-time-user promotion to get a $39, two-hour cleaning, but otherwise, that same service can cost between $50 and $58, depending on if you sign up for regularly scheduled cleanings (the more often you do it, the cheaper it gets, as is always the case with these services.) You can also add extras like laundry, interior windows, and refrigerator cleaning a la carte (for around $14 a pop).
The lowdown: Handy offers a battery of services including painting, furniture assembly, help moving, and yes, handyman work, but we focused on the cleaning. Formerly known as Handybook (which didn't have a stellar reputation in the startup world), Handy's got a tech-savvy, easy-to-navigate site (and app) that lets you book a variety of services for your home, and then communicate directly with the professional who's coming by to help out.
The experience: The whole thing was easy to set up and, with the discount, inexpensive. Though we've heard iffy things about Handy's services in the past, the cleaner who came to our editor's apartment was friendly, efficient, and got the place sparkling. (She even texted to let us know she was running a few minutes behind.) The only downside: Handy tries to hook you into subscribing to repeated cleanings every week, two weeks, or four weeks—we actually had to call an 800 number to prevent being signed up for further cleanings. And once they get your email address in their system, prepare to be barraged with inquiries about when you'll be booking next, and other services the company offers. 
Bottom line: This is about as affordable as cleaning services come, and our experience was a good one. Having a stranger over to your apartment for the first time can be awkward or creepy, or both, but our tester's experience was completely stress-free. That said, we could have done without the hard sell.
Number of stars (out of 5): * * *
Price: It cost $132.83 to clean a two-bedroom, two-bath apartment (total time: a little over three hours of cleaning). That was for a one-time cleaning. You can save 25 percent if you book a weekly appointment, 15 percent if you book a bi-weekly appointment and 10 percent if you book a recurring monthly appointment.
The lowdown: Founded in 2008, MyClean sends insured cleaners to clean your home with green products (they use Mrs. Meyers brand). They leave you with a checklist of what they've done.
The experience: Signing up was really easy, and when we had questions, customer service got back to us right away. At the last minute (meaning about an hour before the appointment), we wanted to change the time, and they responded right away that they'd try. They couldn't, but it was great to know they were making the effort. Typically, you must tell MyClean by 5 p.m. the day before the appointment if you want to cancel or make changes to the time, which seems fair. You get a text message reminding you of that.
Bottom line: The cleaner did a fine job. We appreciated how she scrubbed the stovetop, something our regular cleaner doesn't do so well. The apartment didn't feel sparkling, but it was definitely neater/cleaner than what it started. The checklist is a nice touch. But the price for a one-time clean is high—working out to about $40 an hour. And one problem we find is that until you get to know the cleaners, you'll likely want to be in the apartment while they're there. For us, that meant moving schedules around and making sure someone was home. Not the most convenient.
Number of stars (out of 5): * * *
Price: $119 for a studio; $129 for a one-bedroom; $139 for a two-bedroom; $189 for a three-bedroom (up to $399 for a six-bedroom). Or $35 per cleaner for a minimum of two hours. Discounts of 10 percent for a monthly cleaning; 12.5 percent for a biweekly; and 15 percent if you go weekly. 
The lowdown: Synergy sends bonded and insured cleaners in teams of two, and they bring their own cleaning supplies (let them know if you prefer eco-friendly products only). Booking is online, and payment, by credit or debit card, is also done via the Web site.
The experience: Booking and paying went fairly smoothly online, though after the initial request, we had to email back and forth to nail down some specifics—a straightforward process. Our editor, who has a two-bedroom with a den, tried this service three times: The first go-around, she had two meticulous cleaners show up who whipped the place into shape for the better part of a morning, down to the tiniest corners. Bathroom tiles were gleaming, cabinet doors scrubbed new. Even the stove knobs were wiped down. Unfortunately, those cleaners weren't available the next time, as a different duo arrived and they weren't as exacting as the first and nearly skipped the half-bath. The third time we used Synergy, another different pair of cleaners arrived, prompt and professional. They did a good job, though we still would prefer the first duo. 
Bottom line: We hadn't used a cleaning service in years, so were over-the-moon after the first visit. The apartment was in such great shape we didn't dare touch anything for fear of losing that all-is-in-order feeling. But given Synergy's fairly steep pricing, and our experience with the second crew, we're now unsure about whether to continue the service. Still, that first pair did such an exemplary job, we'd be happy to have them back again. If you happen to luck out with great cleaners, be sure to ask for them for repeat visits. 
Number of stars (out of 5): * * *
PLUS: Homejoy
We were sad to learn a day after our appointment that HomeJoy had been closed down (especially since our cleaner, who was really friendly and had done a nice job, told us what a good company they were to work for). It took about 2.5 hours and cost $100—  our editor/test-driver pays her cleaning woman $20 an hour, about half that (though the Homejoy cleaner did bring her own cleaning supplies).
Related:
Which would you rather outsource -- laundry or cleaning?
Your room-by-room guide to the ultimate spring cleaning regimen
Secret weapons: What you should use to clean your apartment, according to the pros
Brick Underground articles occasionally include the expertise of, or information about, advertising partners when relevant to the story. We will never promote an advertiser's product without making the relationship clear to our readers.