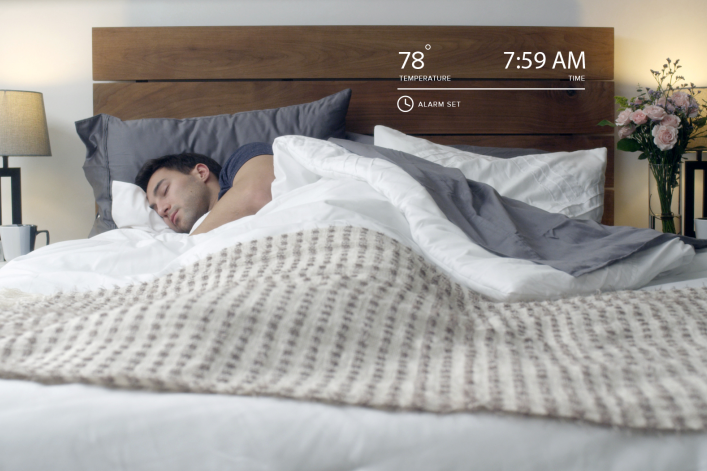 While a lot of New Yorkers would be happy just to have a buzzer that works, "smart" technology for the home is a booming business. Enter Luna, a tricked-out mattress cover with the lofty goal of optimizing everything about the way we sleep.
At its most basic level, Luna works like this: slip the cover over your mattress and link it to the related smartphone app. Its sensors will track your movements to figure out when and how deeply you're sleeping, and the cover will heat up or cool down if you're getting above or below a comfortable temperature. The goal is to use it long-term to track your sleeping patterns and discover habits that'll help you get a good night's rest. This is particularly helpful if you synch it up to a fitness tracker like the Fitbit; one of the company's founders told us that he stopped going for runs after 8pm after data showed that it upped his chance of waking up in the night with a restless leg.
Surprisingly, all this elaborate tech doesn't add up to a bed full of wires; I saw Luna in action at a demo this week, and it doesn't feel much different than the run-of-the-mill mattress cover I already have. Pre-order launches next week, with prices starting at $179 for a queen-sized cover and $189 for a king, but be ready to wait until the summer to get it. 
Ultimately, Luna hopes to connect with just about everything in your house, from lights to smart locks to climate control to your Spotify account. Here's the idea: you fall asleep in bed with your laptop on. Once Luna realizes you've conked out, it will pause your Netflix, turn off the music you had on in the background, dim the lights, lock your front door, and start your coffee in the morning. For now, the company is working with Lockitron, Beep, Emberlight, and Nest (locks, speakers, lights and thermostats, respectively) to edge towards this kind of "full integration." Like other sleep trackers, it also features an alarm that will wake you up at the lightest possible point in your sleep cycle to minimize grogginess.
While we don't know too many New York apartments that are decked out with up-to-the-minute  smart technology (and it's worth noting that the company is based in San Francisco), even on its own, Luna has the universally appealing option of keeping two different people at two different temperatures while they share the same bed, potentially settling thousands of couple fights over blankets and thermostats. When you first set it up, you can tell the app whether you sleep alone or with another person, and if applicable, pick your side of the bed so it can make adjustments tailored to each person. (You can also "invite" someone to share your bed and track their sleep at your own discretion.)
Related: 
Moving? This NYC start-up wants to take the pain out of buying a mattress
The "world's smartest air conditioner" is kind of dumb
Make your bed in a fraction of the time with this clever duvet cover
We tried Breather, the Zipcar for rooms, and this is what we found
Brick Underground articles occasionally include the expertise of, or information about, advertising partners when relevant to the story. We will never promote an advertiser's product without making the relationship clear to our readers.