Take It Or Leave It
Does a sleek kitchen and nearby transit justify $2,400 a month in Prospect Lefferts Gardens?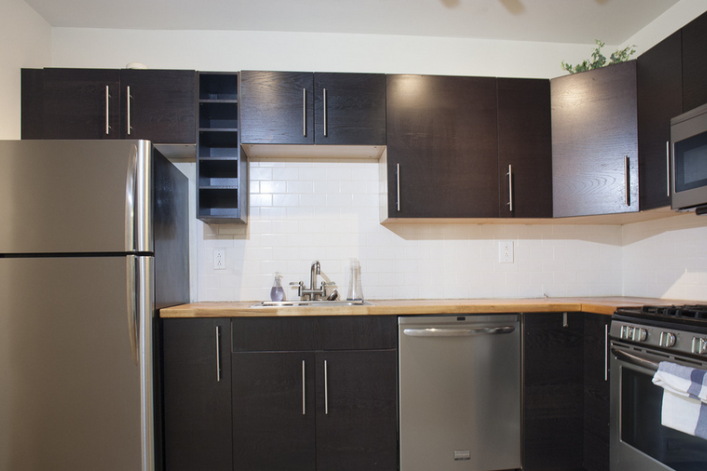 Coveted as park-front nabes may be, Prospect Lefferts Gardens is still far cheaper than those other Brooklyn spots that border Prospect Park (think Park Slope, Prospect Heights, and Windsor Terrace). But if this two-bedroom, two-bathroom going for $2,400 a month is any indication, landlords are betting that Brooklynites will pay up for this location too. (A quick look at the building's rental history indicates this is the most they've ever asked for an apartment in the building, which is well above the neighborhood's average price for two-bedrooms, $2,245.)
But then, consider the perks: two sizeable bathrooms, bedrooms big enough to fit queen-sized mattresses, walk-in closets, and a slick kitchen with plenty of storage. The building's got an elevator and a live-in super, and it's a block from the nearest train (a plus for safety-conscious renters and morning commuters alike). Still, $1,200 per room is steep, as is a 12 percent broker's fee.
So is this place by the park good bang for your buck? Our experts, including RentHackr founder Zeb Dropkin as well as real estate bloggers and veteran NYC renters Julie Inzanti and Lambeth Hochwald (who have a combined 27 years of experience in the world of New York rentals), weigh in for this week's Take It or Leave It.
Size: 2-bed, 2-bath
Location: 353 Ocean Avenue (between Parkside and Woodruff)
Cost: $2,400/month
Flexible Layout: No
Days on the market: 3 days
Subway: B, Q at Parkside Ave; B, Q, S at Prospect Park; 2,5 at Winthrop; F, G at Fort Hamilton Parkway
Pros and Cons:
"While I don't love the fact that there's a 12 percent fee that comes with this apartment, this two-bed is in a solid Prospect Lefferts Gardens building built in 1930 with a price—and snazzy kitchen—that pretty much can't be beat." - Lambeth
"I love that the apartment is spacious, bright and airy. Wide hallways and a clean modern kitchen. The long plank flooring is nice, too. Plus a two-bedroom, two-bathroom apartment for $2,400 is great. You're near Prospect Park and close to a few trains. There is a fee associated with the listing, though, and it looks like you'll need a guarantor." - Julie
"This is a modern, nicely finished two-bedroom, two-bathroom with a dishwasher a block from Prospect Park. On the downside you're at the far southeast corner of the park in a less popular, edge neighborhood." - Zeb
Who would this apartment be perfect for?
"Two running buddies who will spend many an hour in Prospect Park, located right across the street." - Lambeth
"This apartment is perfect for a family of three or even four—the kids can share a room. ... But for the price you can even swing this with one or two people and have a guest room or office in the second bedroom." - Julie​
"A budget-minded couple or roommates that want a modern place close to Prospect Park but don't need to be in the safest, trendiest neighborhood." - Zeb
The Verdict(s):
TAKE IT "Provided the view doesn't bum you out—it's hard to tell from the photos—and you don't have to get to Midtown in a snap, since it's about a half-hour subway ride." - Lambeth
TAKE IT "Affordable apartments are disappearing in NYC so you should snatch this one up before Prospect Lefferts Gardens becomes even more expensive!" - Julie
TAKE IT "As long as you're cool with the neighborhood and the second bedroom is big enough for you, this looks like a good deal." - Zeb
Ready to rent? Check out our How to Rent Guide...and if the apartment you like requires a guarantor that you don't have, see if the landlord acceptsInsurent, a guarantor solution from one of BrickUnderground's sponsors.​
Brick Underground articles occasionally include the expertise of, or information about, advertising partners when relevant to the story. We will never promote an advertiser's product without making the relationship clear to our readers.