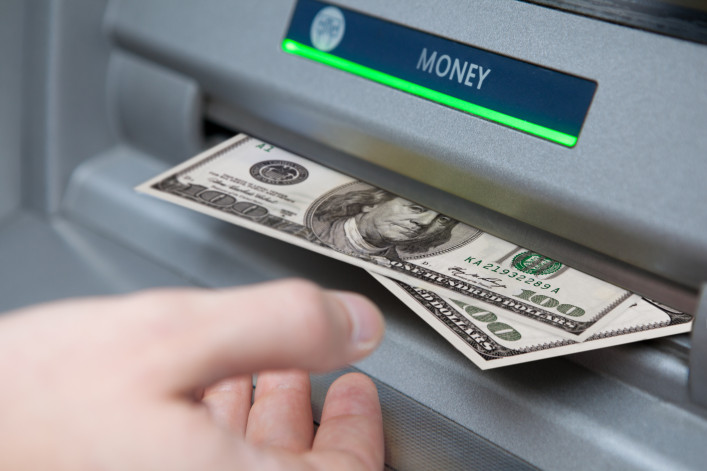 What could possibly have possessed me to withdraw $600 cash from a bodega ATM in Bushwick at 10 o'clock at night, climb into the car of a broker I'd just met, and hand over an envelope bulging with $10 bills?
Desperation. 
After looking at scores of dingy studios advertised as well-kempt one-bedrooms, and with the end of the month drawing closer, a broker we found through Naked Apartments had just shown my boyfriend and me a clean, spacious, well lit apartment spanning the entire second floor of a brownstone, in our price range, complete with a brand new kitchen. 
Mulling over our options after the showing, my boyfriend suggested something that had never occurred to me: if we didn't want to lose the place to another prospective tenant, we should stake our claim and offer the broker cash--a portion of the eventual security deposit--immediately. 
By putting some skin in the game now, we hoped to position ourselves as the primary candidates for the place, and get the broker (and the landlord) to stop showing it for a day or two--hitting the pause button on the intense competition to lock down a rental--while we got our application together.
And as it turns out, far from being sketchy, upfront payments of $500 to one month's rent are actually pretty common, so much so that they even have a name: the "good faith deposit." 
"I would say that it has become a standard practice" in today's hyper-competitive market, says Coldwell Banker AC Lawrence co-founder Larry Friedman. "Though obviously certain landlords and companies do things differently." 
If the landlord will take an upfront deposit, "it's definitely something to consider," says Citi Habitats president Gary Malin."It's a way for the landlord, the broker, and the prospective renter to all be on the same page, and also to show that you're a serious candidate."
So what's the best way to protect yourself?
Put it on plastic 
First off, running to the corner ATM like we did is apparently a major no-no (oops). 
"Cash is a nightmare" for both brokers and renters, says Gus Waite, a real estate agent with Coldwell Banker AC Lawrence. It's hard to keep track of, and "you never know what's going to happen to it." 
Use a credit card or certified check whenever possible, says Miron Properties managing director Jeffrey Schleider, and do a little research beforehand to make sure your broker is reputable.
"See what people are saying, Google it," says Schleider. "You don't need to go crazy doing research, but everything has online reviews these days, and if your broker's from a company you've never heard of with no online presence, you might want to think twice about it." 
In my case, though we made the mistake of not clarifying the deposit's terms and it felt a little jarring to part with such a large sum of cash, the broker worked for a well-known firm and had formal receipts ready to go,  so it didn't feel like we'd be kissing hundreds of dollars goodbye with no recourse.
Know what you're paying for
Let's get one thing clear: this money is a portion of your eventual security deposit, not a separate fee or any kind of bribe. So once you pay it, get a receipt that clarifies the terms of the exchange and read the fine print. 
If your application winds up getting rejected, almost all landlords will refund the money, but if you back out, it's more likely you'll end up forfeiting the funds. While Friedman tells us that hanging on to deposits "isn't a good way [for brokers and landlords] to do business" in the age of online reviews, Schleider notes that many agreements still specify that "if you withdraw your application, you'll lose the deposit." 
Bottom line: Don't throw money at an apartment you're unsure about just to keep your options open. 
Submit your application ASAP
If you're relying on a good faith deposit to buy you some time, "manage your expectations" for how much sway a good faith deposit really has over a landlord, Schleider says.
Realistically, such a payment won't buy you much more than 24 to 48 hours.
"Time kills deals," Schleider adds, "and the most important thing is always to get your paperwork submitted as soon as humanly possible. If you want the magic thing that will take the place off the market, the magic thing is to sign the lease."
Rather than hand virtual strangers fistfuls of cash, the better move is to get your ducks in a row before you start your search. It's more important to come prepared with pay stubs, photo ID, and everything else you'll need to apply on the spot, Waite says, than it is to worry about an upfront payment. (BrickUnderground has got a checklist here of everything you'll need to have on hand to get the ball rolling).
Related:
Security deposit self-defense: what you need to know now
Rent Coach: fair and foul play with security deposits
Springtime is for renters: what's in store for 2014's busiest season of all
The 8 best websites for finding a no-fee apartment in New York City
Brick Underground articles occasionally include the expertise of, or information about, advertising partners when relevant to the story. We will never promote an advertiser's product without making the relationship clear to our readers.