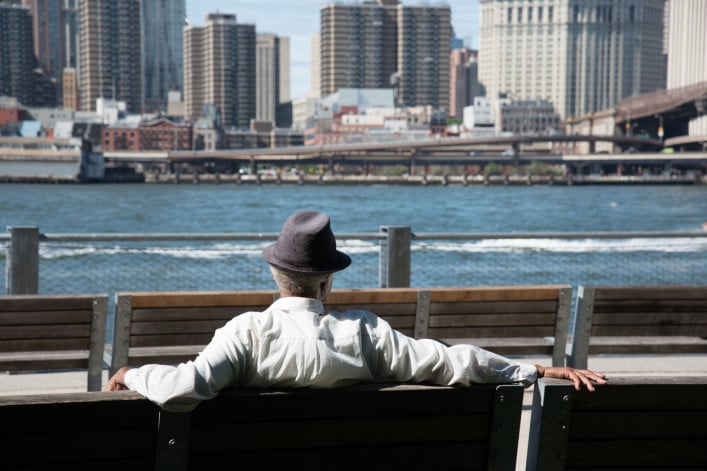 There was a time when the idea of retiring to New York City probably seemed crazy. That time has clearly passed. Boomers who are retirees (maybe even your parents) now see the city as not only a viable option, but also a pretty appealing one, too. Many are coming or returning to the city to be near their kids—and their kids' kids—because so many young families are electing to stay put instead of decamping to the suburbs.
But New York is no ordinary rental market, and moving here to retire means you're no longer working, or working as much—which presents its own problem for senior renters. Below are some important aspects, financial and otherwise, to keep in mind when thinking about renting in New York City as a retiree.
Why not just buy?
If you have the money (perhaps from the sale of your former home) you could go ahead and buy a place. But renting gives you the flexibility to try the city or a neighborhood out with relatively low risk. "Choosing to rent may enable you to live in a neighborhood where ownership is too expensive," says Dolly Hertz, an associate broker with Engel & Völkers NYC. You may be able to get a larger apartment than if you were looking to buy.
If you have a substantial nest egg thanks to the sale of a previous home or other means but no longer earn income, it's important to note that these savings cannot be used to qualify you for a rental. Why? It is common for landlords to request proof of annual income 40 to 50 times the monthly rent.
"Retired persons have an exceedingly difficult time renting in NYC, as landlords qualify on income, not cash assets—even if the cash assets or marketable securities are $500,000-$1 million," says Jeffrey L. Geller, vice chairman and chief operating officer of Insurent, a New York City lease guarantee company (and Brick Underground sponsor). "The Insurent Lease Guaranty allows retired people with cash at banks or marketable securities of a minimum of 50 times the monthly rent to easily qualify at over 4,000 Insurent participating buildings."
Welcome to New York: Give us your money
For the uninitiated, we're sorry to break it to you, but you could very likely end up paying a broker's fee to the professional who helps you find your rental apartment. (Fees are typically 12-15 percent of a year's total rent.) It is possible to find no-fee rentals—more on that here—but it does require a little extra hustle, which has been known to exhaust even energetic young people, so be forewarned.
And while this is not shocking, it's important to note: The cost of living is likely significantly higher than where you will be moving from. "Obviously in New York City, some things are more costly than in other places, and that includes the grocery store," says Natalya Disario, an agent at Corcoran. "The costs of living will really determine whether or not you're going to be able to settle in."
If you're not made of money
For sure, it's easier to retire in New York if you have lots of assets, but it's not impossible if you've got a smaller budget or are living on a fixed income. "A lot of retired people are on a fixed income, so finding a unit that's rent stabilized as opposed to market value should be considered a priority," Disario says. It's not the easiest thing to do, but it is possible, and living in a rent-stabilized apartment will limit annual rent increases to what has been approved by the city's Rent Guidelines Board. (The most recent increases were 1.5 percent for one-year leases and 2.5 percent for two-year leases.) "If my retired aunt was coming into the city, that's what I would be looking for," she says. 
Another workaround includes the New York Foundation for Senior Citizen's "house share" program, where seniors live with a host, providing reduced rent and companionship. The Foundation offers affordable housing in buildings throughout the city, but there is a long waitlist for these apartments. For help navigating the city, NYFSC also runs senior centers in Chinatown, Little Italy, and Inwood, where meals, activities, and fitness programs are for people over 60.
Make your place, and the city, work for you
Find an apartment and a neighborhood that's convenient and has what you need—and where you'd like to spend your time. "Renting a one-level house or an apartment with elevator access, in a neighborhood that is walking distance to shopping, movies, and more has become extremely popular among baby boomers, whether in the Midwest or on Park Avenue in Manhattan," Hertz says.
If you're moving here to be near family, it makes sense to try to find an apartment near your relatives. Nature lovers should look to locations near Central Park or Prospect Park. The Lincoln Center area, known as Lincoln Square, is popular with senior residents who love the arts and want world-class entertainment nearby. (Yet another thing to think about: Where will your future friends live? While New York's neighborhoods have residents of all ages, some are dense with young families, students, or people new to the workforce, etc.)
The cost of getting around
Where will you be going, and how will you get there? Living near a transportation hub, where you can catch a few trains to get to different parts of the city, can make all the difference in the world. (Two major spots include Atlantic Terminal in downtown Brooklyn and 59th Street/Columbus Circle in Midtown.) In one of the many price breaks for seniors (other popular ones can be found at museums, theaters, and most cultural institutions), those 65 and older pay half-price fare.
Alternatively, the city's army of vehicles for hire, including traditional yellow (and in the boroughs, green) cabs, car services, and apps Lyft and Uber can also help you get from point A to point B, but those rides can add up and should be budgeted for.
Best money ever spent
An additional cost to seriously consider is that of a moving service that will execute your move for you. Not only will they move your things, they also will pack them up and unpack them at your new place. (Bbe advised: You're likely going to have to downsize and sell, or give away, many of your things, especially if you're coming from a house. If that's the case, enlist the help of professionals to manage that process.) 
"Overall, those who have made the switch—often with the aid of companies who handle the whole process for you, including packing, moving, unpacking—are so relieved, it's a virtual new lease on life," Hertz says. "Most people agree on one thing: They treasure their autonomy and do not wish to be a burden on their families."
Brick Underground articles occasionally include the expertise of, or information about, advertising partners when relevant to the story. We will never promote an advertiser's product without making the relationship clear to our readers.