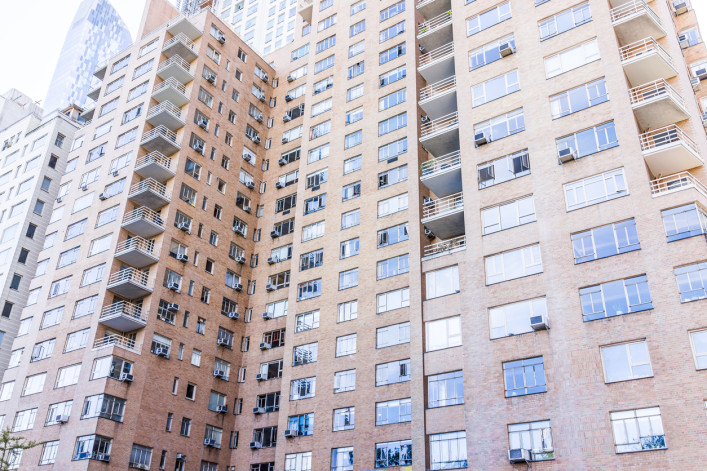 The number of Manhattan apartment leases signed in May was the lowest for that month in a decade. Brooklyn and Queens also saw a plunge in new leases last month, and the drop in demand is causing new listings to pile up, according to data from the most recent Elliman Report.
That's good news if you're on the hunt for an apartment, because when landlords have excess apartments to fill, renters typically get some kind of concession—a freebie to entice you to sign a lease. Normally, concessions wane when competition for NYC apartments heats up in spring—but this year's rental market is anything but typical.
"Traditionally, landlords reduce or take back these concessions during the summer months but given the Covid-19 pandemic, there simply is less demand and landlords are competing against each other," says Stan Broekhoven, a salesperson with Keller Williams. 
This explains the jump in concessions in May. The Elliman Report shows the share of new leases with a concession in Manhattan was 41.9 percent, up from 33.9 percent in May 2019. In Queens, the increase was more dramatic—the share of new leases with concessions was 65.1 percent, up from 33.3 percent in the previous year. The share of landlord concessions in Brooklyn also rose for the first time in 17 months.
Landlords are facing pressure to fill apartments as an increasing number of New Yorkers are leaving the city and there are more lease breaks taking place. Teresa Stephenson, managing partner and president of Platinum Properties, says all these factors suggest an increase in concessions is a "trend that will continue for quite a while." In addition to free months of rent and the broker fee being covered by owners, she expects there will be a lot more flexibility from landlords. Brokers told Brick Underground this flexibility might involve move in-dates, pet policies, storage, and parking spots.
So if you're looking for an apartment right now, here's what you can expect when it comes to concessions.
---
[Editor's note: This article was originally published in June 2020. We are presenting it again here as part of our summer Best of Brick week.]
---
More months free and the owner pays the broker fee
The work-from-home trend is likely to continue though the summer and even into the fall, Broekhoven says. "We have already seen a flight out of the city and I expect more people to spend their summer outside the density of the city," he says.
While this isn't creating a crisis, Stephenson says landlords are more willing to pay the broker fee and places that were offering, for example, a month free on a 14-month lease might now be offering two months free on the same lease. 
The free month can be negotiated in different ways: As a month where you don't pay the rent, or it can be factored into a discount off your monthly payments. In that case, your monthly payments are lower but you don't get a month where you don't pay. Stephenson says typically landlords prefer to take no payment for the free months they've offered rather than take the net effective rent for the duration of the lease. This is because they want to avoid their tenants getting "sticker shock" when they renew without the concession. 
Pro Tip:
Need expert help finding the perfect apartment in the perfect neighborhood? Looking for a landlord who is flexible about guarantors, pets, "flexing" your space with temporary walls—or who won't automatically reject you if you lack work, credit or rental history? Put your search into the capable hands of Triplemint, a tech-savvy real estate brokerage founded by a pair of Yale grads in response to the frustrating apartment-search experiences of classmates and colleagues. If the landlord isn't paying the broker's fee, Triplemint will charge just 10 percent of a year's rent on open listings instead of the usual 12 to 15 percent if you sign up here. Bonus: The agents at Triplemint are a delight to deal with.
The free month or months usually come at the end of the lease but Stephenson says landlords might be more willing right now to take the lower net effective rent for the full year. Will landlords, at renewal time in the next few months, be open to continuing to rent at the net effective rate? "Probably not," Stephenson says, adding, "it's something you might ask for." 
The takeaway, says Noemi Bitterman, an agent at Warburg Realty, is that "tenants are currently at an advantage and they should request rent concessions." 
A drop in rent price
Most experts agree NYC rents will fall from the record highs reached in previous quarters. Bitterman points out "some landlords are charging low rents just to cover their costs and others have more wiggle room."
Typically the summer months see an increase in asking rents but not this year. Stephenson says the price adjustments she's seeing on rentals are "not as high as they normally would be for the spring and summer."
Michael Colombo, an associate broker at Ideal Properties Group, says anecdotally he is seeing owners are more willing to bring down the rent "by 8-10 percent during the pandemic." 
These rent reductions are also noticeably being offered by tenants who want to break their leases and are working with landlords to find new tenants. Maia Bittner pays $3,800 per month for a one-bedroom apartment in the Meatpacking District. She is currently subletting it with a $1,400 discount for the month of June and making up the difference to her landlord. It's a subsidy she can't afford long-term. When her June subletter moves out, she is offering the apartment at a 13 percent discount for the rest of the lease.
Phil Horigan, founder of The Leasebreak Team, where Bittner's apartment is advertised, says "tenants are offering crazy deals" like hers with steep discounts. 
There's no standard formula for a Covid discount, says Steven Gottlieb, an agent with Warburg Realty. "Anyone can offer less than the asking price and see what the landlord counters." However he adds, "many prospective tenants smell more blood in the water than there might actually be."
Delayed security deposit payment
Some larger landlords who have lots of unoccupied units, Colombo says, are enticing renters is by allowing them to defer paying the security deposit.
It's an unusually flexible move on the part of landlords. "With security deposits, landlords are choosing not to collect the deposit at lease signing, which is standard practice in NYC, practically deferring the tenant's financial burden to a later time," he says.
Move-in dates, pets, parking, and storage
Landlords who are unwilling to lower the rent may be more keen to offer concessions in areas that don't affect their bottom line. This might mean flexibility on move in dates, pet policies or storage. Colombo says landlords who didn't previously allow pets are now more open to them.
"Landlords are simply much more flexible," Stephenson says. Some buildings have weight restrictions for dogs and that may be another area where it's worth asking for some leeway, she says. 
For properties that come with a parking spot, Colombo points out landlords are cutting the parking fees, "at times even halving them, for the duration of the lease term."
Amenities like free bike storage or a storage locker are also being offered as a concession for properties that have these features, Colombo says. 
Brick Underground articles occasionally include the expertise of, or information about, advertising partners when relevant to the story. We will never promote an advertiser's product without making the relationship clear to our readers.