Rent
What to expect if you're renting, buying or selling in Williamsburg now that the L train isn't completely shutting down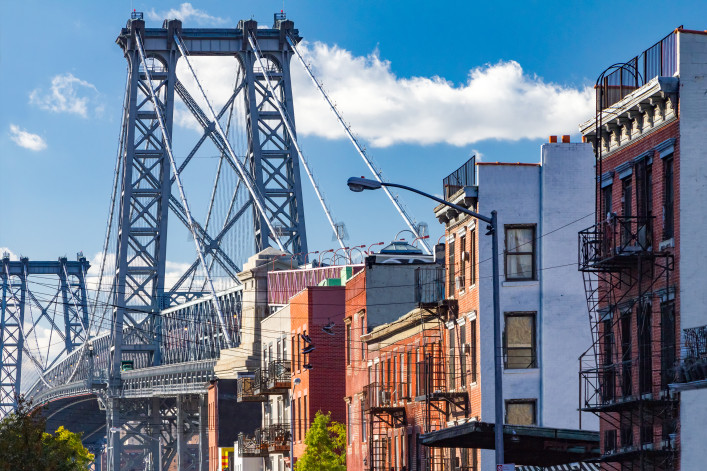 If you wanted to move to Williamsburg to live in one of the city's hippest neighborhoods, the 15-month L train shutdown likely put those plans on ice. So Governor Cuomo's announcement that he was halting the full L train shutdown, set to begin in April, was probably welcome news.
But you should be cautious: The new L train plan is still being hammered out (and questioned), and if it's actually approved, it will still involve a partial shutdown when repair work is done on nights and weekends.
"Cuomo hasn't given us an exact answer as to what's really going to happen," says Jordan Sachs, CEO of Bold New York, who represents owners in the area. "All of our owners are calling us asking what should we do, but the answer is there's no reason to react yet. I don't want to start increasing pricing and dropping concessions overnight because of the news." 
The uncertainty is not keeping renters and buyers from shopping for new apartments: Brokers are now seeing a surge in interest for sales and rentals in Williamsburg.
Read on for more specifics on what you can anticipate in Williamsburg's rental and sales markets.
Expect company at open houses
Brokers saw an immediate burst of activity after the announcement, similar to what they saw in Long Island City after the Amazon HQ2 announcement. "The general interest in the neighborhood has soared," says David Maundrell, executive vice president of new development for Brooklyn and Queens at Citi Habitats. 
MNS Real Estate has seen four times the traffic compared to the week prior to Cuomo's announcement, and condo inquiries have risen, says Andrew Barrocas, CEO. For example, one MNS building went from 50 open house visitors to 200, while he projected another building would have "three or four deals, and we did 11." 
This renewed interest in Williamsburg isn't just along the L train route, where properties have historically been more expensive, Maundrell says. Over the past two years, apartments along the nearby J, M, and Z trains became pricier and more popular, and that activity picked up in recent weeks. "I'm pleasantly surprised demand has not shrunk in south Williamsburg or Greenpoint," he adds.
To put that into perspective, the weekend after Cuomo's announcement, Citi Habitats leased 18 units at 420 Kent, which is closer to the J and M than the L. "We were doing one unit a day, so to do 18 was unbelievable," he adds.
Will night and weekend work cause pain?
Night and weekend track work is something Williamsburg residents are already long used to. 
"Yes, there will be some kind of impact, but I don't think it's going to be the same kind of disaster as a complete shutdown," says Noemi Bitterman, an agent with Warburg. "Considering the age group in Williamsburg, they get really creative when it comes to getting where they need to go. The overall sentiment is 'at least I'm going to have it during the week,' which makes it less of a catastrophe."
What buyers and sellers can expect
Since the L train shutdown was announced in 2016, sales prices took a dive in Williamsburg, dropping as much as 20 percent on higher-end units for example, Warner Lewis, a broker at Halstead, told Crain's.
If neighborhood demand does improve over the next two or three months, "the first step will be to start removing concessions, whether that's free months on rent or covering closing costs," says Sachs. "Assuming that the market reacts positively because of the L train coming back, we'll see pricing regulate again and go back up." 
Since 2016, some would-be sellers, including Maundrell, opted to wait out the shutdown by renting out their apartments instead. With those leases up for renewal in the next year or two, "that's when someone will look to put their units back on the market," he says. 
Developers are already having MNS reprice units by 5 percent, Barrocas says.
One such increase happened mid-deal on a $1,975,000 condo. The seller had not yet signed the contract, but the buyer did. After Cuomo's announcement, the seller wanted to renegotiate. Both eventually settled on a $25,000 increase. It wasn't easy to get the buyer to agree to paying more, Barrocas says. "We talked him over the hump, and explained that his asset did increase in value."
Sachs expects to see prices per square foot inch back into the $15- to $16-per-square-foot range.
What you expect for rentals
Brokers say you can expect to see Williamsburg rents increase by 5 percent to 10 percent, reversing a trend for the neighborhood. (After the shutdown was announced in April 2016, rents in North Brooklyn fell 1.5 percent, says Grant Long, senior economist at StreetEasy.)
That's the range Barrocas says MNS is discussing with developers. Sachs expects you can expect rents to reach $70 per square foot.
There's a huge amount of new apartments in Brooklyn, especially in Williamsburg, coming to the market this year, which will keep rents from exploding.
"I don't see it coming back from zero to 100 in under 10 seconds," says Warburg's Bitterman. "People who were also looking to get out, they're now going to stay and renew their leases, which is happening."
Brick Underground articles occasionally include the expertise of, or information about, advertising partners when relevant to the story. We will never promote an advertiser's product without making the relationship clear to our readers.