Reno Ready
This Greenwich Village three-bedroom is a bit of a throwback to the 1980s. Here's how one architect would make it modern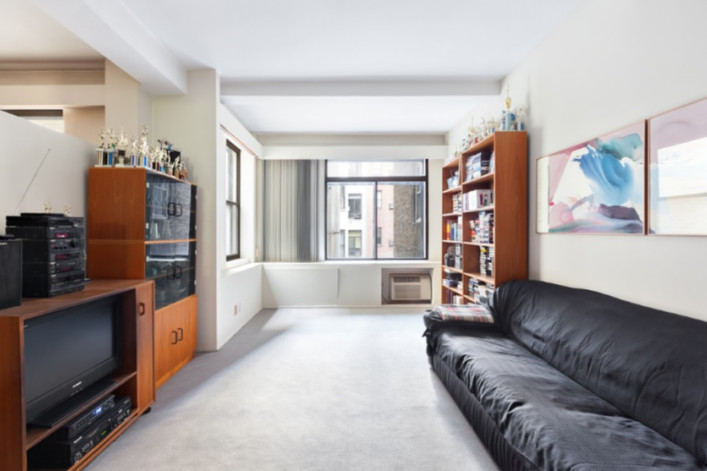 This 1,800-square-foot $2.7 million Greenwich Village three-bedroom/two-bathroom co-op at 23 East 10th Street has much to recommend it, including its square footage. "The apartment has a nice, big open layout," says Frank Pizzurro of Frank Pizzurro Architects. "It's really great to have this much space," he adds, especially in Manhattan, when most apartment-dwellers live in apartments that would be considered closet-sized in other locales.
But while he loves the size of the unit, which is being repped by the brokerage firm Compass, he doesn't like what the current owner has done to it (which may explain why the apartment is going for way less than the area median for similarly sized units). The overall issues:
• The fixtures: Pizzurro can't grasp why anyone would opt for wall-to-wall carpeting or vertical blinds, but notes that they seem to be vestiges of the early 1980s—probably the last time the apartment was revamped or redecorated in any way.
• The room configuration: "The bedrooms and living areas are mixed together," he says, explaining that the master bedroom is right off the living and dining rooms—arguably the loudest rooms in any home. "There isn't any public-private order to the space."
Pizzurro would change a lot about this unit if he could. Here are his recommendations:
The living room (pictured above)
"That half-wall on the left is just wrong," says Pizzurro. "Either make it all open or close it." He recommends the latter since the it's adjacent to the master bedroom and he can't fathom why anyone would want the goings-on in the master to be heard in the living room, and vice versa.
He'd tear out the wall-to-wall carpeting and restore the hardwood floors beneath. From the photos, they look to be in decent shape, he says, so all that might be required is some new stain. "I'd go for a darker [tint] here to add contrast to the walls," he says.
He'd also get rid of the "dated" vertical blinds in the window and replace them with wooden Venetian blinds or simple roller shades.
As for lighting, it's hard to tell from the picture what sort of devices are currently illuminating the area, but Pizzurro suggests adding some floor lamps. High-hats are generally considered a no-no in a beamed ceiling like this because a contractor would be forced to drop the ceiling in order to install them. "You'd lose ceiling height that way," says Pizzurro, explaining that it would make the room feel claustrophobic. And you definitely don't want that.  
Last, while he'd keep most of the walls (and ceiling) a neutral white or off-white, he'd pick one wall—"maybe the one where the couch is"—and paint that an entirely different color in order to attract immediate attention from the eye. It could be red. Or purple. Or anything really. It all depends on the type/color of the furniture/accessories that'll ultimately end up in the room.
Price: "It should be $1,000—maybe less—to take down the wall and rebuild it," says Pizzurro. Amazon sells cans of Minwax wood stain for under $8. Blinds to Go has wooden blinds for as low as $88. Home Depot offers floor lamps starting at just $9.88. And cans of paint can be purchased for $69.99. Labor would obviously be more.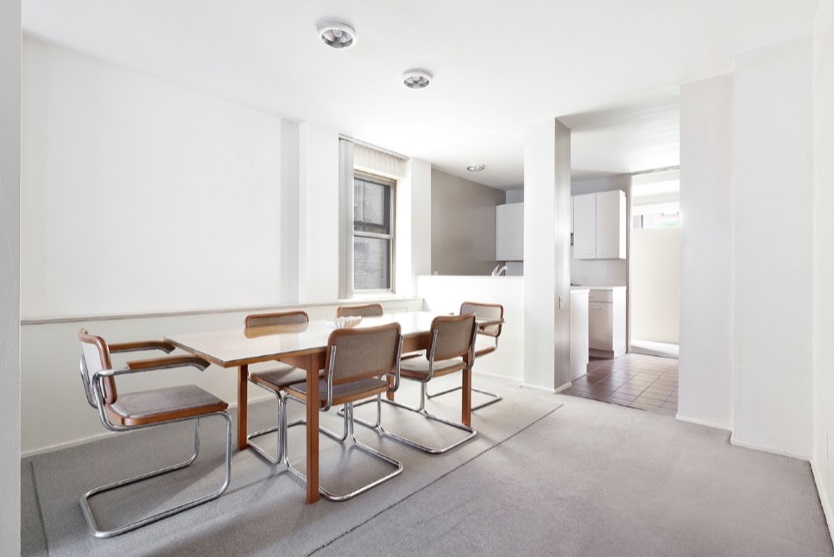 The dining room
"I'd get rid of the ugly high-hats in favor of a nice chandelier," says Pizzurro. He'd also rip out the carpeting—which seems an odd choice for a dining room, anyway since it's much harder to clean of food particles—and instead go back to the original hardwood. He'd replace the crown moldings on the walls. And he'd also get rid of the vertical blinds on that single small window and replace them with new window treatments.
Price: You can get chandeliers at all different price points. "You can spend $1,000 on it or $10,000," says Pizzurro. "Or you can spend $50,000 on an antique." A bucket of wood stain is $8. Moldings can be purchased for as low as $2 per linear foot. And you can pick up new privacy blinds at Bed, Bath and Beyond for as low as $29.99. Labor will be more.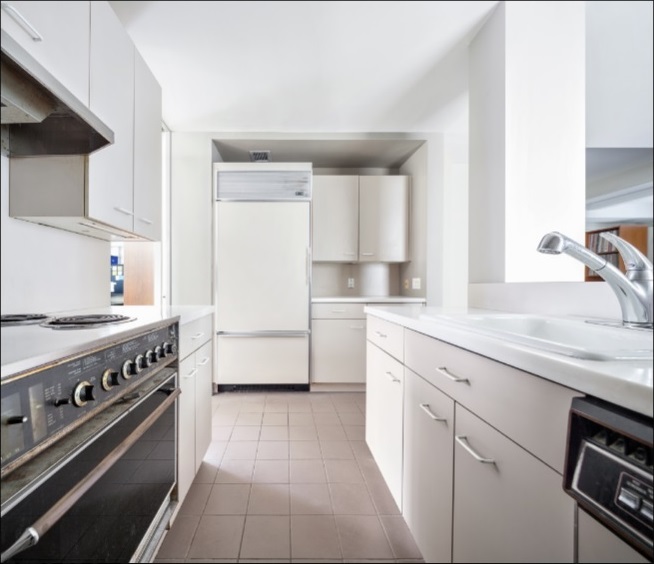 The kitchen
"This kitchen is disgusting," says Pizzurro (editor's note: That seems slightly harsh, considering it seems more "dated" than "disgusting" to us). As such, he recommends gutting it completely. "I'd rip it all out and put in stone tiles, wood cabinets and granite countertops," he says. He'd get all new appliances, too. The only thing he says he'd even consider keeping is the Sub-Zero fridge. "If you go with white appliances, I'd definitely hang onto it." He'd replace the current sink with an undermount one for a "cleaner, more modern look." He'd also swap out the faucet. And he'd add under-cabinet LED lights to make it easier to see everything you're cutting up in there. In addition, he'd add more color to the walls since "white is hard to keep clean in a kitchen." He'd pick a gray or a beige here instead.
Price: According to Pizzurro, new wood cabinets are around $10,000 to $12,000 and granite countertops can run around $4,000. Stone tiles are approximately $4 to $11 per square foot at a place like Stone Tile Depot. A new suite of standard appliances can be bought for about $5,000. ("If you're a chef-type, you could spend $5,000 on a single high-end appliance," he says.) The sink will probably be around $500. New faucets start at $200. The under-counter lights are a few hundred dollars. And a bucket of paint can be purchased for under $70. Labor will, of course, be more.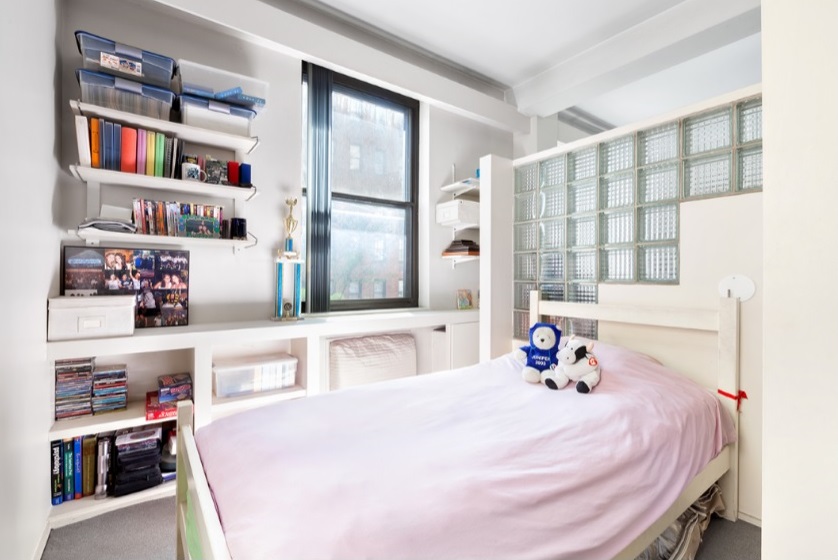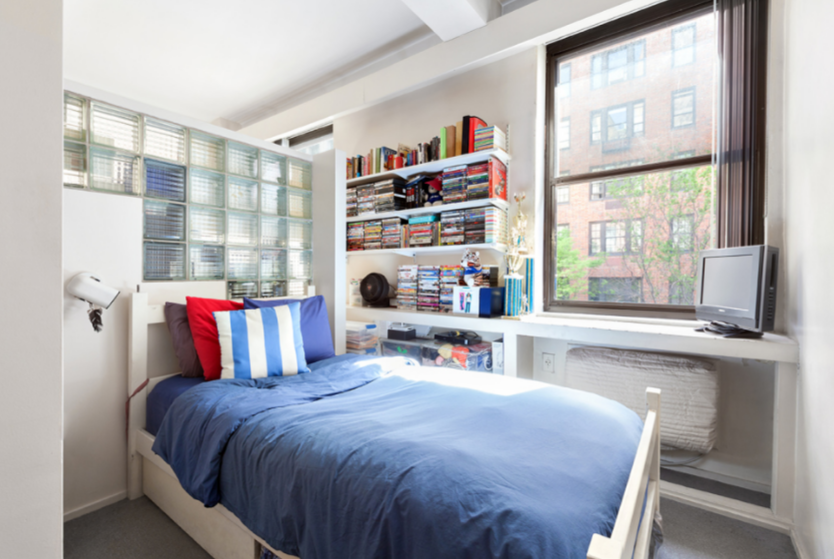 The children's suite
"The glass block partition is dated," explains Pizzurro. He'd remove it completely to unify the separate spaces and make one large room. He proposes painting the walls of the newly combined space a light, calm color such as a lavender or a faint yellow to "encourage sleep." Additionally, he once again suggests replacing the vertical blinds with Venetian blinds, ripping up the carpet to reveal the wooden floors beneath and adding floor lamps to help brighten up the room.
Price: A gallon of paint is under $70. Blinds to Go has wooden blinds for as low as $88. And a bucket of wood stain is $8. You can buy a floor lamp at Home Depot for under $10. Labor will add to the cost.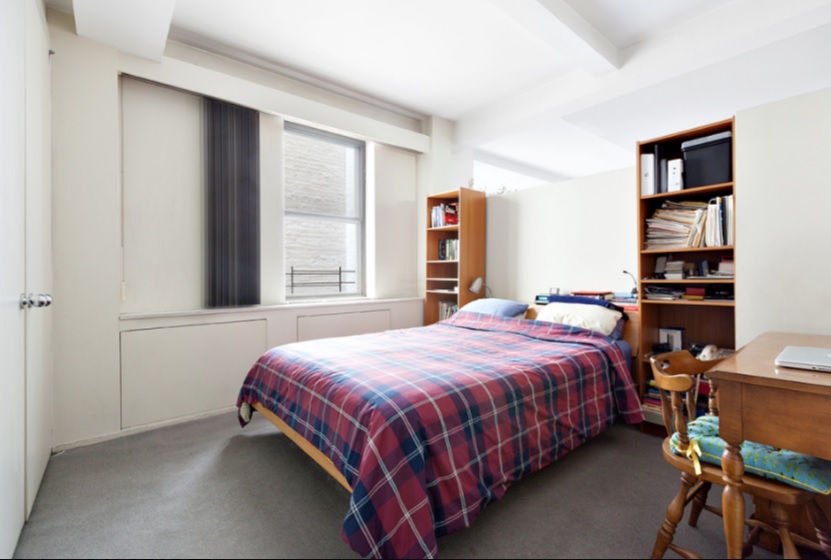 The master bedroom
First, Pizzurro would close off that peculiar half-wall that connects the master and the living room to make it completely private. Then, he'd rip out the carpeting and restore the floors. He'd also add more lamps and replace the blinds. And he'd repaint the room with "a warm color like a nice taupe or a mushroom," he says. "Something calming that encourages relaxation."
Price: Wood stain can be purchased for $8. Lowe's sells floor lamps for as low as $19.97. Blinds to Go has wooden blinds for as low as $88. Wood stain can be picked up for roughly $8. And you can buy a gallon of paint for $69.99. Labor, as always, is more.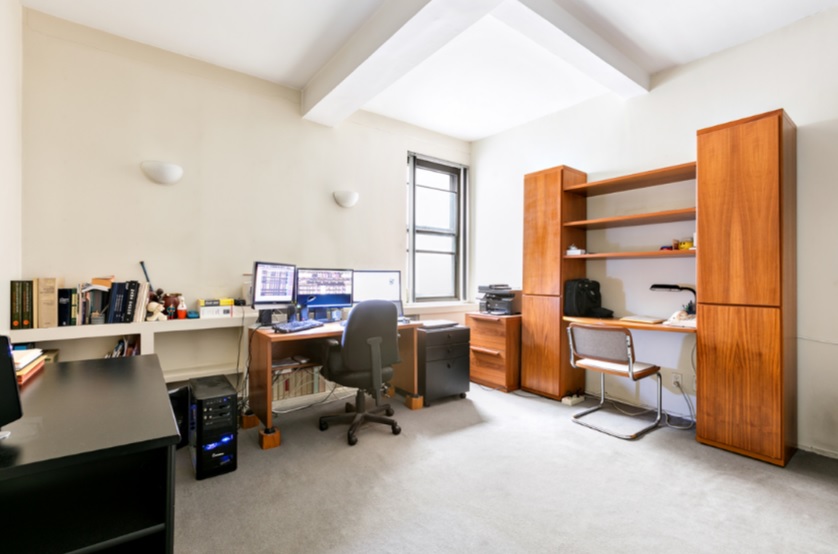 The office
"I'd keep the sconces here," says Pizzurro. "I'd just change out the fixtures for new ones." He recommends traditional-looking ones with lampshades here since it's an office. He'd put a piece of art between the two of them since otherwise he thinks the wall looks rather empty. Again, he'd rip out the carpeting and get new window treatments here and repaint the walls with a "warm color like a taupe or a gray." He also suggests putting in a daybed or a Murphy bed "so it can work as an office or a guest bedroom."
Price: You can buy new sconces like these from Lamps Plus for just $130 each. A painting or photograph can be purchased for pennies on the street (or millions of dollars). Blinds to Go sells wooden blinds for just $88. Wood stain can be purchased for roughly $8. A can of paint is $69.99. You can buy this metal daybed from overstock.com for $88.49. A built-in Murphy bed runs in the thousands. Labor will be more.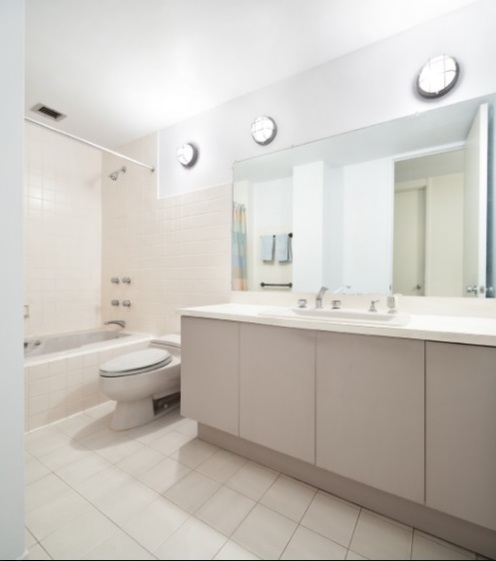 The first bathroom
"This is a full gut," says Pizzurro. He recommends ripping everything out and getting new everything—a new vanity, a new sink, a new toilet, new lighting. He'd keep the Jacuzzi tub, though since people always love a good soak and it's good to have at least one bathtub in the apartment to bathe small children.
Price: According to Pizzurro, a new vanity should be about $2,000. New tile and cabinets are around $5,000. New bathroom light fixtures can be acquired for a few hundred dollars, like these from Lamps Plus. "Toilets are cheap," he says. "You can get a new one for $100-$200 at Home Depot." You can get "a decent undermount sink for $200." Labor will be more.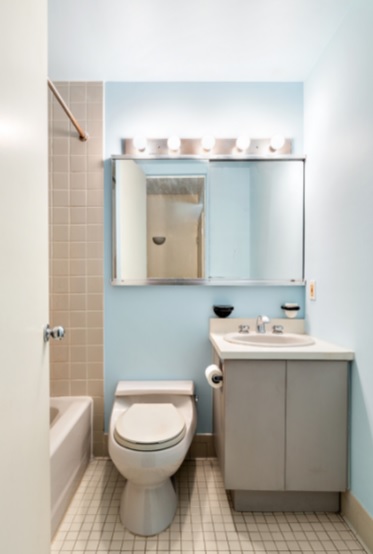 The second bathroom
This second bathroom would be "another full gut," according to Pizzurro. Here, though, he'd lose the tub and instead install a standing shower with sliding glass doors "because it's such a small bathroom" and the tub seems to take up a lot of space. He'd nix the blue paint and instead go with a neutral that he feels would appeal to more people. He'd also replace the vanity, sink, toilet and lighting.
Price: The price of installing the free-standing shower depends on what it is you're looking for—prefab will be cheaper, as you can purchase an enclosure like this one from Lowe's for under $1,000 and new sliding doors for around $1,000. A higher-end custom made shower and doors will obviously be more. New paint is under $70. A new toilet costs $100 to $200. A small vanity cabinet can be procured for a few hundred dollars at Home Depot. New light fixtures should be about the same. A new sink is roughly $200. Labor will add on to the cost.
Brick Underground articles occasionally include the expertise of, or information about, advertising partners when relevant to the story. We will never promote an advertiser's product without making the relationship clear to our readers.