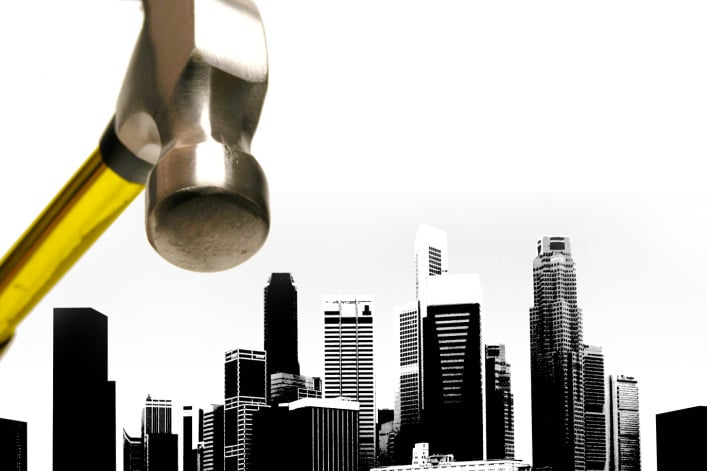 The Situation
You have a great contractor on board and the budget in place to undertake your dream renovation. The last piece of the puzzle is the architect, who can make or break your project since you need this professional to get your renovation approved and signed off by the Department of Buildings. Better than a long list of what to look for, here are the six telltale signs of a bad match. 
The Deal
 1. The Prima Donna – When performing a walk through at your apartment with a prospective architect, you explain in your own terms the design aesthetic you are aiming to achieve. The architect responds not by drawing out a better understanding of what you want, but by educating you about the style to which you should adhere. Stay away from these types. A customer service-oriented architect will take your ideas, what you like, and translate those words and images into a visually appealing design that you have inspired.
2. Rockefeller Budget Syndrome – You explain to prospective architects your construction budget. These candidates insist that it must has be three times the size to achieve a worthy result. Listen to what they have to say, in case your contractor has erred in estimating the cost of the job. But if the contractor is on target, and the architect can''t be creative with a small budget, then keep looking.
3. Tardiness – Your architect plays a key role in how quickly your job is finished. He or she needs to submit drawings to the Department of Buildings in a timely fashion, so you can get your work permits, and be responsive to any of your contractor''s questions during the project. On one of our jobs, the architect is chronically late to meetings and providing drawings, and the owner wonders why the job is not moving as fast as it should. If the architect can''t show up on time to your meeting and does not provide a proposal when promised, he or she will act the same way on your project and you will be the one left holding the bag.
4. Design-Build – Your architect needs to be your advocate and make sure that the contractor is building as per the exact specifications laid out in the drawings. Some architects offer "Design-Build" services, which may seem appealing as you get one lump-sum price for design and construction. The risk is that if the architect and contractor are partners, they may work in their mutual interest, not yours. On one job we took over, the home owners had fired the design-build team when they found out the architect was certifying that the work had been done when it had not in order to be paid faster. Keep your architect and contractor separate.
5. Fake Architects – Some interior designers claim they are architects even though they are not licensed. Only a New York Registered Architect can file plans with the Department of Buildings. Some interior designers present themselves as architects and hire a licensed architect to stamp their drawings so they can submit them to the Department of Buildings. I was on a job site once when a talented but dishonest interior designer presented himself to the client as an architect when he hadn''t even studied architecture to justify his high fees. Make sure your prospective architects are licensed in the state of New York
6. No Local Experience – Even though any New York State-licensed architect may file plans with the NYC Department of Buildings, you want to hire someone who has a lot of experience with projects within the five boroughs. Better yet, hire an architect who has a lot of experience in the borough where you live. Getting your plans approved by your borough''s Department of Buildings can be time consuming and having an architect with experience dealing with the local bureaucratic process can be a great advantage in shortening the timeline.
Hiring the right architect is as important as hiring the right contractor. Interview several candidates and check their references; ask if you can actually see their results. You will be married to your architect until the end of your project, so make sure you really like and trust this person before you move forward together.
---
Yoel Borgenicht is the president of King Rose Construction, specializing in high-quality commercial and residential renovations in the New York City metro area. 
 See all NYC Renovation Chronicles.
Related posts:
NYC Renovation Chronicles: Choosing the perfect contractor
City to train 8-year-olds to lead fight against construction defects
BrickUnderground New Construction Survival Kit
4 neat ways to use an investigative lawyer

Buying a new condo? Here's the checklist you've been waiting for (sponsored)
The top 7 construction defects
Brick Underground articles occasionally include the expertise of, or information about, advertising partners when relevant to the story. We will never promote an advertiser's product without making the relationship clear to our readers.