Brick Underground supports our readers with product recommendations specifically curated for New Yorkers. If you buy something through our links, we may earn an affiliate commission.
This $599,000 Hell's Kitchen one bedroom, 405 West 57th St., #6F, looks like it's in ok shape, "but there's a lot that can be done to improve it if you have the budget and the time," says architectural designer Maryana Grinshpun of Mammoth Projects. She would focus her efforts on trying to correct what she sees as the co-op's major defects—a tiny kitchen, an ill-defined dining area, a bizarre closet within a closet in the bedroom, and most glaring of all, the apartment's entire layout.
"It just doesn't make much sense," she says of the current design. "There's lots of wasted space. It doesn't really take advantage of the square footage."
In this week's Reno Ready, Grinshpun tells us which walls she'd knock down in order to open the place up, which rooms will most benefit from some quick fixes, and which ones will need to be gutted completely.
Pick wide plank flooring for the living room
Floors: She doesn't love the yellowish flooring in the living room, shown top, which she says is clearly "not very high-end," but she does acknowledge that it's in good condition, meaning that if there simply isn't enough money to change it out, she'd be ok with keeping it as is. She wouldn't even have these "really inexpensive floors" refinished as she "wouldn't want to waste money making them look only marginally better."
If, however, the budget does allow for new flooring, she'd opt for wider plank boards with a more modern look throughout the unit, specifically "something with a less yellow tint," she says. These should cost around $15 per square foot.
Paint: She'd cover up the cream on the walls with a bright white, such as Benjamin Moore's Cloud White, $75 a gallon, which she believes has a real warmth to it, and will fit in well with the "classic look" she envisions for the apartment. She'd also repaint the ceiling a slightly lighter shade of white for contrast.
Lighting: Since there aren't any overhead lights in here, Grinshpun guesses that the ceiling is made of concrete and cannot be drilled into. But she'd still prefer for there to be some lighting up top, so she recommends a plug-in pendant light so that you don't need a J-box up top. This Aim plug-in pendant light from FLOS is $895 at YLighting.com.
Radiator: She doesn't love the look of the boring white heater under the window, so she suggests covering it up. "There aren't a lot of good long-term solutions, though," she says, explaining that wood and metal covers will get damaged by the steam over time. She likes to "manage expectations about those from the get-go" as they'll probably need to be replaced within the next few years, anyway. Here, she'd probably opt for a simple clear acrylic cover made to showcase the "beautiful rusted iron thing underneath." A new off-the-rack cover should cost around $800 to $1,000. A custom one will probably be more.
Window treatments: Since the windows are relatively small, Grinshpun recommends "elongating what you perceive as the window space" in the room by running floor-to-ceiling drapes across the length of the entire window wall. She'd choose white curtains with some texture that'll look good next to the white walls. "It'll look really classic and elegant," she says. These should cost around $5,000 or so.
Railing: The metal railing by the steps leading down to the sunken living room is "pretty appalling," she says. If someone elderly and/or frail is buying this apartment, she might keep it. Otherwise, she wants it gone. "Also, it looks industrial—very out of place in a residential setting."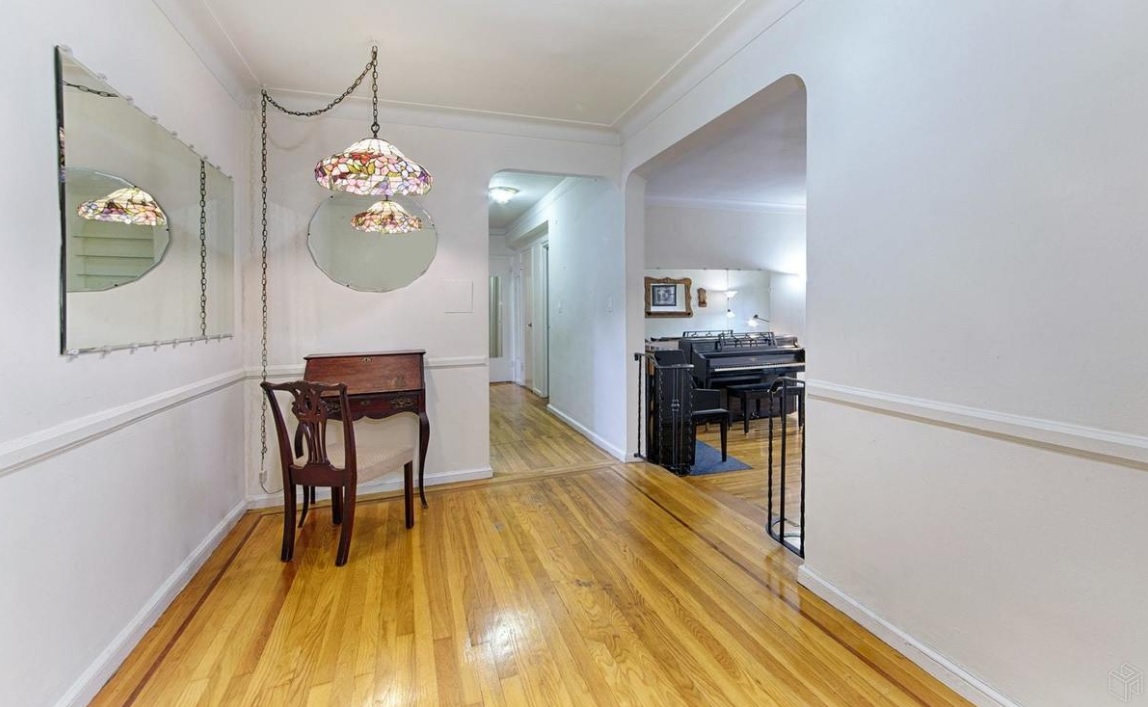 Knock out the walls separating the dining area
Walls: "It isn't much of a dining area," Grinshpun says. "It's more of a glorified corridor." But knocking out the walls separating the living room from the dining area, as well as the one between the dining area and the kitchen, should better define it. "It wouldn't cost very much," she says, noting that it should only be a few thousand dollars for the demo work, but "it'll really open things up."
Floors: If the walls are down, she thinks it'll be especially important to replace the boards since there's a border around the dining area that will make a lot less sense once the dining room is open to the living space.
Paint: Since the dining room will now be open to the living room, she'd keep things consistent by painting it the same color, Cloud White.
Lighting: She'd lose the multi-colored monstrosity of a pendant light, and instead get a new fixture similar to the one she'd get for the living area. "All the light fixtures in a space should have a cohesive language," she says, explaining that she'd like for them to relate to one another in some way. "But I wouldn't use the same fixture over and over." Prices for this String Light Cone Pendant from FLOS start at $695 at YLighting.com.
Gut the kitchen, pronto
"This is probably the worst thing about the apartment," she says. "I'd gut the whole thing."
Cabinets: There isn't a ton of storage in here, but Grinshpun still recommends removing the upper cabinets because she feels that things look too claustrophobic. She'd add in a separate pantry elsewhere in the apartment—either where the fridge is at the moment or in the dining room.
As for the bottom line of cabinets, she'd rip out the existing ones, which she calls "atrocious," and replace them with one of two options, either a natural material, such as wood, or white lacquer cabinets with unadorned nickel pulls. The new cabinets and pantry should cost about $15,000 to $20,000.
Floors: If the client doesn't cook much, Grinshpun recommends simply extending the wood flooring in here. If, however, he or she loves to whip up meals, she'd instead suggest going with a more durable marble flooring in a black-and-white checkered pattern. "It'll just be easier to maintain," she says. The marble floors should be about $15 per square foot.
Countertops: She'd go with gray Soapstone countertops with white veins for their classic look. "It's a pretty practical material," she says. "It's a lot more durable than marble, but it has similar veining." These should cost around $2,000 or so.
Paint: She'd paint the walls the same Cloud White as the rest of the apartment, and wouldn't even bother with a backsplash. She advises choosing matte paint that can be easily touched up and will dry without any seams.  
Appliances: She'd get new panel-ready appliances that'll match the new cabinets. She'd also move the fridge to the window wall in order to open everything up a bit. This Fisher & Paykel 36-inch panel-ready bottom-freezer refrigerator is $5,569 at AJMadison.com. This Fisher & Paykel fully-integrated double dish drawer is $1,369, also at AJMadison.com. She'd also get a stainless steel Bertazzoni gas range, $2,799, also at AJMadison.com. If the new resident really needs a microwave, Grinshpun says she'd look into building one into the lower cabinets, but she notes that many of her clients have been opting to go without one, so she wouldn't automatically install one.
Lighting: In order to keep things consistent, she'd go with a plug-in pendant light in here, too.
Radiator: "I think an acrylic box would look really cool against the new checkered floor," she says.
Window treatments: She isn't a fan of the black window frame, but since the building likely won't allow you to replace it, she'd go for the next best thing—hiding it. She'd get a roll-down shade made from a synthetic (and therefore easy-to-clean) material. "Linen or cotton will absorb smoke and stains, so you don't want those," she says. "Look for something with synthetic fibers that can withstand the damage." This vinyl shade is $31 at Wayfair.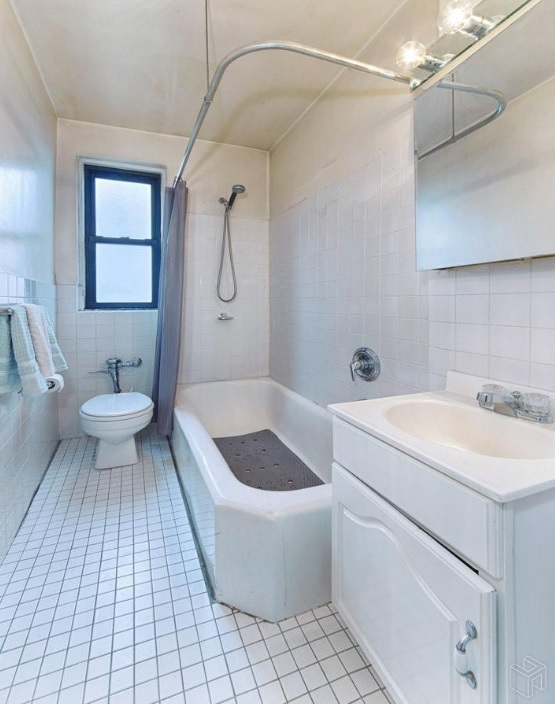 Consider taking out the tub in the bathroom
Tub/fixtures: "Something we've been doing a lot lately is taking out bathtubs because hardly anyone uses them," she says. She believes that doing away with the tub and installing a shower stall, will make better use of the space. "The entire place would open up," she says. She'd also replace all the fixtures with "more luxurious pieces." This Dreamline semi-frameless shower enclosure is $699 at The Home Depot. This Vola rainfall showerhead and arm mount is $2,348 at PlumbTile.com.
Tiles: To keep up the black-and-white motif established in the kitchen, Grinshpun suggests replacing the flooring with a black-and-white checkerboard pattern using marble tiles. For the walls, she'd choose white tiles in a subway shape, but instead of the usual porcelain, she'd again go with marble. These tiles should be $20 to $25 per square foot.
Toilet: She'd replace the tankless one with a newer, more modern-looking toilet with a tank. This Duravit Starck one-piece toilet is $399 at Supply.com.
Vanity/medicine cabinet: She'd have a custom mirror and medicine cabinet and a custom wood vanity built in order to introduce a little warmth into the room. She'd then put a bowl on top of it to serve as the sink instead of the built-in kind. She'd also move the faucet to the wall to free up space. "It looks more elegant," she says. This should all cost around $8,000.
Lighting: Grinshpun would swap out the current three-bulb sconce for a single-bulb sconce in the same location. This Possini Euro Midtown wall sconce is $100 at Lamps Plus.
Towel bar: "Bathroom accessories make a huge difference in terms of overall aesthetics," she says, noting that the towel rack looks "institutional" to her. She'd replace it with "interesting hooks" as it'll be "an easy way to elevate your space." This Launis towel hook is $28 at Anthropologie.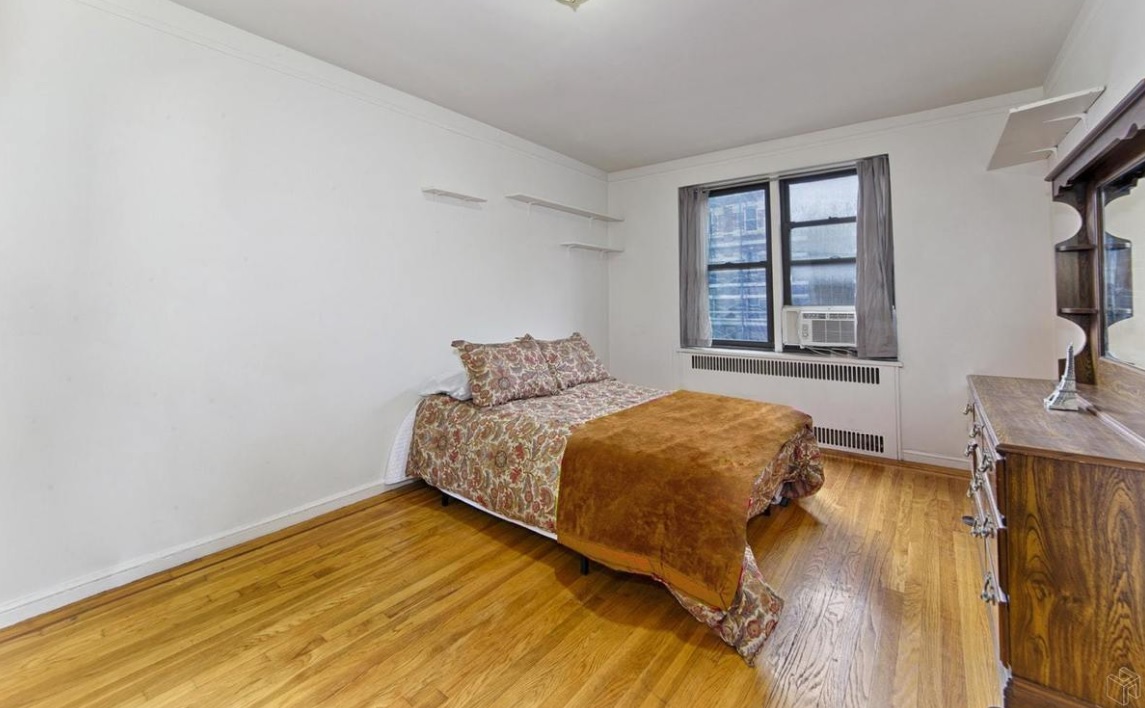 Sort out the closet mystery in the bedroom
Closet: After studying the floor plan, Grinshpun's main issue with the bedroom is that there seems to be a closet inside the closet and she can't figure out how someone could possibly access it. "You'd have to crawl under your clothes to get to it," she says. Since that seems wholly impractical, she'd lose that back closet and push the front closet back in order to make one large walk-in. Custom millwork with a closet organization system should cost around $7,000.
Paint: She'd again choose Cloud White for continuity's sake.
Crown molding: In a further effort to keep things cohesive, she'd add crown moldings in here that are similar to the ones in the living room. These should be about $1,000.
Radiator: Here too, she'd opt for the same radiator cover as in the living room and kitchen.
Flooring: Whatever she does to the living room, she'd do here, too.
Window treatments: She'd again add floor-to-ceiling curtains across the length of the window wall, but she'd add blackout shades underneath since this is a bedroom. Prices for these Bali cut-to-size vinyl blackout shades start at $19 at The Home Depot.
Lighting: It looks like there's a fixture in the ceiling at the moment, so she'd simply replace that with a newer, more modern pendant. She'd also add a couple of floor lamps—not table lamps, she finds them "drab"—for mood lighting. This Beat Fat pendant light is $550 at YLighting.com. Prices for this Tolomeo Mega floor lamp start at $945, also at YLighting.com.