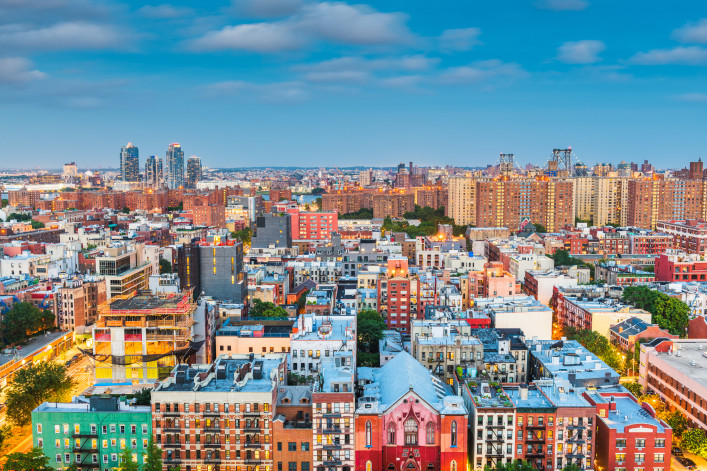 New York City's new energy efficiency grades are being posted in residential buildings, but who is responsible for improving a low rating or keeping a high one up—management or residents? And what exactly is the rating measuring? 
Because the grade is based on the overall energy and water consumption of your building, not just common areas and amenity spaces, what you do in your apartment as a renter or apartment owner also impacts the rating.
Gina Bocra, chief sustainability officer at NYC's Department of Buildings, which oversees the program (it applies to all NYC buildings over 25,000 square feet), says getting a good score "takes the effort of both building owners and tenants."
That's because factors like the building's age, square footage, number of apartments, how many people live in the building, and whether or not there is a commercial space factor all get factored into a building's rating, she says. 
More extensive capital improvements, like updating a boiler system, fall under building management's responsibilities, but there are ways tenants and owners can contribute, like using energy-efficient appliances and taking shorter showers.
Michael Johnson, communications director at Community Housing Improvement Program, a NYC-based landlords association, says that there's only so much a building can do to improve its energy efficiency grade and that these days, landlords are looking for ways to minimize disruptions to tenants who are working and learning from home. So taking some initiative can help your building operate more efficiently. Keep reading for more eco-friendly habits that can help.
Ways to reduce your water and energy use
In the winter, one of the most important things you can do is to remove your window AC unit, or at least make sure it's covered, sealed, and insulated so warm air doesn't escape your apartment.
Installing a programmable thermostat reduces energy waste. If you rent—discuss this with your landlord, who probably prefer you not to crack open a window in January because your place is too hot.
Consider covering your radiator too. The Cozy, made by Radiator Labs, is a smart radiator cover that helps balance heat output and can be controlled by a smart device. It was one of the winners of DOB's Carbon Neutrality Innovation Challenge. And here's more intel from Brick Underground on upgrading your radiator and where to find radiator covers in NYC.
Here are some other ways you can help reduce your energy and water consumption according to CHIP and DOB:
Use Energy Star-qualified light bulbs and turn off lights when not needed.

Use as little water as possible and avoid taking long, hot showers. Tip: A 10-minute shower uses less water than a bath.

Keep windows closed as much as possible and report broken windows to your building.

Unplug electronic devices when not in use. Even when not in use, you want to avoid "vampire load," which is electricity that's wasted when devices are off.

Keep shades, blinds, and curtains down when possible to keep warm air in during the winter and the reverse in summer. Thermal curtains can also help.

Let cold air circulate between items in your refrigerator and pack things tightly in your freezer.

Purchase appliances and electronics that are Energy-Star rated and take advantage of devices that have software controls that reduce energy consumption or automatically shut off when not in use.
Ways your building can make improvements
New York City buildings are under pressure to become more green and are governed by many local laws, such as those in The Climate Mobilization Act, which are designed to help reduce carbon emissions in NYC. 
Bocra says important capital improvements that buildings can make include sealing the building by installing better windows and adding insulation as well as replacing standard light bulbs with energy efficient ones. (One-to-four family buildings in certain Brooklyn and Queens neighborhoods can sign up for a free LED lighbulb installation from ConEd.)
Matt Cebula, director of energy services at AKAM, a NYC property management company, says how a building is heated plays the biggest role in determining energy efficiency. He says your building should make sure that the boiler is running properly and that heat is dispersed evenly.
His team at AKAM has used data from energy efficiency reports in order to determine how their buildings can operate more efficiently, and to ensure buildings are adhering to the local laws. 
Cebula says that all of the boards and residents of the buildings they represent were sent information explaining what the grades mean and next steps both owners and tenants can take. Some landlords were shocked at their grades, he says, but the program was a "call-to-action" and at least 70 percent of buildings are expected to have a C or D.
Johnson also says that some landlords were disappointed when they received bad grades, but that it will be "a learning curve for everyone."
Brick Underground articles occasionally include the expertise of, or information about, advertising partners when relevant to the story. We will never promote an advertiser's product without making the relationship clear to our readers.