Reno Ready
An Upper East Side studio that needs work, with a price tag that allows you to actually do it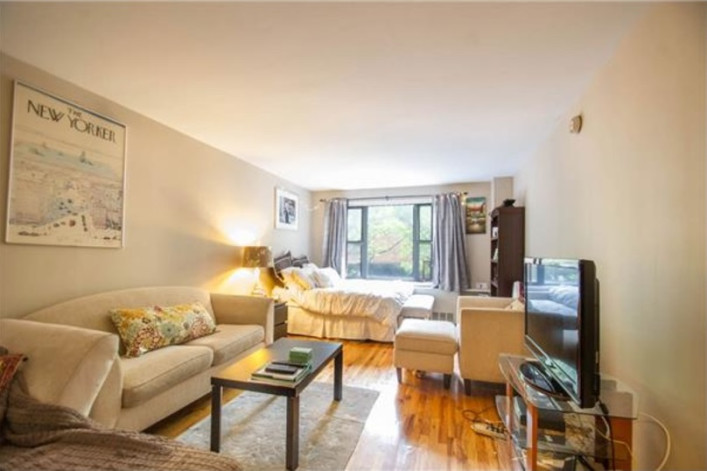 The highlight of this 420-square-foot $375,000 studio at 417 East 90th Street in Yorkville is probably its close proximity to the new Second Avenue subway line, says Brooklyn-based architect Ben Herzog. "The [new line] really made the unit better," he says. Inside, he likes "that there's actually a decent amount of kitchen space for an apartment of this size."
What he doesn't like is that the room's "only got one window and one expanse." He could also do without the soulless "beige tone on the walls," he says, noting that its neutrality depersonalizes the space: "It looks kind of like a hotel room."
Herzog would make a number of changes to the apartment in order to update it and make it less cookie-cutter. His recommendations:
Living room/Bedroom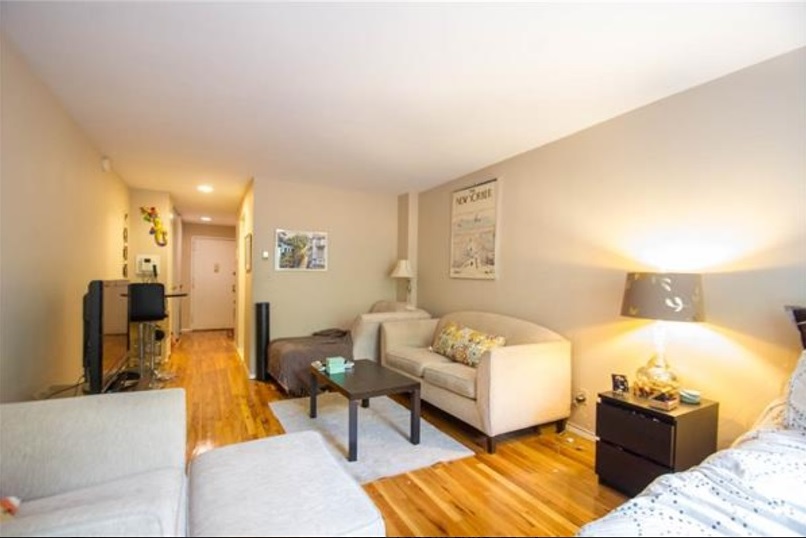 "I'd keep things pretty simple here," says Herzog. "I wouldn't move any walls, wouldn't do anything architectural. It's almost all design."
The first thing he'd do is see to the floors. "They're kind of shiny," he says, but still in relatively decent shape. As such, he'd suggest sanding and refinishing them to pretty them up. (He thinks that ought to cost "a couple thousand dollars.")
Next, he'd tackle the walls. Herzog considers the beige to be blah. "But any bold color on the wall"—like a red or a green—"will dominate too much in such a small space." He'd choose Benjamin Moore's White Dove ($69.99 per gallon), which he describes as a white "that's got a little bit of gray in it," which will add some warmth to the room. The tenant can add "artwork and furniture and things like that" to the room to infuse some color and personality into the space. He'd also paint the ceiling with a flat white ($39.99 per gallon) to make it appear taller.
Herzog says he isn't a fan of the frilly curtain rod window treatments, so he'd lose them in favor of a two-pronged solution. First, he'd get "a nice Roman shade that'll fit to the window and add some texture, pattern and color" to the room (like this $99.99 one at Select Blinds), and could double as a blackout shade. On top of that, he'd put up a sheer shade that could let a little light in no matter what time of day it is (like this one for $167.44 at blinds.com.)
There don't appear to be any light fixtures in the ceiling, and Herzog says he presumes this is because it's a concrete slab that you can't install anything into. As such, he recommends floor lamps throughout (like this one from YLighting for $425).
"If you really want it to feel like a living room all the time, you could unfold your bed each night," says Herzog, meaning you could either get a pull-out couch (such as this $599.99 one from Jennifer Furniture) or a wall bed ($999.99 at Costco) of some sort. But, he recognizes that some people won't want the added work of having to put their bed away each morning and take it out each night.  
Kitchen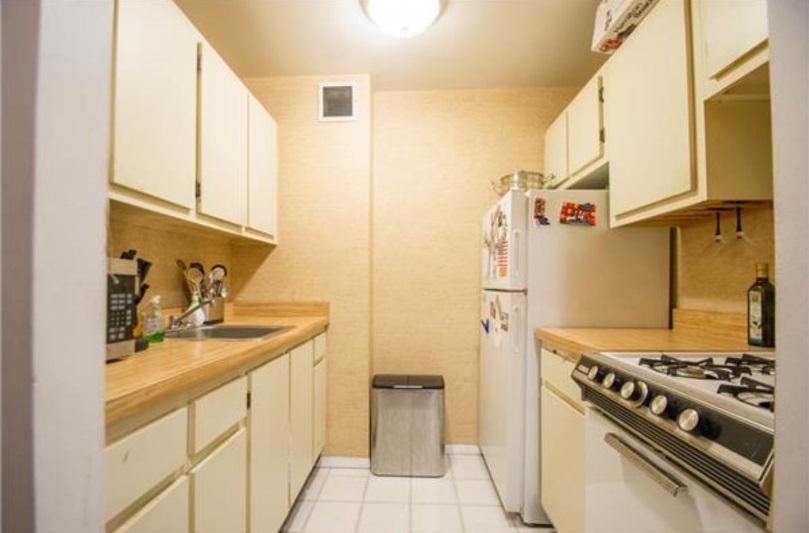 "Once again, this is just a whole lot of beige," he says with a laugh, referring to the mushroom-colored walls and countertops.
He'd battle the beige by ridding the wall of the wearisome wallpaper at the back ("It has to go," he says definitively) and painting it the same White Dove as the living room ($69.99 per gallon). It'll lend a warmth to the small room, he says. Plus, having the same color throughout will add a certain symmetry to the unit.
As for the countertops, he'd opt for a "simple Caesarstone counter in a light gray," which he believes should cost around $100 per square foot. He'd use the stone as a backsplash, too, to get more bang for his buck from it. Caesarstone is durable and easy to clean, and the color should bring out the gray undertones in the paint. He'd also get a new under-mount sink—that is, one that attaches from beneath the counter, thereby giving you a few extra precious inches of counter space—like this Elkay single-bowl sink ($307.80 at efaucets.com).
For the rest of the room, Herzog says he'd get "new everything, but keep it all in the same location."
He'd trash the cabinets and swap them out for something "with a nice wood texture," he says. If money's no object, he'd choose custom walnut cupboards (which he estimates to be about $1,500 per linear foot). If, however, the client is on a budget, he says that "IKEA's fine for this." He'd also bring the cabinets up to the ceiling to add more storage, which is always a good thing in a studio.
Moving on down to the floors, he'd lose the lackluster tiles and replace them with simple but stylish porcelain ones, for $30 per square foot with installation. 
Next, Herzog would turn his attention to the appliances. He'd buy a new fridge (like this $649.93 Kenmore one from Sears). "I might get a panel for it so it can match the cabinets" and make the room look even more put-together, he says. He'd also get a new range (such as this Bosch convection oven, $1,889.99 at Best Buy). And while there isn't a dishwasher in there at the moment, he'd like to bring one in. "The sink cabinet looks bigger than the sink," he says. "Maybe I'd get a smaller 18-inch sink and get a dishwasher to the right of it." (This Bosch dishwasher is $719.99, also at Best Buy.)
Finally, he'd deal with the lighting situation. "I'd get a similar ceiling-mounted fixture, but something a little more modern" (such as this round flush-mounted ceiling light, $345 at YLighting). He'd also get under-cabinet lights (like these, $59.97 at The Home Depot).
Bathroom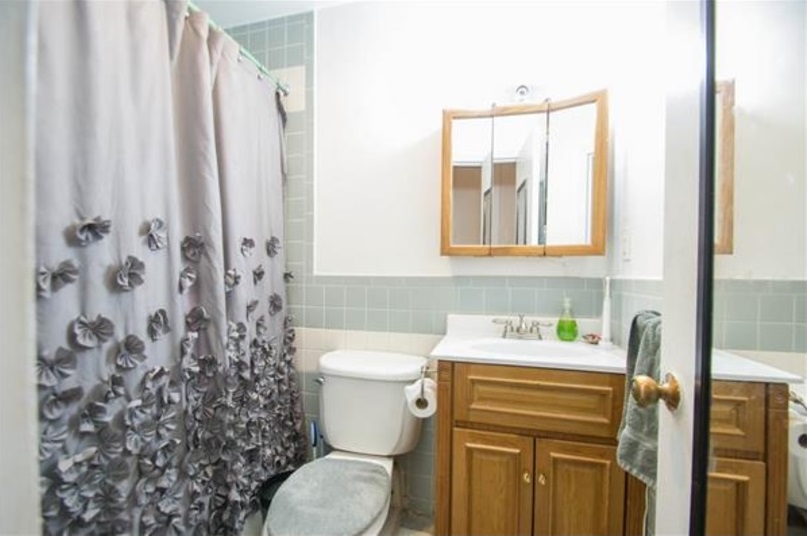 Herzog would first get rid of the vanity. "I'd prefer something a little calmer," he says, like this
vanity from Empire Industries
, $600. 
He'd also discard the medicine cabinet as he believes "those mirrors are out of scale with the wall." Instead, he'd go for one made by New Jersey-based Century Bathworks. "[Their medicine cabinets] look and behave like Robern"—an expensive, but well-regarded line of medicine cabinets—"but you can get them at a fraction of the cost." (This Century Bathworks cabinet is $368.90 at decow.com.) "And if it's possible to recess it, I would." It'd save space, which is crucial in an apartment of this size. Some medicine cabinets even come with built-in lighting for a few hundred more, so you wouldn't have to buy anything additional in order to illuminate the room.  
Although he isn't in love with the wall tiles, he'd keep them for a client on a budget. And while the photos don't depict the floor, Herzog says the same thing goes: "If it's in good shape, keep it."
If he's holding on to the tiles, he'd try and play off them with the wall color, he said. "Maybe a grayish-greenish would work here," he says. (A gallon of Benjamin Moore's Gray Wisp is $69.99.)
Finally, he'd jettison the rather ornate shower curtain in favor of something a tad less elaborate. (This curtain, available in a variety of shades, is $37 at JC Penney.)
Brick Underground articles occasionally include the expertise of, or information about, advertising partners when relevant to the story. We will never promote an advertiser's product without making the relationship clear to our readers.