Transitions
Hell's Kitchen to Yorkville: It's less exciting and slightly remote, but at least it's clean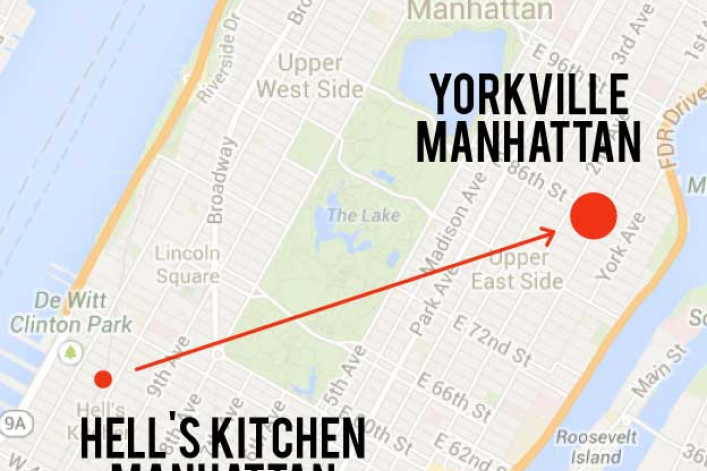 Two years ago, after living in the Yorkville section of the Upper East Side for nearly eight years, I was super excited to return to my very first NYC stomping grounds, Hell's Kitchen.
The added bonuses were that I got a doorman, which I never expected to be able to afford, and the apartment is rent-stabilized. Also, at $1,811  per month (don't you just love the weird prices of rent-stabilized units?), it's $200 less than I was paying before.  
Downside:  Moving back to boring, sterile Yorkville. But, beggars can't be choosers so off to the Upper Least Side I went. 
My new apartment is technically an alcove studio, so it is much smaller than my two-bedroom unit in Hell's Kitchen, but I made do by having a wall built to turn it into a one-bedroom. I even have more windows here than I did in my always dark previous unit. 
I am also thrilled to no end by having my first-ever dishwasher.  And as an obsessive laundry-doer, having a laundry room in my basement (accessible by elevator no less)  is so much easier. I can go down there in pjs! 
It's much quieter here than in Hell's Kitchen, helped by the fact that I don't live on an avenue this time around (I'm between two), so there is less traffic and no bars. It's much safer too, not only because the neighborhood is far more sterile but also because there is a doorman. 
All that said, I am not charmed by the neighborhood. I am only a few blocks from my former Yorkville apartment and not much has changed. Carl Schurz Park is still the nicest thing around, as is the free swimming pool at John Jay Park near East End, though I've been too sick to go to either yet. 
I had no access to great supermarkets in Hell's Kitchen but had a great veggie market. Here there is a Fairway on 86th Street that is overpriced and crowded, and the veggies are not as good.
There were three places in a ten-block radius to get green juice and protein smoothies in Hell's Kitchen and I'm shocked that tony and seemingly health conscious UES doesn't have many. The nearest is Juice Generation all the way on 84th and Third which makes it impossible for my to get a daily juice fix. 
There are far fewer food choices here  and less places close by to be social. Tons of people go to Midtown to hang out--Hell's Kitchen has great bars, hotels and restaurants, but it is rare you ever hear anyone saying they are going to the UES to hang out--especially so far east.
Some friends who used to drop by all the time because they were in my area or close by now refuse to visit up here in Siberia.
All that said, a bunch of new cooler places seem to have opened recently. Famed
Meatball Shop
is no longer just downtown and in Brooklyn,
Bareburger
opened by my house (are you sensing a meat-theme?) and
Joy Burger
serves organic products.
My favorite diner--
The Mansion
--is a few blocks away and I missed it while living elsewhere. Likewise the only Indian food I will ever really love at
Baluchi's
on Second Avenue is now something I can partake of all the time.
My favorite nighttime spot in Hell's Kitchen was 
Press Lounge
, on the scenic roof of the Kimpton Hotel. Now I happen to live on the block of my favorite Upper East Side bar, Auction House.
Things are fairly similarly priced. My favorite nail salon--Perfect Ten--on Tenth Avenue was $27 on Monday through Wednesday for manis and pedis, and here the place under my buildinsg is $21 every day of the week so there is a bit of a cost savings, although one could get a free mini-massage at Perfect Ten, and here it is a no-go.  
There was no place in Hell's Kitchen to buy women's clothes and I joked about how the only pair of underwear to be had for miles was at Duane Reade. On the Upper East Side there are actually big-name stores around 86th Street, like H&M, Banana Republic & Gap. 
But everything seems farther away when you live on First Avenue, especially the subway. And even when I make it all the way over and all the way up to Lexington, I can only get the 4, 5 and 6 trains; getting to the west side is a bitch and requires a bus ride. In Midtown West you could get anywhere fast it seemed. Cab rides both uptown and downtown were reasonably priced because it was centrally located, but far east and far uptown from downtown is astronomical.
The one thing the UES has over Midtown West any day is cleanliness. Not only is the building spotless (my last was a hovel) but the streets are pristine. In Hell's Kitchen my dog was always grabbing at some random garbage that was strewn everywhere; he even ate several chicken bones. Here I'm sure he has less fun on walks, but it makes me much happier that he isn't filthy when returning home with me. He seems fine either way and we are now a block from his vet so no more long cabrides with a whiny dog!
---
Transitions highlights New Yorkers' first impressions as they transition from one neighborhood to another. Want to tell us your transition story? Drop us an email.
Brick Underground articles occasionally include the expertise of, or information about, advertising partners when relevant to the story. We will never promote an advertiser's product without making the relationship clear to our readers.