Reno Ready
With the right reno, this $845,000 three-bedroom in Morningside Heights could be a real gem
With two exposures to the south and east, this three-bedroom, two-bath unit at 70 La Salle Street in Morningside Heights asking $845,000—a refreshingly reachable price for the neighborhood; no wonder it just went into contract—"gets some beautiful natural light," says architect Lauren Rubin of Lauren Rubin Architecture.
But despite the lure of those striking sunbeams, there are also a number of challenges that come with the place. At just 11 feet by 10 feet, "one of the bedrooms is extremely small." Plus, "the hallway to the bedrooms is tight. And the apartment doesn't have a true coat closet."
That said, Rubin is still fond of the approximately 1,250-square-foot apartment—which has more personality in those interesting windows alone than some of the cookie-cutter spaces on the market right now—and has a lot of ideas as to how to spruce it up. Her recommendations: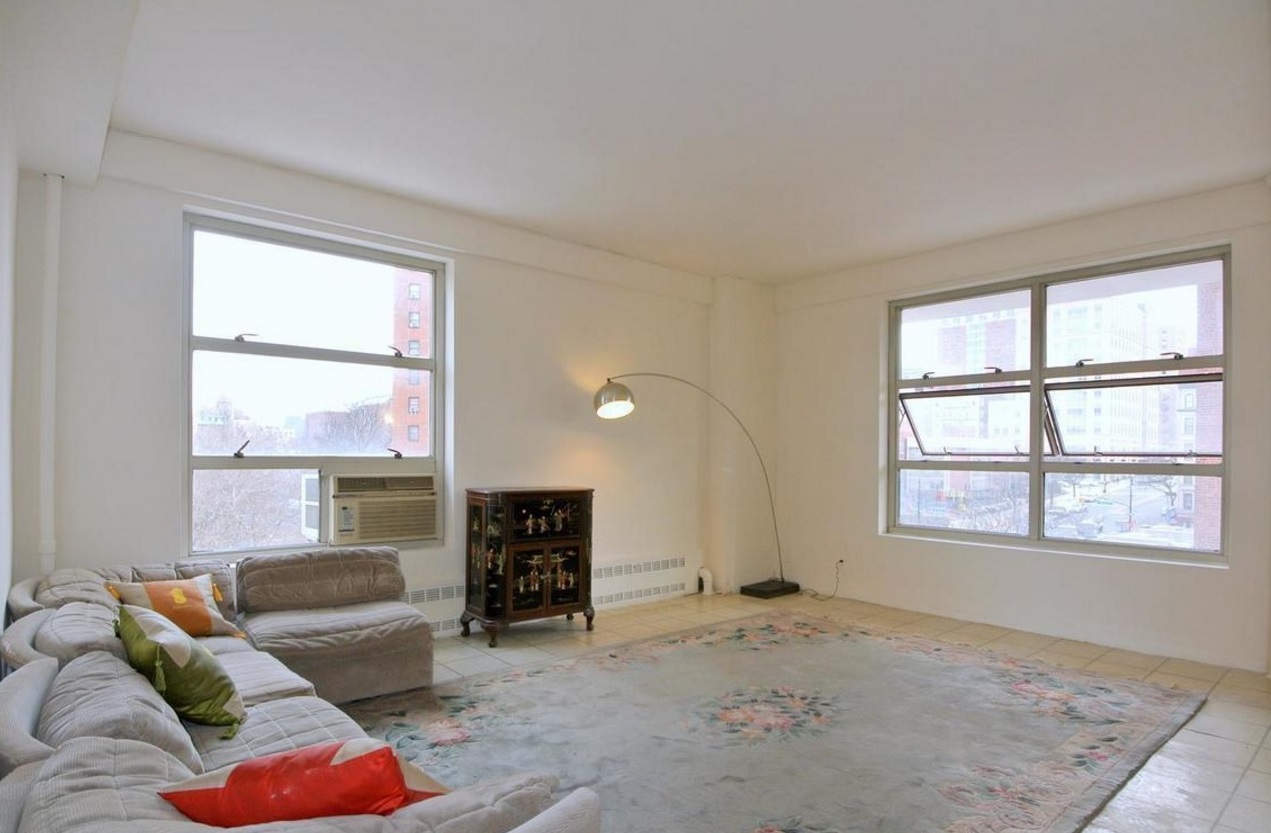 Living room 
First things first: "That tile floor's got to come up," says Rubin of the space (pictured above), noting that it looks to be in need of a refresh and it isn't particularly beautiful. In its place, she'd go with a pre-manufactured wood plank floor in a light oak stain. With all the light streaming in the windows, "it'll keep the whole area looking very light," she says.
The walls look to be in decent condition—"There don't seem to be any cracks or water damage," she says—so they may not need anything more than a new coat of paint. The color depends on the buyer's personal tastes, of course, but Rubin thinks she'd either stick to white here or go with a very light gray to keep the room light and bright. She also suggests keeping the ceiling, trim, and radiator white.
Next: simple solar shades for the attractive casement windows. "Something clean and modern, light-colored and minimal," says Rubin. 
Moving on to lighting, Rubin notes that there isn't any overhead illumination apparent in the photos. She assumes it's because the ceiling is a concrete slab and you won't be able to install any new lighting without dropping the ceiling first. But "the ceilings aren't high, so we don't want to do that here," she says. "So the options are sconces or lamps."
She suggests architectural sconces like these Cuma wall sconces from Artemide. "You put them close to the ceiling and you literally won't notice them," she says. "The light shines up to the ceiling, giving it a natural glow. The room is flooded with light." She'd throw in a floor lamp or two, too, for maximum radiance.
Price: The light oak floors should be between $25 and $35 a square foot, says Rubin. A gallon of Benjamin Moore Decorator's White for the walls is $69.99. A gallon of white for the ceiling, trim and radiator is $39.99. This solar shade is $84.99 at Bed Bath & Beyond. These Cuma wall sconces are $365 each at Lumens.com. Labor will be more.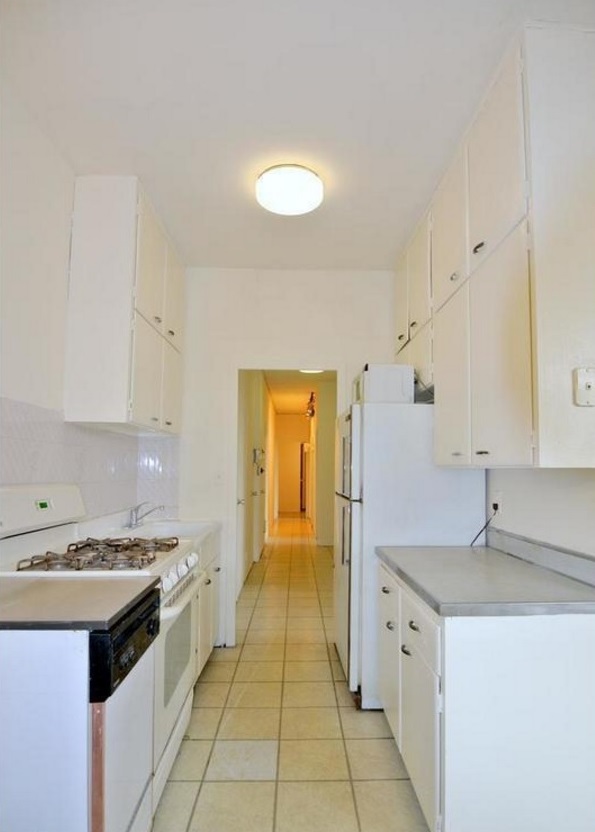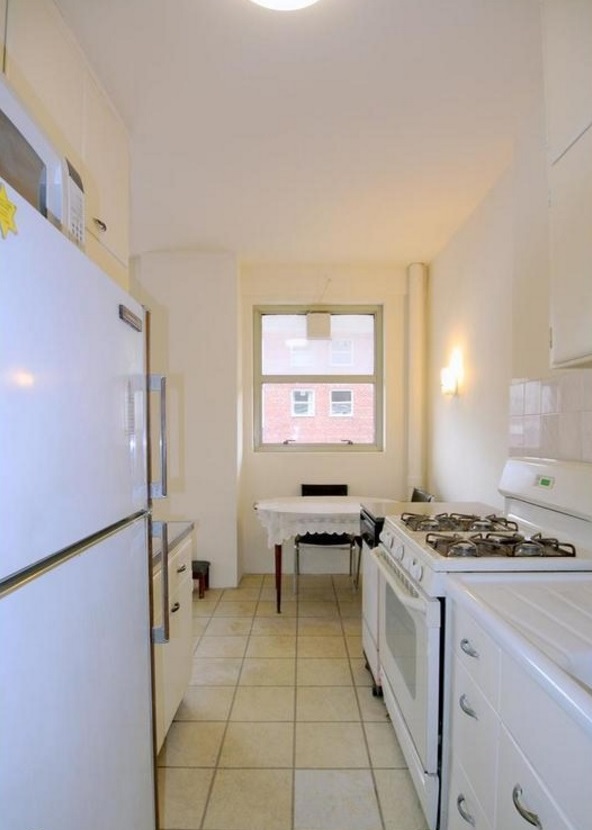 Kitchen
The first thing Rubin would do is "try to open [the kitchen] to the living room so it doesn't feel so galley-like," she says. She proposes moving the fridge, oven, and dishwasher to the back wall so you have room for a deep island with stools on one side and cabinets on the other. She'd also get rid of the tiny dining area by the window and put in more counter space there, instead.
"The appliances don't look like they're worth keeping," she says, suggesting a new fridge, range, and dishwasher. "I'm a stainless steel person, but white's really trendy right now," she says. She'd get whichever color the owner prefers.
For the cabinets, she recommends going the IKEA route in order to keep costs down. "They're quality," she says. She'd go with white ones to keep the space looking bright and fresh.
The microwave currently sits atop the fridge, where it's out of the way, but also pretty hard to use. As such, Rubin proposes building one open-shelf cabinet and putting the microwave there so it'll be more easily accessible.
She'd replace the drop-in sink with an undermount one for a cleaner look. She'd also get a new, more modern faucet. As for the backsplash, Rubin says that the small space "gives me an opportunity to do something fun." She'd opt for "a great textured tile or stone"—whichever the buyer prefers. "You can get really cool tiles for [as cheap as] $10 per square foot."
For the countertops, she'd get quartzite. "It's a solid surface made from crushed stone and it's very durable," she says.
She'd also extend the wood floor from the living room straight into the kitchen. People can be nervous about putting wood floors into a kitchen, but she's a big fan. "If it's finished properly and you wipe it down when it gets wet, it'll be fine," she says. "Plus, it's a much nicer surface to stand on than tile."
She also recommends painting the walls, and the ceiling, the same white (or light gray) as the living room since it's essentially one large space.
The lighting situation is the same as in the living room, as well—there doesn't seem to be a way to add any new lights into what appears to be concrete slab ceiling. (You'd need to confirm with the seller, of course.) Therefore, she'd take the existing light source in the center, but replace the fixture that's there with "a long linear light so that you can spread light around the kitchen," like this five-light flush mount from Lightology. She'd also add under-cabinet lights to make it easier to see whatever it is you're making for dinner.
Finally, she'd put a solar shade on the window here, too. "I think the windows are so beautiful," says Rubin. "You can just pull up the shade and it's out of your way."
Price: This stainless steel top freezer fridge is $719.97 at P.C. Richard & Son. This gas range is $809.97, also at P.C. Richard. This GE stainless steel dishwasher is $449.97. She believes the IKEA cabinets should be around $7,000.This Kohler undermount sink is $299. This Franke pull-out spray faucet is $339.01 at Amazon.com. Rubin thinks you can buy textured tiles for the backsplash for $10 a square foot. Rubin thinks the quartzite countertops should be around $20 per square foot. According to Rubin, the oak floors should be between $25 and $35 a square foot. A gallon of Benjamin Moore Decorator's White for the walls is $69.99. A gallon of white for the ceiling is $39.99. This Polifemo five-light rectangular ceiling flush mount from Lightology is $737.10. These under-cabinet lights from The Home Depot are $59.97. This solar shade is $84.99 at Bed Bath & Beyond. Labor will tack on to these costs.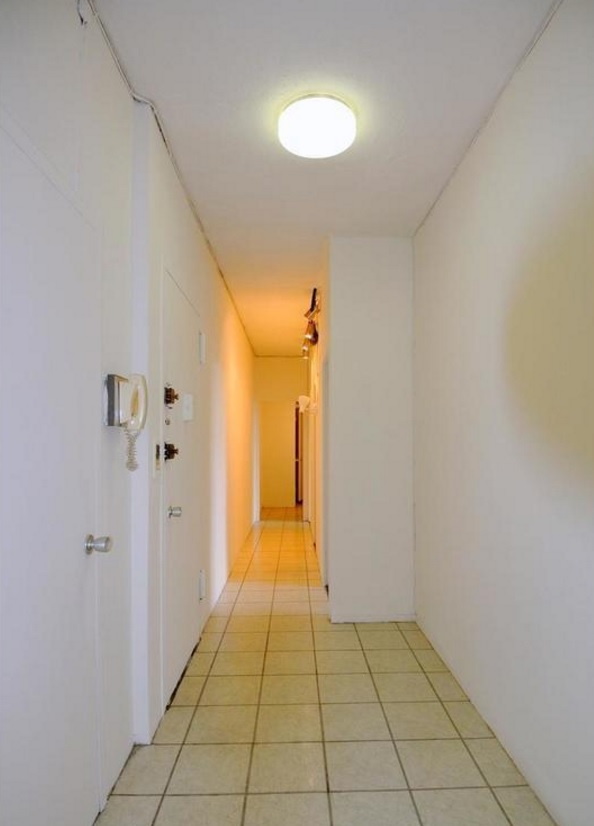 Hallway
Since this space leads straight out of the living room area, Rubin recommends simply continuing the wood floor here. It'll lend a more cohesive look and feel to the unit.
She'd also paint the walls the same color as the living room—white or gray—and turn this currently unused space into a gallery wall where any new owner can hang family photos or artwork or anything else they might want to showcase. She suggests getting track lighting so the small space would seem almost museum-like.
Price: According to Rubin, the oak floors should be between $25 and $35 a square foot. A gallon of Benjamin Moore Decorator's White for the walls is $69.99. A gallon of white for the ceiling is $39.99. Prices for this lighting track from Lightology.com vary between $20.47 and $74.14, depending on length. This track head is $39.95, also at Lightology.com. Labor will add on to these costs.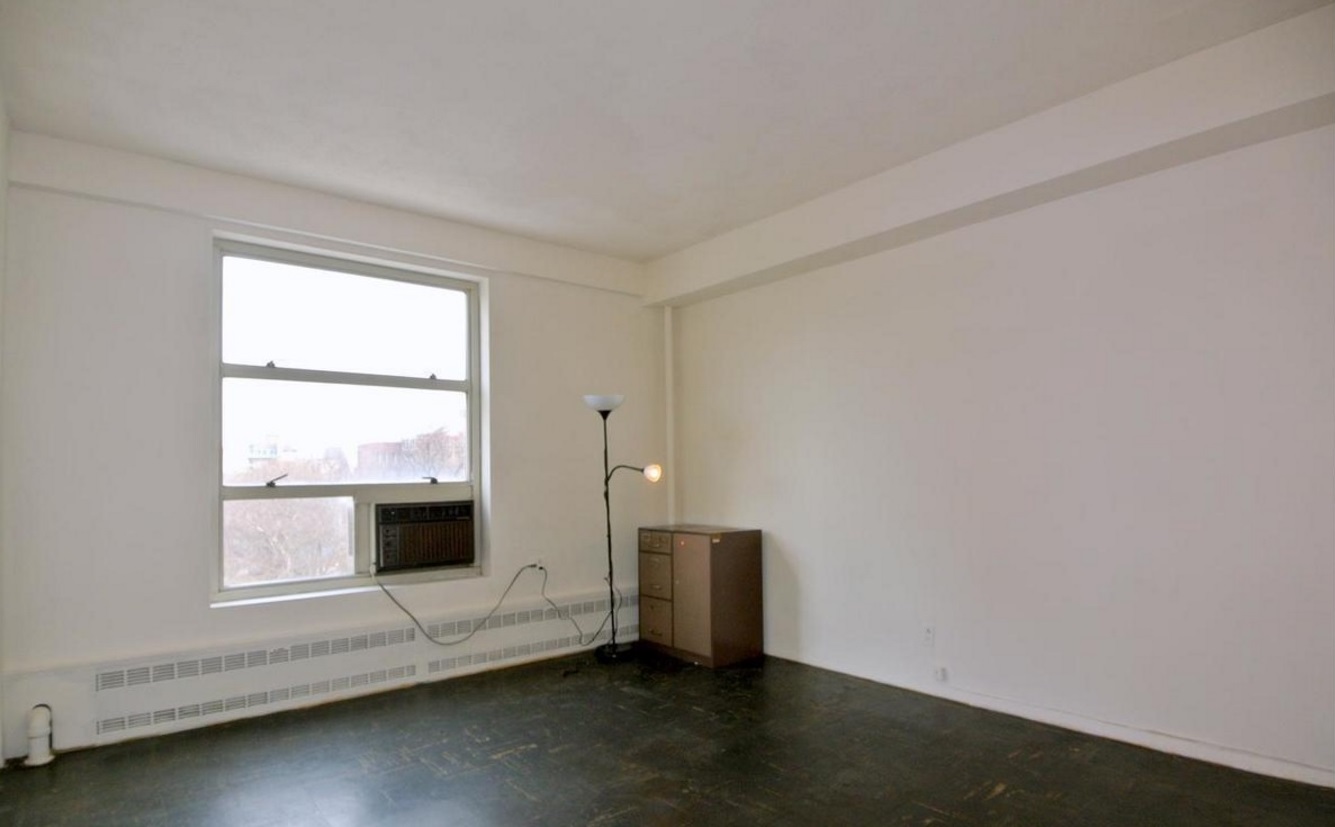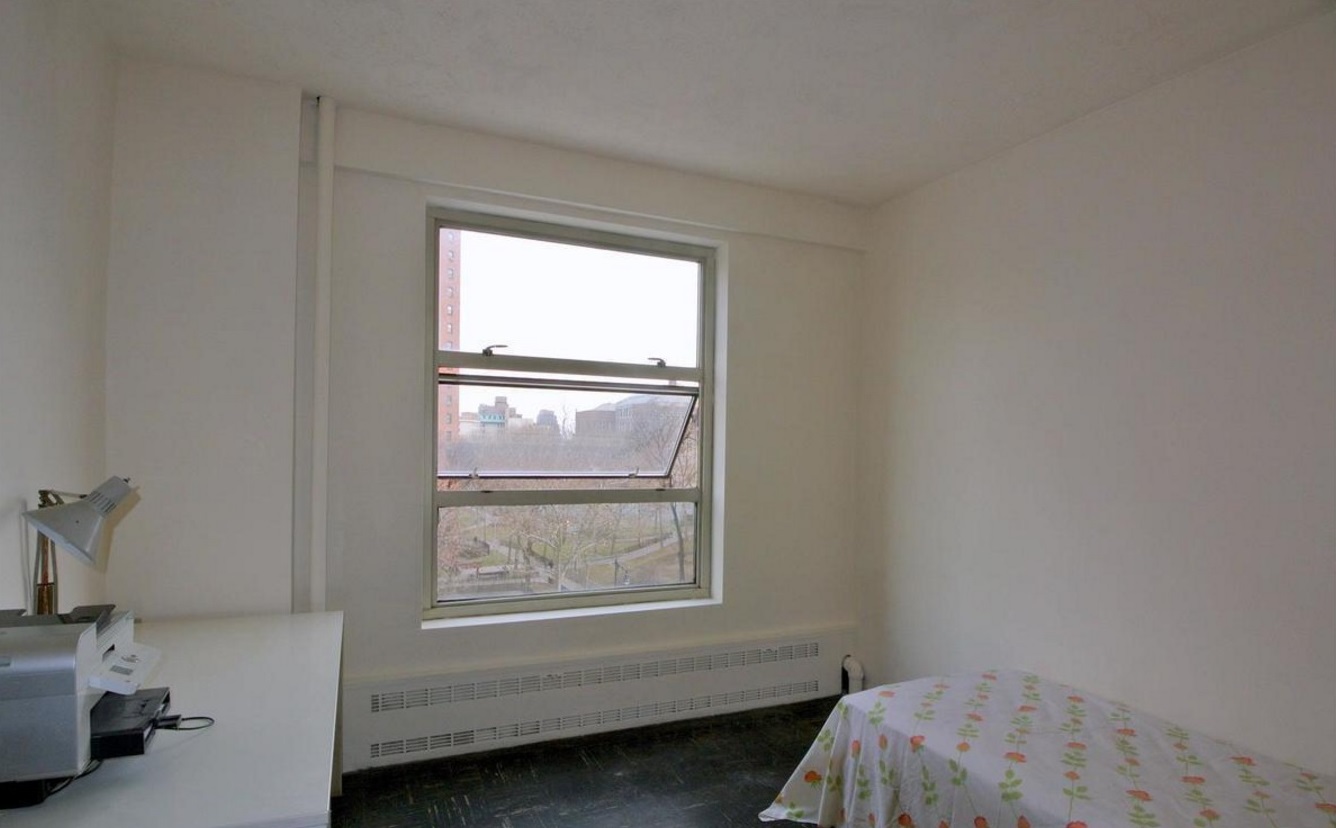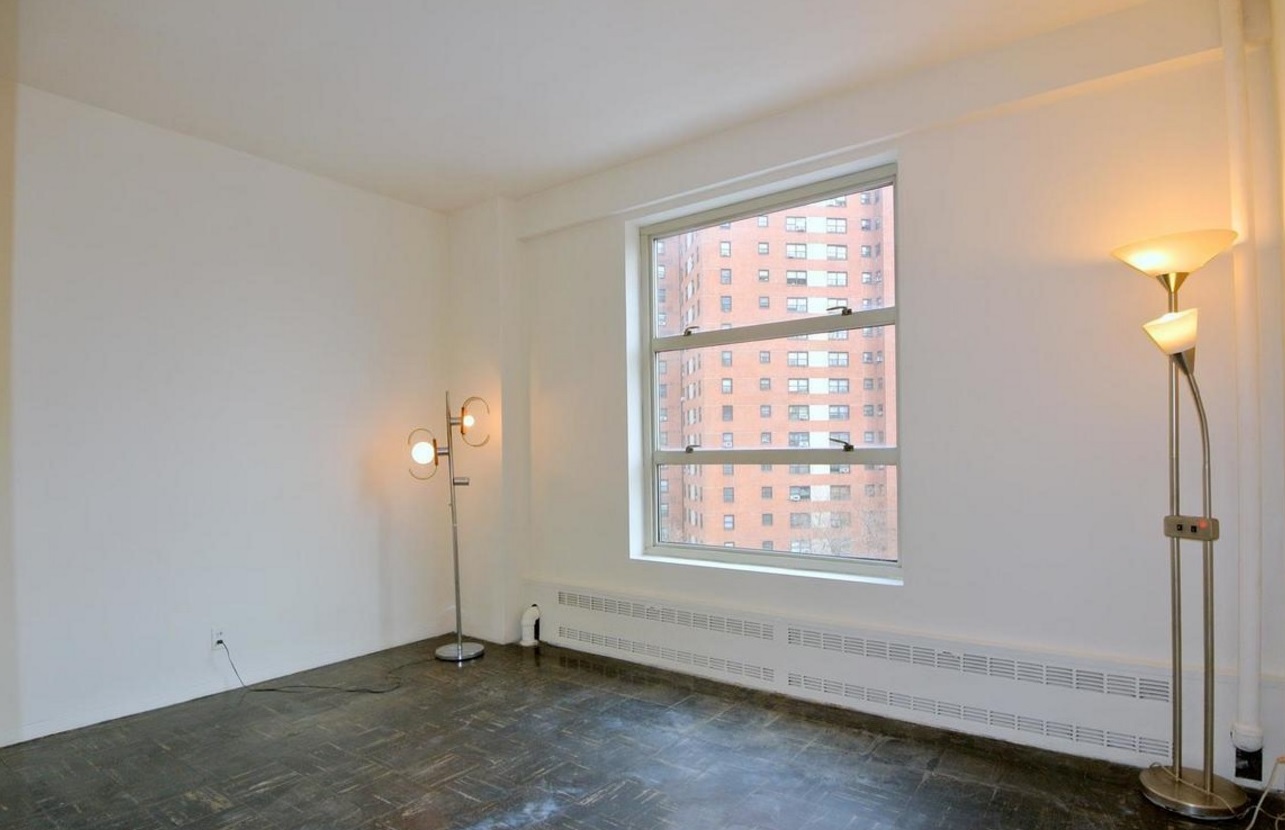 Bedrooms
While she doesn't love the look of the flooring in any of the bedrooms here, she says that since it looks to be in decent condition and laying a new floor is expensive, she'd probably just keep it (if budget is a consideration) and cover it with different area rugs in each room to give each space its own distinct personality. She'd most likely go more whimsical in a child's room. More tame, perhaps, for an adult's.
The walls also appear to be in good shape—no skim-coating or patching required—so she suggests simply adding a coat of paint in each room. "For a master bedroom, maybe a light green or a gray," she says. "Something to show off a person's personality." She'd paint the ceiling white. For a kid's room, however, "you can play with color," she says, revealing that she likes to let little ones feel empowered by getting to choose the paint for their own rooms. "You can have yellow walls and a green ceiling if that's what they want," she says.
To cover up the windows in these sleeping areas, Rubin likes Roman shades. "They're soft and look really pretty," she says. They also keep out more light than solar shades—important if you need absolute darkness in order to slumber comfortably.
As for lighting, she proposes an assortment of lamps, including reading lamps on bedside tables and standing lamps like this Simple Floor Lamp by George Kovacs that she likes because it shines its light upward and gives the ceiling a bit of a glow. In addition, "it's kind of nondescript so you can use it in any room," she says.
Price: This retro-modern abstract rug is $485.99 at Overstock.com. Prices for this Cosmos playroom rug start at $254.15 at The Land of Nod. A gallon of Benjamin Moore paint in Perspective, a light gray, is $69.99. A gallon of white for the ceiling is $39.99. Prices for this Roman shade start at $69.99 at Bed Bath & Beyond. This Simple Floor Lamp by George Kovacs is $157.50 at Lumens Light + Living. Labor will, of course, be more.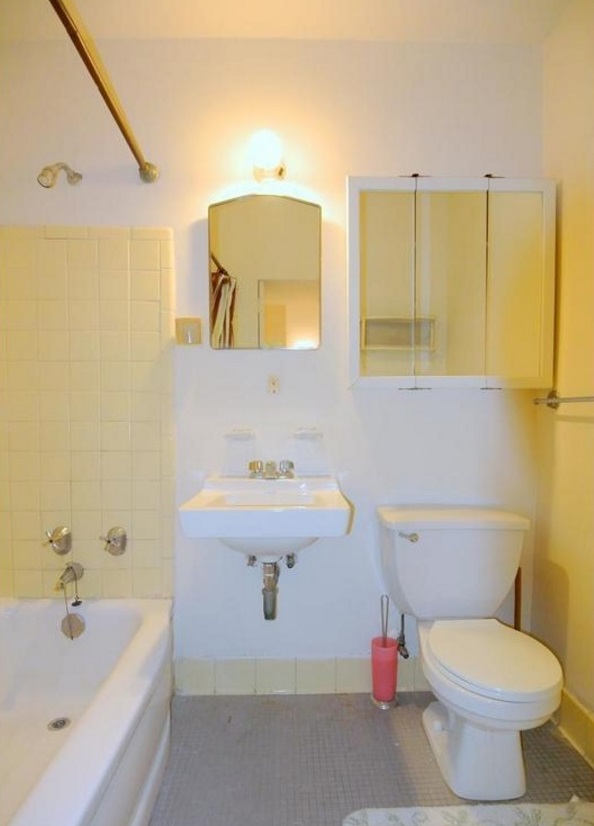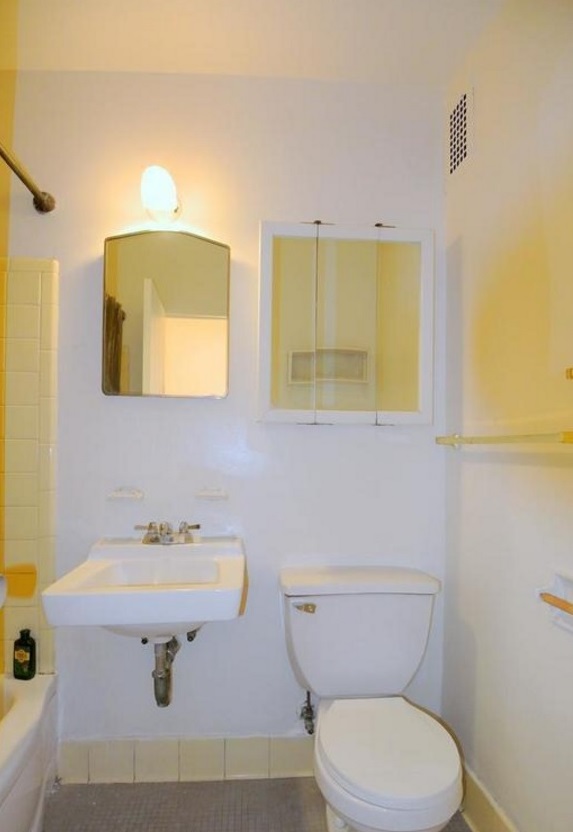 Bathrooms
From the photos, the bathrooms appear to be identical, says Rubin. She'd therefore make most of the same changes to both.
First, she says that if the tub, toilet and sink are in working order, she'd keep them if a buyer is trying to keep renovation costs down. "If the tub's really in bad condition, you can always reglaze it," she says. She would, however, get new showerheads (but keep the shower controls since she doesn't want to have to open the walls up to take care of that).
There seem to be two separate medicine cabinets in each bathroom—one on top of the sink and one on top of the toilet. Rubin thinks it looks odd, so she'd get rid of the one topping the toilet. If the buyer needs or wants more storage, she proposes adding open shelves above the toilet, instead. She'd also replace the medicine cabinet on top of the sink with a newer, deeper one as it looks like it's seen better days.
If the buyer still needs even more storage after that, she suggests changing out the wall-mounted sink for something with a vanity.
Next, she'd recommend retiling the showers in both bathrooms. She'd go all the way up the wall—not until just under the showerhead as it is now—for a more cohesive, cleaner look. Also, the bathrooms are small, so going all the way up the wall with the tile "will draw the eyes up," she says, making the ceilings appear higher.
She'd get new sconces for the walls, "preferably something long and linear that will give a really nice amount of light," she says.
She'd keep the tub in the bathroom at the end of the hall, but she'd remove it entirely in favor of a walk-in shower with glass doors in the other bathroom. It'll save space and make the room look and feel larger, she notes.
Price: Rubin thinks that reglazing a tub should be around $500 or more. This Moen rainshower showerhead in Chrome is $150 at The Home Depot. This Robern medicine cabinet is $1,899. This Glacier Bay vanity is $219 at The Home Depot. Rubin believes you can purchase white subway tiles for the walls for roughly $5 per square foot. Prices for this Norma wall light start at $362. This shower kit is $2,013 at The Home Depot. Labor will be more.
Brick Underground articles occasionally include the expertise of, or information about, advertising partners when relevant to the story. We will never promote an advertiser's product without making the relationship clear to our readers.