NYC Renovation Q's
NYC Renovation Questions: Galley kitchens necessary and not so evil, especially if you get creative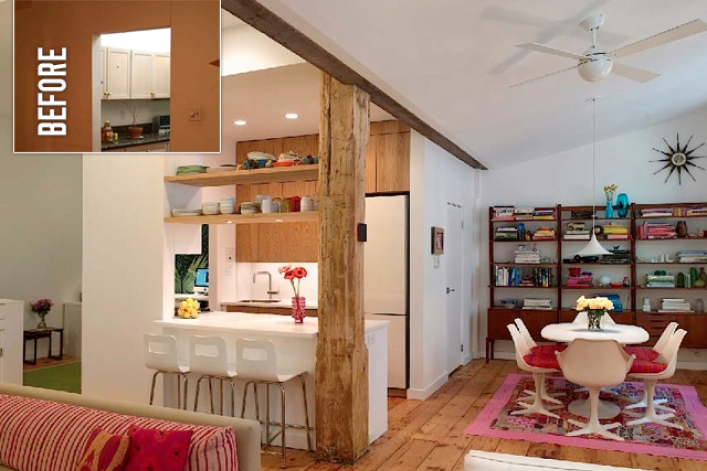 Q. I'd like to remodel my galley kitchen. What should I know in advance?
A. Galley kitchens--those with two parallel walls so common in postwar NYC apartments--may be compact, but they're no less efficient than any other layout if designed properly.
In fact, in a narrow space (most New York kitchens), a galley configuration may be the best option, provided the design industry's standard minimum of 42" of clearance space is available between base cabinets, although 48" is more ideal.
Among other things:
Consider the placement of those three key appliances/work areas: refrigerator and its counter space, sink and dishwasher, range with its counter space, and how that placement will suit your cooking habits. Although distances will vary between appliances depending on the size of the space, consider how you function in your own kitchen and how you prepare a meal. For example, do you work alone, or do you frequently have help?
Interior designer Stef-Albert Bothma thinks smaller is better. "A chef is very much like an artist and works better when all supplies and materials are within easy reach.  Design the space from the center out----chef and cooking in the center with reachable items, sink area and space for others toward the outskirts."
Be sure the appliances are in scale with the size of the room. If your kitchen is on the smaller side (like 6' X 8') consider going with narrower appliances---an 18" dishwasher, 24" range, and a refrigerator that's 28" or less, versus standard sizes of 24" for a dishwasher, 30" for ranges, and 30"+ for refrigerators.  Compact models are more than sufficient for an amateur cook.  Pricing will be about the same and these slimmed down apliances can be purchased through most any major appliance distributor. 
Allow plenty of space for food prep---at least 24-36" adjacent to the sink, and at least 18" adjacent to your cooktop, and more if space permits. Counter space is often lacking in New York kitchens. For resale, any cook will appreciate the square footage to sprawl when preparing a holiday meal.
Leave room for yourself and whoever else is cooking with you. "The major design challenge in a galley kitchen is the walking space," says renovator and general contractor Erik Nadoban. "It's important to offset wet, prep, and cooking areas so two people can work together to prepare food.  Also make the refrigerator accessible at the kitchen's entrance if you can, so you won't have to squeeze by the person cooking or prepping." This tip makes for a happier roommate or spouse when sharing the kitchen.

Bothma recommends using additional wall cabinets to add high storage up to the ceiling if possible to utilize that dead space. "Originally, galley kitchens originated on ships and trains, making use of impossibly small spaces to deliver marvelous results."
For long and narrow kitchens with less than 48" of clearance (a.k.a. open space between base cabinets), eliminate wall cabinets on one side or both, consider base cabinets only, and utilize open shelves above instead of closed cabinets. (Stainless steel shelves are a practical option—appropriate for different design styles and especially durable.) Eliminating the wall cabinets will open up the room, giving the illusion of a wider space.
For an especially uncluttered look use base cabinets only and tile the walls above them, all the way to the ceiling line. Try including a floor-to-ceiling storage cabinet (like a pantry) on one end of the cabinet run if possible. This is a perfect solution for the modern design aesthetic---keeping as much out of sight, and creating a clean, minimalist kitchen.
Don't be afraid to use decorative elements to "glam up" a small space. If sleek modern isn't your style, hang vintage art or trays on free walls, or dedicate a shelf to colorful collectibles such as milk glass or jadeite if your space will allow. Even the smallest of kitchens can be both functional and homey.
Will remodeling a galley kitchen break the bank? It depends.
"Galley kitchens can run anywhere from $15,000 as a low budget, with inexpensive appliances, and without a gut demo," says Nadoban.
And on the higher side, a gut-renovated kitchen with custom cabinets and high-end appliances like Viking, Wolf, Bosch and Sub-Zero, can cost $50,000 and higher, depending on the size of the room.  
---
Wondering about renovating? We want to answer your Renovation Qs. Just send us an email!
Related posts:
Ask an Expert: The best kitchen countertop material
Renovation Qs: Should I consider concrete for my kitchen countertops?
Renovation Qs: How can I keep noise, dust and odors to a minimum so my neighbors don't hate me?
NYC Renovation Chronicles: Five splashy yet functional backsplashes
Brick Underground articles occasionally include the expertise of, or information about, advertising partners when relevant to the story. We will never promote an advertiser's product without making the relationship clear to our readers.