Renovation
What to know about adding skylights to your NYC brownstone or apartment
Skylights allows up to five times more natural light than regular windows and are energy efficient
You can replace existing skylights with modern mechanisms without expanding the opening
Installation costs depend on whether the skylight is going into the roofline or in a custom bulkhead
Looking to brighten your lair? Skylights let in up to five times more natural light than regular vertical windows, and adding them can be more straightforward—and historically appropriate––than you may think. Turns out skylights were originally placed above stairwells in 19th-century townhouses to ventilate the building's interiors in pre-air-conditioning times. 
Whether you are designing around what's there or starting from scratch, the project can cost a little or a lot depending on the skylight itself and any structural requirements, if you want to walk on it, for example. 
But the extra expense might be worth it: Today's skylights can lower energy costs by harnessing the warmth of the sun during winter—and allowing warm air (which rises) to escape in summer. They can even provide access to the roof without having to build a pricey bulkhead. And don't underestimate the proven health benefits of getting your daily sunlight quotient. 
Still, added illumination is reason number one to include skylights in your renovation plans—especially if you are spending more time working from home and missing those soaring office windows. David Sherman, principal of Abelow Sherman Architects, has long used skylights to bring more light to the middle of townhouses, which are typically long and narrow and with windows on the front and back. 
Peter Holtzman, founding principal of Bespoke Architecture, has also used skylights in landmarked and Passive House projects. 
And now that luxe new developments are putting skylights in their penthouses, the feature may become more of a wish-list item for potential buyers, should the time come for you to sell. (Pssst: Even high-end short-term rentals here boast skylights. Welcome to the new New York City.) So resale value is in your favor.  
Take a cue from the following projects in deciding whether—and how—to add skylights to your renovation.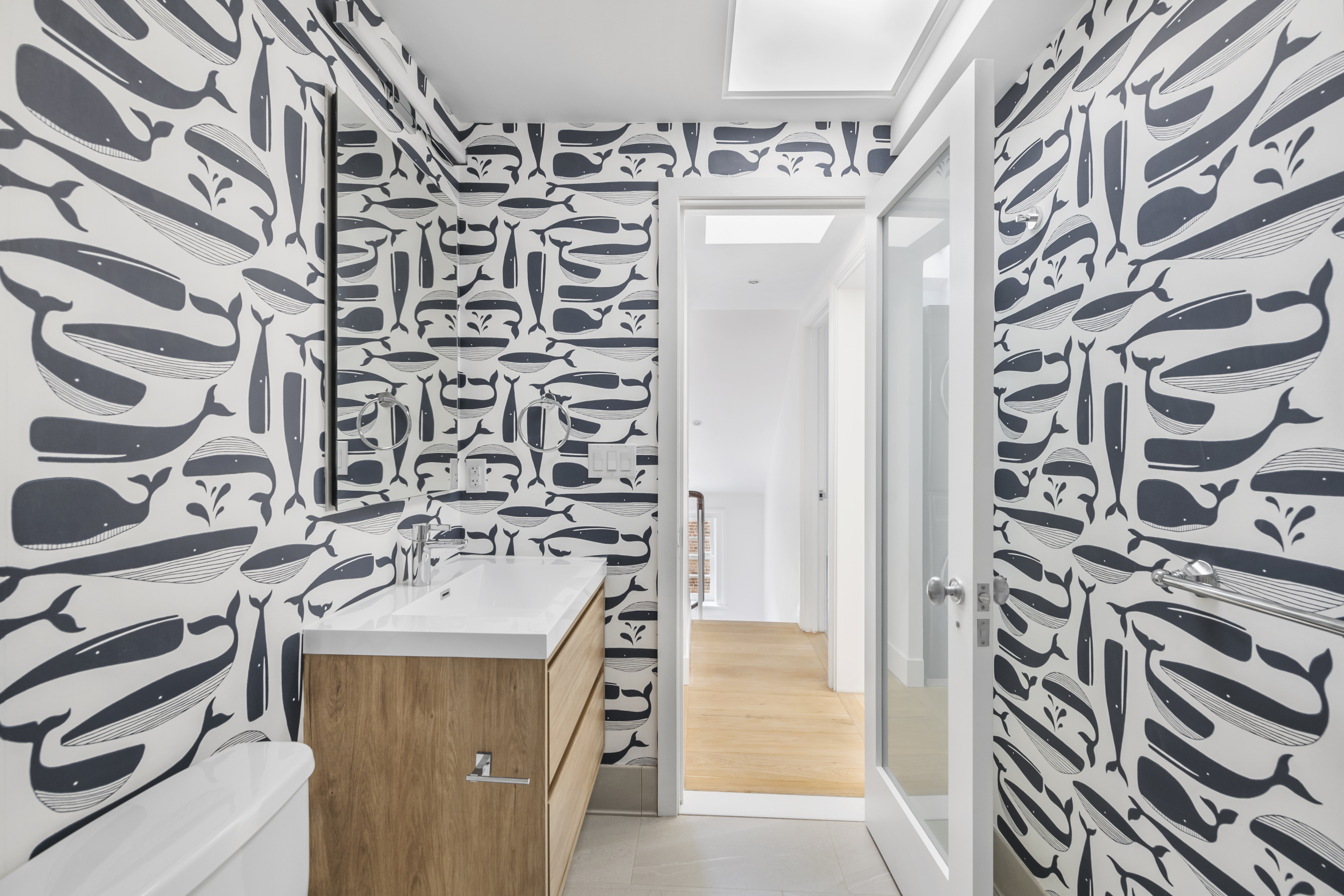 Update existing skylights
If you already have skylights, you may want to replace them with more modern mechanisms, which are airtight, watertight, and come in a range of sizes, shapes, and architectural styles. Ventilating and operable models can also be controlled by your smartphone rather than a manual crank. 
So long as you stick with the same opening, you are mostly looking at the cost of the skylight plus installation. (See below for a cost breakdown.) 
You may also want to reconsider the placement of the existing opening in a ceiling under the skylight. For example, NYC renovation company Bolster (fyi, a sponsor) moved the opening in the above bathroom to be centered with the vanity and added a translucent-film laylight to help  "This helps to disperse natural light and reduce glare," says Anna Karp, CEO and co-founder.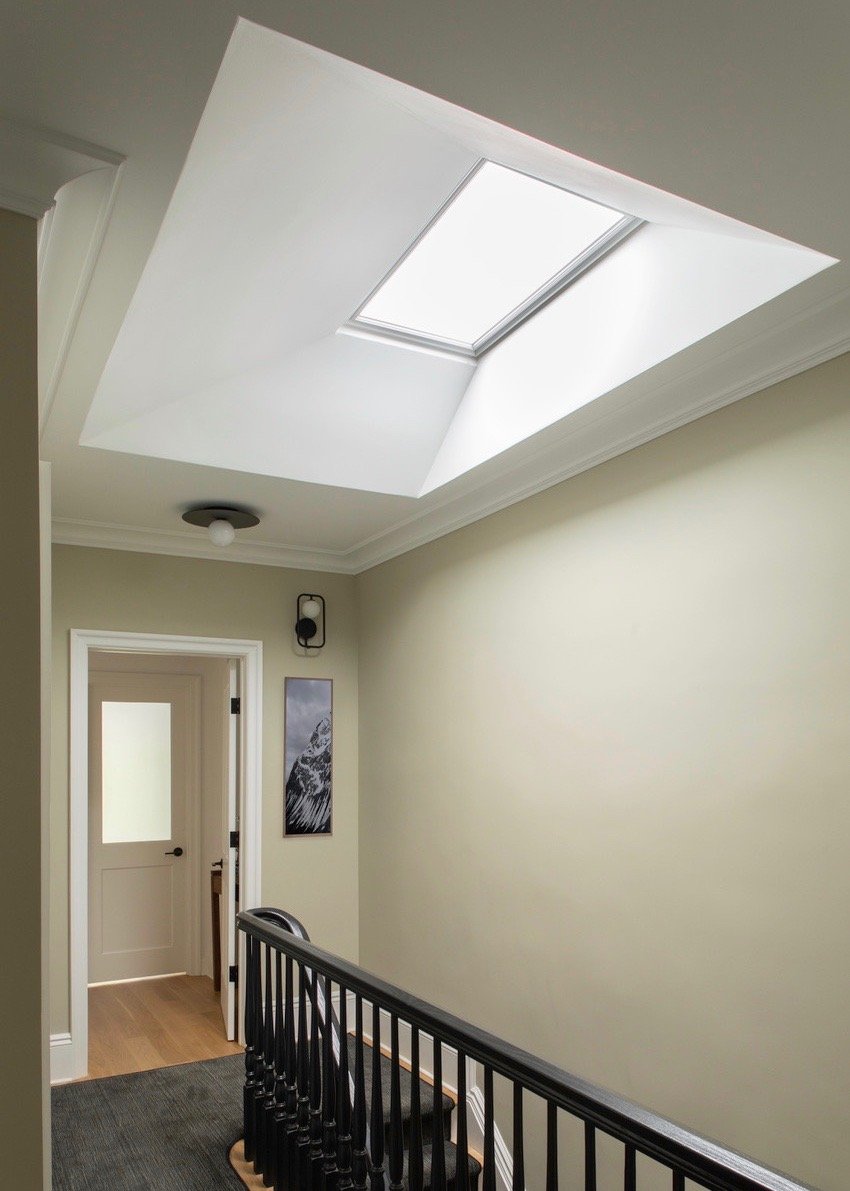 Sherman renovated the existing stair skylight in a Park Slope brownstone (more on this project below) by placing an acid-etched laylight a couple of feet underneath it "to help avoid that dramatic darkening when a cloud covers the sun." (This is common practice in most of his projects.) He also created a facet with sloping walls leading up to it in a way that spreads the light down the stairs.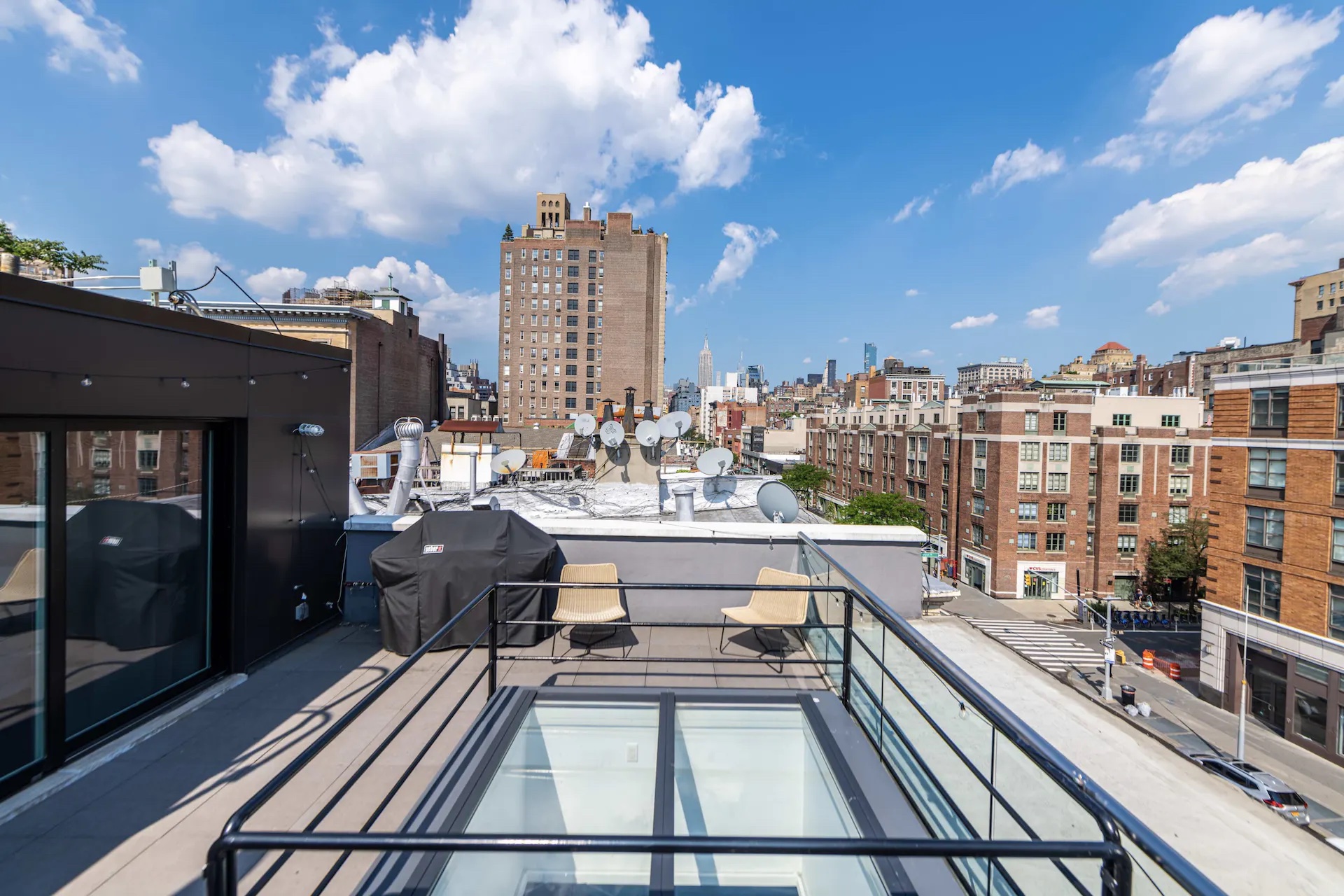 Installing skylights in a roofline vs. on a pitched surface
Putting skylights in the roofline is the most economical installation since it doesn't require all the extra labor and materials (and permitting) for creating a bulkhead or other raised structure. Once the hole is cut, the skylight is fitted inside so it's either level with the roof or on a shallow base (such as in the Astor Place penthouse duplex rental shown above by Rove). Either way, the light is installed with flashing around the frame to make it watertight. 
One drawback in NYC is that the roofline is flat, so if you plan to use a flat skylight, rainwater and snow can pool and freeze on the glass. But this is readily solved by going with a curbed installation, where the border is angled to allow runoff.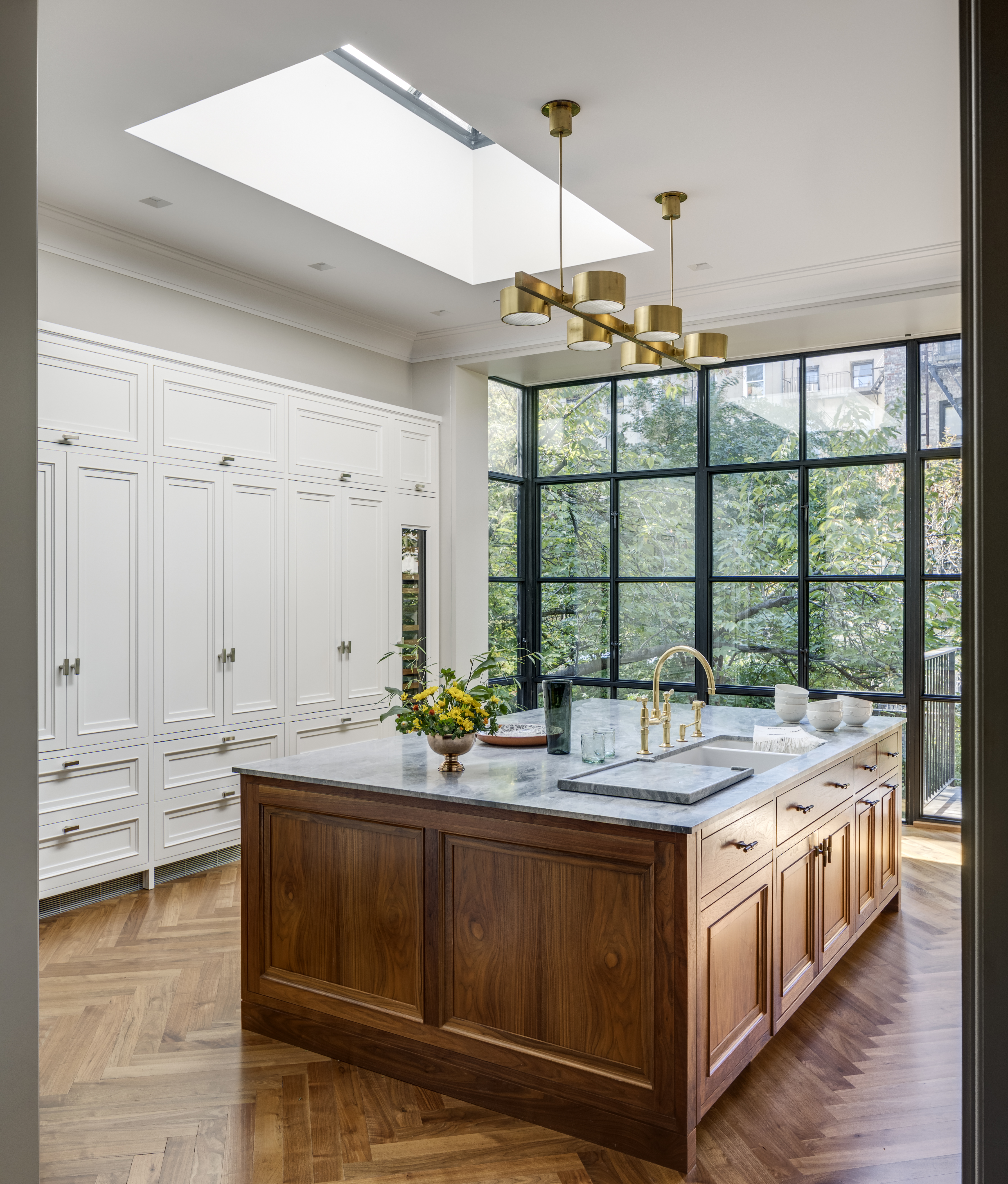 Another option is to go with subtly curved or domed models or conventional (period-appropriate) pyramidal styles, as shown above in the Italianate Cobble Hill townhouse renovation by The Brooklyn Studio.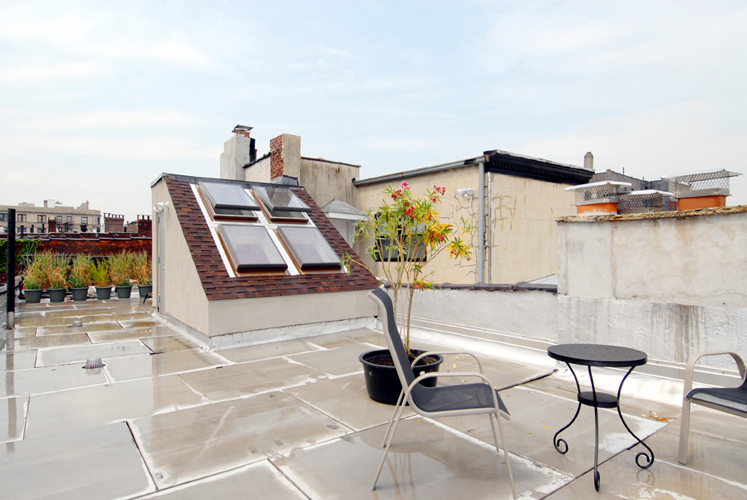 A more expensive approach is to build a slanted structure on a flat roof. For example, in a recent major gut renovation (or more like a total rehabilitation) of a historic Harlem brownstone, Bespoke put four smaller skylights (two of which are ventilating) in a bulkhead built especially for that purpose.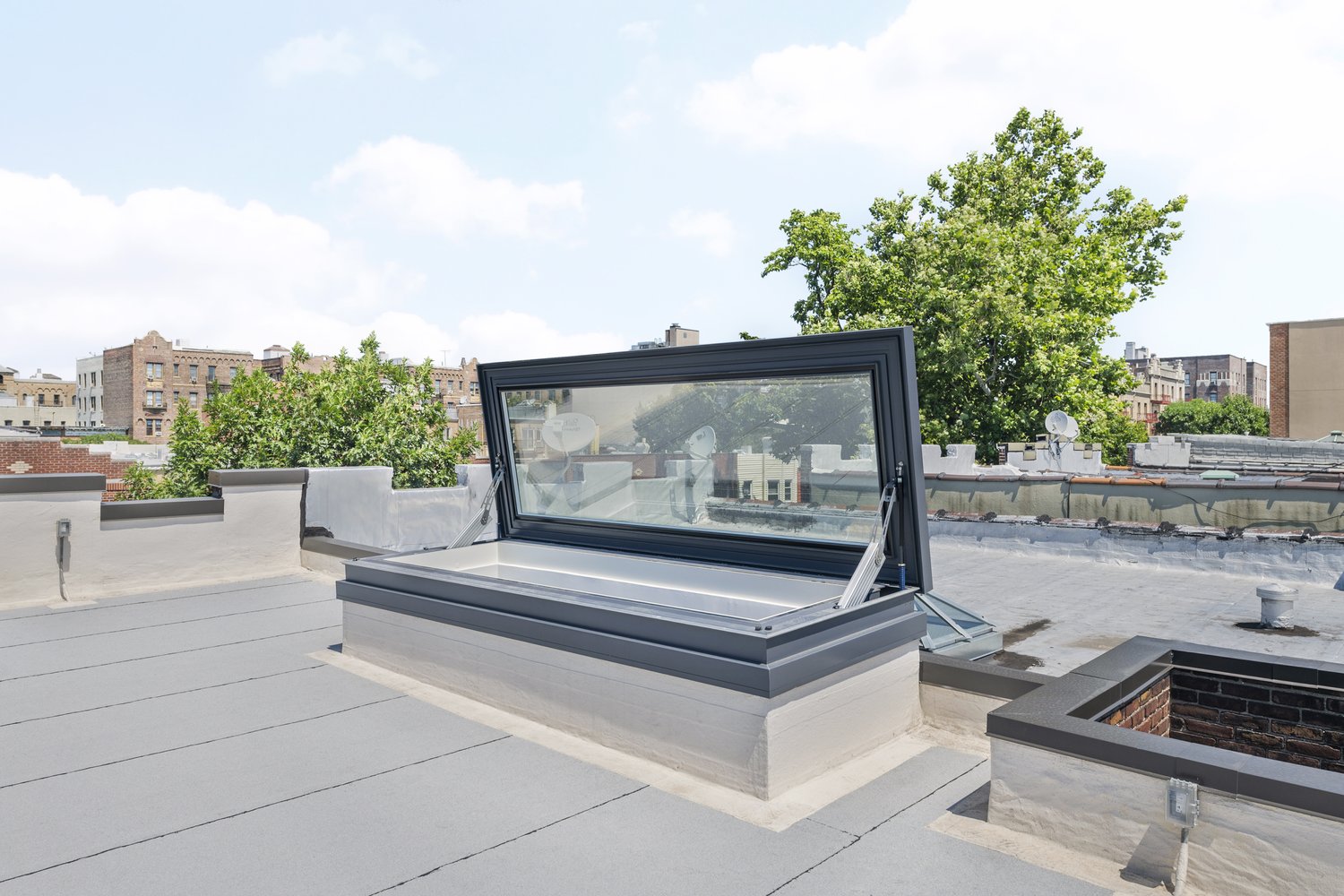 Use a skylight for roof access
If you want a skylight that doubles as a hatch at the top of the stairs, then you can get an operable model. Unlike with a ventilating skylight, which only opens partway, you can fling an operable skylight wide open and step right through.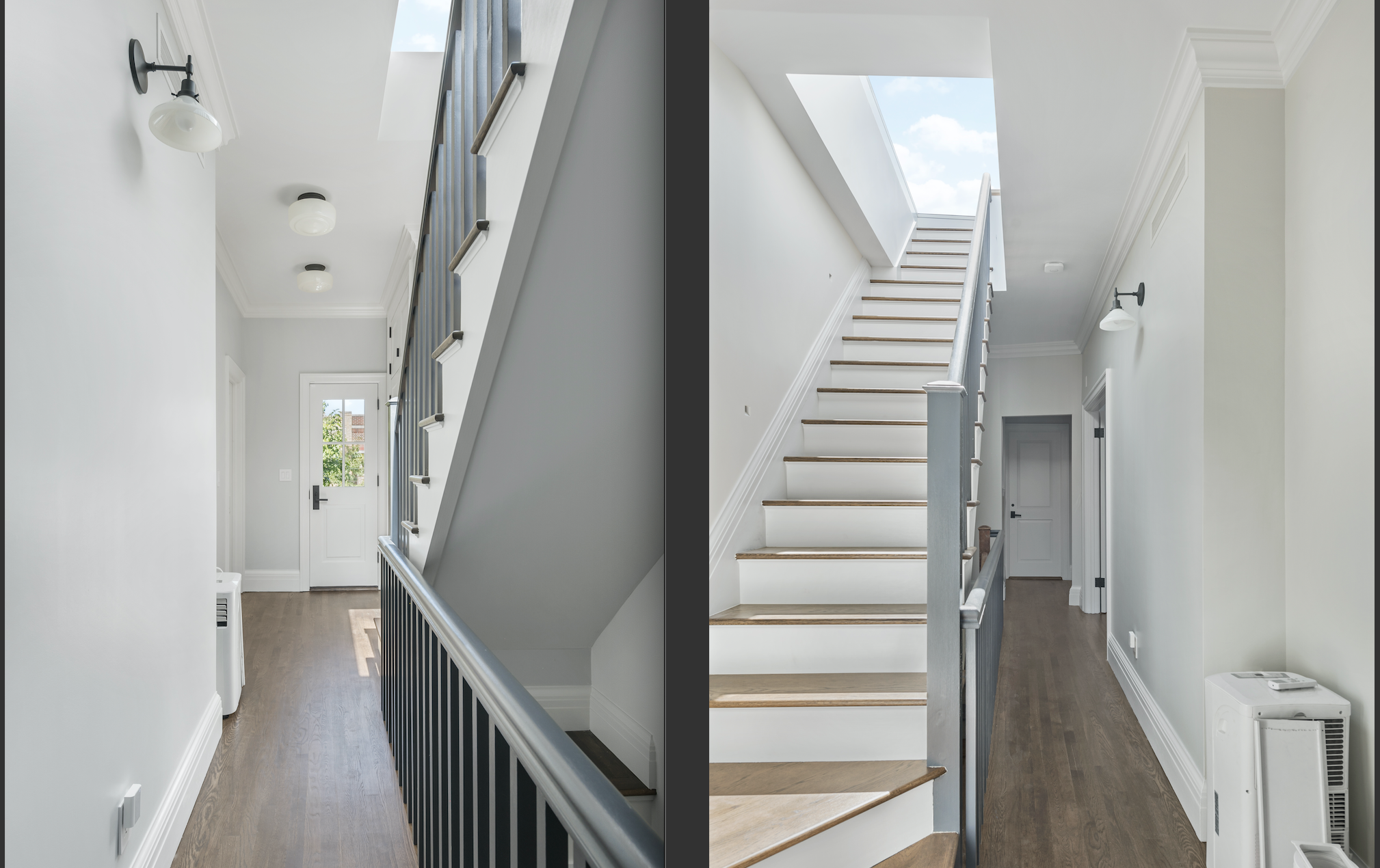 According to Karp, thanks to advances in technology, operable skylights remain a trend that's here to stay. "Bolster recently installed its first fully-operable, electric skylight that also allows our homeowners to have access to their roof," she says. (See above and below for examples.)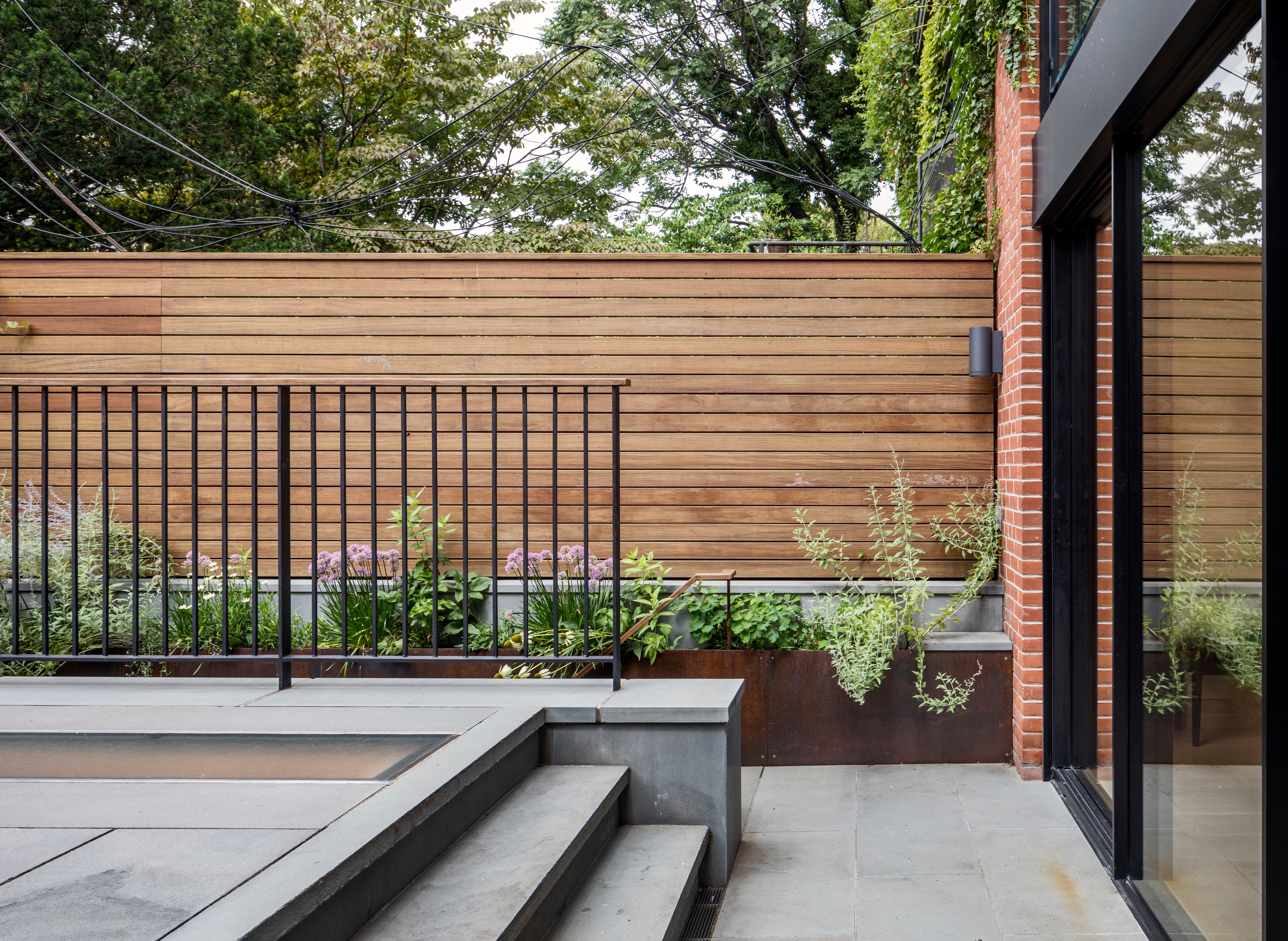 Use a skylight to bring light to a cellar
Getting light into a cellar or basement can be tricky, so in the West Chelsea townhouse above, The Brooklyn Studio added a skylight that leads to the cellar (complete with indoor swimming pool!) in the rehabbed and landscaped second floor terrace. That same idea could work for less extravagant subterranean levels, too.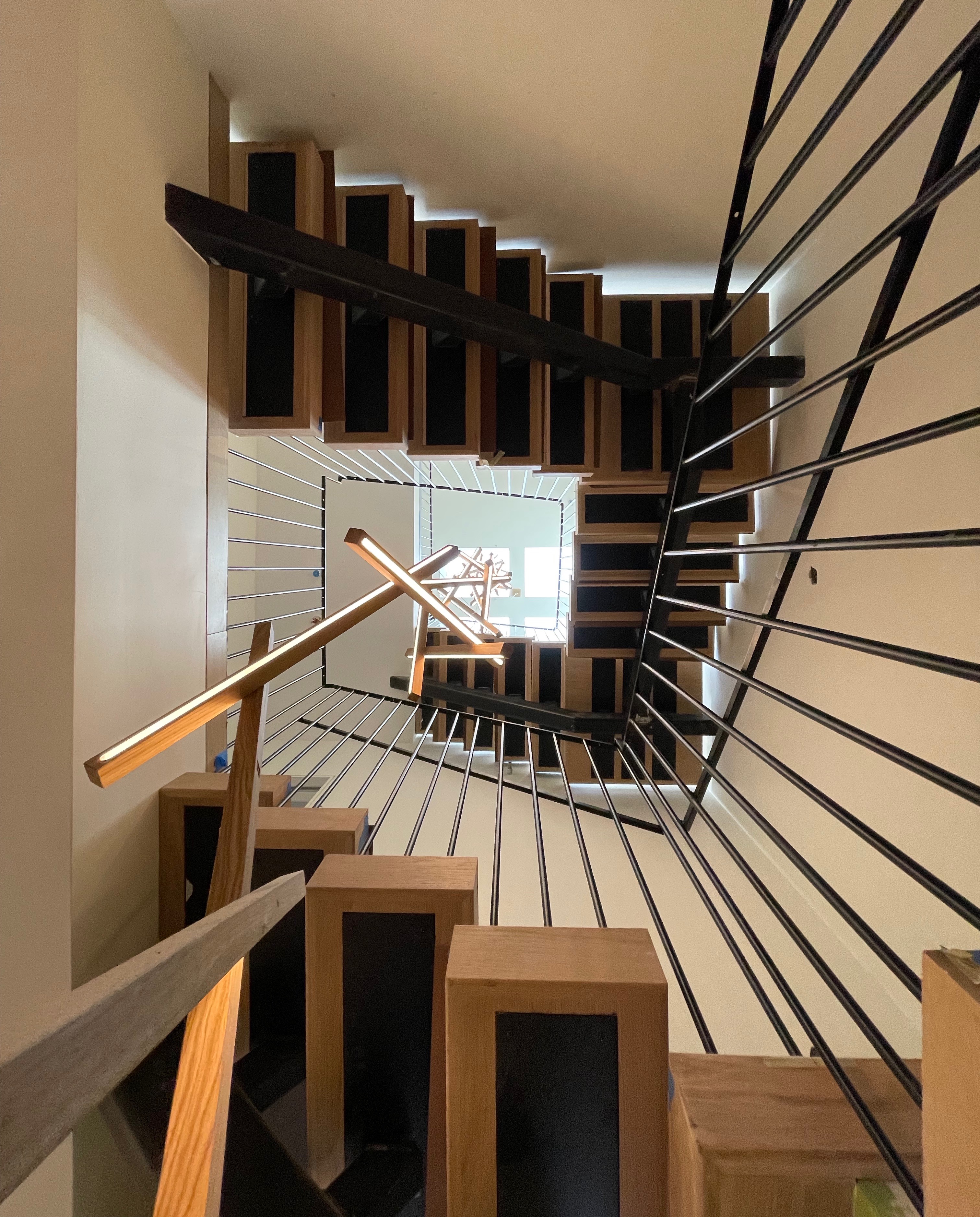 Create a skylight 'shaft' down the stairs
Sherman is fond of designing a skylight "shaft" that streams down the center of the townhouse (the darkest spot), with floor-through stairs that wrap around that shaft—most lavishly in a grand neo-Georgian townhouse on the Upper East Side but also in much more modest homes and iterations, including in the UWS townhouse shown above. 
Holtzman is another advocate of the skylit shaft, including for the historic townhouse with the bulkhead skylights shown above—those four skylights lit up a switchback staircase in the center of an 18-foot-wide brownstone. Note that he was able to get the bulkhead approved by the Landmarks Preservation Commission. 
More recently, Bespoke collaborated with Bolster on a slim 14-foot-wide Harlem brownstone on 123rd Street that had "terribly laid-out stairs that took up twice as much room as they should have," Holtzman says. So the challenge there was how to have an efficient layout and fill in the dark spaces on the lower floors—hence the wrap-around stairs, with cable lighting that's strung to the roof and spans all floors (see above).
"Sustainability was the thread that was carried throughout the brownstone in terms of using energy-efficient and everlasting lighting—in this case the preeminence of the skylight with what will be a statement staircase," Karp says. The owner, for whom access to sunlight was essential (having moved here from the tropics), could have spent the same amount on blowing out the back but he chose to invest in the light shaft for now.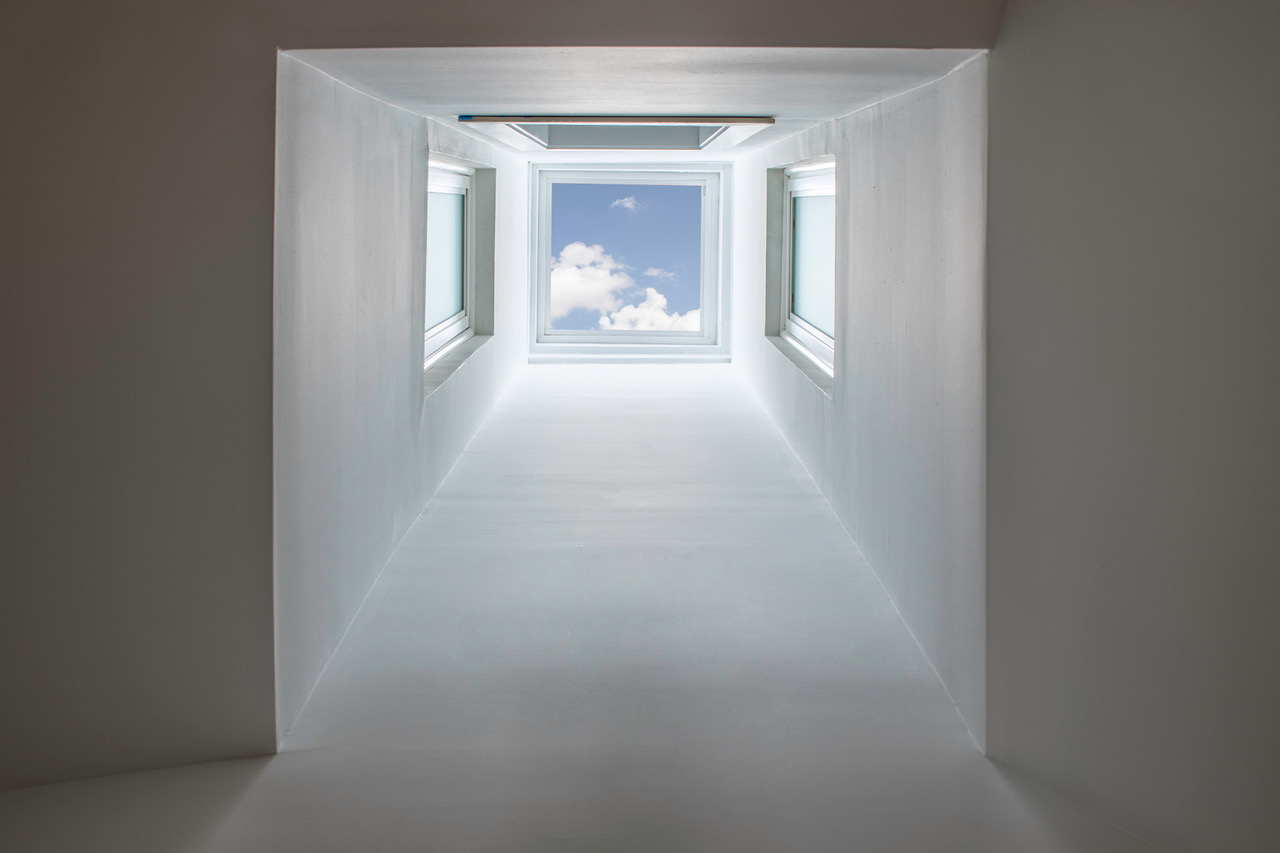 Design interior windows around the shaft
Taking the shaft idea one step further, Sherman based the entire gut renovation of the Park Slope brownstone around his design for a three-story light shaft that makes use of an existing two-foot-square roofline skylight (he replaced the skylight but did not enlarge the opening). The above photo is looking up from the first floor through the second floor to the operable skylight, with three interior windows on the second floor.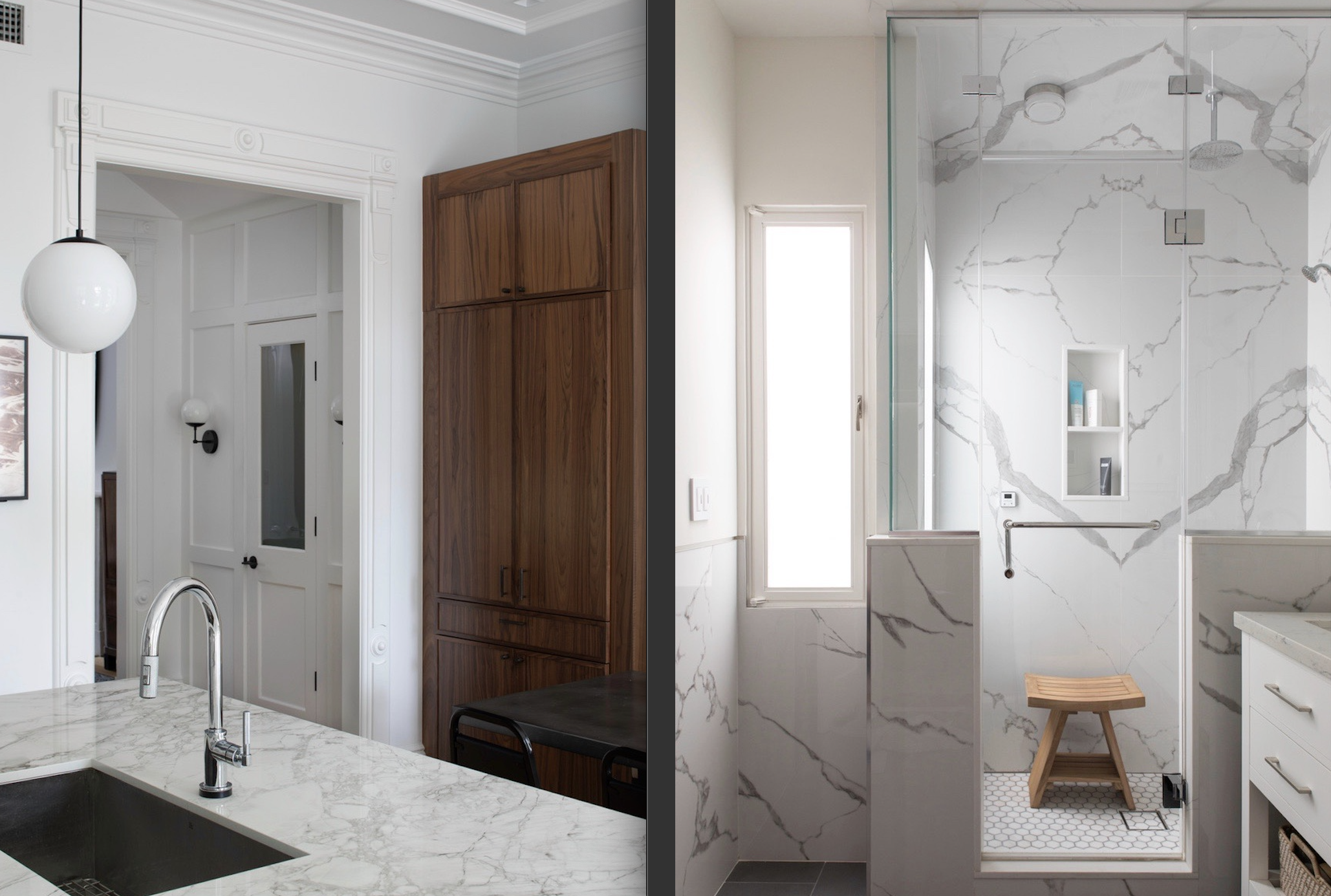 Two of those three windows are in the primary bath (above left) and the third is in another bathroom. "What you are seeing is the effect of the light cascading down the shaft through those interior windows, which are acid-etched glass to diffuse the already indirect light even more so it is always super soft," Sherman says. 
He also created a new pantry area in the center of the parlor floor where the light shaft ends (above right); the door with the etched-glass panel leads to a powder room. "Using a teeny skylight as the starting point, we were able to bring tons of light into the middle of the parlor level, and as it passes through the upper bedroom level, it creates three windows into the three bathrooms so they get natural light and fresh air." 
The cost of building the shaft itself was not that high, though everything else had to be designed around that "column"—adding to the design and build phase. It's all a matter of how much value you place on natural light (which for the owners was a lot). 
Know what to budget for
As for products and pricing, Velux is a go-to skylight source for designers—a 30.5-by-30.5-inch ventilation model with a solar-powered room-darkening shade that you can operate via your smartphone costs $1,328 plus installation. 
In comparison, each of the four smaller triple-pane skylights from Lamilux in Bespoke's Harlem project (which met Passive House standards) cost $6,300 at the time of the renovation, one of which is operable to access the roof as required by fire code. 
Karp provided the cost breakdown for the above Astoria project by Bolster, which involved a major gut renovation of a single-family townhouse with a flat roof. In this case, the homeowners opted for a motorized operable skylight from Surespan, which cost $20,000, and a $10,000 crane rental to install, for a $35,000-plus total cost. Note that these were 2021 prices, and inflation has likely affected the cost of these materials. 
What's more, the skylight functioned as a hatch, offering a much less costly way to reach the roof than having to construct a bulkhead (to the tune of six figures). Karp points out that the Astoria roof was considered "unoccupied" (meaning it did not have a structurally sound roofing system in place to make it habitable), so the hatch permit was only for roof access.
Sherman says for all but one of his projects, the skylights can be carried up or maybe hoised by rope along the back of the townhouse. "They are not prefabricated and glazed on site, so they are not that heavy." As for custom vs. conventional skylights, "there's so much R&D and testing and waterproofing that goes into making a good skylight that you would only want to go with custom for a special situation, like the walkable skylight used in the neo-Georgian manse."
Consider resale value
"I don't see a lot of skylights in New York City homes and the rarity certainly adds to the appeal," says Kirsten Jordan, a broker at Douglas Elliman. "A skylight contributes so much to a space––bringing in natural light, exaggerating ceiling height, and creating an element of architectural interest."
For example, at La Botanica in the East Village, architect DXA studio employs skylights to bring the outdoors into the home (including the penthouse shown at top, which is on the market for a cool $5.95 million). Jordan notes that buyers appreciate this feature, "not only because the interior is bright and open but also because they can enjoy the light as it evolves throughout the day. It's a small detail but makes you feel connected to nature in a big way." 
So sure, a skylight may not be a necessity, but if your budget allows and you have the ability, having sunlight streaming down from above just might be worth the cost.
Or as Sherman puts it: "Everyone is trying to maximize their investment and get the most of their house in a renovation by looking for opportunities, and the roof is an opportunity that is many times overlooked as just a source of protection but is in fact a place to look for additional light." 
Brick Underground articles occasionally include the expertise of, or information about, advertising partners when relevant to the story. We will never promote an advertiser's product without making the relationship clear to our readers.