What would it cost to add a bulkhead to access the roof of our NYC brownstone?
Installation costs for a bulkhead can range from $70,000 to over $100,000
If you use the space infrequently, a roof hatch is a less expensive alternative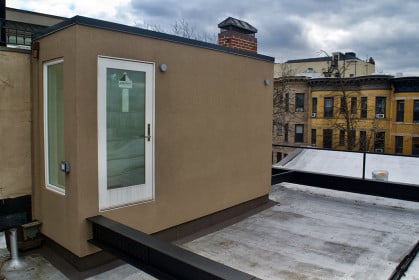 Question
I'm in the planning phase of a gut renovation of a brownstone in Astoria. We want to add a bulkhead for roof access. We already have an architect for basic designs and permitting, what additional costs will a bulkhead add to the project?

Answer
A bulkhead is the box-like structure on a roof that covers the stairwell and provides outdoor access. Installing one can cost from $70,000 to $100,000 or more, our experts say.
The design of a bulkhead can be minimalist—a simple box—or it can be fully integrated into design of the apartment or house.
"Steel is traditionally used in New York City as the structural element of bulkheads," says Anna Karp, CEO and co-founder of Bolster. She points out the price of steel has gone up considerably post pandemic so bulkheads can see a huge shift in cost from the design phase and into the build phase.
A breakdown of costs for a bulkhead construction
Bolster is currently overseeing the addition of a bulkhead to the top duplex of a four-story co-op in Brooklyn Heights, and Karp says the steel for the structural work is about $20,000, the masonry is around $37,000, and the bulkhead's window and sliding door add another $16,000. 
An important consideration is how you will use the roof space once you have access. If you want to make full use of the roof by framing out a deck, you will usually need to add the roof space to your certificate of occupancy as a habitable space. Integrating the bulkhead often includes fully collapsible or folding doors and that can add from 15 to 20 percent to the cost, Karp says. 
Nick Chatzigeogakis, founder and CEO of Intrabuild, says it's important to figure out if a bulkhead is necessary and "if the cost makes sense in terms of value." He points out you'll typically need architectural and structural drawings, a new staircase to the roof, a new fire-rated door, plus carpentry, insulation, and stucco. 
If you want a fully integrated deck rather than simply roof access, you'll need to add a roofing system. Chatzigeogakis says these components, as well as pavers and a 44-inch parapet wall to bring construction up to code, will take the cost to $100,000 or more.
Other cost considerations include masonry, additional structural support—especially if you share a wall with neighbors—the cost of hiring an engineer and other approval and compliance costs.
"Bulkheads can be visible from the street, and because of this, they become a matter of review by the Department of Buildings and Landmarks," Karp says. 
If the price tag is prohibitive, there are other options
If you have a flat roof you may be able to install a roof hatch—like a skylight you can open—as a more affordable option. The cost for this is closer to $35,000 and includes $20,000 for the labor and parts and $10,000 for a crane rental to install it. This was the price tag for an installation in Queens by Bolster in 2021, although Karp says, inflation may have affected the cost of these materials.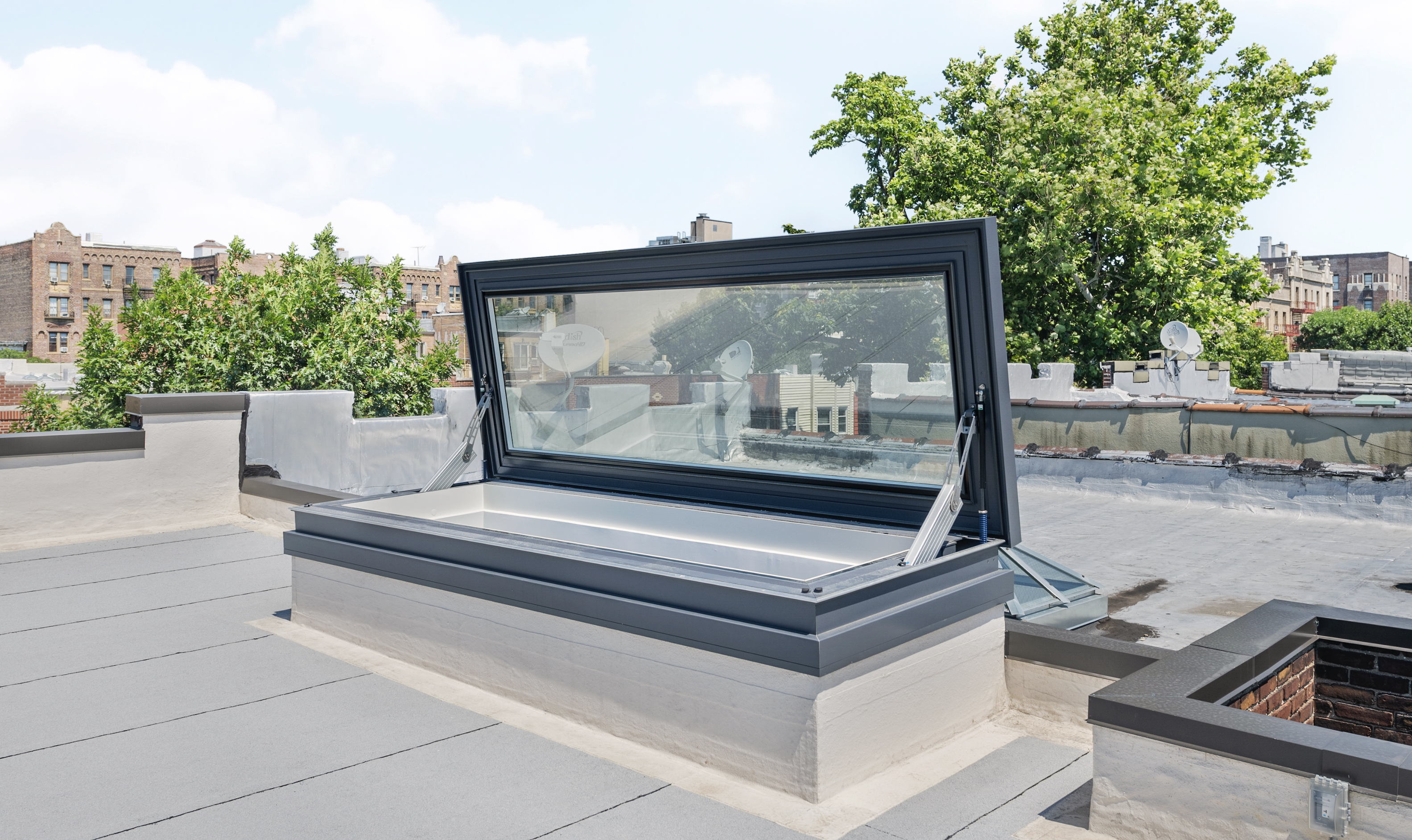 With this option, Karp says when filing a permit the roof is considered "unoccupied," so the hatch only functions for roof access: So no rooftop gardens or weekend BBQs unless you take the next step of making it habitable. A hatch is also less likely to be visible from the street, meaning it may not involve the city's Landmarks Preservation Commission.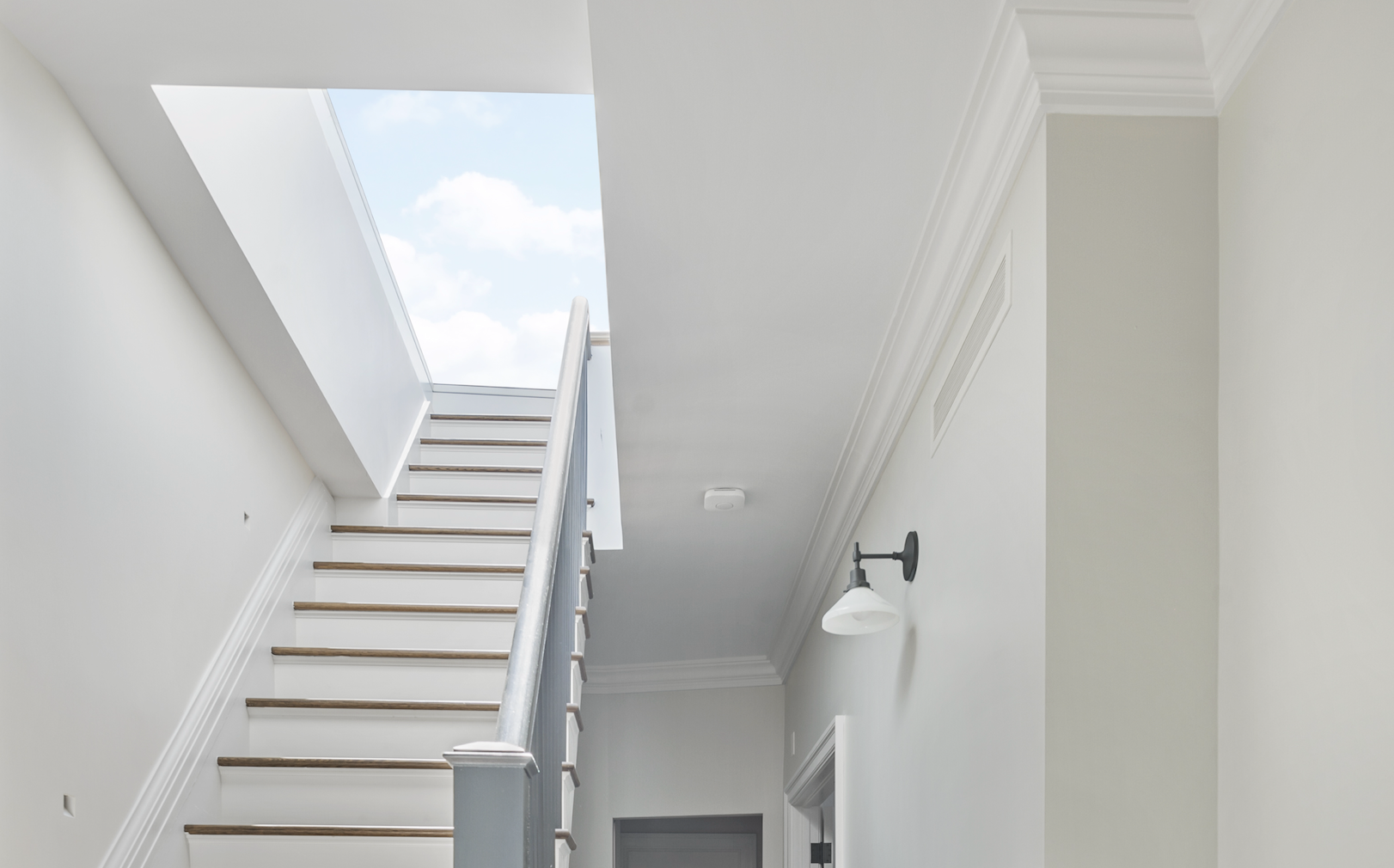 Chatzigeogakis says the clients who are considering roof access tend to be looking for the best ways to build equity in their properties and a bulkhead isn't always the answer. He says they prefer to allocate their budget toward other features.
Whichever route you take, the luxury of an indoor-outdoor space experience in NYC is like no other, Karp says. "The process may be worth the pain," she says.