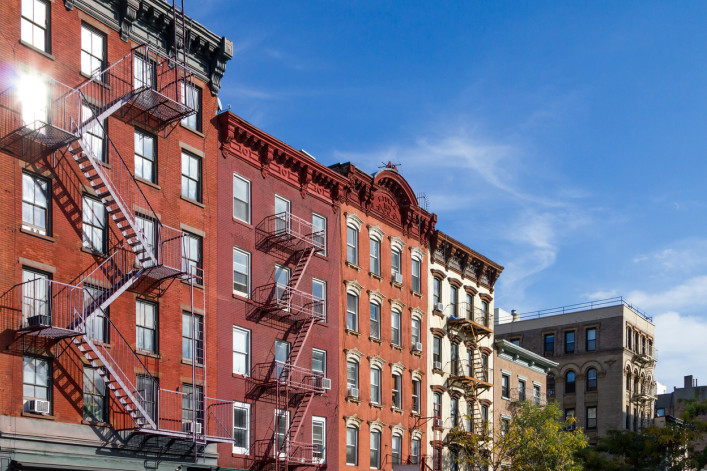 All New York City co-ops and condos require buyers to submit application packages before they will consider your offer. In many cases, the amount of scrutiny can feel uncomfortable.
Co-ops have a reputation for requiring pages of tax returns and financial statements from years past, as well as personal and professional recommendations prior to an interview. All this is designed to make sure buyers have a solid financial footing and the rigor of the process is often cited as one of the reasons NYC has been able to weather past economic downturns relatively unscathed.
In recent years, condo packages have started requiring similar amounts of paperwork and in some cases, even an interview. Here's what you will be expected to provide as part of your application when you are buying a NYC condo or co-op plus tips on best practices for some of the paperwork.
Financial disclosure statement
The opening salvo in a co-op application package is the completion of a financial statement, a form outlining your finances to the seller's listing agent. The form identifies your debt-to-income ratio and tells the seller whether you are a good candidate for the co-op. Boards typically want to see six months to two years of maintenance and liquidity after closing and the financial statement helps identify whether you meet a building's requirements. 
If you're buying a condo, pre-approval from a bank is usually enough, so you may not have to complete the form but it can still serve as a useful exercise to organize your assets and liabilities on paper—details of which you will likely have to share in the application paperwork. 
Application paperwork
Next up, you'll be asked to fill out an application form that will accompany your paperwork. This will include a cover letter, your name, address, employment information, references, bank details and may include a version of your financial disclosure statement.
As part of the application form, you will typically need to add your signature to documents stating you have read the house rules and regulations and understand the fines or penalties for breaking them. You'll also sign relevant disclosures that might include lead paint or window guard safety information. A pet declaration might be another document that needs signing. 
Next, you'll need to give a written agreement for a credit check to be run on your name. 
The application will also ask you if you've ever been sued, or arrested and pose questions about your nationality and U.S. tax status. If you are a non-resident alien, you will need to supply copies of your green card or visa and your tax identification number. 
Financial information
By agreeing to a credit check you give the condo or co-op board access to an outline of your finances. Now you have to fill in all the details. By details, we are not just talking about bank statements—although that's included—you need to fill in the blanks on all of your lines of credit and investments.
A co-op and condo board will want details of your 401K or retirement plan. They'll want to see paperwork related to an IRA, credit cards, car loans, and e-trade or money market accounts.
"Basically anything that you would get a statement in the mail for," says Elizabeth Kee, a broker with CORE. That includes a department-store credit card, even if there are no transactions. The board will want to see that everything in your credit report is accurate. 
Failing to disclose an item might result in your apartment sale falling through. "If the board discovers you have held something back they might think you are disingenuous and not approve your application for a co-op," says Kee. 
If you fail to disclose a line item to a condo board, they will consider the application incomplete and the deadline for the board to submit the waiver will keep being pushed out. "You really need to make sure your board package is tight and you have all the documents because otherwise, it will delay your closing," says Kee.
Tax returns
Typically you need to supply two years of federal tax returns.  
Letters of recommendation 
A condo application will usually only ask for personal and professional references, ie, the name and contact details of people to whom the board can reach out.
A co-op will require actual letters of recommendation (like these real-life co-op reference letter examples). "They should let the board learn about the buyers—their history, schools, work, clubs, philanthropy—and, of course, personal information about them and their family," says Elyse Gutman, a real estate broker with Corcoran. Personal and professional reference letters are a requirement for co-ops and landlord recommendation letters might also be needed.
Fees
Transfer fees, administrative fees, and financing fees are among the closing costs that are part of the application package and need to be paid for the sale to go through. 
Interview
A board interview is the final step to approval when buying a co-op unit in New York City. In most cases, if you are offered an interview, you can assume you have successfully met the building's financial requirements although every interview is different and knowing your package inside out is a good idea because you will likely have to field questions on it.
Brokers advise treating the board interview as you would a job interview; dressing appropriately and being respectful. 
Brick Underground articles occasionally include the expertise of, or information about, advertising partners when relevant to the story. We will never promote an advertiser's product without making the relationship clear to our readers.