Better brace yourself, as you won't be able to unsee some of these images. According to architect Maryana Grinshpun of Mammoth Projects, this Clinton Hill fixer-upper, 185 Willoughby Ave., #105, is "just an appalling" apartment.
"The kitchen and bathroom are the worst," she says of the one bedroom, noting that it's clear to her that inexpensive materials were used in both rooms. "They're really dated and show that cheap things age so badly."
In this week's Reno Ready, Grinshpun explains that if she had her way (and a limitless budget) she'd simply get rid of everything in this $375,000 co-op and start over. She describes exactly what she'd do to bring the apartment into the modern era.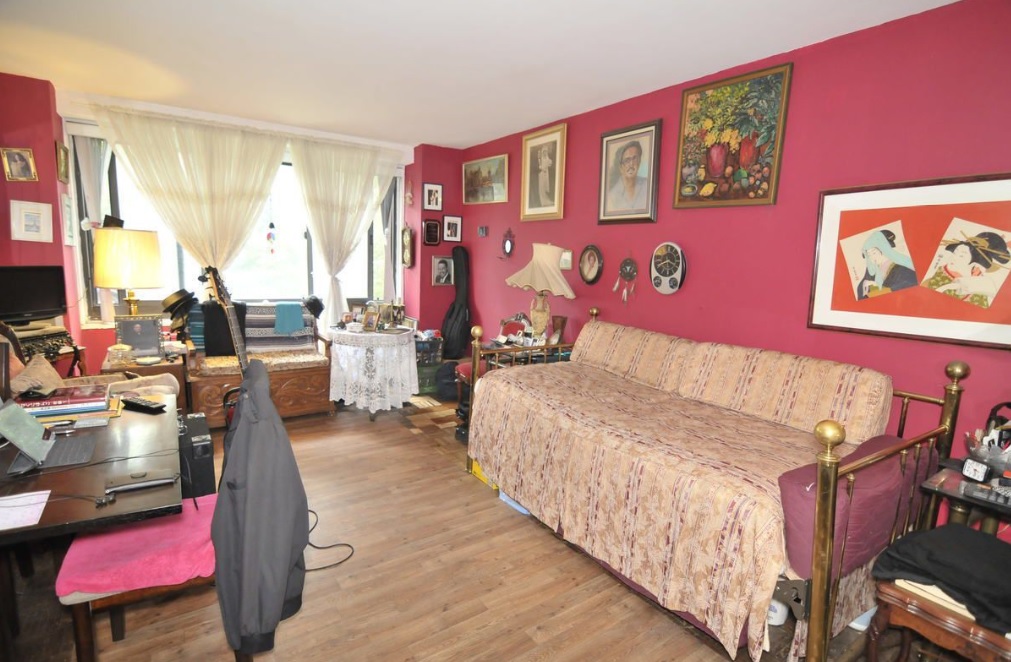 Save the living room floors but redo the rest
Floors: Surprisingly, Grinshpun doesn't mind what's underfoot in here, saying that the white oak medium plank floors look to be decent shape, and that if there's a matte seal on them to preserve them, she'd happily hang onto them. "I hate that they run the wrong way, though," she says. "I'd rather them run the long way. Visually it just makes more sense." If the new occupant decides that he too despises the direction of the floor, it'd cost about $20 per square foot to replace the flooring in here and throughout the rest of the apartment.
Paint: "I would not keep this color," Grinshpun says. "I don't have a problem with the color in and of itself, but I do have a problem with it in combination with the furniture in here. It looks insane."
Instead, she'd go with a rather unorthodox approach. "In places where the ceilings are as low as these are, there's an argument to be made to paint the ceiling a darker color like black and bring the black down a foot or so down the wall. It makes the space more interesting and more intimate somehow." The remaining portion of the wall would be white. A gallon of Benjamin Moore's Black is $75. A gallon of Benjamin Moore's Cloud White costs the same.
Window treatments: She'd go with a two-pronged approach. First, Grinshpun would put up roller shades to keep the sun out. On top of that, she'd recommend curtains, but ones that are vastly different than those that are currently installed here. "I love really simple panels that fall to the floor at the side of each window," she says. "It sounds like it could look sloppy, but it has a soft look that'll create a really nice juxtaposition to the harder lines of the apartment." She'd go with white panels without a pattern in a soft, natural material like linen or silk. Prices for these classic roller shades from Smith & Noble start at $109. Curtains like these can be pricey, running $2,000 to $3,000 for a high-end fabric from a place like Restoration Hardware. But they can also be done on the cheap for around $300 or so for folks who know what they're looking for on a site like ebay.
Lighting: Since there's no overhead lighting in this room—probably because the ceiling is concrete—Grinshpun advises putting up "modern sconces that will look clean and interesting" on both of the longer walls. "It'll create a balance in terms of lighting levels," she says. In fact, it's so important to have the sconces on both walls that if the walls on either side are also made of concrete, she'd recommend furring them out by about two inches in order to make sure that you'll be able to install them. Furring out the walls should cost about $2,000. Prices for these AJ Eklipta wall lights by Arne Jacobsen from Louis Poulsen start at $500 at YLighting.com.
And for folks who really want an overhead light. "Just because you don't have a J-box on the ceiling doesn't mean that you can't have light on the ceiling," Grinshpun says, explaining that there are pendant lights available today with strings that are designed to be decorative. This Aim plug-in pendant light from Flos is $795 at YLighting.com.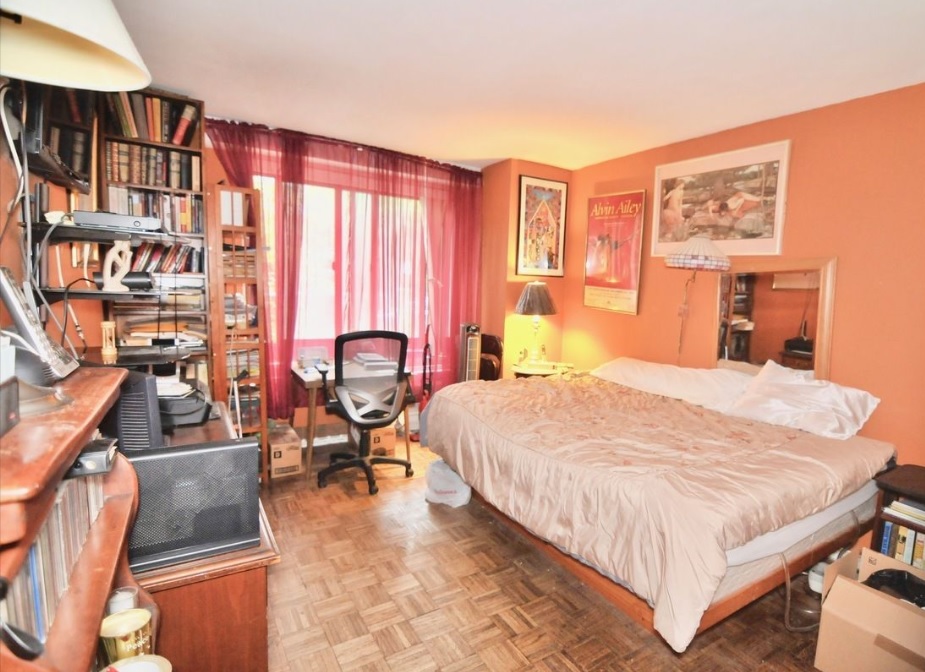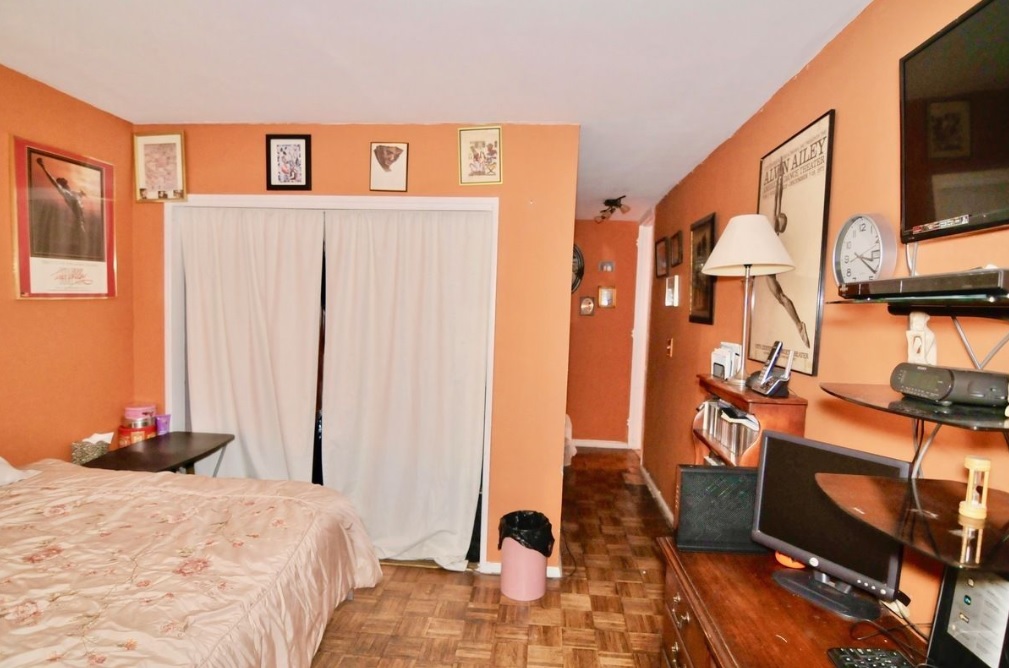 Bag the parquet in the bedroom
Floors: Grinshpun hates the parquet flooring and would replace it with wood planks that'll match the living room.
Window treatments: She'd put up long curtains in here, as well, but instead of going with a simple roller shade underneath, she'd opt for blackout shades since it is a bedroom. She suggests having them custom made to fit the window perfectly "so there isn't a shard of light hitting your face," she says. Custom blackout shades will cost between $1,000 and $2,000. These blackout shades are $24 at Select Blinds.
Lighting: "At the moment, I have a fetish for pendant lights hanging next to a bed in lieu of bedside lamps," Grinshpun says. "It frees up a lot of room on your side table and it looks really elegant." Prices for this Flos String Lights Cone start at $695.
Paint: "There's no universe in the world in which this sherbet color can work," Grinshpun says. She'd once again opt for an unusual approach, picking a dark forest green or a charcoal gray for the walls and ceiling even though conventional wisdom holds that this might make the space feel small. A gallon of each is $75.
"Dimensions of spaces are what they are," she says. "It doesn't change based upon what color you paint the wall. There's this bizarre myth that interior decorators perpetuate that you can make studios look like mansions with paint. You can't."
But you can make the space feel warmer with your choice of furnishings.
Desk: Grinshpun would lose the desk since she hates the very idea of people creating offices in their bedrooms. "It's this perverse side effect of the society we live in," she says. "Hardly anyone uses them, but it's the first thing we see in the morning."
Closet: A curtain currently functions as the door to this closet. She'd prefer some actual doors that will better hide what'll lies behind them. Stock fiberboard doors can be purchased at a place like The Home Depot for a few hundred dollars. "But that will only look marginally better," she says. If there's some wiggle room in the budget, she advises buying "some solid wood doors with decent hardware," which can run you $3,000 a door. She feels that it's worth it, though, because a really beautiful wood "can make the space feel more high-end." She'd also hinge it from the floor "because it looks more elegant."
She'd also look into extending the opening of the closet all the way to the ceiling to create more storage. "If someone's handy, they can do it themselves," she says. "You just need a hammer and a couple of hours." If, however, someone else needs to come in and do it, it'll probably cost a few hundred dollars.
Consider taking out the tub in the bathroom
Bathtub: If there aren't any small children living in this apartment, Grinshpun would take out the bathtub. "People used to think it was a necessity, but hardly anybody ever uses it," she says. "It's not functional." She'd instead opt for a smaller shower enclosure with simple fixtures. "Stay away from trendy things like brass," she advises. "It won't age well." She'd prefer classic fixtures with a brushed nickel finish. This Prism shower enclosure is $955 on houzz.com. These Moen fixtures in brushed nickel are $277, also on houzz.com.
Tiles: "For spaces this small, I don't like to mix too many materials," Grinshpun says. "It looks uncomposed. The new owner can therefore go the simple route and put white subway tile all the way up the walls and on the floors. Prices will vary from $3 to $12 per square foot, depending on the quality of the tile.
Medicine cabinet: In a room this petite, Grinshpun would prefer to recess anything and everything that she can. Prices for this flat-top Robern medicine cabinet start at $1,999.
Vanity: Since the existing one is an eyesore, she'd replace it with a newer, wall-mounted vanity that'll "float off the wall and give the illusion of more space." This Hancock single wall-mounted vanity is $800 on AllModern.com. And if it is possible to move the faucet to the wall, Grinshpun would prefer that. "It'll free up space and make things look cleaner."
She doesn't think any more storage will be necessary in this bathroom, so she'd eliminate the cabinet atop the toilet. "People often think they need more storage than they actually do," Grinshpun says.
Toilet: She'd replace the old-school toilet with a more modern-looking one. This Toto toilet is $433 on build.com.
Lighting: Grinshpun would keep the light where the current one is since "where it is is the most flattering place for light to come from," but would swap out the current fixture for something with a more contemporary aesthetic. These Sonneman LED Stix are $400 at Lamps Plus.
Door hardware: She'd recommend getting a brass doorknob. "Using a solid metal is something that does register." This Baldwin knob is $131 at The Home Depot.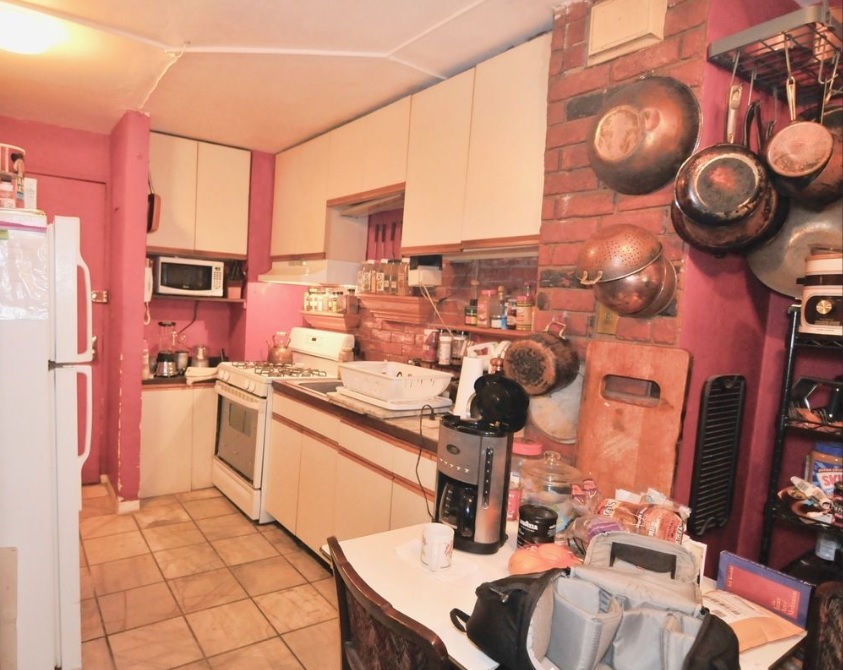 Skip the brick in the kitchen
Brick wall: "Unless you're in college, you really shouldn't have a brick wall in your apartment," Grinshpun says. "There's something incredibly juvenile about it." But Grinshpun notes that it actually isn't clear if this is real exposed brick or wallpaper with a brick look because "it looks faux." If it's real, she recommends putting sheetrock over it and finishing up the wall. This should probably cost a few hundred. If it's wallpaper, just take it down.
Cabinets: There are quite a lot of cabinets in here, but Grinshpun isn't sure if they'll all be necessary. "If you're cooking three meals a day, there's an argument that can be made to keep this many cabinets," she says. "If you eat out most meals, you can probably get rid of the upper cabinetry." Either way, she'd replace them all with simple, clean-looking white cupboards. If there's enough money for custom-made ones, she'd go that route, but they could cost $25,000 to $30,000. Otherwise, she'd get IKEA cabinets and have a carpenter make new faces. This option should cost less, around $10,000 to $15,000.
Floors: She'd run the same wood flooring from the living room and bedroom in here, too, to keep things continuous.
Countertops: Grinshpun feels that whatever the occupant chooses, "it has to make sense with a person's lifestyle." How much cooking do they do? How clean are they? "Marble looks beautiful, but it's hard to maintain," she says. "If you spill tomato sauce on it, it will stain." It'll cost around $1,000 to $2,000 for a space this size.
For folks who want something a little more durable, she recommends Corian. "It's man-made. You can land a spaceship on it and it won't show a single scratch." But it'll cost more, around $5,000 to $6,000 for this kitchen.
"We've also just put butcher block down," she says, noting that the wood should only cost about $2,000 or so. "It'll take a beating, but it'll add to the character of it."
Backsplash: For most people a backsplash is an afterthought, but Grinshpun thinks that it shouldn't be. "It's the most prominent element in the space because it's at eye level," she says. In this instance, she would leave the wall really clean and put up a coat of glossy paint to serve as the backsplash. "It'll be easy to maintain," she says. A gallon of paint is $75.
Appliances: Grinshpun would replace the prehistoric fridge and oven with "classic" stainless steel pieces. This Fisher & Paykel 25-inch counter-depth bottom-freezer fridge is $1,779 at AJMadison.com. This Blomberg free-standing gas range is $899, also at AJMadison.com. If possible, she'd add a dishwasher (like this GE 24-inch one, $742 at AJMadison.com) and move the fridge to the other side of the room so that it isn't standing on the opposite side of the kitchen all by itself.
Lighting: She'd replace the staid ceiling light with "something a little more interesting like a pendant," Grinshpun says, explaining that she loves hanging lights "because they fill up a room better." This Geologic one-light pendant is $198 on houzz.com. And if the upper cabinets remain, she'd add under-cabinet lighting, too. These LED light strips are $15 at IKEA.
Brick Underground articles occasionally include the expertise of, or information about, advertising partners when relevant to the story. We will never promote an advertiser's product without making the relationship clear to our readers.