Architect Greg Epstein of gne Architecture hates pretty much everything about this $350,000 Theater District studio, 100 West 57th St., #8A, and notes that its aesthetic—which hasn't been updated since the late '70s—is practically begging to be overhauled. "The bathroom's too small. So is the kitchen," he says. "Everything pretty much sucks."
In this week's Reno Ready, Epstein tells us why he thinks that gutting the entire thing is the only way to go, and offers ideas to how to make this 450-square-foot space feel larger.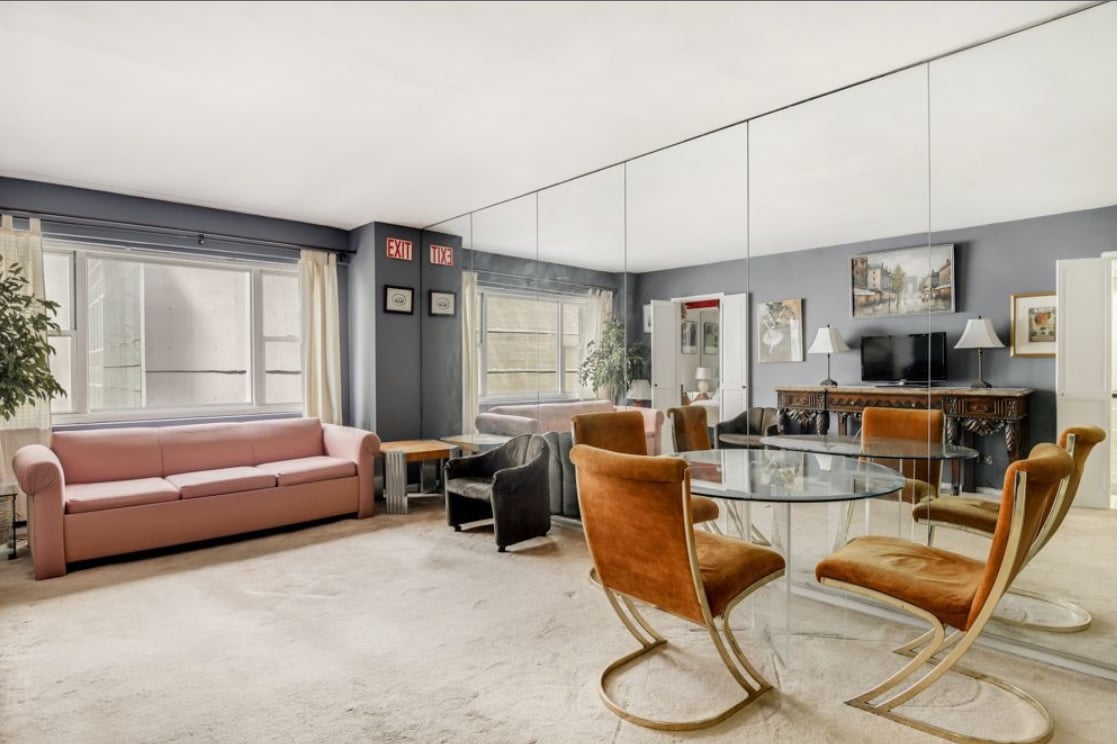 Pull up the carpeting in the living area
Floors: "That carpeting has got to go," Epstein says. He'd replace it with wood flooring—specifically light-colored, pre-stained and waxed white oak. "It's just got a nice texture to it and the light color will help the space feel bigger." The wood floors will cost around $12 a square foot.  
Walls: He'd also lose those mirrored walls, which were probably installed years ago to make the room appear larger, but now appear dated. Instead, he'd paint everything a crisp, clean white. "It'll make the space feel bigger, more open, more tied together," he says. This gallon of Benjamin Moore's Chantilly Lace, which Epstein calls his favorite white, is $75.
Lighting: There isn't any overhead lighting at the moment because the ceiling is likely concrete and therefore impossible to drill into. And Epstein says he'd be reluctant to drop the ceilings in order to install any—that would make the space feel even smaller than it already is. So he recommends a combination of floor lamps and lights that have been recessed into the wall. Pricing for the wall lights will range between $400 and $800. This Dexter Arc floor lamp is $299 at Crate & Barrel. 
Window treatments: According to Epstein, the windows are "the only redeeming thing about this place," and he doesn't think the curtains are doing much to highlight them. He'd prefer a simple white roller shade. "I'd keep everything muted—the floors, the walls, the shades—and then dress things up with the furnishings," he says. Prices for these classic roller shades from Smith & Noble start at $109.
Radiator cover: He'd also add a built-in painted white cabinet underneath the window to hide the unsightly radiator, as well as provide some storage space for books, photos, and knickknacks. He'd put a Corian top on it because it'll be easy to maintain, and will look snazzy, too. The cabinet will cost about $10,000.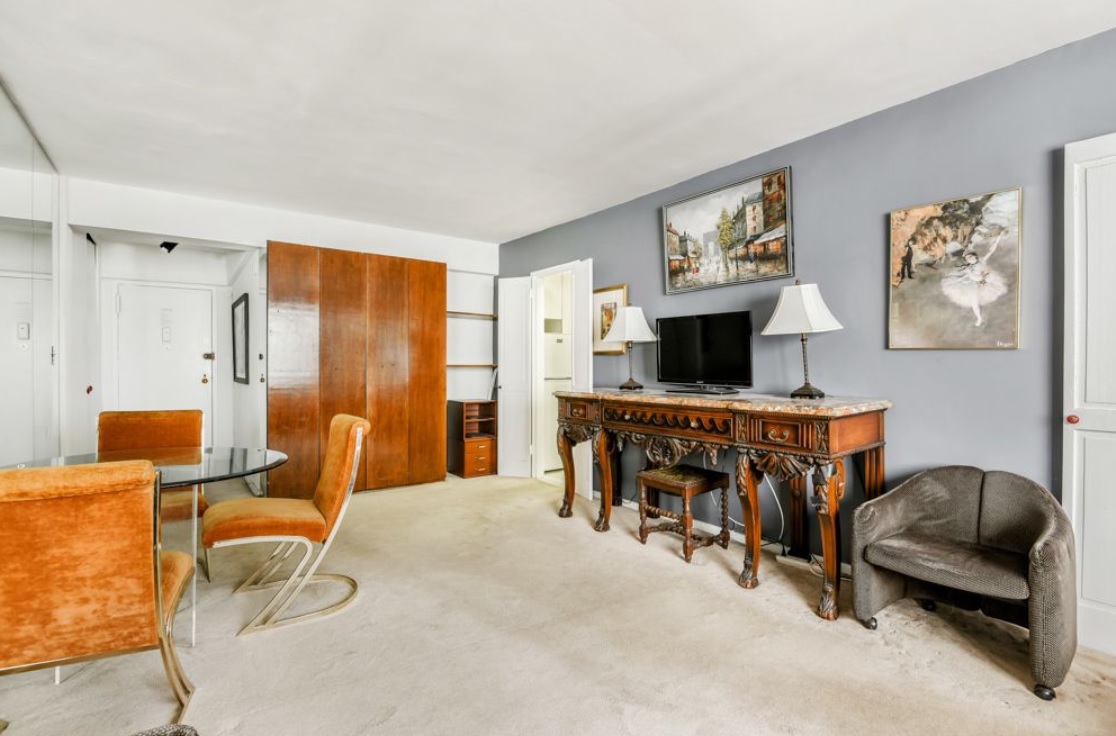 Drop the ceiling in the foyer 
Epstein would continue the new wood floors and white walls in here, and would change a couple of other things, as well.
Lighting: "I'd drop the ceiling here and put in recessed lights," he says. "It'll make all the other spaces in here seem taller." This should cost around $10,000.
Closet doors: He'd also replace what appear to be rickety old sliding doors with regular hinged doors that'll makes the closet space more easily accessible. These new doors will cost about $2,000 or so.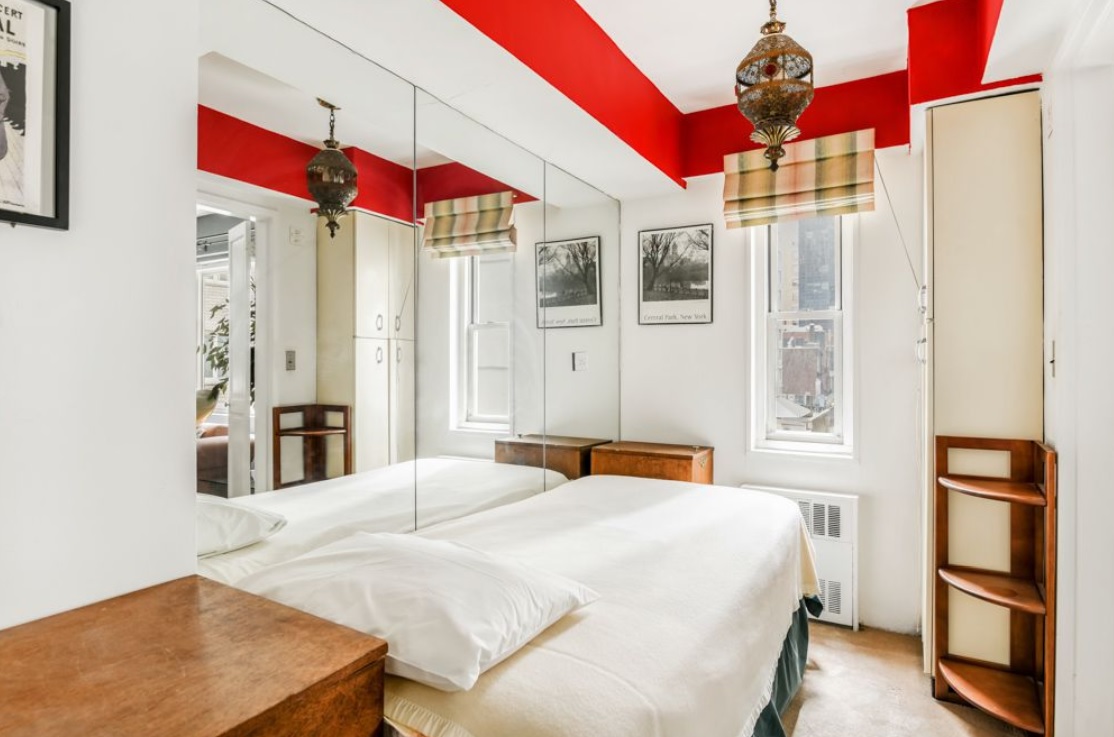 Make the bedroom an alcove
He'd suggest extending the new wood flooring in here, as well as removing the mirrors from the walls, and then painting them the same Chantilly Lace as in the living space. This will keep things feeling continuous.
Alcove doors: Epstein would lose the doors to the sleeping alcove and open the room up to the living space. He feels that the apartment is simply too small to have this closed off, separate space. Demo work for the entire apartment will be about $10,000.
Radiator cover: He'd have another enclosure built to conceal the heater in here, as well as add some storage space on either side. Since it'll be smaller than the one in the living room, it'll cost a little less, around $7,500.
Window treatments: He'd again opt for a simple white roller shade that'll match the one in the adjacent living space.
Lighting: Since it is such a tiny room, Epstein would go for a lamp or two—including one by the bed. This brushed nickel desk lamp is $100 at Lamps Plus.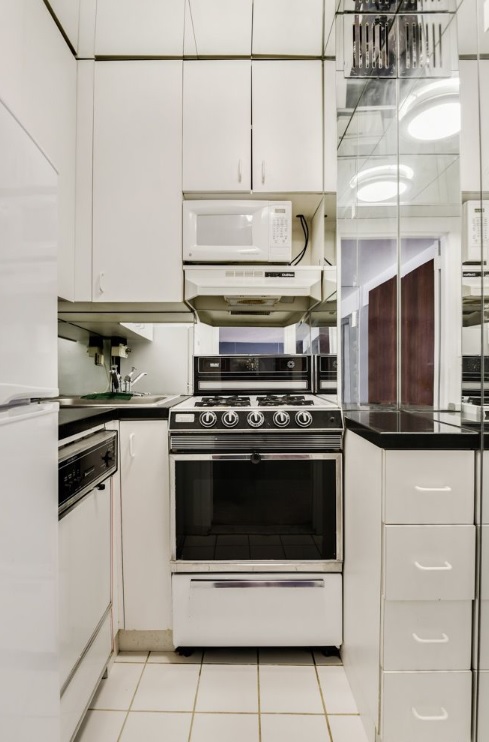 Expand the kitchen into the living space
"I would expand the kitchen towards the foyer along the back wall," he says," so it'd extend into the current living space. "People prefer an open kitchen these days. That tight little rabbit warren in the back isn't going to work."
Flooring: Epstein would continue the wood flooring in here, too, to keep everything feeling connected.
Cabinets: He'd have custom walnut cabinets made that would extend all the way up to the ceiling, as well as into the newly expanded area. "They'll go perfectly with the wood floor," he says. They'll probably cost $20,000 or so.
Countertops: He likes statuary marble, which is white with gray veining. He'd run it up the walls to serve as a backsplash, too. It should cost about $6,000.
Appliances: He'd go for all new counter-depth appliances so that none of them will take up too much precious space in here. This 28-inch LG refrigerator is $929 at AJMadison.com. This Whirlpool 30-inch free-standing electric range is $624, also at AJMadison.com. This Sharp 24-inch microwave drawer is $1,199, also at AJMadison.com.
Lighting: Epstein doesn't want things to look too cluttered, so he'd put up a simple surface-mounted light, like this Puck Slim LED ceiling light, $330 at YLighting, and supplement that with some under-cabinet LED strip lights, $35 for four at Wayfair.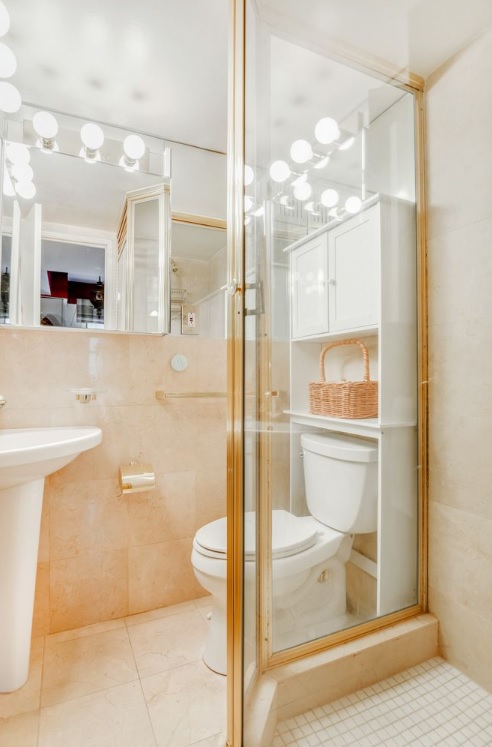 Push the wall back in the bathroom
Wall: Since the bathroom is so tiny, Epstein recommends pushing the wall back about a foot into the bedroom area to make it feel less claustrophobic. It should cost approximately $10,000 to do so.
Door: He'd get rid of the swinging door and replace it with a sliding one. "Since it's so small, a swinging door just gets in the way," he says. This new door will be about $2,500.
Vanity: He'd have a new vanity custom made for this space that will have lots of storage, as well as a large countertop. He thinks walnut will complement the wood flooring in the rest of the apartment. This new vanity will be around $5,000.
Medicine cabinet: A new one is also in order. He'd have one custom built to match the new vanity. It should cost about $2,500.
Shower enclosure: He hates the gold enclosure surrounding the shower, so he'd swap it out for a frameless one. "It'll look cleaner," he says. This frameless enclosure from DreamLine is $634 on build.com.
Faucet/Showerhead: Epstein believes that these ancient pieces will both need replacing. This Delta Sawyer two-handled sink faucet is $149 at Lowe's. This Delta Sawyer one-handled bathtub and shower faucet is $179, also at Lowe's.
Toilet: Many people are skeeved out at the very idea of keeping a pre-owned toilet, so he'd get a new one. This Toto is $351 on build.com.
Floors/Walls: He'd choose light-gray porcelain tiles for the floors and walls. It'll cost around $8,000.
Lighting: "I'd put two recessed lights on the ceiling, as well as a sconce by the sink." The recessed lights will cost about $1,000. This Double Bullet glass wall sconce is $99 at Shades of Light.
Brick Underground articles occasionally include the expertise of, or information about, advertising partners when relevant to the story. We will never promote an advertiser's product without making the relationship clear to our readers.