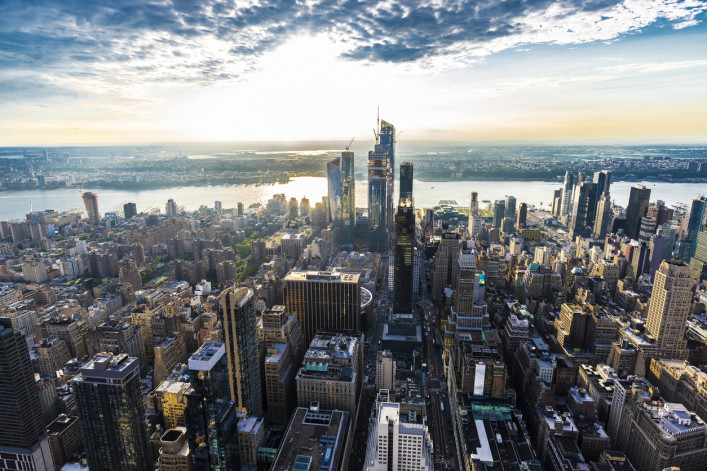 For a certain subset of New York City buyers—one might say "one percent"—a high price tag translates into cachet—a seal of approval, if you will, that they have landed in the right building in the right neighborhood. 
So which neighborhoods are we talking about, exactly? You might be in for a surprise: In years past, if you're someone who's familiar with New York City, you could probably have guessed which neighborhoods topped this list, but in 2019, there were some big upsets.
"[Last year] brought some exciting changes," says Andreea Popescu, real estate writer at PropertyShark. "In Manhattan, Hudson Yards defeated Tribeca's long-standing title of NYC's priciest neighborhood; in place since the second half of 2015. Likewise, in Brooklyn, Cobble Hill rose to first place, overtaking Dumbo, the borough's undisputed most expensive neighborhood since 2015."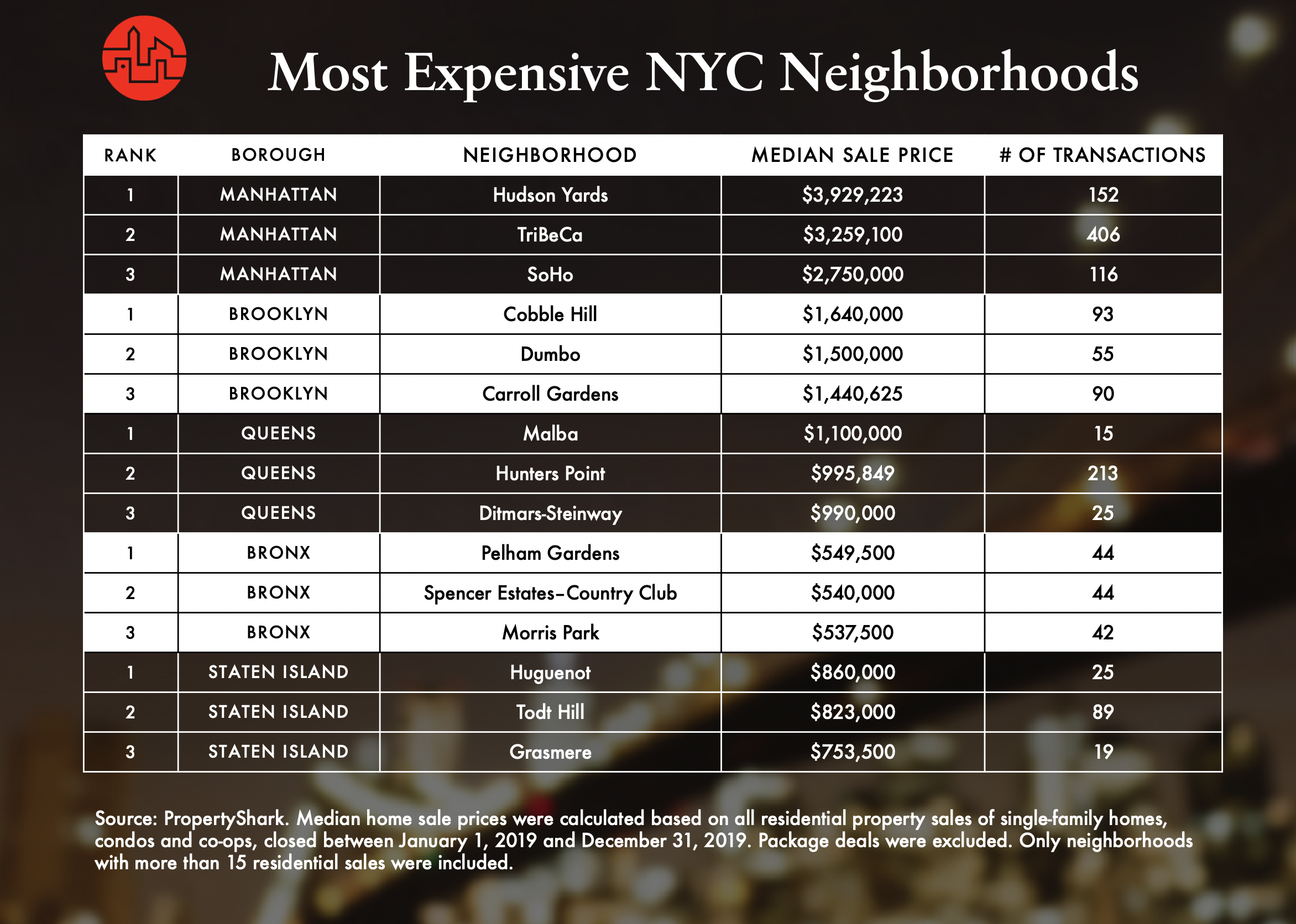 To create the list for 2020, Brick Underground partnered with Property Shark to identify the top three most expensive neighborhoods in each borough. Median home sale prices were calculated based on all residential property sales of single-family homes, condos and co-ops that closed between January 1, 2019 and December 31, 2019. Package deals were excluded, and only neighborhoods with more than 15 residential sales were included. (Malba and Neponsit did not close 15 sales in 2018, but because both of them had at least 15 transactions in 2019 they are included.)
And, keep in mind if you don't see one of NYC's famously pricey areas here it's likely because it didn't have the minimum amount of transactions, or there were lots of other sales for significantly less, which brought the median sales price down. (That's why you don't see the neighborhood encompassing Billionaire's Row on this list, even though it is home to the ultra-luxury tower at 220 Central Park, for example.) 
Some areas, such as Little Italy (which took fourth place), Cobble Hill or Ditmars-Steinway, saw an increase in the median sales price of as much as 100 percent.
"For a good understanding of dramatic increases, it is important to look at what specific transactions affected these year-over-year changes," says Popescu. "It is clear that, as usually happens in NYC's most expensive neighborhoods, some of the most influential transactions of 2019 are for luxury apartments, like the two $18 million units sold at the Puck Building in Little Italy. In Brooklyn, a key catalyst in Cobble Hill's rise was the sale of 24 units for a $2.2 million median at the new luxury development, The Cobble Hill House."
"Equally notable was the extreme disparity in median prices among the top three most expensive neighborhoods in Manhattan compared to the most expensive in Brooklyn and Queens," says Popescu. "For example, in Manhattan, the difference between the most expensive neighborhood, Hudson Yards, and second-most expensive neighborhood Tribeca was $670,123. In Brooklyn, the difference between first-most expensive Cobble Hill and second-most expensive Dumbo was $140,000. In Queens, the difference between first-most expensive Malba and second-most expensive Hunters Point was $104,151."
Brick Underground talked to NYC brokers to get insights on the particular advantages, character and appeal of each of the top three most expensive neighborhoods in NYC and what makes these neighborhoods so desirable. And you'll have lots of apartments to choose from: The slowdown in the luxury market means there's lots of inventory available and you will be in a position to trade up, especially if you are looking for new development, where you will be able to take advantage of developer's incentives.
Manhattan
There are dueling sensibilities in Manhattan luxury real estate—namely, old versus new, with the newest, Hudson Yards, officially opening to the public last year. 
"Soho and Tribeca have become hubs for high-net-worth individuals in an organic manner. Soho initially attracted artists and then increasingly became a hub for upscale restaurants before also becoming a major shopping destination for high fashion. Soho is defined by its upscale cultural and retail offerings," says Maria Avellaneda, an agent at Compass. In Soho, she says, space is more limited and the streets are more crowded. In Tribeca, thanks to it commercial origins, you can find large lofts with ultra high ceilings and giant rooms.
"Hudson Yards, on the other hand, was engineered and planned around the question, 'What do high-net-worth individuals enjoy?'" says Avellaneda. "The area caters to them with fine dining, concierge services, extensive amenities, and shopping. While Tribeca and Soho have been appealing to locals and transplants looking for something 'authentically New York,' Hudson Yards was created to appeal to international buyers, particularly those in the business world."
Hudson Yards
Median sales price: $3,929,223
The new luxury neighborhood/development on Manhattan's far west side made its debut in 2019, and it tops our list of most expensive neighborhoods in the borough. While its 152 transactions lags behind the second-most expensive neighborhood, Tribeca, it's still one of the most active areas in the city. (With 406 sales, Tribeca saw the most sales in the five boroughs.)  
"Hudson Yards has been setting records throughout the city," says Daniele Kurzweil, an agent at Compass agent. "The entire neighborhood has been LEED certified, so all of the newest, energy-efficient materials have been incorporated into the construction and planning of the neighborhood," she says.
In creating what is essentially a new neighborhood, developers had a lot of freedom, she says. 
"With floor-to-ceiling windows, spacious layouts, soaring towers and unlimited amenities, come mega prices. As there is nothing to compare it to, developers have been able to set their prices as such. If you must have new construction and be above the 50th floor your choices are somewhat limited, and Hudson Yards is your go to place."
A bright spot? There's a lot of inventory. "The good news is while the neighborhood commands high prices, the fact that there are a lot of developments there helps with your buying power," says Kurzweil.
Tribeca 
Median sales price: $3,259,100
Tribeca saw the most activity of any neighborhood in New York City: Sales increased 40 percent from 2018. The median price, however, fell 15 percent. 
"The popularity of Tribeca is quite evident once you set foot in any one of the spectacular buildings down there," says Kurzweil. "Many former warehouses have been repurposed into spectacular residential apartments. Many original details such as exposed brick and extra high ceilings are huge selling points to potential buyers. With its quiet feel and cobblestone streets, this is a first choice for many native New Yorkers, as well as people relocating from other areas who want the small town feel in the big city." 
She notes that the lack of highrises and the large floor plans found here translates to scarcity, "which always drives demand and pricing up."
Corcoran agents Claudia Saez-Fromm and Mark Fromm say the area draws interest from buyers who work in fashion, finance, tech, and entertainment.
"Big draws of the neighborhood, beyond the great real estate, cast iron architecture, cobblestone streets and great neighbors, are the great schools for kids nearby such as P.S. 235, Washington Market, and Jewish Community Project," Saez-Fromm says.
There's also great shopping at the Oculus, Brookfield Place as well as nearby Soho and Lower Manhattan. Even better: "Tribeca preserves that local downtown neighborhood vibe without becoming too touristy," Fromm says.
Soho
Median sales price: $2,750,000
This historically chic (and expensive) neighborhood saw a negligible decrease in the number of transactions, but an 8 percent drop in median sale price. 
Soho's charming streets and upscale boutiques make it a perennial standby.
"To me, Soho is one of the last remaining neighborhoods that has kept its original charm," says Jerrie Butler, an agent at Corcoran. "The classic architecture of the cast iron buildings has seamlessly transformed historic buildings into modern day retail and residential properties. That's why it remains one of the most coveted areas to invest in."
"Developers are refurbishing old buildings rather than tearing them down to build glass high rises, which are taking over Brooklyn and uptown Manhattan. My clients love Soho for its architecture, great design and outstanding restaurants," he says.
"If you want a space with high ceilings and a small neighborhood feel, Soho is the place to find it." says Kurzweil, who adds that like Tribeca, Soho's limited inventory drives prices up.  
The neighborhood's storefronts pay top dollar to maintain a presence in the fashionable area—and that can help offset a co-op building's maintenance costs. (Of course, when a retail tenant closes, residential buildings are forced to scramble for a new tenant.)
Runners-up: Little Italy, Garment District
Brooklyn
Cobble Hill
Median sales price: $1,640,000
Business is booming in Cobble Hill, the picturesque Brownstone Brooklyn neighborhood just south of the borough's downtown. Both the median sales price and the number of transactions were up significantly, 82 and 41 percent respectively. (The area had 93 sales in 2019.)
"In Brooklyn, a key catalyst in Cobble Hill's rise was the sale of 24 units for a $2.2 million median at the new luxury development, The Cobble Hill House," says Popescu. 
(Sales at the River Park development, which includes several luxury buildings with both condos and townhouses on the former Long Island College Hospital site, also helped boost the neighborhood's median.) 
A look at sales in 2018 shows more modest price tags, which resulted in that 82 percent median price increase. According to Popescu, that year there were eight transactions on Hicks Street within a price range of $395,000 to $535,000, and two transactions under $400,000 on Amity Street.  
"What makes Cobble Hill so great is that it is a true small town within striking distance of Manhattan. Comprised of only low-rise buildings lining tree-lined streets, there is sky and fresh air, but you can walk to every single subway line for an easy commute to Manhattan," says Deborah Rieders, an agent at Corcoran agent. "The architecture is stunning and is made up of Federal-style and Italianate townhouses, in addition to picturesque carriage houses, and a small smattering of new condominiums that have all been built with rigorous landmark guidelines in place."
Stores and restaurants are clustered along Smith Street, Court Street, and Atlantic Avenue. Along them, you'll find cute boutiques, trendy bars, cafes and restaurants, health and wellness businesses, as well as big chains like Trader Joe's, Michael's, and Marshall's. 
"I believe that people come to Cobble Hill for the peace and quiet that one experiences on daily basis, while making no sacrifices on amenities, ​​​​Rieders says. "Residents love the old school vibe of many of the shops and restaurants that have been here forever, in addition to the fact that the new chefs seek it out as a destination to try out new restaurants for more enterprising palettes."
Dumbo
Median sales price: $1,500,000
The formerly-industrial area down under the Manhattan Bridge overpass (hence the name) may have lost some of its cachet to its neighbor to Cobble Hill; the median sale price was down 20 percent, and the number of transactions decreased 14 percent. 
While Dumbo is a picturesque neighborhood with cobblestone streets, sprawling converted warehouse spaces and incredible views, its transportation options (an F stop on one edge, a ferry stop on another) pale in comparison to those in Cobble Hill, and it is geographically more isolated. However, if you've got a couple million to spend on a place to live, perhaps you Uber or Lyft it everywhere anyway. 
And, it's hard to compete with its stunning views of the Brooklyn and Manhattan Bridges, the river and Downtown Manhattan, as well as direct access to the world-class, waterside greenspace, Brooklyn Bridge Park. 
Carroll Gardens 
Median sales price: $1,440,625
Cobble Hill's brownstone-studded neighbor directly to the south also saw increases in both median sale price (up 18 percent) and number of sales (90, up 48 percent). The new development at 145 President Street did brisk sales in 2019; a penthouse sold in July for $4.1 million. Served primarily by the F and the G lines, the area offers quick access to both downtown Manhattan and areas south like Park Slope and Prospect Park. 
"Carroll Gardens is a beautiful, walkable neighborhood with a mix of wonderfully maintained turn of the century townhouses, some modern new condo buildings, and an incredible variety of shopping, recreation and dining options," says Leslie Marshall, an agent at Corcoran. "Some of Brooklyn's most beloved restaurants line Smith Street, as well as the newest go-to independent bookseller, Books Are Magic. Newer boutiques, groceries, and cafes are mixed in with some of the neighborhood's oldest shops including D'Amico Coffee Roasters and Caputo's Bakery." 
Runners-up: Greenpoint, Columbia Street Waterfront District 
Queens
Malba
Median sales price: $1,100,000
This small, waterside community is an affluent enclave of Whitestone. It hugs the Whitestone Bridge and sits on Powell Cove, and is known for its suburban feel and huge houses, many of which have direct water views. (The residences are often referred to as "mansions.") With just 15 sales in 2019, there wasn't a lot of activity, but that number actually represented a 36 percent increase in sales from the year before. 
"Given that Malba is aptly dubbed 'the Hamptons of Queens,' it is no surprise that it is a desirable neighborhood that made our list," Popescu says, who notes that the Queens neighborhood is "catching up" to pricey areas in other boroughs. "The fact that a neighborhood from Queens tied with two famously pricey New York City neighborhoods—Park Slope and the Upper West Side—was a notable step for Queens."
"Although Malba was not on the list in 2018 due to insufficient sales to calculate an accurate median, if you look back between 2017 and 2015, the Upper West Side always had a median price $100,000 greater than Malba and Park Slope's median was over $30,000 more expensive between 2016 and 2017," Popescu says.
"It's a big area for tear-downs, as buyers replace or drastically remodel homes built in the 1920s-1950s with new mansions that range from elegant to over-the-top," says Michelle Sedlitz, an agent at Corcoran and a lifelong resident of Whitestone. "The homes are all different, but many have beautiful, European/Mediterranean architecture with high ceilings, floor-to-ceiling arched windows, and multiple balconies. Most homes are made of brick and stone—and terra cotta tile roofs are common. The common feature is that they are palatial!"
Hunter's Point 
Median sales price: $995, 849
Part of the Long Island City development boom, with 213 sales, Hunter's Point was way out in front for the most transactions in expensive Queens neighborhoods, and is only second behind Tribeca overall. The area was even hotter in 2018: the number of transactions fell 23 percent last year. Prices were up slightly with a 15 percent increase in the medians sales price.
One draw for sure is a quick commute to Midtown (it's one stop from Grand Central on the 7 trains), and a ferry operates from Long Island City to the Financial District. 
"Developers have been reshaping the Hunters Point skyline for years," says Michael Chadwick, an agent at Corcoran agent. "It's the area of Long Island City along the East River waterfront that's lined with high-rise apartment towers. It has Michelin-starred restaurants and tons of bars along Vernon Boulevard, and its picturesque landscape with Manhattan skyline views is often the backdrop for photoshoots, films and TV shows. Gantry State Park is a riverside park that's the neighborhood's oasis, and is home to the iconic 'Pepsi-Cola sign that lights up the waterfront."
Chadwick says that the highest price-per-square-foot is at new developments like The View, but older buildings with renovated apartments like Powerhouse seem to offer the best value. "There are also several boutique, smaller condos popping up on various side streets," he says. "But with fewer unit owners contributing to the building maintenance, common charges are often higher."
Ditmars-Steinway 
Median sales price: $990,000
The neighborhood to the north of Astoria, Ditmars-Steinway is another area seeing a lot of development. While it doesn't have the activity of Hunter's Point (only 25 sales, a figure down almost 50 percent), the median sales price rose a whopping 102 percent. 
"This dramatic 102 percent rise was influenced by a change in the type of housing sold and the corresponding pricing," says Popescu. "In 2019, 84 percent of transactions were single-family homes with a $995,000 median, while in 2018, almost half of sales were co-ops at Acropolis Gardens with a $354,500 median."
Jennifer Rouse, an agent at Corcoran, describes the area as peaceful and quiet, with tree-lined streets and a housing stock of mostly one- and two-family attached and semi-attached houses. 
"It is so quaint and has a real 'old school' neighborhood feel," she says. "There are fewer large apartment buildings so people who live here tend to stay for a while. A lot of current owners are completely renovating their properties, so the value of the two- to three-family homes is going up so much in part because a lot of them are now virtually brand new. There's a lot of pride of ownership and people take great care of their homes." 
Among the big draws of the neighborhood are the lively bars, cafes and restaurants along Ditmars Boulevard, which Rouse notes includes the popular Taverna Kyclades and Trattoria L'incontro. 
Getting around is fairly easy, too, especially if you have a car. "The subway, the Robert F. Kennedy (Tri-boro) Bridge and the Grand Central Parkway are right at your doorstep, so residents have easy access to the rest of the city and the region…but really, they never have to leave," she says. 
Bronx 
Pelham Gardens
Median sales price: $549,000
The most expensive neighborhood in the Bronx is a relative steal compared to its counterparts, and the median sales price of 44 transactions was up only four percent over the previous year. One of the smallest neighborhoods in the borough, it has access to parks, shopping and transportation.
"With old charming homes spanning in style from stately Colonials to English Tudors large Dutch styles, the community commands higher prices than many Bronx neighborhoods," says Ramona Vicenty, an agent at Corcoran. "Eastchester Road runs through the community and is home to many restaurants, delis, pizzerias, and pharmacies—all the local businesses that give a neighborhood character." And nearby Gun Hill Road offers big box stores and chains such as Home Depot, Aldi, and a Planet Fitness.
Spencer Estates-Country Club
Median sales price:  $540,000
Spencer Estates also had 44 transactions, which was down slightly, and no change in median sale price. 
Close to Pelham Bay Park, the largest park in New York City, Spencer Estates has a suburban feel, in part because it's cut off from the rest of the Bronx by the Bruckner Expressway.
"Leafy Stadium Avenue is the main thoroughfare of the neighborhood and it is lined with gorgeous properties in many different architectural styles, from brick Colonials to more modern Mediterranean villas," says Vincenty. "Many homes are in close proximity to the Long Island Sound and offer breathtaking views. It feels exclusive, although it's a very open community. Residents are also near Pelham Bay Park which is the largest park in NYC."
Morris Park 
Median sales price: $537,500
The third most expensive neighborhood in the Bronx is the one with the most sales activity out of the top trio, with 42 transactions, a number up 27 percent. (The hottest, however, is Mott Haven, which takes the fourth spot; that neighborhood, which had a median sale price of $505,986, had a 53 percent increase in in the number of sales and a 135 percent increase in the median sale price.)
A small neighborhood located in the center of the borough, Morris Park is to the east of the Bronx Zoo and has mostly one- and two-family houses. Built on the site of a former racetrack, it's served by the 5 train and is home to the Albert Einstein College of Medicine.  
Runners-up: 
Mott Haven, Pelham Bay 
Staten Island 
Looking at the data, the big headline for pricey Staten Island neighborhoods is that the number of transactions is way down. All areas we looked at saw double-digit decreases in the number of transactions—Grasmere had the greatest drop, with 42 percent—and prices either remained steady or increased slightly. (An 8 percent increase was the biggest jump.) 
Huguenot
Median sales price: $860,000
This upscale neighborhood of Staten Island—named for Protestants fleeing religious persecution in the 1500s—had 25 transactions, a figure down 26 percent from 2018. The median sale price increased slightly, by seven percent. 
The big-ticket houses here are more like mansions or rolling estates, and you'll find them along the bay or on water like a private lake. Houses tend to feature lots of marble and an over-the-top European aesthetic; you can find many of them along Nicolosi Drive. (Prices and houses get a bit more reasonable further inland.) 
The area has lots of green space in the form of Bunker Ponds Park  and Wolf's Pond Park. 
Todt Hill
Median sales price: $823,000
Todt Hill saw a significantly larger number of sales, with 89, but that figure was also down about the same amount, at 25 percent. (Median sale price was essentially unchanged.)
One of he most exclusive areas of Staten Island—if not the most excusive—Todt Hill is known for its affluence, massive houses (3,000-square-feet and up) and suburban feel. If you are drawn to a Jersey-type lifestyle but don't want to pay Garden State taxes, this could be the place for you. 
It is, in fact, on a hill, 400 feet above sea level, making it the highest natural point in New York City. It is strictly residential so if you need milk or anything else, you're getting in the car and driving to get it. (Traffic in or out of the neighborhood can be heavy at times, as there are limited feeder roads to the smaller streets.) 
Fitting with its tony profile, Todt Hill is home to the Richmond County Country Club and elite private school Staten Island Academy. 
Grasmere
Median sales price: $753,500
This area of Staten Island had just 19 transactions, with a drop of 42 percent; it's median sale price also remained virtually the same. 
Another neighborhood with a distinctly suburban feel, Grasmere is an area with a lot of single-family houses, some quite large, others more modest in size. There is a Staten Island Railroad station here, but you'll need a car if you choose to live in the neighborhood. 
Runners-up: 
Prince's Bay, Annadale
Brick Underground articles occasionally include the expertise of, or information about, advertising partners when relevant to the story. We will never promote an advertiser's product without making the relationship clear to our readers.