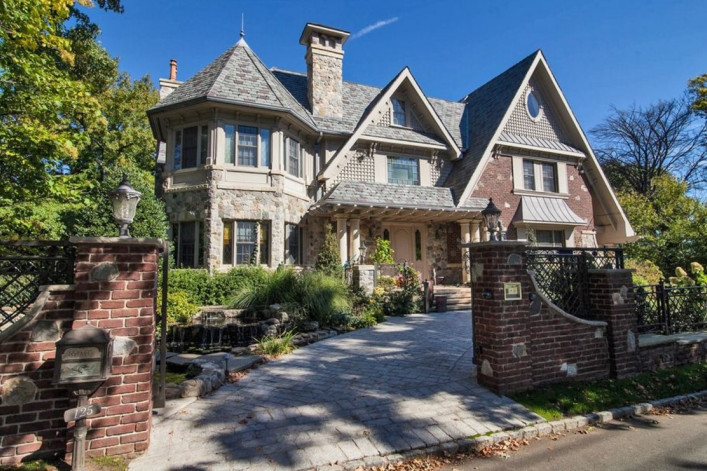 Love the idea of suburbia, but don't want to stray too far from the city? Try Todt Hill on Staten Island. In this week's Buy Curious, Donna Carotenuto of Citi Habitats and Greg Vladi of TripleMint, tell you everything you need to know before relocating to this picturesque, but relatively pricey, locale.
The proposition:
I've heard good things about Todt Hill on Staten Island. Can you tell me a little more about the neighborhood?
The reality:
Located near the northeastern shore of Staten Island, and bordered by Manor Heights, Grant City and Dongan Hills, Todt Hill is considered one of the most affluent and expensive areas in the of borough. And at nearly 400 feet above sea level, Todt Hill is also the highest natural point in all of New York City, making for some stunning ocean views from its houses.
Todt Hill is made up of sprawling mansions on private roads, with beautifully landscaped front lawns and backyards, says Carotenuto of Citi Habitats, adding that the neighborhood is "the most upscale area on Staten Island—no question." She notes that "there are enclaves of large houses" in south shore neighborhoods Annadale and Tottenville, as well, "but no area can match the history, views and natural beauty" of Todt Hill. "It's a lot of fun getting lost driving around the winding roads and looking at all of the beautiful homes—when they aren't blocked by gargantuan cast iron gates, that is. The neighborhood is upscale and, plainly put, often extravagant." 
It didn't start out that way, though. According to Carotenuto, Todt Hill was an industrial area before folks started building houses on it. "Its first use was an iron mine, and it was even the site of a ski slope during the 1930s," she says. "The famous architect Ernest Flagg was among the first to develop Todt Hill. He built his own mansion there, as well as other upscale homes (many in a French farmhouse style)."
Today, Todt Hill is also home to the Richmond County Country Club, where members can play golf and tennis, among other things, and the Staten Island Academy, an elite co-ed day school for students from pre-K through 12th grade.
Housing stock and prices
According to Vladi of TripleMint (FYI, a Brick partner), the area is "mostly massive mansions with over 3,000 square feet of space" and prices for most homes "are over $1 million." Still, it's a relative bargain compared to other posh parts of the city: The median price for a house in the area is $1.725 million, or $342 per square foot, according to appraiser Jonathan Miller. For comparison's sake, Miller notes that the price per square foot for both condos and co-ops in the fourth quarter of 2016 was $2,152 for the Soho/Tribeca area and $817 for Williamsburg.
"You are getting a lot of house for your money when compared to other parts of NYC, but the trade-off is you are living in the suburbs, which can be a pro or a con depending on who's talking," says Carotenuto. "The housing available on Todt Hill has more in common with wealthy towns in Northern New Jersey or Long Island than it does with Manhattan."
Who lives there
Vladi adds that in his experience folks who look to buy on Todt Hill are typically not first-time buyers since prices are so high.
"The neighborhood also has Mafia ties, both real and imagined," says Carotenuto, opining that Todt Hill's private, exclusive nature may be the reason for all the mystery. "Famous Gambino crime family leader Paul Castellano lived in a white-columned mansion at 177 Benedict Road. The Godfather was also filmed in a house on Todt Hill. The Corleone estate from the film is an actual home at 110 Longfellow Avenue."
Transportation
"You really need a car to live [here]," says Vladi, explaining that the drive to Manhattan is roughly 30 to 45 minutes (depending on traffic). 
"No buses climb Todt Hill," explains Carotenuto. Instead, they "run down Richmond Road, which marks the border between Todt Hill and [nearby] Dongan Hills."
Carotenuto adds that "besides for people walking or jogging for exercise, it's not a very pedestrian-friendly neighborhood. In fact, most streets on Todt Hill do not have sidewalks or street lights."
Shopping
 "Todt Hill is strictly residential," says Carotenuto. "You will not find conveniences such as grocery stores or a mall." (Or any nightlife to speak of, says Vladi.) Todt Hill residents typically head down the hill into neighboring Dongan Hills (about a 10-minute drive away) to shop and dine.
"There are plenty of boutiques, restaurants and specialty grocery stores [there]," says Carotenuto, explaining that there are two main commercial strips. "Richmond Road is on the border of Todt Hill and is more quiet and tree-lined with a few low-key restaurants," such as Max's Es-ca, which serves Italian fare. Hylan Boulevard, though, "looks like any other suburban highway in New York or New Jersey," she says, describing it as home to such varied establishments as car dealers, Walgreens, Dunkin Donuts and fast food joints galore. "It's not all so bleak, though. There are some great gems on Hylan—like Trattoria Romana for Italian or Jac Mao for Chinese."
There's also a Trader Joe's in New Springville, roughly a 10-minute drive from Todt Hill, says Vladi.
The perks
According to Carotenuto, the biggest draws are "the exclusivity, the size of the properties and the fact that the area is very quiet and beautiful. People come here for privacy—not to be the center of the action."
Vladi agrees, saying that "if you want to be in New York City, but live somewhere with a New Jersey-type feel, Todt Hill is great for that. There's lots of peace and quiet here." Also, the area is "safe and family-friendly."
Another big plus? "Property taxes are often half what they would be for an equivalent property in New Jersey," says Carotenuto.
Downsides
"Since there are only a few main roads you can use to access all the other small roads, there is always traffic," says Carotenuto. "Sometimes you can be stuck on Todt Hill for almost 45 minutes." 
Vladi adds that there really isn't all that much to do on Todt Hill—unless you're the country club type, that is. However, "if you want a quiet place to raise a family, Todt Hill is great."
Brick Underground articles occasionally include the expertise of, or information about, advertising partners when relevant to the story. We will never promote an advertiser's product without making the relationship clear to our readers.