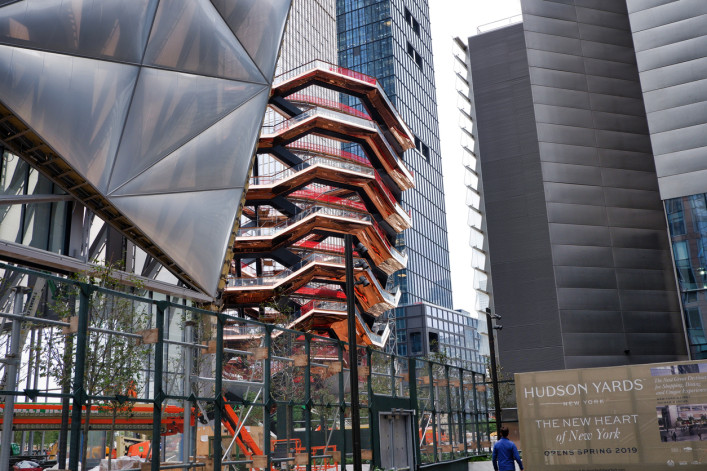 Critics—and some New Yorkers—are skewering the $25 billion mega-project Hudson Yards since the official opening last week of its seven-story shopping mall.
The 1 million-square-foot mall, called The Shops & Restaurants at Hudson Yards, has about 100 glittering stores, including a Neiman Marcus that's approximately 190,000 square feet. The mall joins four supertall skyscrapers, a $500 million city-sponsored arts center called the Shed, and a staircase-to-nowhere, basket-shaped structure called, for now, the Vessel.
This is the heart of a new neighborhood rising above the decked-over rail yard on Manhattan's far West Side, which will be home to 4,000 apartments (including some affordable housing), a 750-seat public school, an Equinox Hotel and over five acres of public outdoor space, according to a press release.
New Yorkers have seen planned communities before—think Battery Park City—and of course, the city is awash with expensive stores and condo towers. But it is the extreme concentration of luxury, enabled by a $6 billion tax break from the city, according to the New York Times, that is rubbing New Yorkers—who watched Amazon back away after public outcry over its $1.5 billion in incentives—the wrong way.
The New York Times architecture critic Michael Kimmelman questions whether the investments in Hudson Yards, where commercial tenants also received generous tax credits, will benefit all New Yorkers. He calls it "a supersized suburban-style office park, with a shopping mall and a quasi-gated condo community targeted at the 0.1 percent." Of its design, he says it is "a relic of dated 2000s thinking, nearly devoid of urban design."
The Guardian was even more pointed in its assessment, calling H&M's new Hudson Yards slogan, "We love it here because we love you here," a straight-out lie.
"It is a billionaire's reality city. The other 8.6 million of us are just character actors in this drama starring the most unbearable people you can imagine," critic Hamilton Nolan writes.
Curbed's Alexandra Lange sums up that Hudson Yards is "explicitly a rich person's neighborhood on the edge of an island that tilts ever forward into being 100 percent rich person's neighborhood. You really don't have to go there if you don't work there."
Lange talks to New Yorkers who came to check out the mall. Some are impressed while others say they feel excluded. "That place wasn't meant for me," says Charles Johnson, a resident of a nearby NYCHA complex.
Brick Underground articles occasionally include the expertise of, or information about, advertising partners when relevant to the story. We will never promote an advertiser's product without making the relationship clear to our readers.