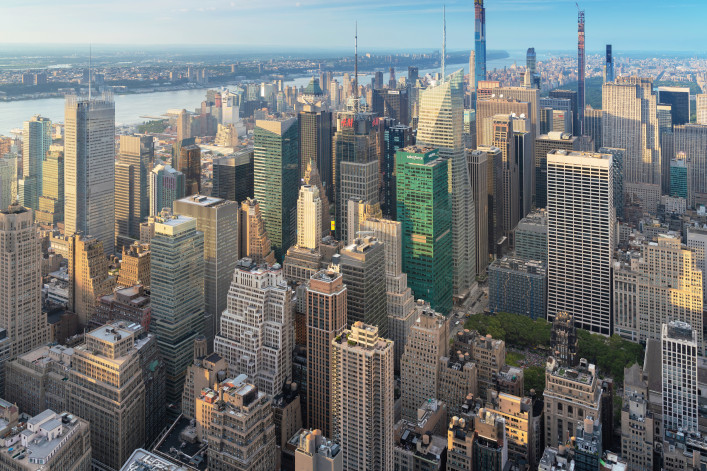 A commonly held belief about New York City luxury residential real estate—that prices move only in one direction—up—was proven wrong in 2020.
The pandemic hurt New York City badly—and high-end real estate took a big hit. Many would-be NYC buyers changed gears and parked their cash in the suburbs instead. As a result, the priciest parts of Manhattan became a little bit cheaper last year (although they are by no means considered "cheap"). That means there's opportunity for buyers to get more for the money if you're looking to buy now. For example, if you were planning on buying a one bedroom, you can likely upgrade to a two bedroom, if you were going for a two bedroom, you can probably stretch into a three bedroom, and so on.
It used to be that you just couldn't get everything on your wishlist in NYC—but luxury buyers are finding they can get the amenities, layouts, and neighborhoods they want in what is considered a once-in-a-lifetime buying opportunity—bolstered by mortgage rates that remain near record lows.
Pro Tip:
Did you know you can receive a buyer's rebate from your broker? With Prevu, you'll receive a rebate of two-thirds of the commission paid to the buyer's broker at closing. On a $1.5 million condo in NYC, you'd pocket up to $30,000. Click here to learn about Prevu's Smart Buyer Rebate.
While much of NYC's cultural life is still shuttered—it has started coming back, albeit slowly. And so you have the opportunity to get in some of the most desirable areas—if you're willing to wait for the city to vaccinate most of the population, fully open schools, and bring back Broadway, concerts—and the other public events that make NYC feel like NYC.
And so aiming for the most expensive, amenity-laden areas gives you the most for your dollars. To find out where these are, we partnered with PropertyShark to pinpoint the top three most expensive neighborhoods for buyers in each New York City borough. 
We took into consideration sales of single-family homes, condominiums, and co-ops registered in NYC's database between January 1st and December 4th, 2020. Neighborhoods with at least 11 sales closed in 2020 were included, and median sale prices were rounded to the nearest thousand.
Prices in Manhattan took the hardest beating in year-over-year median price, falling 8 percent. Notably, it was the only borough to see a decline, largely attributed to the absence of international buyers from the market and buyers fleeing to the suburbs to get more space inside and out. 
However, as Andreea Popescu, real estate writer at PropertyShark explains, that's not the whole story. She points out that in the last two quarters of 2020, Manhattan median sale prices were higher than in 2019, but the market was plagued by a low number of transactions.
The other boroughs saw an increase in median sales price (ranging from 3 to 8 percent) while sales activity grew year-over-year in only four of the priciest neighborhoods in all boroughs: Hunter's Point in Queens at 66 percent; Lighthouse Hill in Staten Island at 42 percent; Little Italy in Manhattan at 25 percent, and Pelham Gardens in the Bronx at 2 percent.
That slowdown in sales activity gave buyers negotiability in closing costs, especially if they were buying a luxury condo. 
According to Garrett Derderian, director of market intelligence at SERHANT, properties priced $10 million and up performed well. "Buyers were picking up properties at discount prices," he says.
Looking ahead, brokers are very optimistic about 2021—they've already seen an uptick in contract activity this year.
"Recently we've actually experienced more activity than in previous years," says Nicole Hechter, a broker at Corcoran who works in Tribeca. "Many properties that had been sitting on the market are now in contract."
 "The market is percolating," says Joshua Sloyer, a broker at Compass. "Anyone working in real estate will tell you that." 
With activity picking up, you'll have some more competition in the months ahead. Here's where to look to get a jump on buying.

Manhattan 
Median sales price: $1,030,000, down 8 percent; transactions down 38 percent. 
One phenomenon happening right now in Manhattan: International and out-of-state owners of luxury pieds-à-terre are selling. Many are just not making it into the city these days with so much of NYC cultural life on hold—so they are giving up their perches in the city. 
It's an opportunity for buyers looking for primary residence or pieds-à-terre: These apartments generally have been highly renovated for the owners' use—yet are not very lived in. Some are in buildings that have very little turnover. And they're priced for a quick sale, in some cases the owners are willing to take a loss.
1. Hudson Yards
Median sales price: $4,504,000
Manhattan's newest neighborhood on the Far West Side opened with much fanfare in late 2019 and quickly replaced Tribeca as the city's priciest neighborhood. The largest private development in American history, Hudson Yards wowed visitors with its high-end shopping mall and celebrity-chef-helmed restaurants.
Now, however, the development is eerily quiet. Neiman Marcus, the mall's anchor tenant, filed for bankruptcy and closed permanently. Other stores and restaurants closed, eight additional buildings, including a school, more luxury condos, and office space appear to be on indefinite hold, according to the New York Times. 
The median sales price increased 15 percent last year, while the number of transactions plummeted 85 percent. 
"The year was challenging for Hudson Yards in many ways," says Derderian. He notes that out of the 23 properties to close in 2020 the three most expensive apartments (all penthouses at 15 Hudson Yards) went into contract in 2016, 2017, and 2018.  
Derderian adds that Related, the project developer, previously projected a 2024 completion date for the entire project. Still, he says, "A lot has to go right," says Derderian. "It's going to take some time."
If you're willing to place your bets on Hudson Yards as an asset that has yet to come into its own, you're likely to do well if you look to buy soon.
Marie Bromberg, an agent at Compass, thinks the area is becoming a real neighborhood. "It's transformed the West Side in a way I didn't think could happen," she says. 
2. Tribeca
Median sales price: $3,157,000
Tribeca takes the number two spot when it comes to median price, but trounces the competition in terms of activity. The Downtown neighborhood saw 198 transactions, far ahead of Little Italy's 35 deals. Condos made up 88 percent of sales, and new luxury buildings are now part of the area's housing stock. 
The neighborhood draws wealthy finance types and celebrities to apartments with an industrial pedigree, square footage for days, convenience and cachet, or "cool factor," as Sloyer says. 
"It's a great example of a former commercial area that has been reinvented, while retaining a lot of its history and charm," Hechter says. Cobblestone streets, masonry facades, and metal awnings add to the area's character, as do its low-rise buildings. 
Tribeca is not overrun with stores like Soho, its neighbor to the north. "There is not extensive retail, which gives the area the feel of a small village within the big city," Hechter says. "There's a strong sense of community and Tribeca's a place where people put down roots."
Tribeca is also, notably, one of the areas in the city where you can get a huge amount of space, if you can afford it. 
Buyers are looking in Tribeca because properties here have generously-sized floorplans, Hechter says. With many New Yorkers working and learning from home, space is prized more than ever before.
3. Little Italy
Median sales price: $2,750,000
This tiny section of Manhattan saw both an increase in transactions (25 percent) and a 4 percent uptick in median sales price; condos made up 91 percent of the apartments sold. In an area this small, one or two sales can have a big effect on a neighborhood's statistics.
Derderian says that in addition to its charm, part of Little Italy's appeal may be its central Downtown location. "It's at the nexus of Soho, Nolita, and the Bowery. It's right in the middle of it all."
Runners up: 
Soho: $2,463,000
Hudson Square: $2,100,000
Brooklyn 
Brooklyn's median sales price of $710,000 was about $300,000 less than Manhattan's, but it saw a gain in the number of transactions by 4 percent. (The median sales price was down 24 percent overall, but only one of the top five most expensive neighborhoods, Cobble Hill, saw a decline in the media sale price, a drop of 9 percent.)
Still, the Brownstone Brooklyn, or northern Brooklyn market remained strong through the pandemic. 
"Brownstone Brooklyn remains the most desirable real estate in the city," Derderian says, who describes that submarket as "on fire." The supply of houses for sale has not kept up with demand, particularly in the second part of the year—tipping parts of Brooklyn into a seller's market.
Lindsay Barton Barrett, a broker at Douglas Elliman, who represented the sellers in a record-setting $25 million sale of a Brooklyn Heights mansion, previously told Brick that Brooklyn townhouses are "a really great type of housing that's totally underappreciated," she said. You get more room, outdoor space, and home offices—and taxes are much lower than what you would pay for a similar-sized house in the suburbs.
1. Dumbo
Median sales price: $1,625,000 
The only pricey Brooklyn market on our list where all deals involve condos, Dumbo swapped places with Cobble Hill. While the number of sales was down, the median sale price was up 8 percent. 
Dumbo is a lot like Tribeca: Renovated industrial spaces, great views, and a prime waterfront location. It's got the same sort of vibe, thanks to tech startups and chic tourists posing on cobblestone streets in front of converted warehouses. It's also very close to the stately architecture and historic brownstones of neighboring Brooklyn Heights. And it is home to the world-class Brooklyn Bridge Park.
But one thing it does not have is convenient public transportation; only the F train serves the neighborhood, with a stop at York Street on the area's southern edge. 
Finally, while the significant damage caused by Hurricane Sandy resulted in Dumbo developers and businesses retrofitting buildings or revamping plans to safeguard against flooding and water damage, the neighborhood is, obviously, vulnerable in that regard. 
2. Cobble Hill
Median sales price: $1,491,000
Cobble Hill moves down one spot to the second most expensive neighborhood in Brooklyn for 2020. It's the only Brooklyn area to see the median sales price fall (9 percent) and the number of transactions tumble 53 percent. 
Condos made up 70 percent of last year's deals with the rest co-ops (14 percent) and houses (16 percent). The mix in housing is part of the neighborhood's appeal—particularly those townhouse-lined, picturesque side streets, which in some cases are paved with cobblestones. 
The main commercial drags are Smith and Court streets, which are lined with lots of buzzed-about bars, restaurants, gourmet stores, and high-end clothing boutiques.  
"Unlike other areas in Brooklyn, it retains its Brooklyn character," Bromberg says, which is also the case she says of neighboring Carroll Gardens and Boerum Hill. "There are still mom-and-pop stores. There's a community feel that's impossible to replicate." (Development here is limited in the Cobble Hill Historic District.)
And, unlike Dumbo, public transportation options are close to unrivaled here, thanks to proximity to downtown Brooklyn, accessed by 10 subway lines. 
3. Carroll Gardens 
Median sales price: $1,451,000
It's pretty much status quo in Carroll Gardens, which lands in the same spot it did last year. There were 10 fewer transactions than the year before, and the median price increased 1 percent. 
The mix of housing stock changing hands here was similar to that in Cobble Hill: 70 percent condo, 22 percent co-op, and 8 percent houses. 
Carroll Gardens feels a lot like its neighbor Cobble Hill and also has lovely townhouses, charming streets and independent businesses. In fact, its close-knit character makes it Bromberg's neighborhood of choice for trick-or-treating with her kids. 
"Even in the pandemic, practically every house built special slides to give out candy," she says. "It's not just about new development, large space, and glamour. It's a place rooted in community." 
Runners-up: 
Boerum Hill: $1,300,000
Columbia Street Waterfront District: $1,238,000 
Queens
Median sales price: $520,000, up 8 percent, with transactions down 29 percent. 
The borough with the third-highest median sales price, suffered a similar decline in activity as others in the city in 2020. But it saw one of the greatest increases in median sales price: 8 percent, like the Bronx. 
While most of the neighborhoods in this borough that attract buyers with deep pockets are smaller, and perhaps less well-known to some, many are familiar with Hunter's Point, the development-heavy, former industrial area of Long Island City. 
Patrick Smith, an agent at Corcoran (and area resident), says that in 2020, buyers gravitated towards studios and one bedrooms in the area. Many who wanted larger spaces left the city altogether. But that trend is beginning to change. 
"As we moved into 2021, we have seen an increase in interest and sales from buyers seeking larger unit types—which is a great sign for the local market," he says. 
1. Malba 
Median sales price: $1,350,000, with transactions down 27 percent, and median price up 23 percent. 
While it sounds like this tony enclave along the East River took a big hit in activity, the reality is sales went from 15 to 11; when there aren't a lot of sales to begin with, small changes have big effect on the data. 
Not only does Malba take the top spot in Queens again, the median sales price increased almost 25 percent, an uptick among the largest citywide. An affluent section of Whitestone, Malba is known for its large houses, often referred to as "mansions." (Some would call them "McMansions.") All 11 sales in 2020 were for houses. When people aren't buying large houses in Malba to live in, they're tearing them down and building their own waterside paradise from the ground up. 
2. Neponsit
Median sales price: $1,125,000; median sales price up 20 percent, with transactions down 27 percent. 
Although this is Neponsit's first appearance on this list, its 2020 story is very similar to that of Malba's, and likely reflects a similar trend: a smaller number of sales (also 11) in a small area. But prices were up 20 percent, and all properties were houses. 
A small sliver in the Rockaways next to Belle Harbor, affluent Neponsit is a low density area of one- and two-story houses. The ocean and breezy, beachy lifestyle is the main draw here, with Sheepshead Bay to the north, the Atlantic Ocean to the south, and popular Jacob Riis Beach along its western border. Location and scarcity of inventory pushes prices in the area upward. 
3. Hunters Point
Median sales point: $891,000, with transactions up 66 percent and prices down 11 percent. 
Hunter's Point fell one spot to the third-most expensive Queens neighborhood in 2020, but that is no reflection of the area's relative heat. 
With a sales breakdown of 90 percent condo and 10 percent co-op, it blew every other neighborhood on this list out of the water with 363 transactions. (Tribeca was a distant second with 198.) 
Yes, there are many, many more apartments for sale here—it's a former industrial area that's seen explosive growth of both high-rise rental buildings and new condo developments. And this area of Long Island City offers a lot of the best of living in NYC in the form of views, parks, nightlife and culture, with a quick commute to Manhattan. 
"Hunters Point is benefiting from two major sources of demand: Local renters in Queens who know and love their home borough and are looking to upgrade—and buyers from Manhattan who are seeking more space for their dollar," Smith says. 
They're drawn to Gantry State Park on the waterfront and Hunters Point South Park, the new Hunters Point library, panoramic views of Manhattan, and three public schools. There are lively restaurants, cafes, and more along Vernon Boulevard. 
There are a lot of transportation options in Hunter's Point: The area is served by eight subway lines, numerous bus routes, two ferry landings, dozens of Citibike stations, the Long Island Railroad, as well as bridges and tunnels. (And JFK Airport is nearby.) 
And, Smith adds, "Six of the neighborhood's subway lines reach Manhattan in one stop, which can be underappreciated in today's 'work from home' world," he says. "As life slowly begins to return to normal, neighborhoods like Hunters Point, which offer very quick subway rides to and from Manhattan, will become even more popular."
Runners-up:  
Queensboro Hill: $859,000
Fresh Meadows: $839,000
Bronx
 Median sales price: $325,000, with transactions up 8 percent; median sales price was down 34 percent. 
1. Spencer Estates-Country Club 
Median sales price: $590,000, up 9 percent, with transactions down the same amount. 
Spencer Estates takes over the top spot in the Bronx from Pelham Gardens, which ranks third this year. The shifts weren't extreme in this suburban-like Bronx neighborhood—activity (44 sales) was just four fewer transactions than the previous year. The majority of properties sold here were houses, making up 85 percent, with the remainder condos. 
Cut off from the rest of the Bronx by the Bruckner Expressway, the neighborhood includes both large and more modest houses in a variety of architectural styles. (Houses are more affordable here, but you may have to do some remodeling to bring the interior up to date.) 
The neighborhood is across Eastchester Bay from City Island, and the largest park in the city, Pelham Bay Park, is to the north. Many houses are near the Long Island Sound, providing impressive views. 
2. Morris Park
Median sales price: $580,000, up 8 percent, with transactions down 29 percent. 
Moving up from third place the previous year, Morris Park had 30 transactions in 2020, and 94 percent were for houses. (The remainder of transactions were split between co-ops and condos.) 
Located in the center of the borough, you'll find mostly one- and two-family houses here. It's east of the popular Bronx Zoo and south of Pelham Parkway. Built on a former racetrack and airfield, it's less densely populated than the surrounding neighborhood, and has more of a neighborhood feel. The area is home to the Albert Einstein College of Medicine and Jacobi Medical Center.
3. Pelham Gardens
Median sales price: $580,000, up 5 percent, with transactions up 2 percent. 
Last year's most expensive Bronx neighborhood, this year Pelham Gardens falls to third place on our list. With no huge swings for any metric, things were stable in what is one of the smallest areas in the borough. Houses accounted for all of the sales in 2020. 
Another area of single-family and two-family homes, some new, some less so, Pelham Gardens is another spot with a suburban feel. (It's served by the 5 train with two stops on the western border, but a car would be handy.) Eastchester Road is the main thoroughfare for shopping in the middle of the neighborhood, and big box shops like Aldi and Home Depot are to the east along Gun Hill Road. 
Runners-up:
Pelham Bay: $560,000
City Island: $517,000
Staten Island 
Median sales price: $552,000, up 3 percent. The number of transactions fell 23 percent. 
Given the trend of people looking for space and yards last year, you would think the suburban-like borough of Staten Island would have seen a lot of activity, but that wasn't really the case last year. It was a mixed bag, with the most expensive area (Lighthouse Hill) seeing large jumps in median sales price and number of transactions, but just 27 sales overall. Runners-up (Todt Hill and Woodrow) had more sales (71 and 77, respectively) but those figures were down 20 (Todt Hill)  and 17 percent (Woodrow). All sales, however, were of houses. 
1. Lighthouse Hill 
Median sales price: $935,000, up 40 percent. Transactions up 42 percent. 
While Lighthouse Hill didn't have the most transactions, it did have the most impressive gains. In fact, it is the neighborhood with the largest increase in median sales price, and one can see the appeal of escaping a pandemic here. 
Located on the southernmost hill on Staten Island, it is, in fact, home to a lighthouse, the Staten Island Range lighthouse, which still helps ships navigate. The vantage point provides views of the Lower Bay and beyond. There are many lovely houses in differing architectural styles here, including New York City's only Frank Lloyd Wright House.
The Jacques Marchais Museum of Tibetan Art is here, historic Richmond Town is to the southwest and the Staten Island Greenbelt, the borough's popular park network and nature preserve, is to the north. 
2. Huguenot
Median sales price: $910,000, up 6 percent, with transactions down four percent. 
Named for Protestants fleeing religious persecution in the 1500s, Huguenot is located on the south shore of the island, with the Korean War Veteran Parkway marking its northern border. Its most extravagant houses on the shore can be listed for just under $2 million and you can find many along Nicolosi Drive, which also overlooks a small lake. The area includes numerous parks, the largest being Blue Heron Park. 
3. Grasmere
Median sales price: $750,000, down 1 percent, transactions down 11 percent. 
Grasmere is another small area with not a lot of activity—17 transactions, down from 19 the previous year. Also suburban in feel, you'll find apartment buildings here in addition to single family homes and townhouses. 
A convenient spot for commuters, with a stop on the Staten Island Railway and it's also convenient to the Verrazano-Narrows Bridge. It is the home of the borough's newspaper the Staten Island Advance. A jewel of the neighborhood is Brady's Pond, a freshwater pond owned and operated by the Cameron Club of Staten Island, where members can swim, boat, and relax on a sandy beach. 
Runners-up: 
Todt Hill: $742,000
Woodrow: $730,000
Brick Underground articles occasionally include the expertise of, or information about, advertising partners when relevant to the story. We will never promote an advertiser's product without making the relationship clear to our readers.