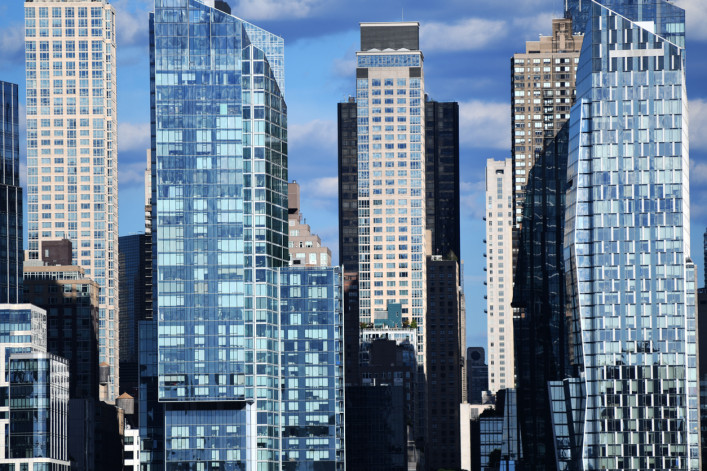 What are some tips for buying a NYC co-op or condo when mortgage rates are rising?
Whether you're looking to keep your monthly carrying costs low, or pay the least interest over the life of your loan, there are many tactics you can use to stretch your New York City real estate dollars, our experts say.
1. Don't wait around for rates to drop
"To put current interest rates into historical context, they're right where they were before the financial crisis," says Kevin Leibowitz, a mortgage broker and founder of Grayton Mortgage in Brooklyn. "We were under 5 percent for the last 15 years. Never in the last 50 years have they been as low. So how do you get that back? You don't. We've been in an interest rate never-never land for a long time."
Lock in your rate and move on, Leibowitz says. "If rates continue to go up, then it's the right call. If rates drop in the future, you can refinance."
2. Increase your down payment
If your goal is to reduce your monthly carrying costs, consider making a bigger down payment if you can afford to. 
That said, Leibowitz says, "Everything is so expensive in New York that most of my buyers with great income are cash-strapped to get into the house, so putting additional funds down doesn't help things.
3. Consider alternatives to a 30-year fixed-rate mortgage 
"Have a conversation with your lender before you start to look at properties," says Brittney Baldwin, vice president and loan officer at National Cooperative Bank, a Brick Underground sponsor. Ask them to walk you through the options and the loan process to see how much you can afford under various scenarios. 
Alternatives to a traditional 30-year fixed-rate loan include:
An adjustable rate mortgage (ARM) If you think you'll move or pay off your mortgage in the next decade, a five-year, seven-year or 10-year ARM may be a good choice. ARM rates may improve over the coming months, Leibowitz predicts. "Since they haven't been in demand in the last 15 years, there's not a lot of choice right now," he says, especially in non-jumbo loan ARMs.  
A 15-year mortgage  Rates on 15-year mortgages are a bit lower than a 30-year fixed-rate mortgage, you pay less interest over the life of the loan, and your entire mortgage will be paid off after 15 years— but your monthly payment will be higher.
"The 15 year is always a good option for those who can afford the higher payment. But, you're contractually locked in to a higher payment," Leibowitz says. "And you can always pay off or pay down a 30-year mortgage faster than what is required by making a higher monthly payment."
A 40-year mortgage A relatively new type of loan with some important pros and cons, "The rates aren't great, and they're more a novelty than a practical instrument at this point," Leibowitz says.
Deanna Kory, a real estate broker at Corcoran, says to "make sure you have no prepayment penalty, so that if rates happen to go down in the next year or two, you can refinance."
An interest-only mortgage "The issue is that you are not paying down the mortgage," Kory says, so "this is often used by buyers who get larger bonuses or expect a large cash payout and can periodically pay down a large part of the principal."
4. Negotiate the sales price–or wait for prices to come down
"Typically what's great about a higher interest rate environment is that the price of the apartment should be better than last year," says Daniel Blatman, a broker at The Agency. 
While it's not (yet) a buyer's market, sales have cooled, opening the door to greater negotiation.
5. Buy points to lower your mortgage rate—or ask the seller to buy them 
Many lenders will lower your mortgage rate by .25 for every "point" you buy. A point typically costs around 1 percent of your mortgage, so on a $750,000 mortgage, a point would cost $7,500.
An even better idea? 
"If the seller really wants to sell, they might buy down your interest rate," Blatman says. 
6. Find a co-op or condo with lower carrying costs 
"If you're buying into a co-op that's better managed, then over time, you'll have lower carrying costs because the maintenance is lower," Leibowitz advises. 
7. Stick to buildings with amenities you will actually use
If you can save $500 on common charges by buying into a building with fewer amenities, that's $83,000 of mortgage financing at 6 percent, Leibowitz notes.
"Ask yourself if you are going to use the services in that building, because you're going to pay for them even if you're not using them," he says. 
In fact, he says, "I would rather see my buyers in a more expensive place with a higher mortgage payment," than paying high common charges for amenities they don't use.
8. Search for neighborhoods, boroughs, and properties with lower property taxes
"One of my clients started looking for a co-op in Soho, the West Village, and Greenwich Village, then switched to looking for a condo in Brooklyn with a tax abatement and where taxes and common charges are lower in general," Blatman says. (His client also focused on finding a building with a high-quality gym that would enable her to cancel her Equinox membership and give her an extra $50,000 buying power.)
9. Ask banks if they have special mortgage rates for banking customers
Some banks offer better rates to customers who have a certain amount of money in their accounts. That means it can pay off to open an account at a bank just for the purpose of taking out a mortgage, Blatman says.
"Ask a variety of banks what their 'relationship pricing' is and how it works," Blatman recommends, noting that your real estate agent may also be able to point you in the right direction.
Ask how much cash you'll need to deposit and how big a discount you can get on the mortgage rate. Also find out whether you need to keep a minimum balance after you close on the apartment, or you can use it to buy the apartment.
"One of my buyers is asking an uncle to gift her $500,000," Blatman says. In exchange, the bank is reducing her mortgage rate by half a point.
10. Ask about float downs
"If the interest rate drops at all in the next two to three months from the time from contract to closing, will the bank float the interest rate down? Is there any cost to do that?" Blatman says. Note that if your bank will do a float down, you'll need to be proactive by staying on top of rates and requesting a float down if rates change.
Brick Underground articles occasionally include the expertise of, or information about, advertising partners when relevant to the story. We will never promote an advertiser's product without making the relationship clear to our readers.