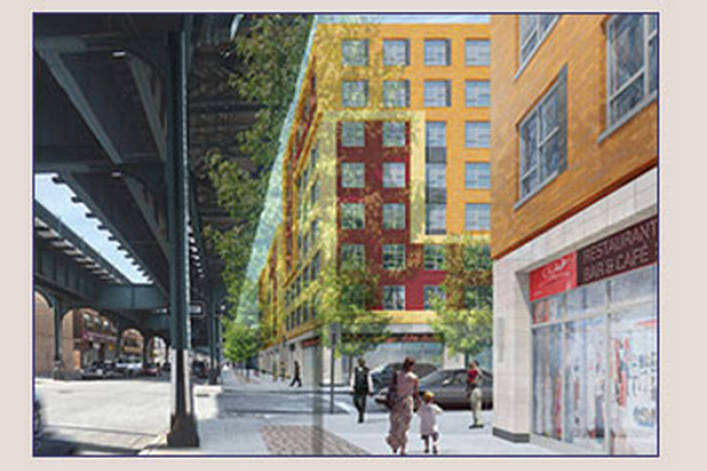 Note: BrickUnderground is in no way affiliated with New York City public housing. If you are interested in applying to this or other affordable housing developments, please go to the NYC Housing Connect website for information and instructions.
Applications opened on Friday for more than 223 new affordable rentals coming to East New York, some of which are going for as little as $500 a month, according to a listing on NYC Housing Connect.
The apartments are part of Livonia Commons, an ambitious plan to bolster housing and job options in East New York. For this phase of the project, apartments will open in four buildings (491 Sheffield Avenue, 494 Sheffield Avenue, 494 Georgia Avenue, and 481 Williams Avenue), which are part of a 100-percent affordable new development that will include retail and community space as well. Here's how the project's developers, Dunn Development Corp., describe the project:
"Livonia Commons seeks to revitalize the Livonia Avenue corridor in East New York, Brooklyn with a dynamic mix of new affordable housing, retail stores and community spaces. [...]To meet the needs of the neighborhood beyond affordable housing, Livonia Commons will have 28,000 square feet of new stores and community space designed to create a vibrant, active streetscape including a new arts center operated by ARTs East New York. A new 50,000 square foot Boys Club of New York Clubhouse is in the planning stages for a 5th site on Livonia. Dunn Development worked with the City of New York to upzone 10 blockfronts along the corridor to facilitate new development."
When the project broke ground last fall, Alicia Glen, the Deputy Mayor for Housing and Economic Development, said Livonia Commons would "knit together this community—not just build on top of it. We're providing affordable homes, spurring good jobs for local workers and creating space so community groups that serve East New York can grow and thrive." No renderings of the actual apartments are available currently, but to give you an idea of Livonia's likely dramatic effect on the neighborhood, take a look at the "before" picture of the lot it's been built on, as well as the larger plan for the site:
A wide range of apartments are available, including $500/month studios, $538/month one-bedrooms, $655/month two-bedrooms, and $972/month three-bedrooms for households with annual incomes anywhere between $18,515 and $60,120, depending on apartment and family size. (A full list of apartment options and financial requirements can be found here.) Per usual with this kind of development, preference for 50 percent of the apartments will be given to current neighborhood residents, in this case those who live in Brooklyn Community District 5, an area that encompasses East New York, Cypress Hills, Highland Park, New Lots, City Line, Starrett City, and Ridgewood. According to Dunn's website, the project is expected to be finished by October.
If you're interested in applying, check out the full instructions here, and get your applications in by the July 1st deadline.
Related: 
Applying for affordable housing? How to get it right
Apply to rent in Murray Hill for as little as $565 a month
9 reasons to move to Jersey City right now (sponsored)
Ask Sam: How do I find out if my apartment should be rent-stabilized—and if the landlord owes me money? (sponsored)
Brick Underground articles occasionally include the expertise of, or information about, advertising partners when relevant to the story. We will never promote an advertiser's product without making the relationship clear to our readers.