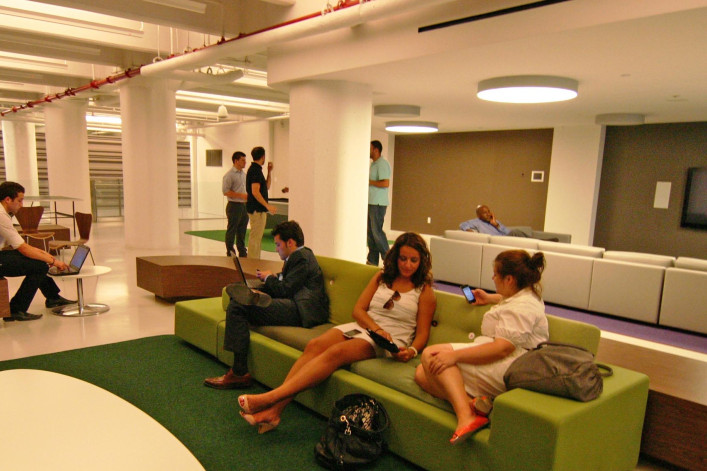 Most laptop-smartphone-iPad-riddled New Yorkers rank WiFi a smidgen below oxygen in terms of elemental life-sustaining forces.

Recognizing an inexpensive, no-brainer amenity when they see one, many developers beat both McDonalds and Starbucks in introducing free WiFi into the common spaces of their buildings.

Among the newer condos and rentals that have turned their roof decks, lounges, gyms, playrooms and/or lobbies into complimentary surf zones are L Haus in Long Island City, The 505 in Hell's Kitchen, 184 Kent in Williamsburg, and the Beatrice in Chelsea.

"When I talk about it in the sales pitch, peoples' ears perk up," says Vince Rocco, sales director of The 505 condos in Hell's Kitchen. "People love anything free."
One social media and marketing consultant closely entwined with the local real estate market informs us that an entire generation of residents—particularly mobile young renters apt to choose their luxury rentals like they choose their hotels, with its WiFi status a possible tie breaker—expects no less.

"Free WiFi in the public areas is no longer a cutting-edge thing," says Clay Hebert of Tribes Win, who is currently renting in Truffles Tribeca, which offers free wireless in its private residents' club (along with personal trainers who double as mixologists, but that's another story).
"I wouldn't say that free WiFi is a signal that the building is hip," says Hebert, noting that even Starbucks gives WiFi away now. "I would say it's almost like table stakes—the minimum cost of doing business. It's an amenity that renters looking for new luxury buildings have come to expect, like elevators and a doorman."
Not so fast, say existing buildings
Existing co-ops and condos--typically less keen than developers or landlords to sharpen their competitive edges--have been somewhat-to-drastically-less enthusiastic.

For instance, much like maintaining a formal living room that never gets lived in, many buildings have traditionally frowned on residents using lobbies as anything more than a passage between elevator and sidewalk.

"Co-op and condo boards do not wish to have people congregating in common areas unless they are intended to be used that way," says Michael Wolfe, the president of Midboro Management.  

Also, the cost of installing and maintaining WiFi in all common spaces is not something many buildings want to take on in this economic environment, says Dan Wurtzel, the president of Cooper Square Realty.
So does WiFi make a building friendlier?
Like a bed bugs to a bloodmeal, free WiFi can draw people to underused spaces (think roof decks rather than swimming pools). But it's not clear whether it encourages silo-ing or socializing.

Much like going to Starbucks, "you get the feeling of being in a larger space with people around but you don't have to talk to them," says Vince Rocco, sales director of The 505 condominium in Hell's Kitchen.

He says proximity sometimes breeds familiarity.

"I look out the window sometimes and see people on opposite ends of the courtyard with their devices, and then when I look back later, they've moved closer and they're chit-chatting," he says.
At 184 Kent, a rental building in Williamsburg with a young professional demographic, its 50,000 square feet of outdoor space and 8,000 square feet of indoor common space [pictured above] offer free WiFi.

"It helps bring the crowd to the amenity space where people are doing work and socializing," says Josh Schuster, the project manager for the development. "Sometimes they use the WiFi while they're waiting to play billiards or ping pong."

Occasionally, though, political tension can stem from the fact that some enviably located residents inevitably get a free ride inside their apartments by mooching off common-space wifi.

Schuster says their WiFi provider "plays with power levels at access points so it doesn't penetrate past designated areas."

But most say some seepage is unavoidable.

"Truth be told, if you're living in an apartment facing the courtyard and you're by the window, you can pick it up," says the 505's Rocco.
Below: 3 way$ to WiFi your common space 
Related posts:
A NYC pocket guide to passive aggressive wifi
FiOS: Nice service if you can get it
Brick Underground articles occasionally include the expertise of, or information about, advertising partners when relevant to the story. We will never promote an advertiser's product without making the relationship clear to our readers.