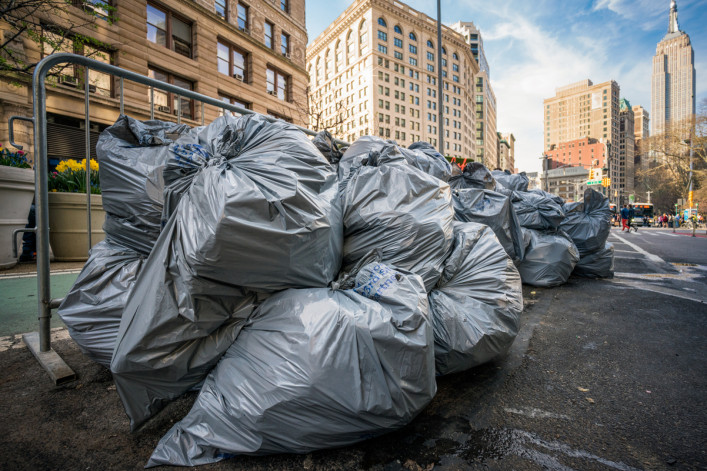 During the '91 doorman strike I was the president of the board of my building, a 150-unit postwar luxury co-op on East 85th Street.

We prepared a lot before the walkout. We had repair work done ahead of time.  We decided what services had to be curtailed – we would suspend all renovations and repair work except for emergencies.
We sent out memos galore to alert residents to divert packages and dry cleaning and other deliveries. And we reached out to people with disabilities and elderly people and connected them with a neighbor to call in case they needed help.

We also worked up a security system of nametags and badges which took a week or so, and a schedule for volunteers to watch the door and haul the trash. 
When the workers went on strike, we closed the compactor and we had people bring their trash to the basement, but we still needed volunteers to bag it and bring it to the street.  It was surprisingly easy to find volunteers—we had about four or five guys.  On Saturday morning we got up and put on our sweats and hauled the trash out.

The strike lasted two weeks, and the worst part of it was the inconvenience. It changed your day-to-day routine—you had to go to the dry cleaners to pick up your clothes. You had to go down to the basement and down a long hall to take your trash out rather than popping it down the chute. Meanwhile you're paying $1,500 a month in maintenance and not receiving any amenities.
But the inconveniences were offset by a different sense of community. The dry cleaner around the corner built up a lot of goodwill by accepting deliveries for us. And the strike brought people out of their apartments—they interacted more, at least for a time. That sense of community dissipated after the strike, though in one or two cases, new friendships were made.  

We also came out of the strike with a somewhat better appreciation of what the staff did, like the backbreaking work of hauling trash onto the street. And we were less critical of the staff--like I remember a guy on the board who always complained about the staff reading the newspaper until he had to go stand at the door for two hours and endure the tedium of the job.

I've moved since then. I'm on the board of a prewar co-op on West 110th Street. We've dusted off our strike plan, we're prepared.
Having gone through a strike before, I'm not at all anxious. We're ready if it happens. We'll grin and bear it.
More Brick Underground 2010 Strike Coverage:
Strike epilogue: How did the union get your email address? 
Threat of strike diminishing amid "significant progress"
Insider's guide to the de-doormanned life
Doorman march on Park Avenue marked by kids, whistles, smiles
Predicting a doorman strike: Why this time is different
Don't look for me on the picket line
Going rogue: Hitting the panic button in a strike
Relax, N.Y.: Doorman strike vote is just part of the dance 
In case of strike, hold onto your gas cap
See all strike coverage here.
Brick Underground articles occasionally include the expertise of, or information about, advertising partners when relevant to the story. We will never promote an advertiser's product without making the relationship clear to our readers.