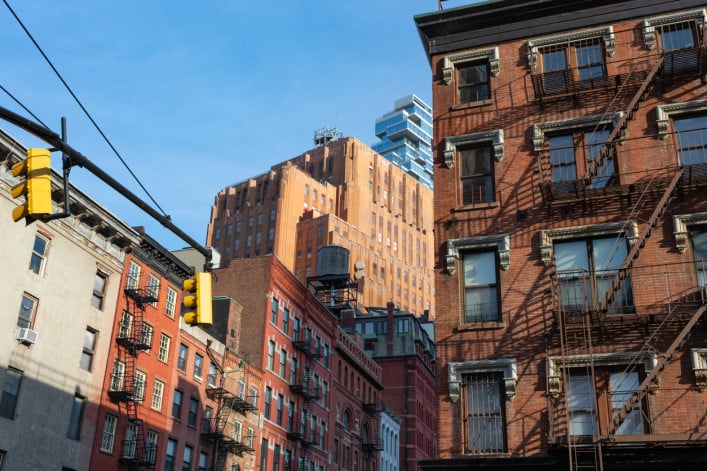 You may have heard of iBuying, which promises to simplify the complicated process of selling your apartment or house. With iBuying, you skip the the painful parts of selling (like the long wait and having brokers, stagers, and buyers give their verdict on your decorating choices), and you get an online cash offer within hours. If you accept, there's an inspection to see if there should be a price adjustment and then you move out in your own timeframe. Sounds pretty good, right?
This disruption of the traditional broker-led model of buying or selling a property has gained traction in many parts of the country. According to the listing site Redfin, at least 1 percent of sales in 18 U.S. markets were sold through iBuyers in the third quarter of 2019. But will this fast-track approach catch on in NYC? The short answer is: Don't bet on it.
Right now, iBuying websites enable New Yorkers to input information about their apartments or houses, but that's pretty much all a NYC seller can do. New York City's complicated and expensive real estate market holds too many obstacles for iBuyers to launch here. Brick Underground talked to iBuyers and an analyst to understand why the NYC market isn't a good fit.
Jon Woloshin is head of U.S. real estate at UBS Global Wealth Management's chief investment office, and says what iBuyers "offer the seller is speed and certainty—they give you cash and you close very quickly. The hope for the iBuyer is that they resell for a bit of a profit, but the fees are very high."
Companies involved in iBuying reduce their risk by operating in areas where the inventory is relatively homogeneous and affordable. That alone would seem to bar iBuying from catching on in NYC but there are other reasons, like the fact that this option is typically only available to owners of single-family homes and New York property owners just have too much money tied up their assets to sell based on an algorithm. 
1. NYC inventory is too diverse 
Every building in NYC is different—as proof, just look at the search parameters on real estate listing sites. The menu of options includes condos, co-ops, townhouses, and multi-families, and within each category, the search criteria multiply. You can pick doorman or non-doorman, search for studios to four bedrooms, shared amenities or private spaces, balconies, or basement parking, amenity-rich new developments or no-frills walk ups. Do you want a washer/dryer, a dishwasher, a fireplace, or are you looking for a loft?
All these options make iBuying complicated. Cristin Culver, local communications head at iBuying company Opendoor calls this "spectrum of homes" an obstacle to operations in NYC. "When you look at a traditional spectrum that categorizes homes from homogenous to extremely unique, New York City real estate tends to almost exclusively fall into the realm of extremely unique," Culver says.
The core business for Opendoor, which operates in 20 U.S. cities, is single-family homes or townhouses built after 1960 priced between $100,000 and $500,000. 
Jarred Kessler, founder of EasyKnock, a firm offering residential sale-leaseback programs to homeowners says iBuyers are looking to flip properties and the risk in their model is lower when "most of the houses are the same and it's really just 'rinse and repeat.'" 
2. Properties in NYC are expensive 
Hand in hand with NYC's diverse housing inventory is the range in price. You could argue that NYC only has one range—high—and you'd be right. The median sales price in Queens in the last quarter was $610,000, in Brooklyn it was $800,000 and in Manhattan, it was $999,000, according to Douglas Elliman's latest figures. Properties at these price ranges aren't eligible for the program at Opendoor. Another iBuyer, Offerpad has a cap of $600,000. 
It all comes back to risk. "In New York City there can be a 20 percent swing [in sales price], so that's a lot riskier compared to somewhere like Phoenix where the average home is $270,000 and a 20 percent swing is hard to imagine," says Kessler.
Kessler points out that iBuying is all about the balance sheets and they "can't be wrong on the margin by 3 percent or they are underwater on their purchase—you have more of a chance of being wrong in higher-priced homes because of the percentage swings."
3. Most New Yorkers who own live in co-ops
Let's get one thing out of the way: Most New Yorkers are renters. New Yorkers who do own generally live in co-op or condo buildings. Some iBuying companies will buy condos but only in select markets. Condo boards in NYC get to approve a buyer—a factor that is difficult to reconcile with this model. Woloshin, says this is a major hurdle for sellers wanting to use iBuying in NYC.
"The condo board has to approve the new buyer and they can also speak to the price you are able to sell at, so if they feel the price is too discounted the sale won't happen," he says. (A condo board has the "right of first refusal," a rare practice that means it can buy the apartment for the same terms being offered a buyer.)
The approval process presents additional problems for the iBuyer says Woloshin. "If you are an iBuyer and you've put sitting on something you wanted to sell in a month and it's now six months later and the condo board says 'we don't like your buyer'—that's going to be another impediment to the business."
Co-ops, with their unique corporate shareholder structure, outnumber condos three to one and it's safe to say a co-op board is never going to accept this kind of purchase. Co-op boards are looking for financially sound shareholders, they aren't interested in being a line item on an iBuyer's balance sheet, however briefly. 
4. iBuying charges a fee and doesn't represent the NYC seller
Convenience-obsessed New Yorkers might like to outsource things but, come on, this city is all about real estate. Owners are not likely to sell their sizable assets based on an algorithm when they have access to lots of buyers with deep pockets. 
It's also worth pointing out that iBuying companies charge fees for their services which can range between 6 and 14 percent. They also publish disclaimers like the one on RedfinNow that says the company won't represent your interests regarding the sale of your home. They recommend "you seek independent representation" and want you to be aware "you may be able to sell your home on the open market for more than RedfinNow's offer price." 
In a traditional broker-led sale in NYC, the seller pays the transfer tax and the broker commission of around 5 or 6 percent. Woloshin says, "An iBuyer would give you speed and certainty of price but they would charge a large fee for that, so that's the balancing act for a seller." 
5. iBuying moves too fast for the NYC market
An iBuyer is not buying the property to live in, so they operate best in markets where sales happen quickly. According to the latest data, properties are currently on the market for between 90-120 days in NYC. Woloshin says iBuying thrives in hotter markets where properties are turning over in 20 to 25 days.
"For the iBuyer the issue would become 'when will I be able to resell it and will it be fast enough on a risk-return basis?' What you want to avoid as an iBuyer is having a long carrying period because there is a cost to that," he says. 
6. NYC is a heavily regulated market...
There are tons of regulations governing the NYC real estate market, but assuming everything is fully disclosed about the deal (and the issues above are somehow resolved), there would seem to be little risk for iBuying companies to operate in NYC—but it still makes this market less palatable.
"New York is certainly a more regulatory-heavy environment than some other areas, so if we had a plus column and a minus column [for the iBuying model in NYC], that's one I'd add to the minus column," Woloshin says. 
7. ...and a litigious one
Woloshin says the first time a New Yorker sold to an iBuyer, and then regretted it and complained to someone, it wouldn't be difficult to envision the splashy headlines and it wouldn't shock anyone if litigation followed.
Brick Underground articles occasionally include the expertise of, or information about, advertising partners when relevant to the story. We will never promote an advertiser's product without making the relationship clear to our readers.