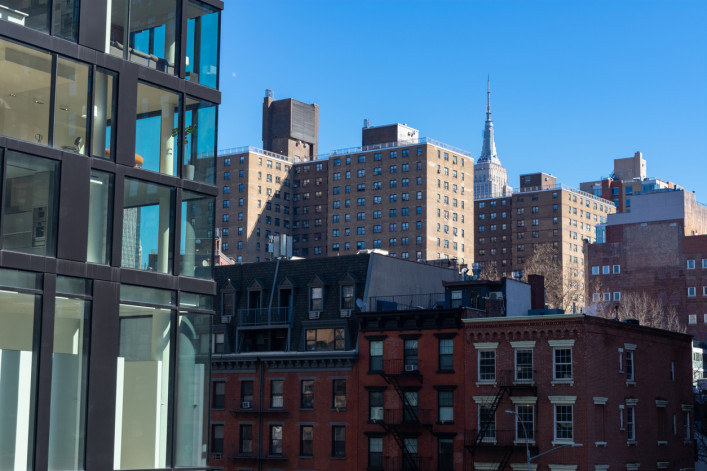 If you're living in the suburbs or another state right now because of the pandemic, coordinating the sale of your New York City apartment from a distance might seem like a very stressful proposition.
After all, selling and clearing out your place is hard enough under normal circumstances—which is certainly not the situation now. Shuttling in to oversee decluttering and staging might be a chore if you're in the burbs or it might be a near impossibility if you've gone to the other coast, for example. Then there are building Covid protocols to deal with, socially distanced showings, and other aspects of selling in the coronavirus era.
Because of those challenges, New York City sellers are relying more on brokers and organizers to do a wider variety of tasks—and making more use of virtual technology. They're delegating the jobs of decluttering, finding contractors, and overseeing repairs, and relying on a wider number of apps to meet up with professionals in real time, and to coordinate it all. Of course, it also means paying to get things done that you could have done yourself.
To be sure, it's not a new phenomenon for New Yorkers to be out of city and put an apartment on the market, returning only for the closing, says Lisa K. Lippman, an agent at Brown Harris Stevens. But it is happening more frequently now.
"Especially in these current times where travel is difficult, or if it's an emotional decision for someone, it might be easier if they don't have to walk through the apartment," Lippman says.
FaceTime with your broker 
There are several ways to handle organizing for a sale when you're not here, she says. You can go old school, and "someone can put tags on things they want to keep or get rid of, or the seller can share a floor plan marked up with what they want cleaned out and/or what they want staged," Lippman says.
But typically, it's done with FaceTime now, Lippman says, "and it's almost like the clients are there."
With FaceTime, "you can easily ensure what needs to be done, from painting to touch ups, cleaning out and organizing. I maintain relationships with various vendors such as junk collectors, auction houses, painters, and electricians to then complete what needs to be done in the home," she says.
Pro Tip:
Unsure what your apartment is worth now? Before you list your place publicly, test your price quietly among real-life, qualified buyers via the pre-marketing program at New York City real estate brokerage Triplemint. There's no charge to participate, nor any obligation to enter a traditional listing agreement if your place doesn't sell during the pre-marketing period. Click here for more information.
Video chat with your organizer
Now more than ever, apartments for sale need to look turn-key ready. Buyers don't want to see things that need fixing because renovations are more complicated right now, says Janine Sarna-Jones, founder of Organize Me. So, she and her team of organizers will point out things to fix with that goal in mind.
Often the solution to staging an apartment quickly is moving much of the furniture to a storage facility and an organizer can coordinate this—Sarna-Jones did this for several clients recently, including one who lives in a venerable co-op on the Upper West Side.
The seller didn't want to do too much to the apartment for the sale, Sarna-Jones says. She had very large armoires that took up a lot of space and needed to come out and Sarna-Jones took care of it. (Having lots of extra furniture can signal an apartment doesn't have enough storage, which wasn't the case here.)
Leveraging professional connections
The NYC exodus to the suburbs means movers are in such high demand they are turning away business, according to The New York Times, but organizers can get you a spot on a mover's calendar. And because they are constantly referring business to certain movers, as a seller you benefit from that relationship.
"I'm considered a VIP by the vendors I refer all the time," Sarna-Jones says. "I'm not a regular consumer when scheduling movers or junk removers. I know the vendors I refer and believe their prices are fair—they may not be the cheapest but it's better to pay a little more to get the best service," she says. "They want to make me happy so I can make my clients happy."
Zoom with your mover
You can also use video conferencing to get a quote for a move if you're not in the city.
"We have a sales representative go to their apartment. Then they video chat with the customers, conduct inventory of the items they would like to move together and provide them with a price," says Lior Rachmany, CEO and founder of Dumbo Moving. Sellers can also have building management take a video of their apartment "and we will give them a price that way as well," he says.
Keep in mind: You need to check with your building management about doing a move when you're not there.
"It is up to the building's management if they are okay with letting movers move items without a customer representative there to supervise," Rachmany says. "Sometimes the management may actually step in for the customer to help facilitate the move."
The bright side of the exodus
One silver lining of the mad dash out of the city many New Yorkers made in the early spring: Apartments were denuded of a good amount of personal paraphernalia.
"When people left for shorter term rentals, they were typically furnished, so many times the apartments they left look great as some of the clutter is out," says Alison Bernstein, president and founder of the Suburban Jungle Group and the Urban Jungle Group, websites that help buyers find a new neighborhood.
Video tours have grown up
Early in the pandemic, when in-person showings were banned in New York, it was thought that virtual apartment tours were going to be the key to making sales happen, but it turns out that buyers aren't willing to put down significant amounts of money based on a video.
However, thanks to improvements in technology, video tours are now one of several tools sellers have to research and preview apartments, and having a virtual tour can reduce the number of live showings, which are by appointment only these days, and bring in only the most serious buyers.
Matterport, the most popular platform for home tours, is also being utilized by stagers and organizers, says Yashmin Lloyds, a broker at Compass.
"Stagers and home organizers are able to virtually walk through a home to see the space and then utilize dynamic 3D floor plans to design a room," she says.
Finding and vetting contractors
In addition to Zoom and FaceTime, Christopher Totaro, a broker at Warburg Realty, relies on TaskRabbit, where you can find people to handle a multitude of gigs related to staging an apartment or moving, like making repairs, disassembling furniture or moving it out. You can find reviews, schedule the job, communicate, and pay for the service through the platform.
Svetlana Choi, a broker at Warburg Realty, recently sold a studio in Midtown for seller who is in San Diego, and coordinated with contractors to get repairs done.  
"Luckily, I didn't have to clean out too much, but it was messy and definitely needed some cosmetic work," she says. "I went in and took pictures of the apartment and I sent the pictures to her and her brother in Florida.
"They agreed that the apartment needed some basic work. I then interviewed three contractors on their behalf, two of which were interested in the job. They each sent me their estimates and the seller and her brother decided which one to go with, then filled out the necessary alteration agreement forms while I introduced the contractor to the managing agent and then coordinated with the managing agent to make sure that all necessary Covid forms and liability insurance documents were sent.
"Once the contractor was finished, we took pictures and then put the apartment on the market," Choi says.
Sounds like a lot of work, right? The professionals interviewed here say this is their bread and butter. In some cases, having you around makes things harder.
It's easier, for example, to pair down belongings if sellers "are not physically present to take a trip down memory lane," Totaro says. "Out of sight, out of mind."
Brick Underground articles occasionally include the expertise of, or information about, advertising partners when relevant to the story. We will never promote an advertiser's product without making the relationship clear to our readers.