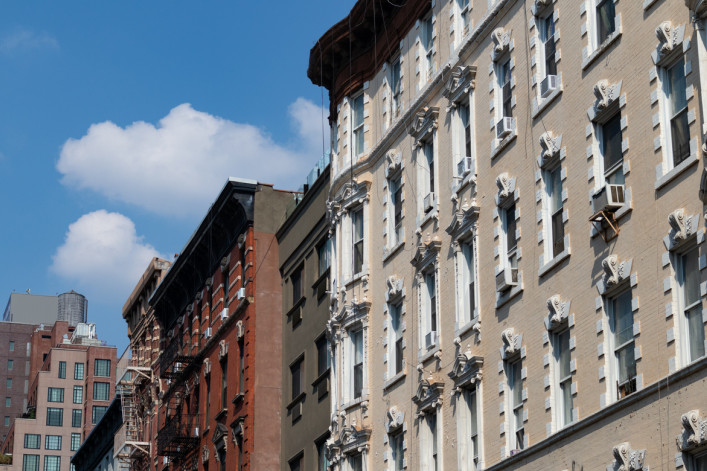 Many New York City co-op buildings—infamous for their many rules—actually loosened a few of their restrictions during the doldrums of the pandemic in order to spur sales. And now, even though the market has swung back to favor sellers, those many of those changes remain in place, brokers tell Brick, because they work.
If you're on the board of your co-op and looking for ways to help sellers achieve higher prices in your building, consider following suit in order to broaden your pool of buyers and better compete with condo buildings.
Of course, some of these options will be off limits—a lot of older buildings with finicky plumbing will not be able to handle washer/dryers in every unit, for example, and some buildings don't have the people power or the will to handle the tax considerations for a pied-à-terre.
Read on to see if there's something your co-op building could be doing to get prices higher in the building.
1. Allow washer/dryers in the units
This is a big one—something that buyers are inclined to spend more on and can ultimately raise value for a building's apartments, says Cindy Chen, a broker at Compass.
She worked with clients at 300 East 54th St., the Connaught Tower, which permits each unit to have a washer/dryer. Apartments here typically sell for 10-15 percent higher than units with the same condition and size across the street at 245 East 54th St. (which has a laundry room on the second floor) even though Connaught Tower has a more restrictive sublet policy, Chen says.
"They both are full-service, pet-friendly co-ops with exactly the same location, and even though there is a slight difference in their amenity offerings, the washer/dryer policy is an important factor for buyers these days," Chen says.
2. Approve pieds-à-terre
Some buildings say they don't allow pieds-à-terre, when in fact shareholders are actually ignoring the rule. In that case it makes sense to officially update the policy in order to attract buyers willing to spend more for the ability to live part-time in the city.
Daniel Blatman, a broker at Triplement, had clients that wanted to buy in a building on the Upper East Side. They were told the building didn't allow pieds-à-terre—but thanks to some careful sleuthing, Blatman found out that a majority of the owners in fact had primary residences elsewhere.
"So the policy was outdated and we were able to make a case for why this client would be an outstanding addition to the building," he says.
Why are pieds-à-terre a problem for co-op buildings? Why would a board have an issue with part-time residents who use the building less?
Blatman explains that some buildings may not have the infrastructure to process the separate tax payments that pied- à-terre owners would owe.
Another reason, he says, is that some buildings want owners to be involved with the community—for example participate on the board and be a presence in the building.
But with more New Yorkers having greater flexibility to work remotely, buyers are really interested in splitting their time between a residence in the city and vacation home, says Nicole Beauchamp, a real estate advisor at Engel & Völkers.
"So a building that does not allow pieds-à-terre at all could be missing out on buyers," Beauchamp says.
Pro Tip:
To find out what buyers are willing to pay for your co-op, condo, or brownstone, consider discreetly "pre-marketing" it. New York City real estate brokerage The Agency has an entire data-driven pre-marketing platform that provides a way to quietly test your asking price and your marketing strategy among real-life qualified buyers before publicly listing your home. There's no charge to participate and no obligation to enter a traditional listing agreement at the end of the pre-marketing period if your place hasn't sold. Click here for more information.
"I have had many conversations around this topic with clients who own outside of the city and would love an apartment here." She says clients are interested in splitting their time 50/50 but that still constitutes a pied-à-terre.
3. Accept smaller down payments
One of the barriers to buying in a co-op is the down payment. Putting down 20 percent is standard, but many buildings require much more—from 30 to 40 or even 50 percent.
It's a tall order, one that can stifle sales, so it makes sense that during the pandemic, Blatman says even white-glove co-ops on Park Avenue decreased down payments from 50 percent to 40 or 30 percent, which reinvigorated sales.
Another option is to accept a lower down payment in exchange for proportionally increasing the post-closing liquidity requirement, Beauchamp says
That has an added advantage as well—it provides insight into what can be very murky process.
"Buyers want more clarity around what the financial requirements are, so that they can make informed and educated decisions" about whether or not to pursue an apartment, Beauchamp says.
4. Upgrade common areas if they're stale
Consider a makeover for your common areas, say Ari Harkov, a broker at Brown Harris Stevens. New carpeting, paint, and lights in hallways can upgrade the feel of a building at a relatively low cost, he says.
Also look for ways to add storage by reclaiming unused space in the basement. Don't have a doorman? Install a virtual doorman or upgrade to a video intercom system to better handle the delivery volume of modern New Yorkers.
5. Say yes to pets (and really mean it)
A very high percentage of NYC co-ops are already pet friendly—and co-op and condo buildings that allow pets tend to see higher prices than co-op and condo buildings that don't.
Jonathan Miller, president and CEO of appraisal firm Miller Samuel. says 93.8 percent of Manhattan transactions in the first quarter of 2021 were in pet-friendly co-op and condo buildings, and the average sales price was $2.2 million, compared to $911,304 in Manhattan buildings that don't allow pets. (Note: prices are so much higher in pet-friendly buildings because they represent the majority of sales in a very pricey market.)
Still, lots of co-op buildings say they are pet-friendly when they really aren't—they forbid dogs in the lobby or other communal spaces, and they put subjective restrictions on size and breeds—some of these don't seem very fair to owners of docile German shepherd and pit bull terriers—when biting Chihuahuas are welcome.
Every building is a bit different—some will require references and photos, others will want to interview a pet. Some want vaccination history and information on dog walkers.
Revisiting a pet policy to see where it can be broadened—while implementing protections like requiring additional insurance—could be one way to throw more buyers a bone.
Brick Underground articles occasionally include the expertise of, or information about, advertising partners when relevant to the story. We will never promote an advertiser's product without making the relationship clear to our readers.