Affordable Housing
Is there any chance Good Cause eviction will pass in this legislative session?
The legislative session ends on Thursday June 8th and supporters vow to make the last few days count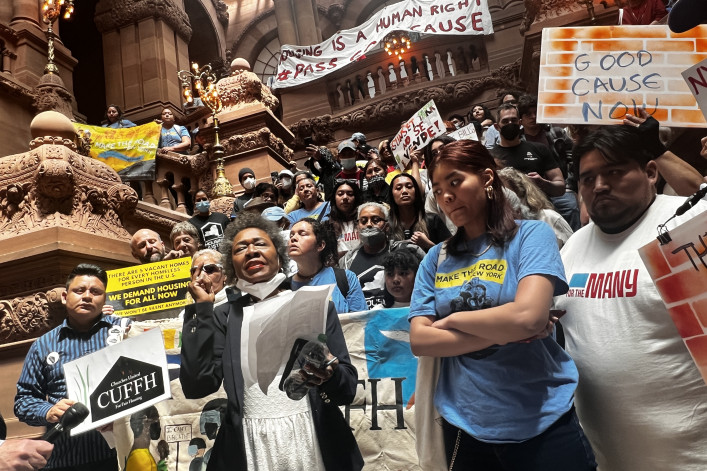 There's just a few days left for New York lawmakers to pass the Good Cause eviction bill, making it increasingly unlikely these major tenant protections will become law this year. The legislative session ends on June 8th.
A Good Cause eviction bill would give tenants in market-rate apartments similar protections as those in stabilized units: ensuring automatic lease renewals, limiting excessive rent hikes, and preventing eviction unless there's "good cause."
Momentum stalls after the state budget
A Good Cause eviction bill was first introduced in 2019. That year, there were landmark rent protections, preserving rent-stabilized apartments and capping the security deposit for market rate tenants, but Good Cause eviction was not among the reforms.
This year, with rents at record highs and lawmakers acknowledging the urgent need for more affordable housing, tenants and officials had high hopes the Good Cause eviction bill would become law, giving tenants a reprieve against rising rents. Then in April, ambitious housing initiatives were stripped from the New York State budget, dashing hopes the bill would be adopted as part of the state's housing policy.
That hasn't stopped hundreds of tenant advocates continuing to protest against housing insecurity in Albany this past week.
Making the last few days matter
A group of lawmakers, including the New York State Black, Puerto Rican, Hispanic and Asian Legislative Caucus have promised to prioritize tenant protections in the final few days of the session.
Cea Weaver, campaign coordinator with Housing Justice for All, points out Albany works best on a deadline and lawmakers have shown they can produce impactful legislation with two to three days notice.
"Anything is possible between now and the end of session," she says. However, Democratic State Senate Majority Leader Andrea Stewart-Cousin acknowledges the Good Cause bill does not have enough support to pass in its current form. 
Some smaller landlords, who are competing with corporate investors and private equity firms, support the measures. They see it as a way to level the playing field with larger landlords. However, most owners and real estate industry representatives argue they have every right to operate their businesses as they like, without government interference.
In cities like Albany and Newburgh where Good Cause eviction bills have passed, lawsuits have followed. Appeals are ongoing, but the judges are siding with landlords.
In a statement, Greg Drilling, a spokesperson for Homeowners for an Affordable New York, articulated owners opposition to the legislation, arguing it does not address the housing shortage and "would raise rents for tenants and bankrupt thousands of small property owners."
"Eighty percent of eviction filings in New York are the result of non-payment of rent. We urge the legislature to support the Housing Access Voucher Program and Statewide Right to Counsel, which would bring immediate and needed relief to renters," he says.
What happens next?
When lawmakers break for the summer next week, a Good Cause eviction bill will be postponed for at least another year.
"Our communities can't wait another year for a housing package. We need Good Cause, because we need to address the displacement epidemic in New York," says Whitney Hu, director of civic engagement and research at the advocacy organization Churches United for Fair Housing. 
Tenant activists are also calling for direct assistance to low-income and homeless New Yorkers in the form of the Housing Access Voucher Program, modeled after the federal Section 8 program. If neither pass in the next week, there will be even more urgency for lawmakers to address housing insecurity next year. And 2024 is an election year.
"Good Cause is popular with voters, and housing affordability consistently polls as a top issue for New Yorkers. In an election year, voters will be looking for representatives who are committed to delivering for them," Weaver says.
Brick Underground articles occasionally include the expertise of, or information about, advertising partners when relevant to the story. We will never promote an advertiser's product without making the relationship clear to our readers.