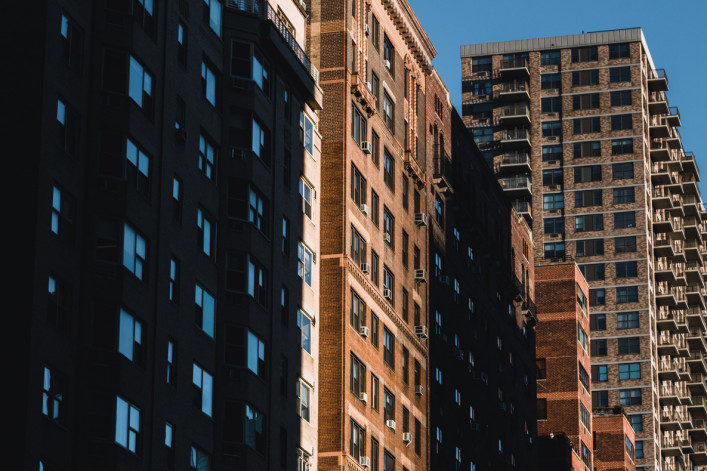 Who is raising the rent in New York City? It's not just the typical landlords you may be thinking of—small mom-and-pops and rental companies—who are sending out rent increases with lease renewal notices to take advantage of booming demand for rentals. Across the U.S. and here in NYC, private equity-backed firms have been buying market-rate rental buildings and are also increasing rents to make a profit—on a much bigger scale.
Private equity landlords are not a new phenomenon for the city, but they are getting new attention as they acquire more buildings and tenants are hit with rent increases in tandem with the city's soaring median rent—up nearly 20 percent for Manhattan in January compared to January 2021. 
Elected officials say there's a remedy to protect market-rate renters and level the playing field with these powerful owners in the form of a bill pending in Albany, the good cause eviction bill, which aims to stop the use of rent increases as an eviction method and bring universal rent control to the entire state. 
Why are private equity-backed owners a problem?
According to a new report from ProPublica, private equity-backed owners are now the dominant form of apartment building ownership in the U.S. Last year, about half of the apartment buildings owned by the biggest real estate companies in the U.S. were backed by private equity, up from a third a decade ago.
So why are private equity-backed apartment owners a problem? They don't act like regular landlords—they're the "corporate version of a house flipper," ProPublica explains. "They seek deals on apartment buildings, slash costs or hike rents to boost income, then unload the buildings at a higher price," the article says.
The biggest private equity corporation—and the one that's most well-known to New Yorkers—is Blackstone Group, owner of Stuyvesant Town-Peter Copper Village in Manhattan, as per The New York Times. (Tenants there are fighting to block plans for two new power plants that would serve the development.) And last month, the private equity firm said it was spending about $6 billion to acquire a real estate investment trust that owns rental properties in several cities in the South.
A change in quality of life
Renters who live in apartment buildings with new, private equity-backed owners sometimes see a dramatic change in their quality of life. Neglecting the building is one tactic to push tenants out. Raising rents dramatically at renewal—in order to replace them with high-paying renters—is another.
Those were the accusations against Greenbrook Partners, which has bought up several Brooklyn apartment buildings. Renters and elected officials, including Senate Majority Leader Chuck Schumer and New York City Comptroller Brad Lander, joined a protest last summer against tenant harassment there, the Daily News reported.
Schumer, who lives on the same coveted leafy street as one of Greenbrook's locations at 70 Prospect Park West, says the company was using non-renewal notices, disruptive construction, and poor conditions to drive renters out. He says the company is bankrolled by a fund controlled by the Texas State Board of Education, according to the article.
More recently, renters in several Bronx co-op buildings have been swept up in the race to wring greater earnings out of apartment buildings.
A group of tenants who rent at a co-op development in the Bronx are facing eviction because their new private equity owner wants to sell their units, The Real Deal reports. Glacier Equities—which in 2020 bought the shares of 255 apartments in nine co-op buildings for $23 million—said renters have the option to buy their units—or move out. At least 28 tenants have open eviction proceedings, most for being behind on their rent, the article notes.
Why officials say good cause legislation is needed
Lander recently emailed constituents to explain his support of good cause legislation. He says the bill would prevent unjust evictions by "prohibiting unreasonable rent increases designed to send people packing and give rent-paying tenants who have followed all the rules the right to a renewal lease."
Under the proposed legislation, which would apply to all unregulated apartments in New York State, except for owner-occupied buildings with fewer than four units, landlords could still evict people for not paying rent, breaking the terms of their lease, illegal activity, refusal of access or for occupancy by owner.
"But they couldn't just kick out a rent-paying tenant simply because they think someone else will pay more," Lander writes.
Most dramatically, it would limit rent increases, similar to how rent-stabilized apartments operate. Annual rent increases would be capped at either 3 percent or 1.5 percent of the Consumer Price Index.
The bill would also protect tenants from retaliation for requesting repairs or filing complaints about conditions in their building.
Lander says New Yorkers should contact their state representative to urge them to pass good cause and can use a script created by Housing Justice for All.
Brick Underground articles occasionally include the expertise of, or information about, advertising partners when relevant to the story. We will never promote an advertiser's product without making the relationship clear to our readers.