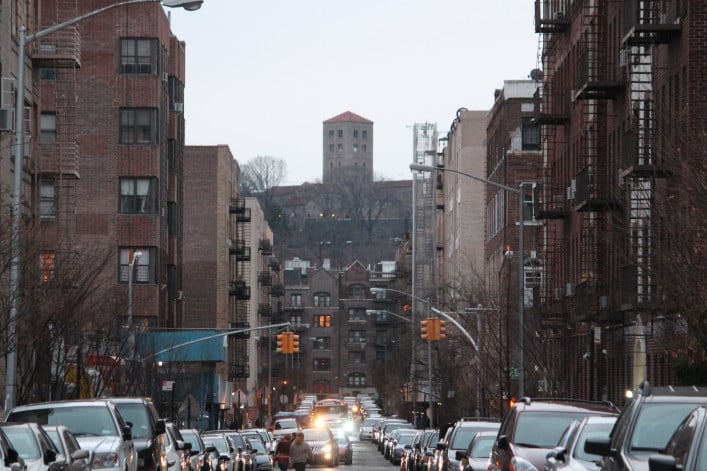 New York City's rental market has been famously slowing down for months now. According to the Rent Guidelines Board, the vacancy rate for the entire city in 2016 was at 3.45 percent; but to put that number in perspective, Manhattan specifically had a vacancy rate of 1.89 percent in March 2017, per Citi Habitats, a far less alarming statistic than the 2.87 percent vacancy rate Bloomberg reported for Manhattan in November 2015, which back then was a nine-year high for the borough.
Moreover, the Census pegs the nationwide rate at twice of NYC's, which means the search for a home within the five boroughs remains comparatively competitive, and is expected to continue to be so, given that the city's population is predicted to soar to nine million in the coming years, per Crain's.
[This story originally published on April 20, 2017.]
Given the high demand and fairly low supply, landlords stand to make a killing. Nonetheless, there are some who actually let their units sit empty, even when they could easily find renters to move in. It sounds counter-intuitive, but there's a method to the apparent madness. 
The basics of warehousing
David Kalbfeld, vice president and account manager with Halstead Management Company, says that the phenomenon of landlords sitting on vacant apartments—a practice known as "warehousing"—typically occurs when they find it would be more lucrative to convert their rental building to condos or co-ops. "They don't want to keep the apartments empty, but at the end of the day, they'd rather sell than rent," he explains. 
In other cases, landlords may earn so much income from a retail tenant that they don't actually need to rent other units—and deal with the costs of maintaining them. Back in 2011, for instance, the New York Times wrote that even in the midst of rapid gentrification in Harlem, some landlords there were leaving residences in their mixed-use buildings empty, as they were collecting sufficient rent from ground-floor commercial tenants; a local architect told the Times these landlords didn't want the "hassle" of renting to residential tenants.
Last fall, DNAInfo reported one an example of warehousing that generated controversy uptown. The owners of 78 Thayer Street, an Inwood building of 62 prewar rentals, were accused of letting almost half the units remain vacant because they wanted to convert the property into a co-op. 
The building is rent-stabilized, according to the Rent Guidelines Board's list of such properties, which means the owners could stand to earn far more from selling the units as co-ops than from renting them below the market rate, even if that entailed letting the apartments languish for a while first.
Advocates for the homeless argue that removing regulated units like these from the market exacerbates what's already a dangerous shortage of affordable housing. However, warehousing is not strictly illegal, as long as tenants have ended their leases and moved out of their own volition. "It's natural in life: Apartments are always becoming vacant. A tenant passes away, is relocated for work purposes, or retires and moves to Florida," Kalbfeld says. "If a tenant vacates an apartment, a landlord has a right to do what he wants with it."
What could be against the law, though, are the methods a landlord uses to push a regulated tenant out of his or her home. In the case of 78 Thayer Street, one resident told DNAInfo that building management had long failed to make necessary repairs but still instituted substantial rent hikes over the years, and that he'd even had to take his landlord to court over these problems. 
Creating unlivable conditions to pressure renters to move out is considered harassment; Brick has previously written about how rent-stabilized tenants in a similar situation formed a coalition to fight back against the landlord they allege was bullying them into leaving so he could rent their units at the market rate. 
Critics voice their opposition through legislation
At the city level, some local politicians are advocating for legislation known as the Housing Not Warehousing Act, which, the Observer reports, would require landlords to register their vacant properties with NYC; they could be fined for failing to register, and face fees that would increase based on how long buildings were left vacant for. It's estimated that there are enough vacant buildings and lots to build housing for almost 200,000 New Yorkers, but it seems that advocates have been struggling to raise awareness of this for quite some time: the Gotham Gazette covered a rally to turn warehoused property into housing back in 2009. 
Jose Rodriguez, who volunteers for the grassroots organization Picture the Homeless, says that first, the city needs an official count of how many of its buildings are standing empty. "That way the city knows exactly the stock that they have," he says. Warehousing, he says, "has a devastating effect. There are 60,000 homeless people in NYC. Not putting apartments on the market just adds to the homelessness crisis." 
There are other pertinent reasons to want a clear accounting, too. Rodriguez says that the organization previously visited an city council member to encourage him to sponsor the legislation. "He did sign on, and his reason for signing was because there was a supermarket abandoned for five years in his district and he couldn't even find out who the owner was," Rodriguez says. "A lot of property owners hide their names. With the act, that's going to stop that from happening, and the owner could be reached to negotiate building affordable housing."
At this point, though, a spokesperson for Picture the Homeless says that after a September hearing for the Housing Not Warehousing Act, they're still speaking with the sponsors of the bill about putting it to a vote and moving it out of the housing committee.
In his 2014 housing plan, Mayor Bill de Blasio himself included combating warehousing as a priority, promising to "perform a comprehensive survey of all vacant sites" here in the city "to encourage affordable housing and mixed-use development on underused sites." Housing advocates are wondering why, then, are landlords still easily able to keep apartments vacant and drive up demand for housing in a city where it's already so high.
For now, Rodriguez says, the mayor's office is considering the Housing Not Warehousing Act: "We have 27 council members signed on, and we need 34 to make it bulletproof where the mayor won't be able to veto it. Right now it's in the mayor's office to be reviewed, so they've just been sitting on it. So that's what we're waiting for." 
Brick Underground articles occasionally include the expertise of, or information about, advertising partners when relevant to the story. We will never promote an advertiser's product without making the relationship clear to our readers.