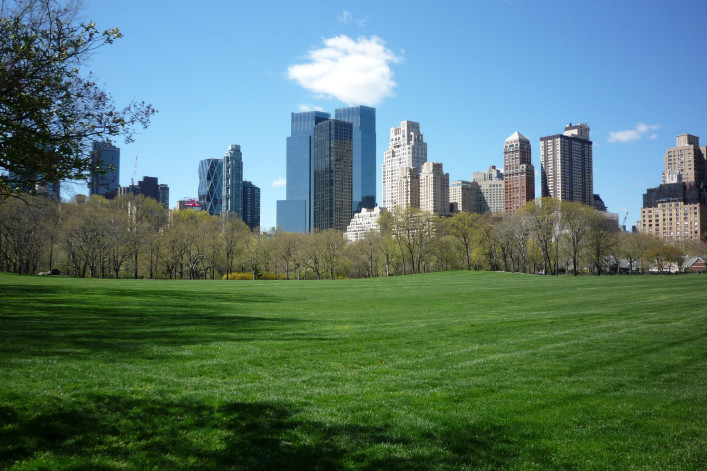 There have been rumblings for a while now that the city's overheated real estate market is starting to cool down, but if the latest round of market reports are any indication, rising prices and brisk sales are still continuing apace in Brooklyn and Queens. "Those two boroughs are doing the exact same thing, except at different price points, with Queens lower than Brooklyn," explains Miller Samuel's Jonathan Miller, author of Douglas Elliman's first quarter market reports for both boroughs. "They both have rising sales, but falling inventory."
In Brooklyn, the median price jumped 16.2 percent year-over-year, bumping up to $770,000. In the same time period, however, total inventory dropped by 19.9 percent, putting further price pressure on the listings that remained on the market. (You can see the full Brooklyn report here.)
In Queens, the median sales price rose 21.3 percent, up to $485,000, while inventory dropped by four percent (the full Queens report can be found here). "In a way, [the sharp rise in Queens prices] helps you appreciate the full scale of the Brooklyn phenomenon," says Miller. "The big numbers and record-setting prices, those are understated from what they would have been if you didn't have Queens next door—Queens is sort of the release valve."
And while plenty of people are buying in Queens who aren't moving to the borough just as an alternative to Brooklyn, he adds, "a big part of the Queens boom has been the direct impact of the Brooklyn phenomenon."
With renewed activity in the upcoming (and traditionally busy) spring and summer seasons—plus a release of pent-up demand in the months after the election—rising prices and sales activity are likely to continue in the coming months, albeit not at the gangbusters pace of the market circa 2014. "I think the market is going to continue to grow due to the inventory shortage," says Elliman's Sarah Burke. "I think we're going to have a very similar conversation at the end of the next quarter."
In the rental realm, however, one sees the opposite problem: Too much new, expensive inventory and not enough renters interested in shelling out high prices. Per Elliman's Manhattan, Brooklyn, and Queens rental reports for March, rental prices rose somewhat after months of stagnation or dips, but concessions continue to break records, meaning landlords still need to offer freebies.
In Manhattan, the median price rose by 3 percent, while concessions were offered for 28.4 percent of new leases (a 14.8 percent leap from the previous year). In Brooklyn, prices were up 2.6 percent while concessions rose by 9.4 percent (and comprised 16 percent of new leases). And in Queens, prices didn't rise, but concessions jumped by a whopping 23 percent over the previous year, and factored into a whopping 42.7 percent of new leases. (It's worth noting that the Queens report covers northwest Queens only—Long Island City, Astoria, Sunnyside, and Woodside, all neighborhoods with especially high rates of new development, which would explain the prevalence of concessions.)
In large part, the small price hikes were due to a number of new developments hitting the market in March, more than any generalized uptick in prices overall. "I think going forward, we're going to still see a very tight lower half of the market, though maybe a little less so than a year or two ago," says Miller. "But it's soft at the top."
But with vacancy rates still low, says Miller, "that means the concessions are working"—and that by offering extras, landlords are able to fill up space—meaning that even for those excess high end rentals, prices won't be dropping.
For futher reading, a rash of other market reports also came out this week:
Key figure: the vacancy rate for March dropped to 1.89 percent, its lowest level since September
The Corcoran Report, Q1 2017, Brooklyn
Key figure: the median sales price was $750,000, a 30 percent year-over-year increase
Stribling Q1 Manhattan Market Report; Stribling Q1 Brooklyn Market Report
Key figures: Manhattan Median sales price $1.220 million, a new record; Brooklyn median sales price $723,000, a new record
Brick Underground articles occasionally include the expertise of, or information about, advertising partners when relevant to the story. We will never promote an advertiser's product without making the relationship clear to our readers.