The Search
3 ways to avoid getting scammed by a fake Facebook apartment listing
Facebook is like the Wild West: Confirm the poster is a licensed agent and not a con artist
Google the agent's name, find out where they work, and check the firm's website to confirm
Photos can lie so try to tour the rental in person to make sure you're getting what's advertised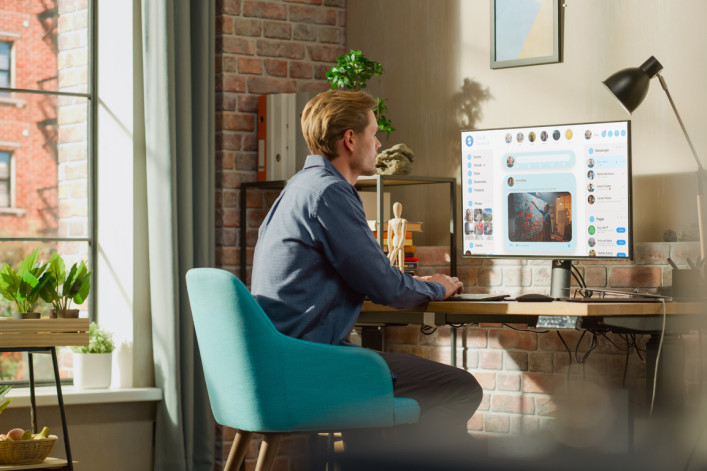 When it comes to finding cute cat videos, Facebook is the place to go. But if you're on the hunt for something as consequential as your next rental apartment, it's worth treating the social media site with caution.
Thousands of New Yorkers use Facebook to find rentals—not just to keep up with their high school ex-boyfriends. Facebook groups like "New York Apartments & Rooms for Rent" and "NYC Apartments and Rooms, Sublets, New York City Housing" sport hundreds of thousands of users, bombarding members with hundreds of messages daily.
Facebook can be a great tool to find roommates, sublets, and entire apartments because anyone with an account can post for free, making it accessible to a large number of New Yorkers. Unfortunately, it's also just as easy for individuals to post misleading information on Facebook. 
Take Lillian from Crown Heights for example. She found her dream apartment on Facebook, only to be told by an agent four days before her lease was set to begin that the departing tenant wasn't in fact leaving. Instead, she got stuck with a nightmarish apartment in Crown Heights where a squatter used the basement as a restroom. 
While it's not clear if Lillian was the victim of a scam, her experience is a useful reminder to thoroughly vet any Facebook apartment listing. Read on for three easy steps you can take to double-check information you see online.
Confirm you're dealing with a legit agent
Agents who list apartments on sites such as StreetEasy, RentHop, Apartments.com, and others usually also have their own pages on those websites where you can check their other listings. It's easy to confirm where they work, because a real agent would be searchable on their employer's website.
Facebook is a little more like the Wild West: You might be dealing with an agent, or you could be chatting with a con artist. Anyone who is over 13 years old can create a Facebook account, meaning it's on the renter to confirm you're dealing with a professional.
When researching an apartment you find on Facebook, make sure to look up the poster, not just the apartment. You can do a quick Google search of their name, look up their real estate license online via New York's Department of State, and look them up on their employer's website. You may also find that the apartment you're interested in has a more robust listing on the company's website, giving you additional details about the unit. Plus, you can view other properties the agent represents, giving you more options without having to contact another agent. 
Make sure you know the basics
The benefit of searching via listing sites is that agents and owners are required to list complete information, or risk removal. StreetEasy, for example, mandates that agents provide the full address and unit number of an apartment, its room count, and how long it's been on the market. It also charges daily fees to keep a listing online.
Facebook, on the other hand, does not have the same rules, meaning you could see a listing for your dream apartment without even knowing its exact address. Make sure to get additional details that might be missing from a Facebook post, like the address, name of the owner, cross streets, utilities, amenities and more. 
Once you have all the information, you can dive deep into the research process. Use Google Street View to check out the building's block and neighborhood virtually, if you can't go in person. Dig into the apartment's rental history, including its past prices, by searching the address on apartment listing sites. And make sure to check out Brick's best advice on how to research your landlord too.
Tour it in person
In the words of Lillian, the Crown Heights renter, "If someone won't show you a unit, walk away. There's probably a reason."
In Lillian's case, she found an apartment on Facebook with two roommates that seemed like a perfect fit. It had natural light, a coworking space on the ground floor, and was within her budget. But the agent who posted the listing said she couldn't see the apartment because the current tenant didn't want guests. 
After one of her roommates toured a similar unit, the trio signed a lease for the place anyway. But four days before move-in their agent said the previous tenant wasn't leaving, and found them a new apartment that was riddled with problems, including flooding, unlocked doors, and a squatter. 
Make sure to tour an apartment in-person, particularly if it's a unit you find on Facebook. Photos and videos can be misleading on any apartment listing site, but listing services often require agents to provide photos of the actual unit being advertised. For example, StreetEasy requires agents to include photos of the unit for rent, or to clarify if alternative photos of a similar unit are being used. 
Plus, touring an apartment lets you guarantee that the unit is available in the first place. 
"The moment I should've backed out was when they wouldn't show us the apartment in the first building," Lillian says. "But if they won't show you the actual unit, I would take that as a red flag from now on."
Brick Underground articles occasionally include the expertise of, or information about, advertising partners when relevant to the story. We will never promote an advertiser's product without making the relationship clear to our readers.