It's true that as a renter, you don't really need a broker: You can find apartments on listing sites and go see them yourself, either by making an appointment with a broker or stopping by an open house.
But that doesn't mean it's an easy process, or an efficient one. You'll spend a lot of time trekking around—and may even see some apartments that don't work for you, because the listing information was incomplete—or misleading.
That's the point of a message that appears on the top of this Fort George listing in Upper Manhattan. And while the straightforwardness is refreshing, the screaming capitalization—not so much. Still, listing broker Mink Chu of Bohemia Realty Group has a point when she writes, "Stick with one broker. You do not need to bounce around. It is exhausting and inefficient."
She promises to show you almost any apartment in NYC. "It does not matter who listed it," she says.
Encouragingly, the listing also notes, "These are the actual photos of the apt.," a one-bedroom rental, 133-143 Fort George, #3C. (Perhaps Brick is setting a low bar here, but there are many listings that don't show pictures of the available apartment, but a different one in the building, which can be a red flag.)

The apartment is pretty attractive, bright and open, with a brick accent wall, stainless steel appliances, including a dishwasher, that look kind of new. The bedroom can fit a queen-sized bed, the listing says. Heat and hot water are included, and pets are OK. The listing doesn't mention laundry, but other apartments in this 40-unit building do have wash/dryers in them, so this is something to ask about.
The apartment is asking a gross rent of $1,900 with 1.5 months free, and there is a fee. You should know there was a two bedroom in the building previously asking $2,100, and that the median asking rent for a one bedroom in the neighborhood is $1,850.
As always, when weighing New York City apartment listings, we turn to our Take It Or Leave It experts: Constantine Valhouli, founder of real estate research and analytics firm NeighborhoodX, freelance writer Lambeth Hochwald, and myself.
But first, here are pictures of the apartment.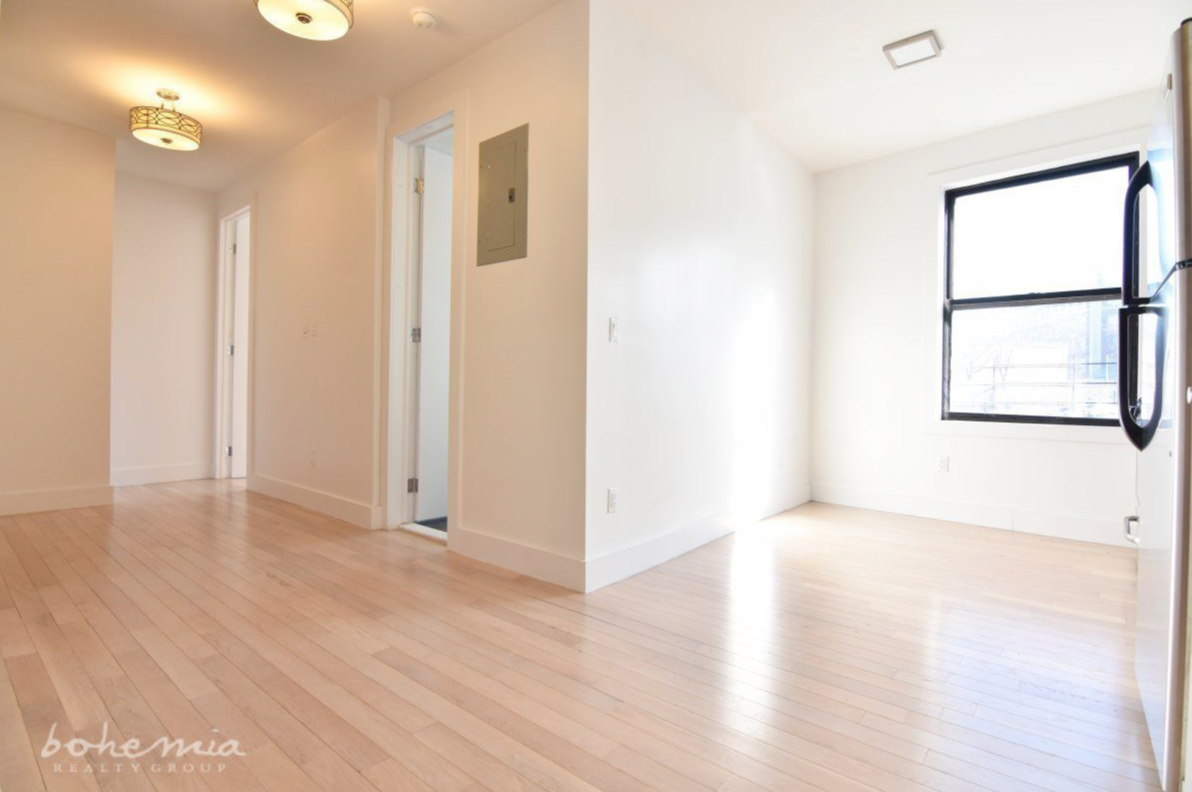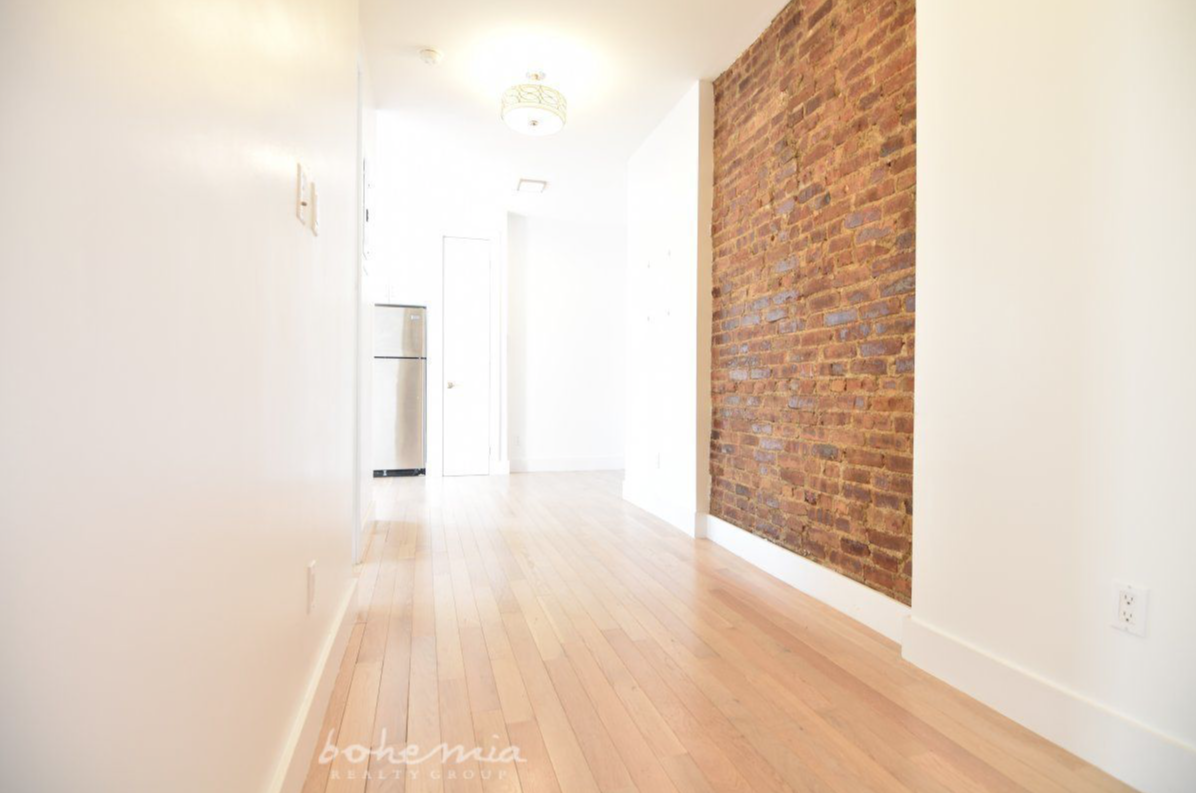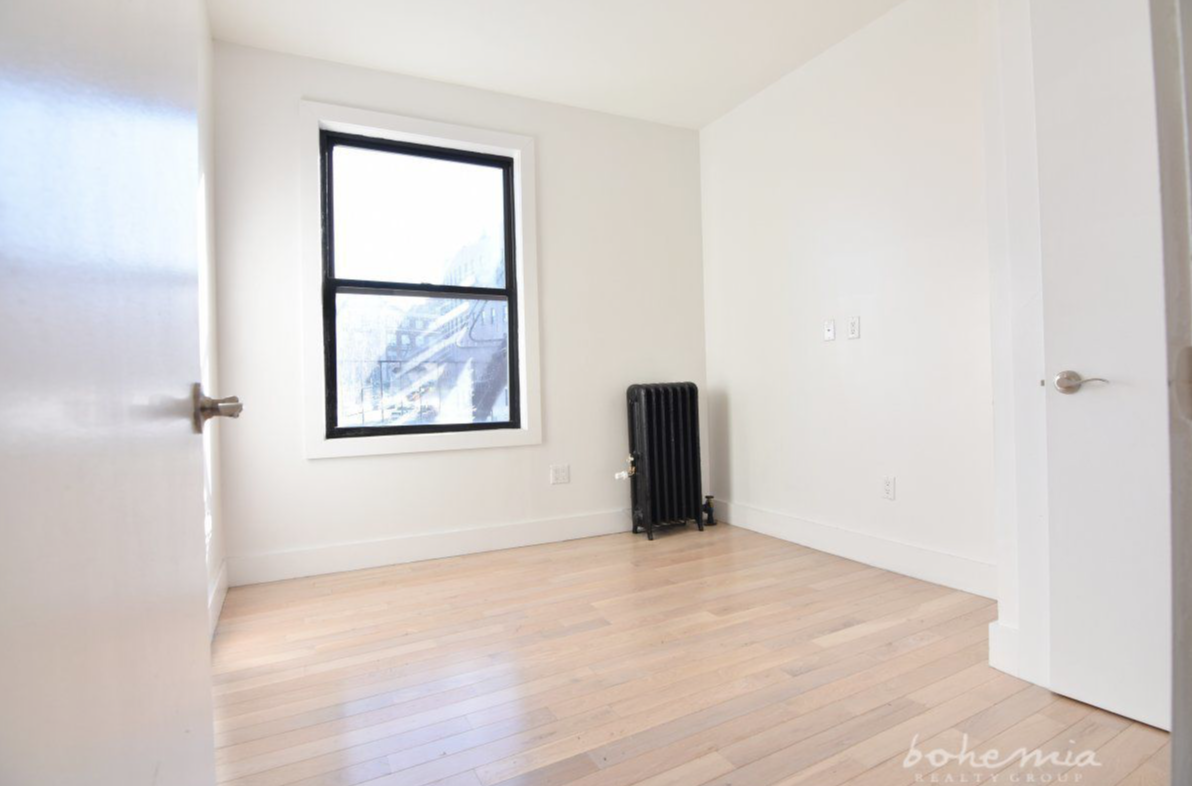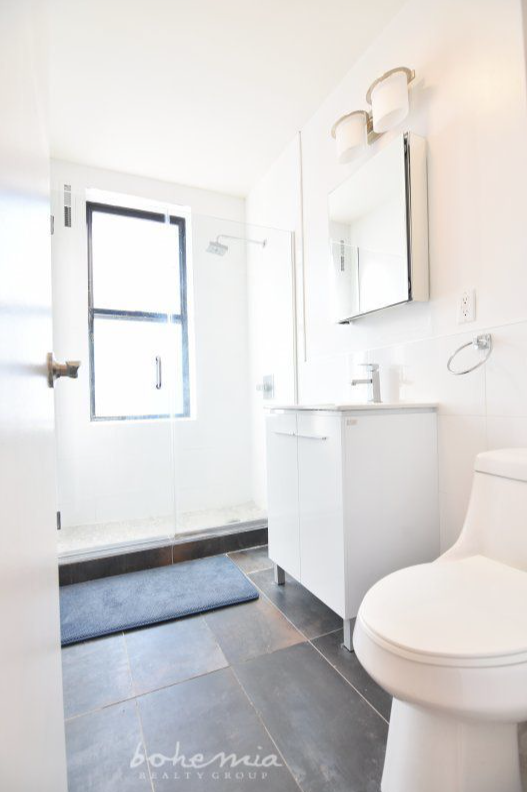 Pros and cons
"All hail the solo exposed brick wall in what I'm sorry is an otherwise unremarkable—and overpriced—Fort George one bedroom with a heckuva odd living room/kitchen set-up." —Lambeth Hochwald
"It's a beautiful place, and it seems like it was designed with heart—which I define as: Would the developer/owner actually not mind living here? It doesn't feel like a quick rehab performed by 'carpenters' who were recently released from jail. Yes, this is a thing. (Also, there's a hotel in Boston that was once an early 18th century jail, and if they used prison labor to rebuild it, that would be all kinds of meta)." —Constantine Valhouli 
"The building is next to Harlem River Park and close to the 1 train, and not far from Fort Tyron Park and the Hudson River Greenway. You can get to 34th street in 42 minutes, which is about the same as my commute from Brooklyn. I like how bright the apartment is, but wish there was a floor plan to get a better sense of the layout and square footage." —Jennifer White Karp
Whom it's perfect for 
"A NYC newbie who isn't quite ready for the hustle bustle of a more central location and plans to spend there 45-minute 1 train commute to Midtown catching up on a long list of 2019's must-read novels." —Hochwald
"It's about a half-hour to Midtown, so it's a very nice alternative to Yorkville. However, at this price point, one gets a lively neighborhood in Yorkville but an unrenovated apartment, so someone would be trading in neighborhood amenities for a nicer place to rest. Perhaps someone who wants a break from the hustle? (Another theory is that if you live in a slightly-further out neighborhood, your quality yield on the dating apps will go up because you're weeding out the people who won't travel to meet you). —Valhouli
'Someone or a couple who works Uptown and values living near parks, but not paying a lot. It's close to the New York State Thruway, so it's also great for people who like to ditch the city for the weekend." White Karp
Take it or leave it
LEAVE IT. "This pad is almost $2,000 for a few rooms in a walk up, and we're not even sure there's laundry in the building!" —Hochwald
TAKE IT. "On pure quality of the space, take it. But ask for a rent reduction—one can get a one bedroom or a two bedroom in the building for only slightly more money, so it might make sense to pony up a few more shekels and split an (equally large and nice) space with a roommate." —Valhouli
TAKE IT. "It's practically overlooking a park and within spitting distance of another park, and you're close to both rivers, for crying out loud. Take it and get outside more." —White Karp
Brick Underground articles occasionally include the expertise of, or information about, advertising partners when relevant to the story. We will never promote an advertiser's product without making the relationship clear to our readers.