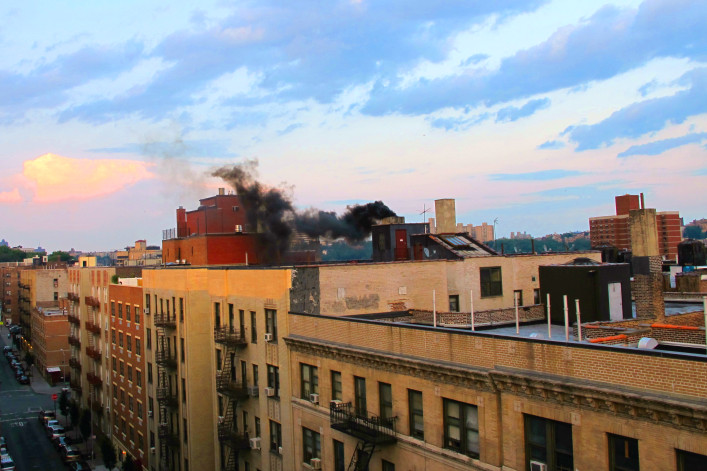 The northernmost point in Manhattan, Inwood is a relatively affordable place to live that's gilded with lots of green space, most notably Inwood Hill Park and Isham Park. But even though a growing number of small cafes and restaurants have popped up west of Broadway, shops are sparse in the largely residential area. Instead, you'll find low-rise, older co-op buildings dating back to the 1950s, with a combination of older residents and Columbia students, who head north for the lower rent. 
So what's life like in Upper Manhattan? We spoke with Inwood residents to find out.
---
Neighborhood boundaries: Harlem River to the Hudson River, and from Dyckman Street to the water
Median sales price: $315,000
Median rent: $1,772/month 
---
You'll find lots of "park"-ing: "Inwood Hill Park is the most beautiful part of the area. I think people forget there is nature here, or even greenery outside of Central Park. You just have to travel all the way to the end to see it, but it's worth it completely." - Katie, 21, rents a four-bedroom with roommates "My daughter loves the playground in Inwood Hill Park. My family loves hiking. We try to go out at least a couple times a month, and we go deep into the park and head north. It isn't so big that you can get lost easily, but it's big enough that you don't hear all the commotion of city life around you." - Jose, 31, rents a one-bedroom with his family "[I like] Bruce's Garden in Isham Park where I host Preschool on the Planet, a free art and crafts hour for neighborhood kids every Friday at 10 a.m." -Rachel, 27, owns a two-bedroom with her family
The place is crawling with Lions: "Maybe I'm a little biased because I go there, but I feel like Inwood is just overrun with Columbia kids. They're just everywhere. It's an easy place for us to live commute-wise." -Deliena, 21, lives in a four-bedroom with roommates "One of the most fun things as a college student in the area is being close to your athletes. I used to be more into sports when I first moved here, but still, it's incredible having basically a professional stadium so close to where we live. I love that about Inwood, there are Columbia Lions all over the place." -Katie
Pair your beer with local veggies: "There are a dozen bars within three blocks around Broadway and Isham. My favorites are Piper's Kilt and Inwood Local. On weekends, my roommates and I always do the same thing: go to the park, go on a walk or jog, stop to get our veggies at the green market and then run into one of the bars for an afternoon beer." -Chloe, 22, rents a four-bedroom with roommates "The market is just a quick walk away from anywhere you would want to go out or have lunch." -Lora, 21, rents a four-bedroom with roommates "The best tacos you will ever have in the United States can be found at a small family-run cart in Dyckman Fields every Sunday." -Rachel
​The commute is easy but long: "It is really, honestly, not that bad. It's not like you have to rely on just one train, or just one bus. You have the A, the 1, and then you can always walk if you're so inclined around the area. When I go all the way downtown, sure, that can take an hour, but it isn't a bad ride. I never feel claustrophobic like I do on the old N/Q/R line." - Katie "I take the train to school basically every day. From 116th to 215th, you're looking at about a half hour. When I used to live on the Upper East Side, even though it was on 116th, it was still a half hour because getting across town is such a pain in the ass. Trains up here, especially the 1, aren't all bad." -Chloe "Inwood is the livery cab capital of the world. Any corner in Inwood will get you a cab in 10.7 seconds. Ask how much your fare will be before you get into the car." - Rachel 
Visit the museum: "The Dyckman Farmhouse Museum is one of the best tourist attractions in the area." -Katie "The Farmhouse Museum is only a buck. I mean, you should still donate more than that if you go, it's worth at least $10. They do all kinds of stuff, there are kiddie events for my daughter and I just like roaming the garden. Even walking by it is something I love because it just looks kind of weird. It's truly a farmhouse, like they just plopped it over and then built New York around it. I guess they kind of did." - Jose
The neighborhood is getting younger: "The biggest change I've seen since I've lived here is how many more students we are getting. A lot of them, they grow up here and when they go to college, they get their own place with roommates because it's still affordable. Then I see some of the Barnard girls moving up here, and they probably never would have thought of that 10, maybe even five, years ago. Now, people are getting more comfortable with Inwood. It seems homier, young people are okay to go out here, to say they live here." - Jose "[The impact of gentrification] really depends on who you ask. If you're benefiting from it, it's going great. If you're being pushed out, it's going horribly." - Rachel 
Related: 
12 of the best NYC neighborhoods for recent college grads: 2014 edition
9 things you don't know — but want to — about Crown Heights  
Single dads, chirping birds and tacos: Nolita's charms go beyond Italian food
New Yorkers who live near Times Square: Crazy or onto something?
Ridgewood: The dirt cheap, radioactive Queens nabe that may be the next Greenpoint
Brick Underground articles occasionally include the expertise of, or information about, advertising partners when relevant to the story. We will never promote an advertiser's product without making the relationship clear to our readers.