Do you like digging into a NYC building's history? One of the most useful tools when doing some real estate detective work is to go the city's Department of Building's website and check a building's Certificate of Occupancy, which defines how a property is used and what the occupancy is. It's especially useful when you're considering renting in a small multi-family building. You can also check to see how many bedrooms are allowed in an apartment. 
Why is this important? You wouldn't want to rent an apartment, only to find out from a building inspector that your place is not approved and you need to vacate the premises immediately. Just because you are renting and don't have as much skin in the game as a buyer is no reason not to do your homework.
Take this apartment, at 458 Jefferson Avenue in Brooklyn in Bedford-Stuyvesant. The size of this apartment got our attention—it's a duplex with 1,500 square feet of outdoor space, multiple living rooms, two bedrooms, and two and a half baths. (The listing refers to a third, lower level as well, but a call to the agent confirms that this is a duplex).
This 1899 building appears to have an interesting history. There are multiple Certificate of Occupancy documents on file showing that it has had different configurations. The most recent C of O, from 1964, says the building has a one family duplex on the lower two floors, with furnished rooms on the second floor and third floor. (In 2015, the building was listed for sale as a three unit—you can see what it looked like prior to renovation on StreetEasy.)
So you should always tread cautiously with a listing that doesn't match a C of O. Without a proper C of O, a landlord can't legally collect rent and the city could issue a vacate order at any time. Since this apartment is a duplex, comprising the main floor and the one above, the lower level—with a recreation room and additional bathroom—would not be considered living space under the current C of O.
All those (important) issues aside, it otherwise looks like a find: It has a modern renovation with an open plan living area and chef's kitchen, exposed brick and split ACs. There are multiple living rooms, a private backyard, and a roof deck. Utilities are included, which is a bit of red flag and may also explain why the rent is high.
It's hard to make a comp for a place like this— but consider that two-bedroom units are renting in Bed-Stuy for $2,430, according to StreetEasy—this place is double that at $4,999 (with no fee). But you would be getting a townhouse that's the size of two apartments for that price.
There are a bunch of restaurants and bars nearby, including Peaches HotHouse for southern food and Bed-Vyne Cocktail. The C train is about seven blocks away. Herbert Von King Park is about eight blocks away.
So what's the takeaway? Is the rent worth it for all this space?
As always, when weighing New York City apartment listings, we turn to our Take It Or Leave It experts: Constantine Valhouli, founder of real estate research and analytics firm NeighborhoodX, freelance writer Lambeth Hochwald, and myself.
But first, here are pictures of the apartment.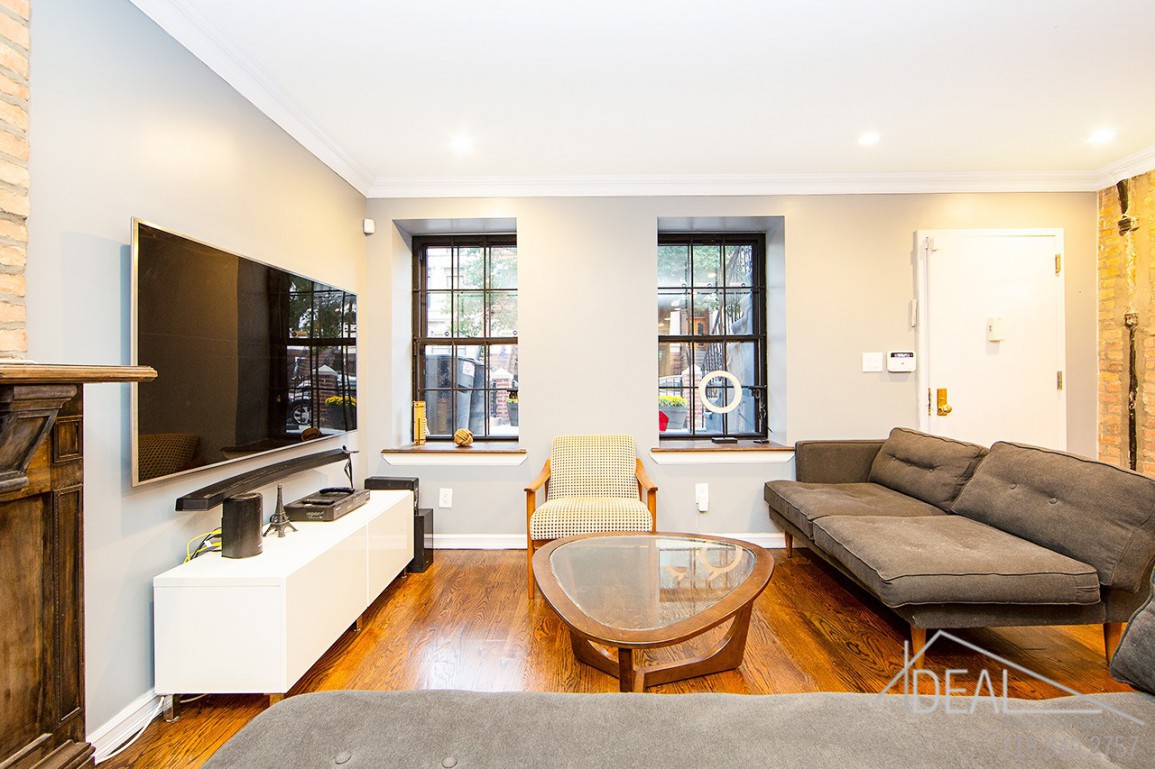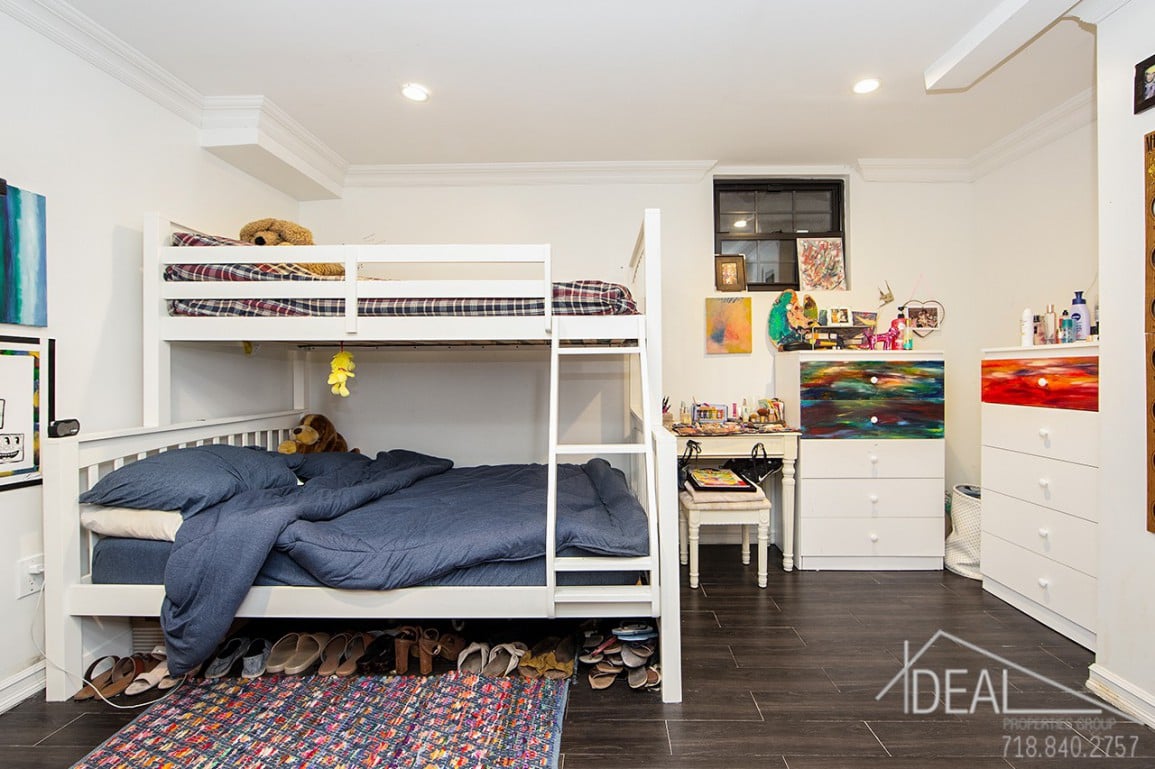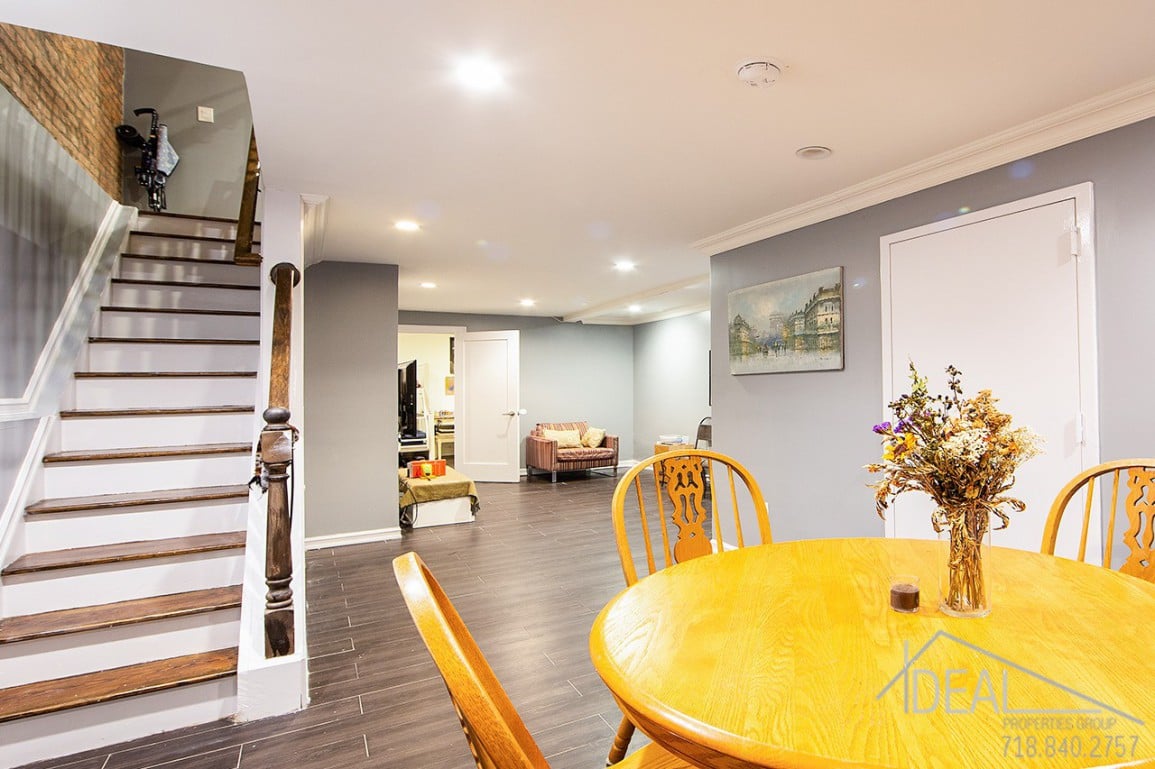 Pros & cons
"Is it possible to love a place and be scared of it at the same time? I guess what I'm saying is that I want to move in right now—that country kitchen! That outdoor space! But I'm also worried that there's some funny business going on." —Lambeth Hochwald
"Sometimes, a two-bedroom apartment isn't a two bedroom. The asking price here appears high, but on a per-square-foot basis, one recognizes that this space is relatively huge, and isn't priced out of range. Also, it's well designed and looks like a place that would be enjoyable to live in (and it's a far cry from the bad ol' days when Bed-Stuy was a place people rapped about being from, rather than aspired to afford)." —Constantine Valhouli 
"This is a handsome navy townhouse is on street lined with other townhouses, so it's got a lot of curb appeal. And the backyard is even more amazing. It seems someone made quite an investment in this place—and they are asking for a good sum of money each month. The C of O does appear out of date since it refers to a duplex on different floors. The owner needs to get the paperwork corrected. A smart renter would make that case as diplomatically as possible before moving in." —Jennifer White Karp
Whom is it good for
"A large family that wants to experience townhouse living and wants to take their chances with city inspectors." —Hochwald
"Anyone who wants to live in half of this, and Airbnb the other half of the huge space in order to offset the rent. Or sublet it. You're a New Yorker, let your apartment be your side hustle. Rent those square feet wholesale and lease 'em out retail!" —Valhouli
"Anyone who anticipates hosting friends or family from out of town for extended periods." —White Karp
Take it or leave it
LEAVE IT. "I have to go with my gut and say leave it with a capital L." —Hochwald
TAKE IT. "In the immortal words of the Notorious B.I.G., 'Live from Bedford-Stuyvesant/The livest one/Representin' BK to the fullest.' Or heed the wisdom of Lil' Kim: 'Lighters up.'" —Valhouli
TAKE IT. "On the condition that the landlord obtains a temporary C of O." —White Karp
Brick Underground articles occasionally include the expertise of, or information about, advertising partners when relevant to the story. We will never promote an advertiser's product without making the relationship clear to our readers.