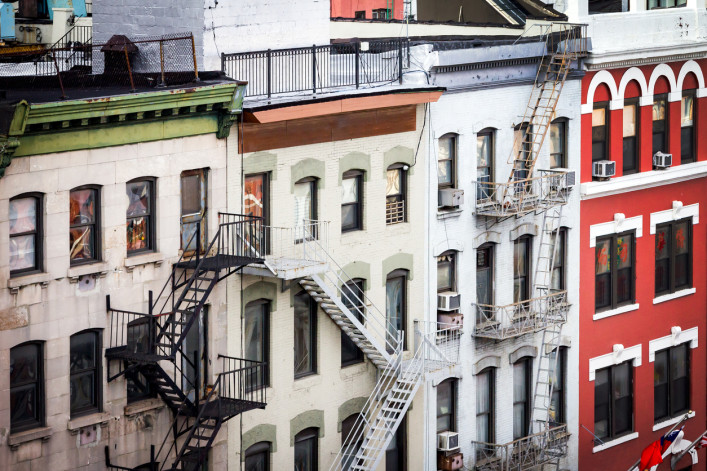 If you're living in a rent-stabilized apartment in New York City and renew your lease on or after October 1st, 2020, your landlord won't be able to raise your rent for the coming year.
The Rent Guidelines Board voted Wednesday to hold the line on rents on one-year leases that start between October 2020 and the end of September next year. For two-year leases, a 1 percent increase was approved for the second year of the lease.
The board votes every year on the percentage increase in rents for the city's one million rent-stabilized apartments, a decision that affects around 2.3 million of the city's renters. 
Early in the shutdown, Mayor Bill de Blasio had recommended suspending this year's Rent Guidelines Board process so landlords would not be able to increase rents at renewal time. 
In response to the board's vote, the mayor tweeted, "2 million New Yorkers living in rent-stabilized apartments can breathe a little easier." Perhaps a questionable turn of phrase amid a pandemic that affects the lungs. 
The Rent Freeze just passed!

2 million New Yorkers living in rent-stabilized apartments can breathe a little easier.

— Mayor Bill de Blasio (@NYCMayor) June 18, 2020
Last year, the panel approved increases of 1.5 percent for one-year leases and 2.5 percent for two-year leases. The board had argued for increases again this year.
Jonathan Woloshin, head of U.S. real estate at UBS Global Wealth Management, says this year's decision "will likely put significant strain on the owners of rent-controlled buildings" in NYC. He points out that based on the Rent Guidelines Board's own projections, landlords would need increase in rent of 2.5 percent to 3.5 percent on one-year leases and up to 6.75 percent increases on two-year leases just to break even.
Woloshin says the combination of the freeze on increases and the landmark tenant protections passed last year "could lead to decreased services and, or financial distress on mortgage payments and asset values."
However, the impact of the economic hardship facing so many New Yorkers due to the pandemic means any increase to rents in stabilized apartments would have been tone deaf to current conditions. In addition, New York's market-rate tenants continue to ask about their own rent relief.
Sam Himmelstein, a partner with the law firm Himmelstein, Mcconnell, Gribben, Donoghue & Joseph (and a Brick Underground sponsor) says the decision by the Rent Guidelines Board is "much needed but just a drop in the bucket and inadequate to address the rent crisis and looming threat of mass evictions." What's needed, he says, is legislation that "meaningfully addresses the inability of hundreds of thousands of tenants, stabilized and otherwise, to pay their rent due to loss of employment and closing of businesses."
Lawmakers are urging the federal government to step in with billions in rent assistance. In the absence of such large scale help, the Emergency Rent Relief Act in New York is offering rent vouchers to landlords to subsidize the unpaid rent of low-income renters from April to July. There's also an eviction moratorium in place for those affected by coronavirus until August 20th. A more comprehensive blanket eviction ban expires next week, just as Housing Court reopens. 
To help landlords, New York City Council is considering several bills that would defer the payment of real estate taxes as well as lower the penalties for late tax payments by 50 percent.
Brick Underground articles occasionally include the expertise of, or information about, advertising partners when relevant to the story. We will never promote an advertiser's product without making the relationship clear to our readers.