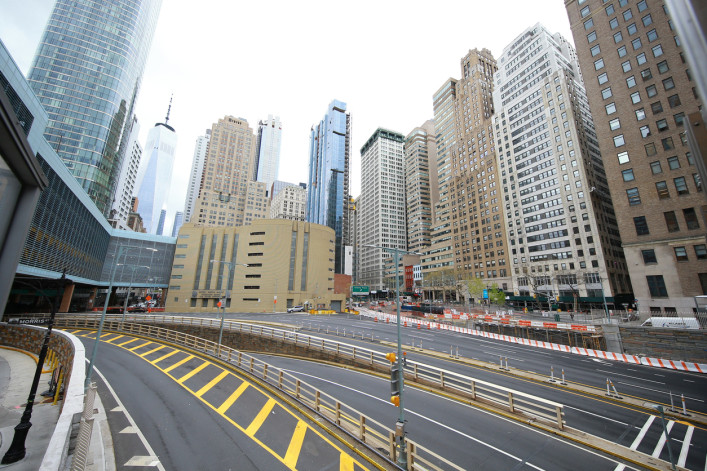 New York City renters facing financial hardship because of the coronavirus received some additional relief today when Governor Andrew Cuomo extended the state ban on evictions another 60 days and gave tenants the option to use their security deposits as rent and repay them over time.
At his Thursday press briefing, Cuomo said the moratorium on residential and commercial evictions is now in place through Aug. 20th. In addition, late fees for missed payments are now also banned during the moratorium.
Cuomo pointed out that the majority of people in New York state "live paycheck to paycheck" and for many of them, the paychecks have suddenly stopped. The U.S. reported another 3.2 million jobless claims as of Thursday, for a total of 33.5 million in seven weeks.
He explained that even though the eviction moratorium had not reached its June expiration date, he extended it because "people are anxious."
---
Click here for more of Brick Underground's coronavirus coverage.
---
"No one can be evicted for non-payment of rent because of Covid until August 20th," Cuomo said. "And then we'll see what happens. I hope it gives families a deep breath."
The governor was asked whether these policies would hurt landlords who have mortgages and utilities to pay. He responded that the state is working with banks on ways to help landlords.
"There is no doubt a trade-off between the tenant and the landlord," the governor said. "We are helping the landlords also, but on a human level, I don't want to see people and their children being evicted at this time through no fault of their own."
Pro Tip:
Do you need help negotiating your lease, renegotiating it at a rent you can afford, or terminating your lease early? The experienced tenants-rights attorneys at Himmelstein, McConnell, Gribben, Donoghue & Joseph can advocate on your behalf. Call 212-349-3000 or email to schedule a consultation.
Still, extending the moratorium could be seen as kicking the problem down the road. There's been no executive order from Governor Cuomo offering rent forgiveness to New Yorkers. That's what prompted State Senator Gianaris to propose canceling rents for those affected.
One analyst says more needs to be done to provide protection for tenants that can't or will be unable to pay rent in the coming months.
"Without additional steps, this simply prolongs what could end up being many eviction proceedings as soon as the moratorium is lifted. There will need to be a comprehensive approach that will allow tenants to remain in their homes while also protecting landlords who are facing their own financial obligations," says Garrett Derderian, founder and CEO of GS Data Services.
Brick Underground articles occasionally include the expertise of, or information about, advertising partners when relevant to the story. We will never promote an advertiser's product without making the relationship clear to our readers.